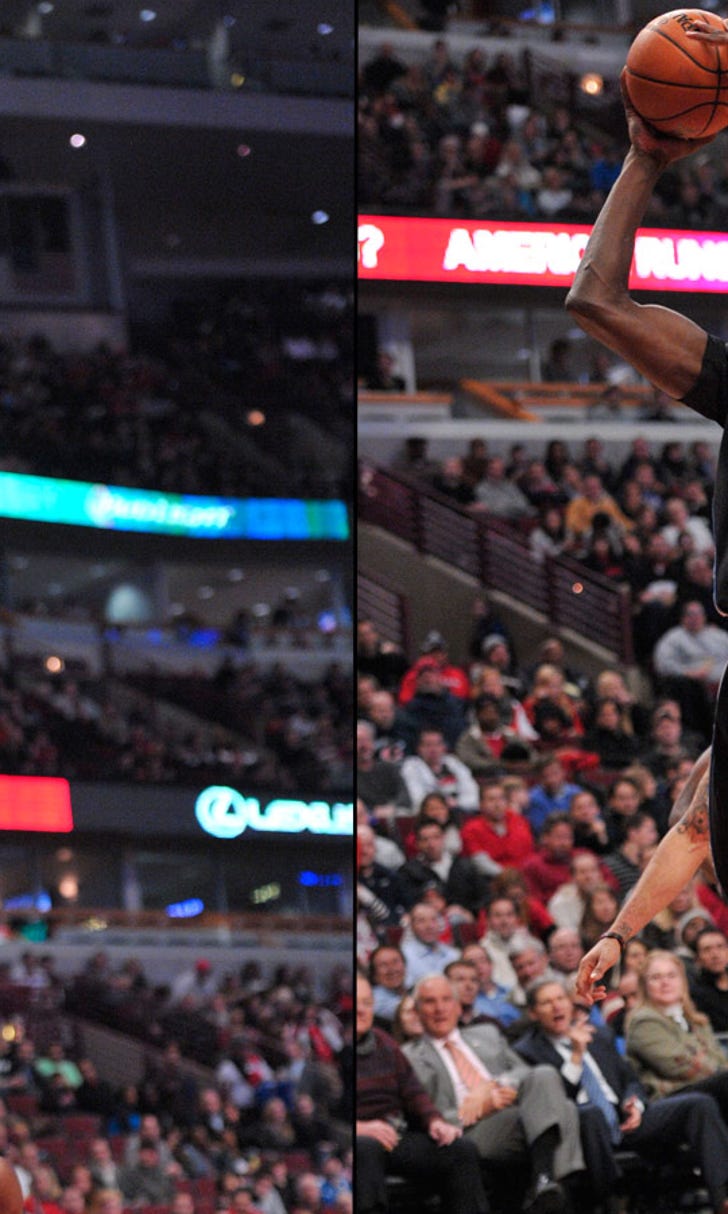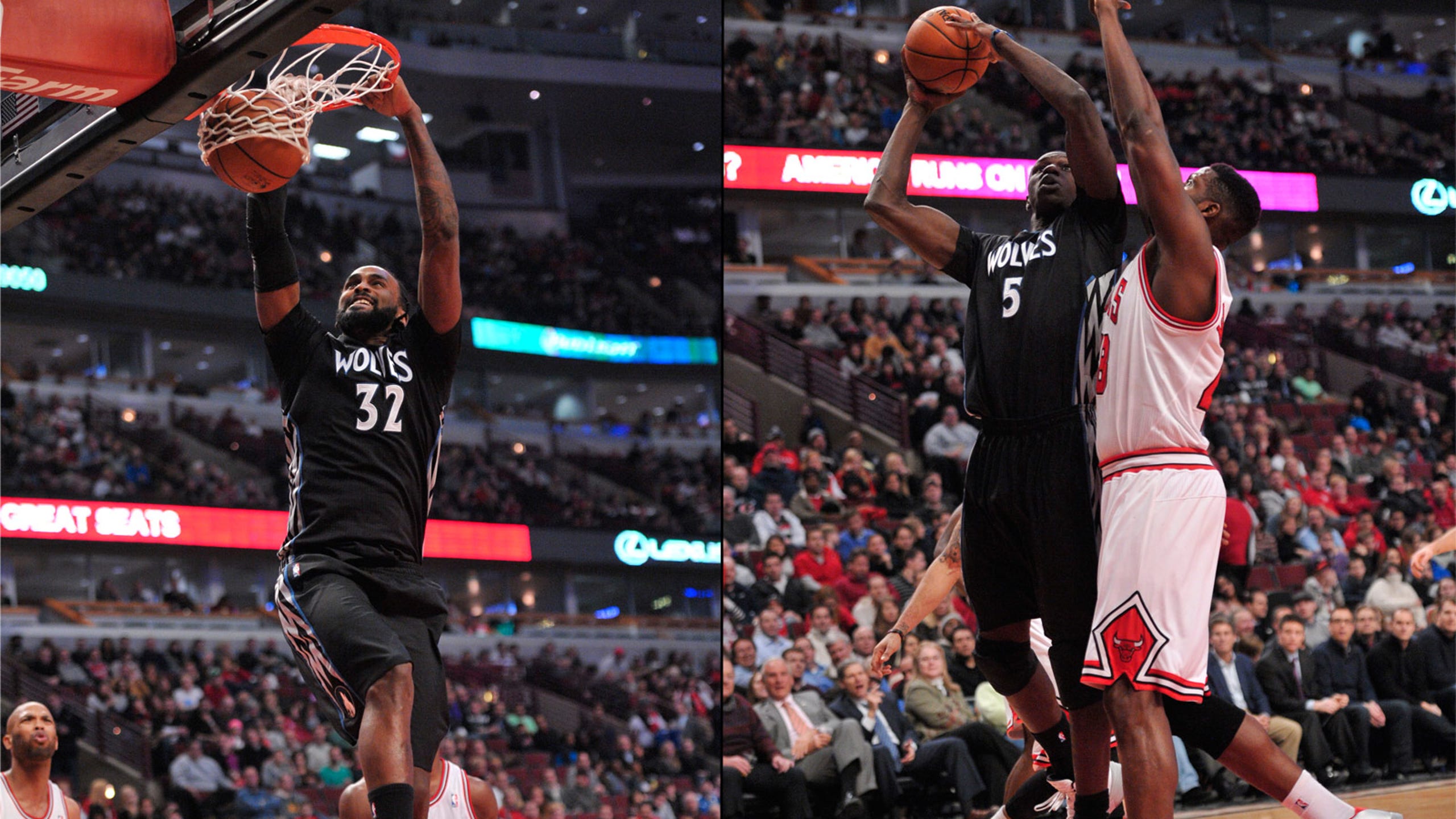 Wolves need Turiaf, Dieng to step up in Pekovic's absence
BY foxsports • January 29, 2014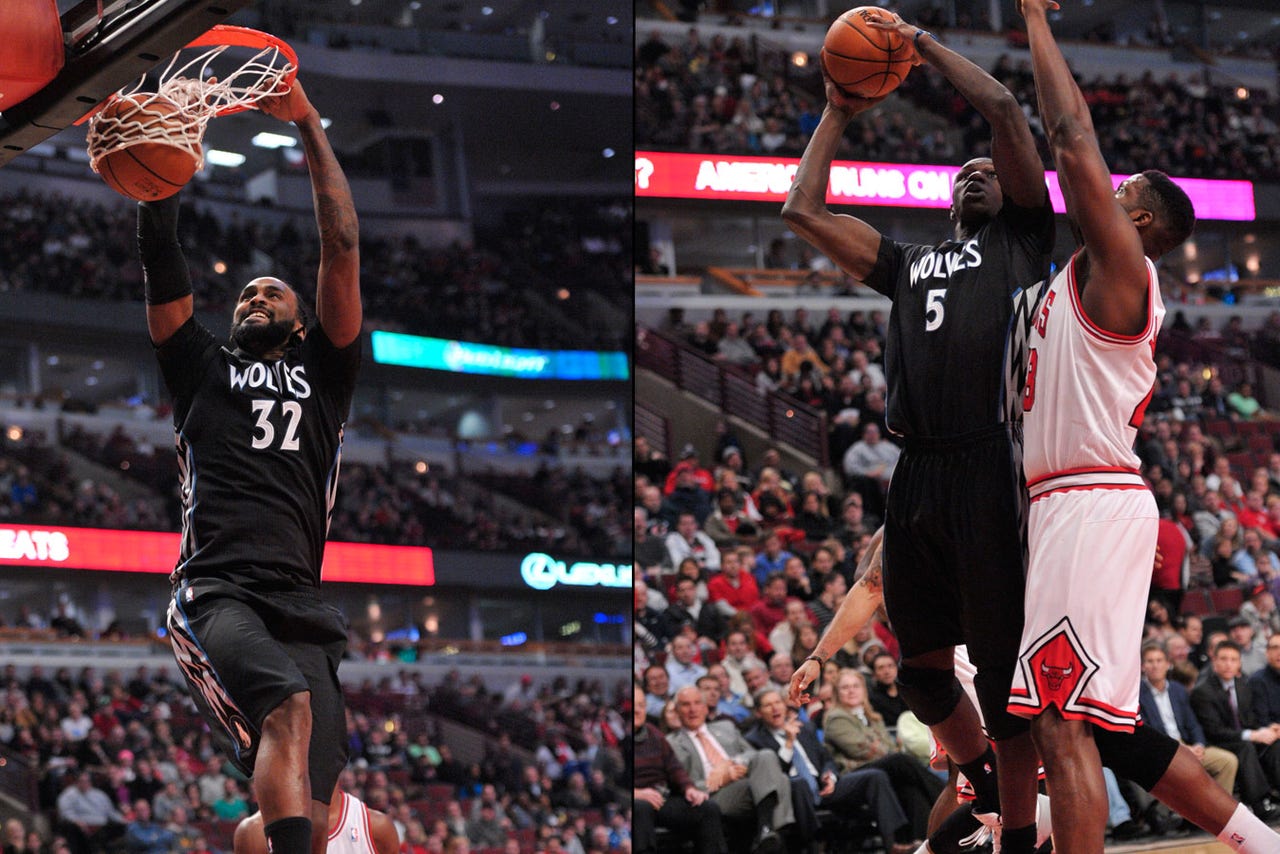 MINNEAPOLIS --The always boisterous Ronny Turiaf grinned his way through reporters' questions following the Timberwolves' morning shootaround Wednesday. Behind him, Gorgui Dieng kept his lips tight, his eyes focused as he worked on a series of mid-range jumpers.
"I know for a fact that my main man over here is waiting for that opportunity," Turiaf said, motioning toward the rookie center.
For both multilingual, backup big men at opposite ends of the career spectrum, the opportunity is now.
Starting center Nikola Pekovic's right ankle bursitis will keep him out for at least a week, and it's a pivotal one featuring home games against New Orleans on Wednesday and Memphis on Friday -- both prime chances to carry forth the positives wrought during a 3-1 road trip and start climbing into the Western Conference playoff picture. In order to do that, both Turiaf and Dieng will be counted upon at the five spot until Pekovic can come back.
Pekovic wore a large walking boot on his right foot Wednesday and will be reevaluated after 7-10 days of rest. There's no replicating the husky Montenegrin's 18 points per game and league-leading second-chance points and points-in-the-paint figures, Turiaf said.
But it will be on a Caribbean islander and a West African native to mitigate the effects of his absence for the time being.
"We can only do what we know how to do," Turiaf said.
For both big men -- who speak French among the several languages they know -- that's primarily defense. Turiaf's a career backup known for altering shots and clogging up the lane, while Dieng was drafted 21st overall this past summer due largely to his own rim-protecting abilities.
"Every day I just block shots, play defense and when I get the ball, I just put on my move," said Dieng, who's appeared in 25 of the Timberwolves' 44 games to date. "If it goes in, it went in. If not, I'm just going to think about the next play."
Kevin Love could also see some more time at center, especially against smaller, lankier teams like the Pelicans. But when bigger, more physical groups like the Grizzlies present themselves, coach Rick Adelman will be forced to rely on the proven but aging Turiaf and a raw, still-developing rookie in Dieng.
The change in rotation means more minutes for backup power forward Dante Cunningham, too.
"You have no choice but to move on," Adelman said. "Put Ronny there, and G will back him up. It takes away a huge part of what we do, but that's just the way it is. Other teams have to face the same thing; we just have to be a little better in other areas to make up for that."
For Turiaf, at least, it's a savory situation after missing 31 games with a radial head fracture in his right elbow. Averaging 16.8 minutes per game during his nine-year career, Turiaf hasn't started a game since April 10, 2012 when he was a member of the Miami Heat.
Wednesday will mark his 96th career start.
Everywhere he's been, Turiaf's role has been more situational than central. A defensive specialist since coming out of Gonzaga, he quickly developed a reputation as a good guy to have around the locker room, too.
Minnesota eyed both traits when it signed the 30-year-old to a two-year, $3.2 million contract this past offseason.
"It's fun to just go out there and play for longer stretches and having fun with your teammates and having, I guess, just more of an impact over longer stretches of time," said Turiaf, who's played for the Lakers, Warriors, Knicks, Wizards, Heat and Clippers before joining the Timberwolves. "But it's fun for me to play the game of basketball. It's fun for me to go out there with my guys. It's one of those things that, it might sound cliché or whatever, but whatever Coach asks me to do, I try to do."
"That's why I've lasted so long, that's why I've played on so many playoff teams in the past and over my life. If I'm asked to be a scorer, I will score. If I'm asked to be defender, I'll be a defender."
Turiaf did both when Pekovic left Monday's win at Chicago six minutes into the game and didn't return. Turiaf played 32 minutes, 23 seconds, scored 14 points on 6-of-7 shooting and tallied seven rebounds. It was his most single-game action since Feb. 3, 2008 and his highest point total since Feb. 8, 2010.
President of basketball operations Flip Saunders recently joked with Turiaf that his legs should be fresh after missing so much time with the elbow injury. "I was like 'Flip, you know what?' That sounds like a pretty good idea, a pretty good thing," Turiaf said.
In 11 games since returning, Turiaf has averaged 17 minutes, 3.5 points, 4.9 rebounds and 1.2 blocked shots per contest.
The playing time and production haven't been nearly as consistent for Dieng, who has yet to play more than 14:25 in a game and is averaging just 5.4 minutes, 1.5 points and 1.8 rebounds. Saunders said the team planned to assign him to the NBA Developmental League after Minnesota's recent road swing, but that option's off the table in the wake of Pekovic's ailment.
So the minutes Saunders and Adelman hope can spur Dieng's growth will come at the NBA level.
While he's often hesitant around the rim on offense and has yet to earn a meaningful spot in a completely healthy rotation, teammates -- Turiaf chief among them -- point to Dieng's sureness and practice ethic as evidence he can indeed contribute.
"It's funny," Love said, smiling. "He's extremely confident, even as a rookie. But he works extremely hard, too. So I think that definitely helps in his confidence as well. He knows how hard he works, and he knows what he's capable of."
Said Dieng: "I think I belong here. I'm just going to play my game. I'm not worried about having good or bad games. If I get in, I will just do what I'm told. If it went well, fine. If not, I will try next time."
It's an attitude Dieng brought with him after winning an NCAA championship in Louisville. Playing with veterans like Turiaf has further expanded the mental side of his game, Dieng said.
"I always ask him 'What have you learned?' and his big thing is 'I'm learning the day in and day out of being a professional NBA player,'" Turiaf said, turning to watch Dieng during his shooting drills. "I think that's the one thing -- you can see he's the last one here -- getting his work done."
With six of nine games at home in the two weeks remaining before the All-Star break and Pekovic sidelined indefinitely, the Timberwolves had better hope the fruits of Dieng's labors and Turiaf's seemingly limitless energy are enough.
At least until their No. 1 big can get healthy again.
"It's definitely a different dynamic," Love said. "We know what Pek has done for us this season. He's been big for us, so we're hoping he gets back on the floor as soon as possible. But Ronny was great for us last game. He gives us a lot of energy, and now Gorgui and (Cunningham) are going to have to step up while he's gone."
No more babying Budinger: Dr. James Andrews be darned, Adelman's going to play small forward Chase Budinger as he pleases.
The coach said he's no longer concerned about the minutes restriction placed on Budinger, who missed Minnesota's first 34 games after undergoing his second left-knee meniscus surgery in the past calendar year. Andrews performed both operations, oversaw much of Budinger's rehab and recommended he play no more than 18 minutes per game when he returned Jan. 8 against Phoenix.
But the knee has held strong since then, and Adelman's fine playing him so long as it stays that way.
"I don't even think about it," Adelman said when asked about the minutes restriction. "I haven't asked anybody in games. I just want to see how he's running and how he's moving. I think that's the thing he's going to have to face all year.
"I don't even think about the minutes restriction, to tell you the truth."
Adelman played Budinger 23 minutes, 45 seconds Saturday against Portland and 19:36 in the Timberwolves' win at Chicago. That day, Budinger went 5-for-7 from the floor -- 2-for-2 from 3-point range -- for 12 points.
Follow Phil Ervin on Twitter
---