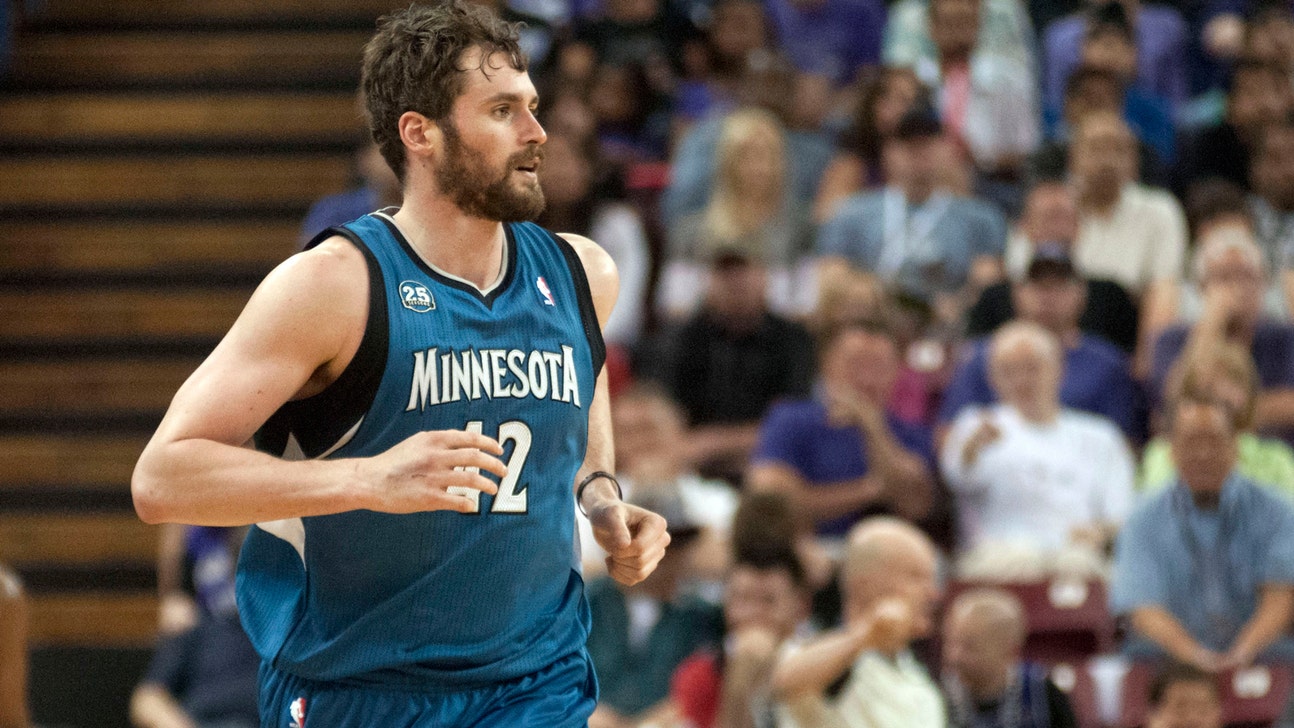 Wolves have agreement in place to deal Love to Cavs
Published
Aug. 7, 2014 10:57 a.m. ET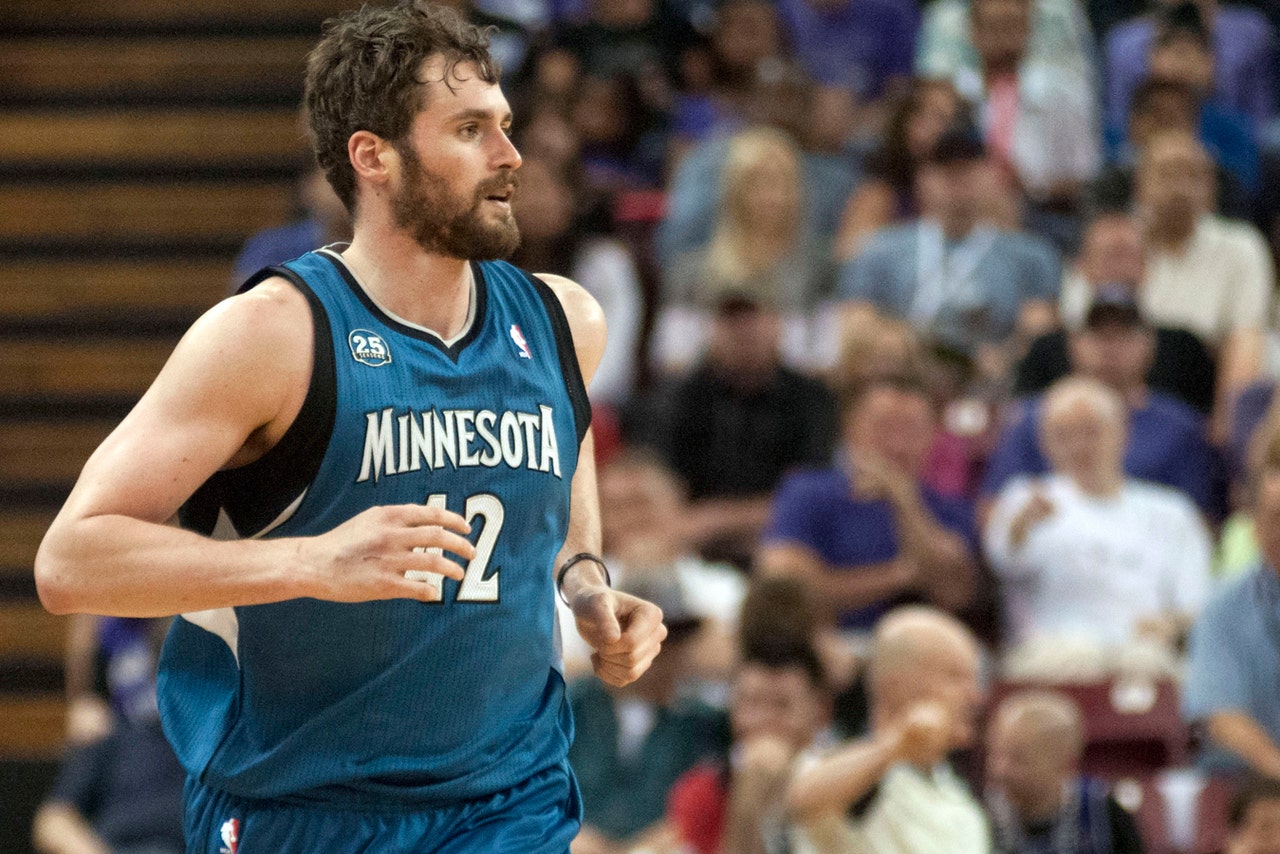 MINNEAPOLIS -- The wait is over.
Well, technically there are a few weeks left of waiting, but there is a light at the end of the tunnel.
After two uncomfortable years of disappointment and discontent, Kevin Love has his wish; according to FOX Sports 1 and Yahoo Sports NBA insider Adrian Wojnarowski, the Timberwolves and Cavaliers have an agreement in place to trade Love to Cleveland in exchange for the past two No. 1 overall NBA draft picks and a protected selection in next year's draft, expected to be Miami's original draft pick. The face of Minnesota's franchise the past six seasons, after a summer of speculation and volatile rumor, will be dealt for small forward Andrew Wiggins, power forward Anthony Bennett and whoever else the Wolves can land in next summer's draft.
The trade can't become official until Aug. 23 -- 30 days after Wiggins signed his rookie deal, in accord with a rarely used NBA trade stipulation. If the deal goes through, that day will mark the end of a once-promising but ultimately-tumultuous era for Love in the Twin Cities.
Widely considered the second-best player in club history after transcendent Minnesota sports figure Kevin Garnett -- who had a similar falling-out with the franchise and was traded to Boston in 2007, albeit after leading the club to the playoffs eight times, a feat Love was never able to accomplish -- Love grew more and more disconcerted with the franchise's direction after being drafted fifth overall out of UCLA in 2008. During that time, he morphed from a raw, bulky teenager to a top-10 NBA talent that can score, rebound, knock down 3s and throw floor-length outlet passes with the best of them.
Last season, the three-time All-Star became the first player since Kareem Abdul-Jabbar and Bob McAdoo in 1975-76 to average 26 points, 12 rebounds and four assists per game in a single campaign.
In 2012, Love thought his skill set merited more than the four-year, up-to-$62 million extension he signed. Then-president of basketball operations and owner David Kahn withheld a maximum, "designated player" extension from him then, and Love publicly criticized the decision and the Wolves' inability to build a viable club. That led to a 2013-14 campaign fraught with questions about his future and desire to stay in Minnesota after 2014-15, when he can opt out of his contract.
Those inquiries linger no longer.
Cleveland has guarantees that Love will indeed opt out in 2015, but only in order to re-sign with the Cavs for five years and $120 million or more, according to Wojnarowski. He'll join LeBron James and Kyrie Irving in his quest to finally reach the postseason and chase championship rings, the likes of which aren't looking attainable for Minnesota in the near future.
Of course, if Wiggins and Bennett fully justify their draft positions, that could change someday.
Wiggins, 19 years old and the top overall get in this year's draft, has the makings of a superstar. His open-floor athleticism and frame, (6-foot-8, 197 pounds, 7-foot wingspan) are covetous, and his abilities as a defender may be even more valuable right away. After scoring 17.1 points per game at Kansas last season, he must still improve his 3-point shooting and finishing and adjust to the pace of NBA play.
But there's a reason he topped a 2014 draft class regarded as one of the deepest in recent years.
Bennett, a bulky 6-8, 240-pound UNLV product, looks like more of a project for president Flip Saunders and whoever else takes the reins in the near future, assuming the man who teamed with Garnett in the '90s and early 2000s makes good on his word to find a more permanent coaching solution outside of himself. Following a laughable start to his NBA career, surprise pick Bennett averaged 4.2 points, two rebounds and 12.8 minutes per game during his rookie campaign.
With that in mind, the Wolves still have some moves to make.
With Love off the books, their only power forward aside from Bennett is Luc Richard Mbah a Moute. They Wolves have reportedly looked into dealing for Philadelphia's Thaddeus Young, perhaps as part of a three-team Love deal, as a proven power forward Bennett can develop behind.
Minnesota also has yet to shed unwanted contracts such as J.J. Barea's $4.5 million he's owed before becoming an unrestricted free agent next summer, Alexey Shved's $3.2 million for next year, or the three years and $21 million left on Kevin Martin's deal. If the Love trade were executed as-is without any auxiliary moves, the Wolves' roster would contain 16 players under contract for next year.
The good news is they've obtained young, relatively cheap commodities that are high on potential. Per the NBA's rookie pay scale, Wiggins is locked into a $24.9 million deal for the next four years, and Bennett's contract calls for $18.7 million through 2016-17.
The contracts feature team options in each of their final two years.
Wojnarowski reports the transaction framework has been in place for weeks, but it's not due to any sense of urgency on Saunders' part. Since Love made it clear early this summer he wants out, Saunders carefully waited out the market in order to drive the price skyward. He didn't pull the trigger before the draft despite compelling offers that were out there, and he refused to do business with highly interested Golden State until it put guard Klay Thompson on the table.
That never happened, and Saunders' patience has ensured Love won't walk for nothing at the end of the year.
Follow Phil Ervin on Twitter
---