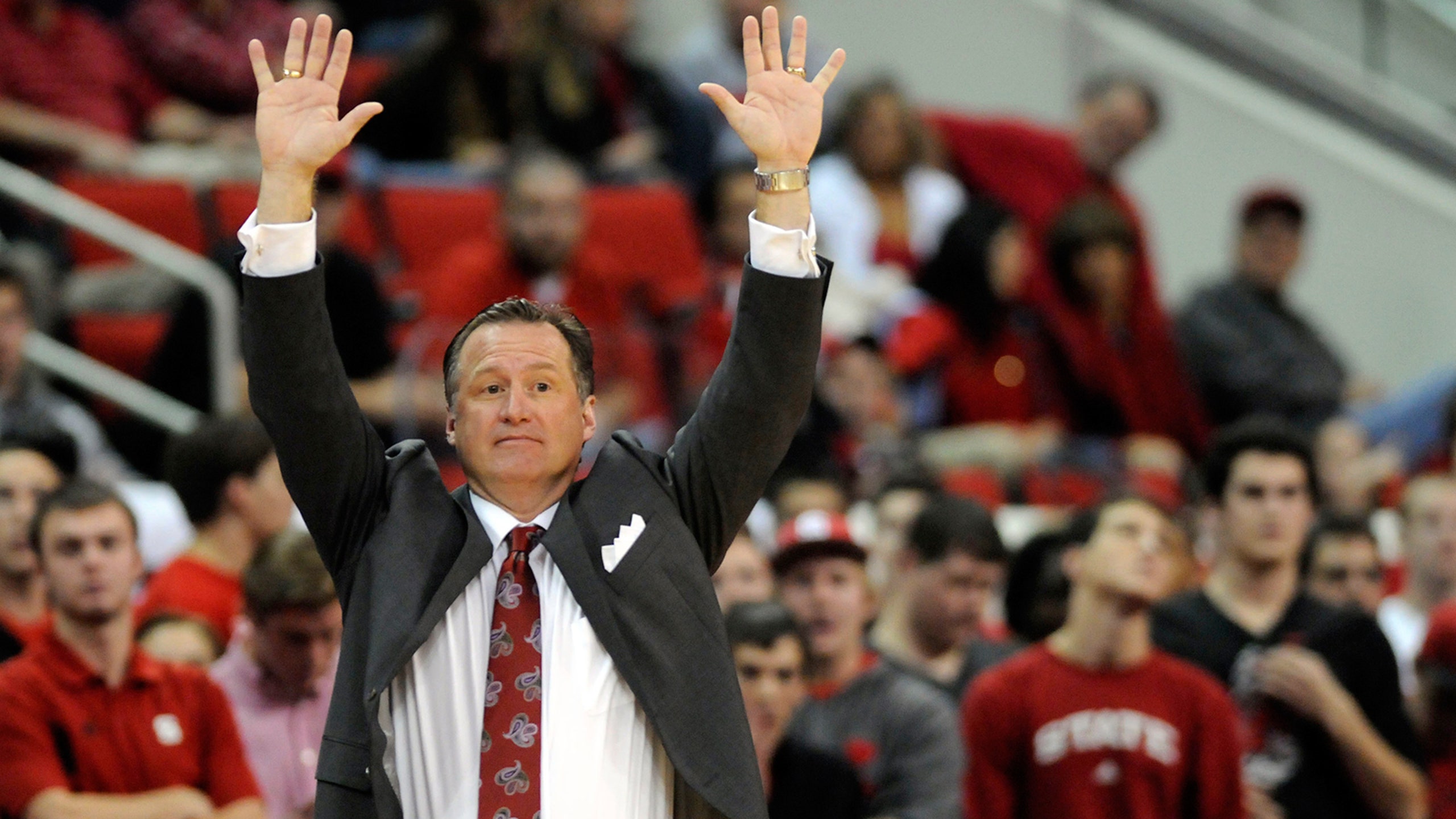 Wolfpack fall to Wofford as buzzer-beater just a tick late
BY foxsports • December 14, 2014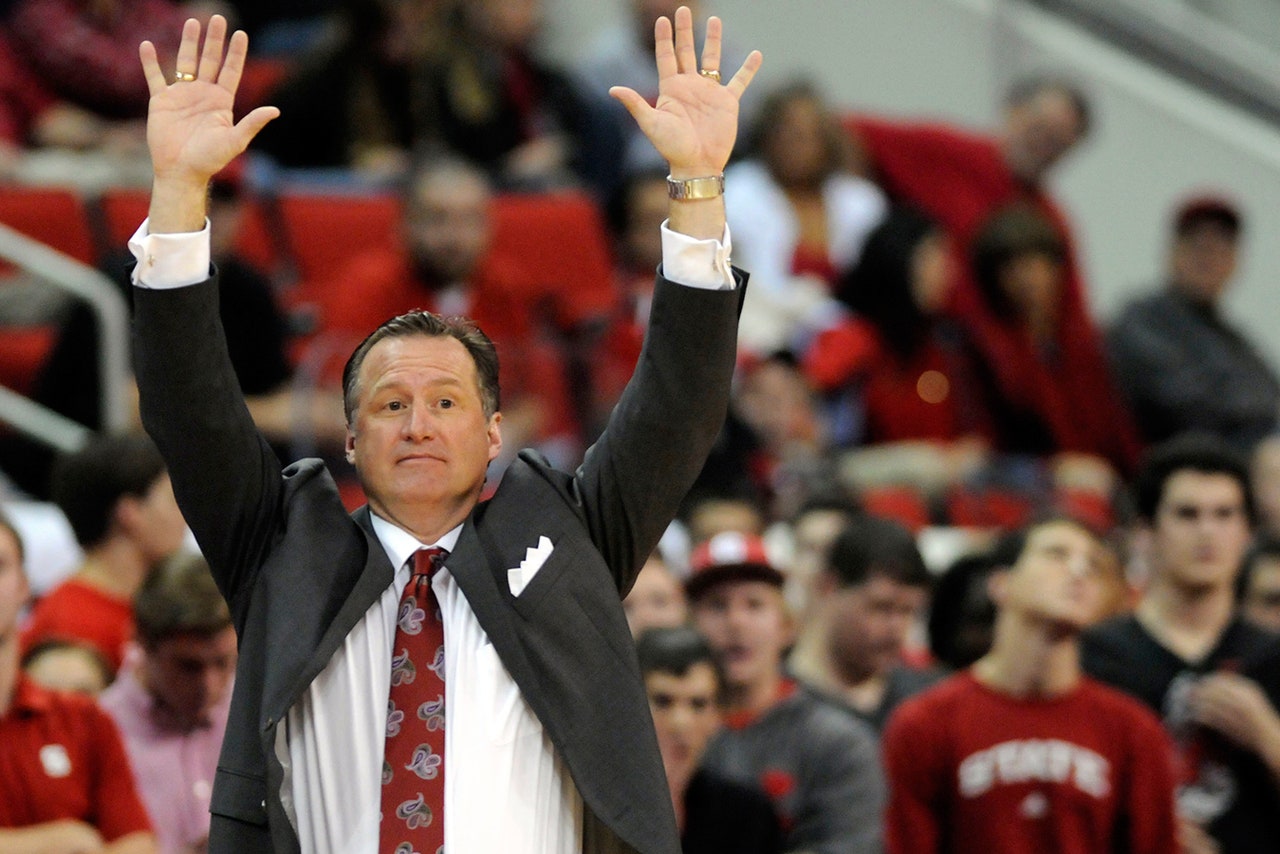 RALEIGH, N.C. -- Back when the first men's basketball game was played at Reynolds Coliseum, NC State was on the verge of becoming the dominant program in the state, which it would be until the late 1950s.
Head coach Everett Case helped essentially jumpstart the ACC and particularly Tobacco Road basketball as we know them today. It was Case who encouraged them to add a few thousand more seats to make his arena the preeminent destination for basketball in the Southeast. And for many years, it was, as it played host to several NCAA Tournaments, ACC tournaments and now-defunct Dixie Classic games.
Before Duke's Cameron Indoor Stadium was known as the toughest place to play in the ACC, it was Reynolds Coliseum, where the fans were on top of you and vicious. The heat was oppressive and the wins were hard to come by from 1949-99.
There were moments like that on Sunday against Wofford in a game that felt like an NCAA Tournament game. It wasn't quite the same, of course. But there were moments when the crowd rose up and rallied behind their Wolfpack so loudly that it seemed there was no way to hear yourself think.
In spite of both the fans' efforts and the efforts of NC State (8-2) though, the Wolfpack fell 55-54 to Wofford (8-2) in a heartbreaker that might be the last game the men's team ever plays in Reynolds Coliseum.
"It's unbelievable. It's unbelievable," NC State head coach Mark Gottfried said of the atmosphere. "I've said it before and (athletic director) Debbie (Yow) and I have talked about it, that Reynolds is going to go down to maybe 5,500 (seats), 5,000, I don't know for sure.
"It won't be entirely my decision, but we need to talk about whether or not we may never play in here again. I don't know. We'll see. Tough to have a game where you lose potentially be the last one, but the crowd was phenomenal. It was loud and fun, a great basketball atmosphere today."
It had everything -- the return of referee Karl Hess, a longtime ACC official who hadn't refereed an NC State game since throwing out former Wolfpack greats Chris Corchiani and Tom Gugliotta at a game back in February 2012. Hess made his presence felt early by assessing Gottfried with a technical, and the crowd -- which had already made its feelings for Hess known before that -- erupted in boos.
It became more fun than that later, though, when NC State's massive center BeeJay Anya wrapped Hess in a hug at the free-throw line before shooting a pair in a lighthearted moment that eased some of the tension. It harkened back to the days when referees were characters in their own right and their interaction with coaches and players was almost as good as the game itself.
For awhile, it seemed that the magic of the Old Barn, as it was affectionately known, would be enough.
As junior guard Trevor Lacey came back from an ankle injury that sidelined him for NC State's win on Friday over Charleston Southern, it was him versus Wofford down the stretch, and he hit every big shot imaginable -- including what looked to be the game-winner.
Wofford was pesky the entire game, never letting its deficit get into double digits. But every time Wofford chopped into the deficit, Lacey would hit a big basket. He scored 11 of NC State's final 13 points over the final 11:54, including two buckets that seemed like they would win the game.
The first came with 35 seconds left and right after Wofford took its first lead since the first half, and it put NC State up by one. On the other end, NC State stopped two Wofford attempts near the basket before a block out of bounds gave the Terriers the ball with six seconds to go. Wofford called timeout and ran one of its well-designed out-of-bounds plays, and a beautiful backdoor cut for a lay-up later, NC State's crowd sat in stunned silence.
But with 1.9 seconds left on the clock, NC State still had time to run a play. Freshman Lennard Freeman hit Lacey with a great pass, and Lacey took a few dribbles and pulled up from just inside the three-point line. The jumper went through cleanly as the buzzer went off, and the crowd exploded in sheer joy as the NC State players streamed onto the court to mob Lacey.
Except it didn't count.
A replay showed he had the ball on Lacey's fingertips -- just barely, though -- with the clock at 0.0, and the backboard had lit up bright red already, too.
Lacey walked off the court, his face blank, as the final ruling was made and the basket was waved off after a lengthy replay.
"It's tough. It's funny that I watched that ESPN 30 for 30 (documentary) last night ("The U Part 2"), and who did they lose to with the pass interference? Ohio State? So it kind of felt like that," Lacey said after the game. "We celebrated and thought the game was over and they went back and changed the call. But we've seen the tape. I've got to do better to get it off."
"I think Trevor, he's just kind of beating himself up for no reason on that one. I thought he just did a phenomenal job," Gottfried said of Lacey's shot. "It was interesting -- down in our locker room, our video coordinator has a freeze-frame picture with the clock at 0.1 but the red light is on. I don't know if that's accurate or what clock that is on his screen, but I thought Trevor did everything right.
"A tenth of a second short."
Wofford head coach Mike Young's team has been on the other side of it. He thought it was good. He told Gottfried that as the referees were at the monitor.
Wofford guard Eric Garcia did, too. "I thought it was in. I thought it's too good to be true. We're not supposed to beat NC State. So when it went in, I thought they won," Garcia said.
Naturally, games rarely come down to one play, and this one didn't either. NC State didn't get anything easy from the Terriers, who turned it over just four times and allowed NC State to get just three offensive rebounds. NC State got no points off turnovers and no points off offensive rebounds, an almost unheard of stat in today's college basketball.
"They're a veteran team, so they know how to play," senior Ralston Turner said. "I don't think they had a whole lot of breakdowns. They were really solid. They made it tough for us to score. We had to score over them. So give the credit to them."
In his 13th year as the head coach of the Terriers, Young has made them into what they are -- a tough out for any top-tier program, particularly any that thinks they'll be a walkover. Even Young himself admitted, though, that "NC State losing to Wofford is probably not supposed to happen." But it's college basketball, and sometimes, it does.
He recalled going to Purdue back in the winter of 2007 when the Boilermakers were just two games removed from beating Louisville. It was their third game in a five-day stretch just before Christmas, and guess what? Wofford won, 69-66.
"I know (Purdue head coach) Matt Painter well enough to know that he was jumping up and down and begging those guys to get their attention and get them refocused. We had some of that here today," Young said. "I don't think we would've won the Big 10 that year. That Purdue team went on to win the Big 10 regular season and had a great year. This Wolfpack team is going to go on and go to the NCAA Tournament and have a marvelous year.
"They're very young and it can sometimes be hard to get these guys, to get their attention, to understand that every day and every possession and every opportunity is a big deal and you've got to be ready to go. They were ready to go. I thought they played a good basketball game."
It would be easy for NC State to say that they didn't play hard. But they did. Gottfried said as much. A few baskets going in and out, a few almost-defensive stops turning into Wofford baskets, and it's a one-point loss.
The good news for NC State is that the season is far from over. The Wolfpack lost one early last year to a good NC Central team, and an NC Central team that kept winning, thus ensuing NC State's RPI didn't suffer too much. Wofford went to an NCAA Tournament last year and returned almost everyone, so the Terriers have the potential to be the same type of loss.
"I don't think this one hurts as bad as Central because I think we played hard. They just played better. It's not quite as bad as Central in our heart, but it still stings," Turner said.
Gottfried schedules games like this on purpose, to make sure his team's RPI stays high and it's enough to get into the NCAA Tournament as an at-large with a brutal ACC slate looming. Play a bunch of patsies in non-conference, take a few too many ACC losses, and, well, just ask former Virginia Tech coach Seth Greenberg how that generally turns out.
Besides, it helps get his team better.
And regardless of the result in this one, they still have plenty of work to do.
"We've got to get better, and that's a good thing," Gottfried said. "What happens is when you play good teams, regardless of what conference they're from, a lot of times, your casual fan -- not your true, diehard fan, your casual fan -- they see a team from a power conference, BCS conference, they automatically think they're better.
"The reality is when you play a team like this, it's been well-documented how much experience they have, these kinds of games are good games. They help you. I like playing them. They're hard, but I like them. We'll learn from it. We'll watch the tape. It's going to make us better."
The brutal non-conference slate continues on Wednesday night when Tennessee comes to town, though, and that game takes on even more importance than it did before.
"We've got to bounce back and get ready to play Wednesday night against Tennessee who I think beat Butler today," Gottfried said. "So not a whole lot of time for us to be pouting around. We've got to get ourselves picked up and ready to go here in a quick turnaround."
---