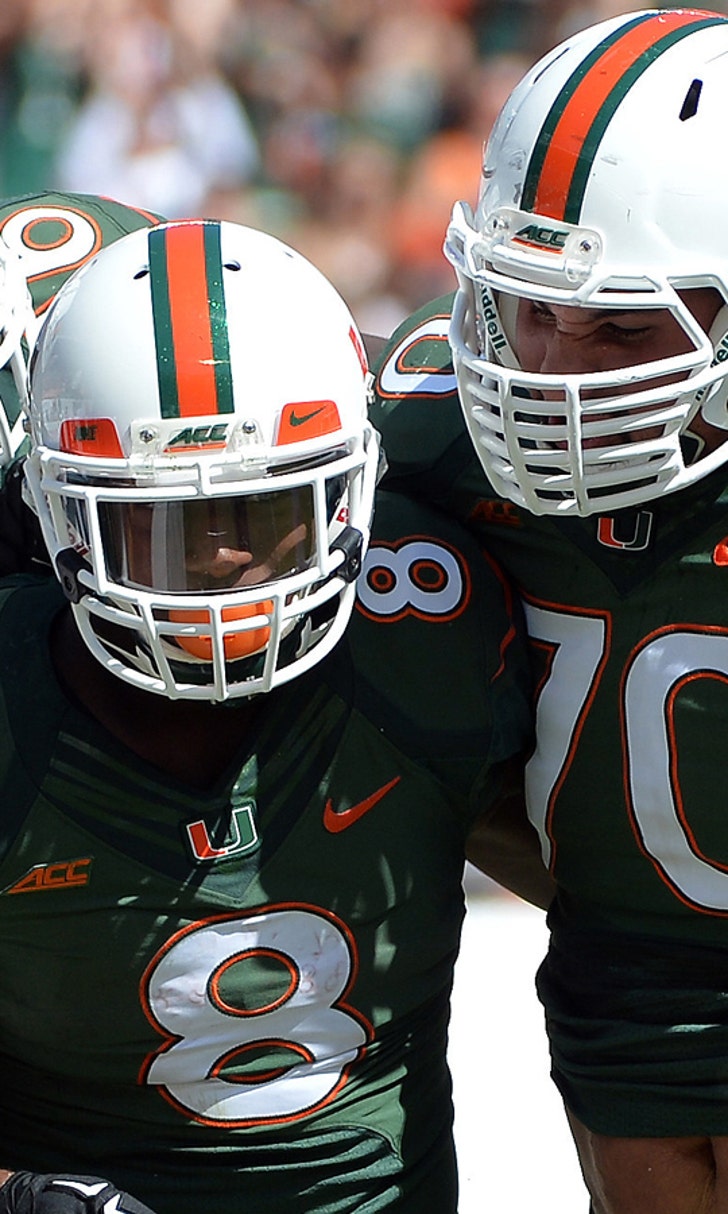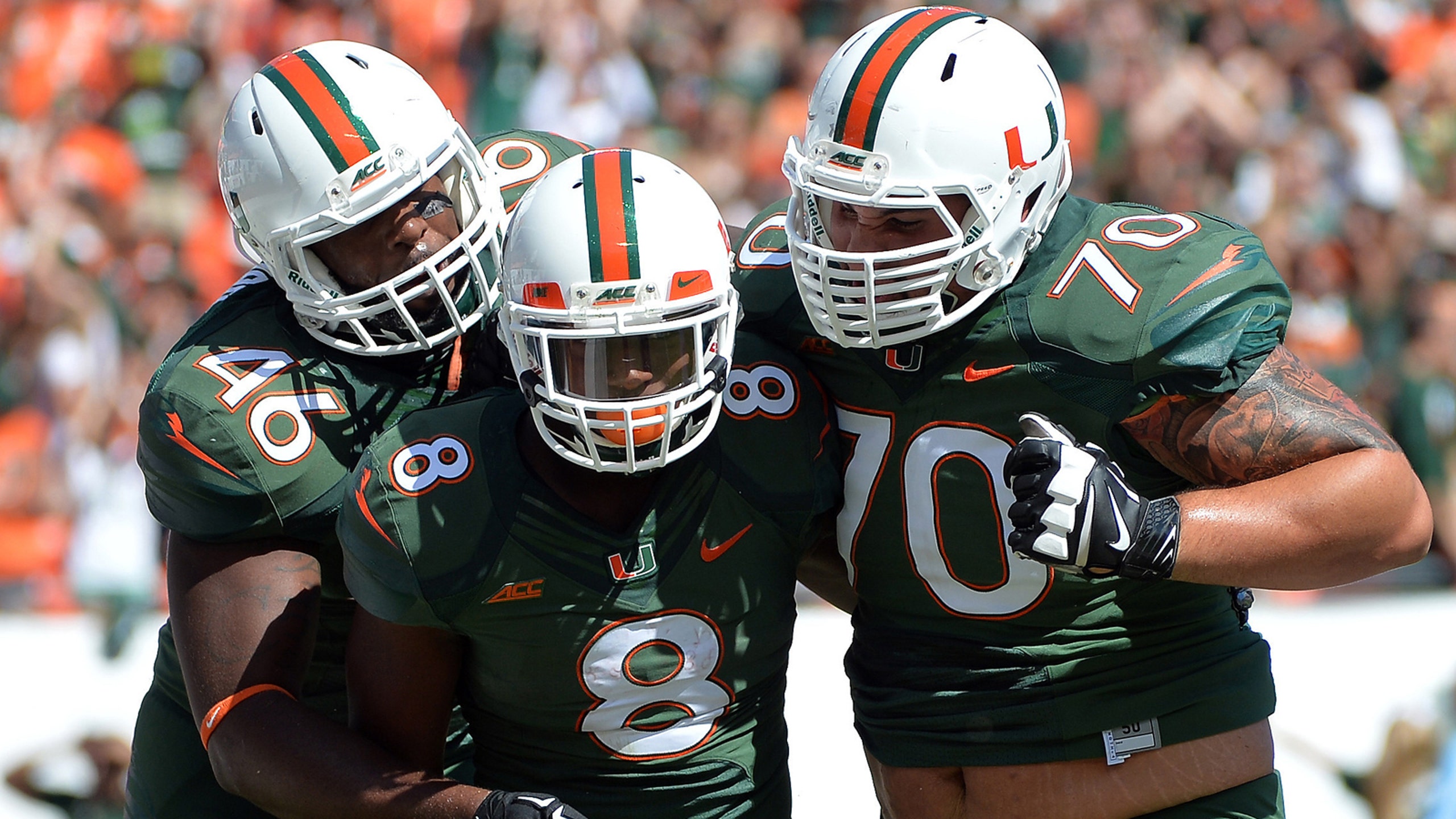 With third straight rout, Miami now firing on all cylinders
BY foxsports • November 1, 2014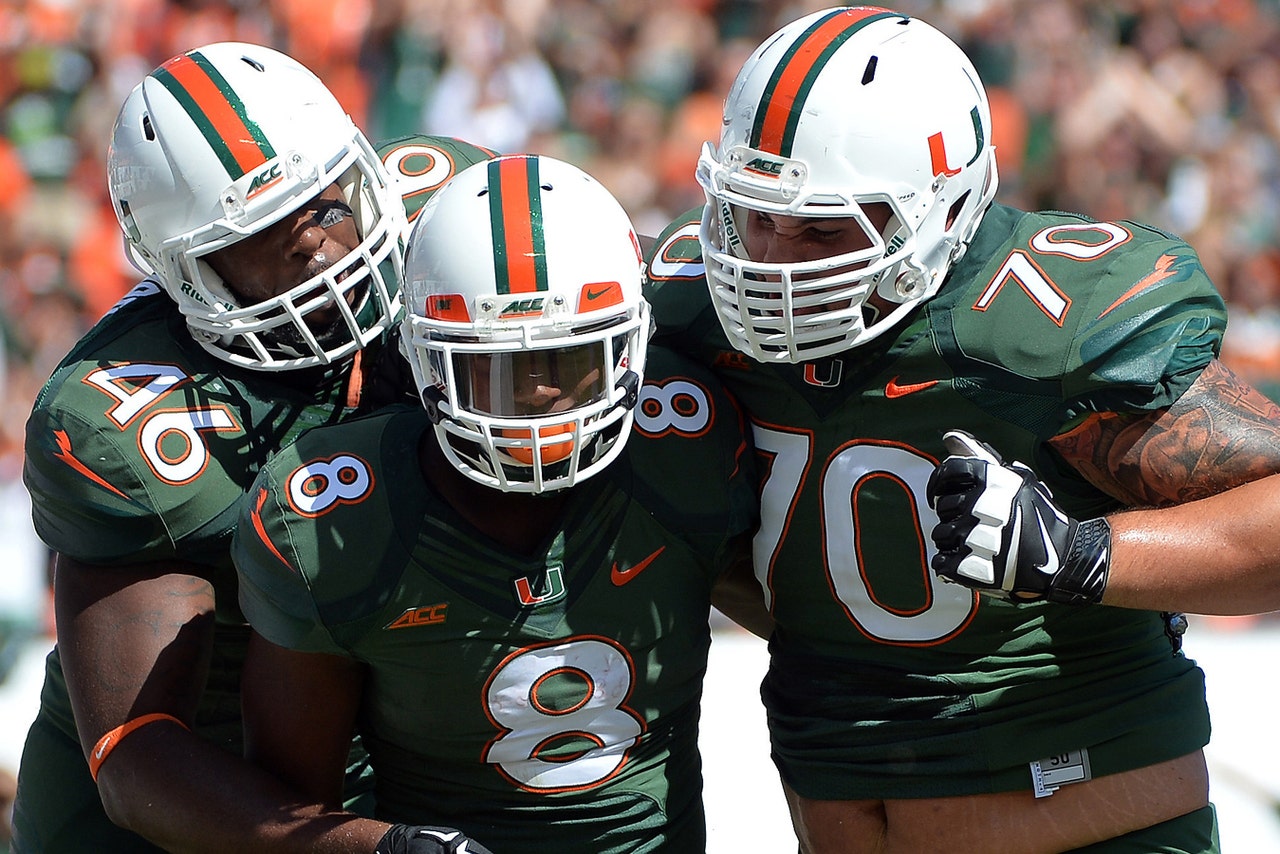 MIAMI GARDENS, Fla. -- Play every game like it's the Atlantic Coast Conference Championship.
That's what University of Miami senior tight end Clive Walford told teammates prior to Saturday's 47-20 rout of the North Carolina Tar Heels at Sun Life Stadium.
These Hurricanes (6-3, 3-2 ACC) still find themselves on the outside looking in for a chance at the conference title game, but they seem to have turned the corner.
Since losing to the Georgia Tech Yellow Jackets on Oct. 4, Miami has outscored its opponents 132-60 and produced its first three-game winning streak since opening the 2013 season with seven straight victories.
"We're all just playing together, and we all know everyone has each other's back on the team with offense, defense and special teams -- even with our scout team guys," freshman quarterback Brad Kaaya said. "They're giving us tremendous effort week in and week out. We know that in every game, (the opponents are) going to make plays and we will too. We just can't get down when the other team does something good on offense or defense. We have to keep that 'next play' mentality, which will be key for us."
Offensively, both the ground and air attacks are clicking. Third downs are no longer miserable. Rather than converting just 24 percent of the time, Miami has upped the success rate to 42 percent during the current three-game stretch.
Walford stood by his words and caught a pair of 14-yard touchdown passes Saturday, becoming the first Miami tight end to do so since Greg Olsen on Oct. 15, 2005. Junior running back Duke Johnson collected his fifth straight 100-yard rushing game. His 90-yard touchdown matched the longest run from scrimmage by a Miami player since Jack Losch in 1955. Freshman Joe Yearby added 104 yards, making it the third game in a row a pair of Hurricanes reached the century mark. That is the first time in school history it has been done.
Kaaya went 11 for 17 for 189 yards and three touchdowns. He has gone 57 attempts without an interception, an impressive feat for a young quarterback still slowing down the game as he gains more experience.
Over the past three contests, the unit has turned the ball over just twice, both on fumbles. In the three losses this season, there have been eight turnovers. By halftime, the Hurricanes led by at least three touchdowns for the second straight week.
"I think as an offense, we're in a zone," said Johnson, who ran 19 times for 177 yards and two scores. "We're hitting every way we can -- passing, rushing. Guys up front are doing a great job week in and week out providing holes and protection."
During halftime, junior linebacker Tyriq McCord told teammates to match his intensity. Guys are challenging each other to be better. Senior linebacker Denzel Perryman, a semifinalist for the Butkus Award, sees the defense uniting and playing together.
Miami sacked quarterback Marquise Williams six times and tallied seven tackles for a loss. For the third straight game, the unit forced multiple takeaways. Missed tackles are few and far between.
On Saturday, the Hurricanes didn't allow an offensive score until 5:11 remained in the third quarter. North Carolina (4-5, 2-3 ACC) averaged 37.4 points entering the game, tops in the conference and 19th in the nation. This effort comes from the same team that surrendered a combined 1,163 yards and 100 points to Louisville, Nebraska and Georgia Tech.
"I feel like at the beginning of the season as a defense we just weren't trusting," said Perryman, who recorded a game-high 10 tackles. "Guys were pressing their plays and now they're doing their jobs, being where they need to be and allowing guys to make the play."
Whether it was junior safety Deon Bush scooping an interception or sophomore punter Justin Vogel pinning the Tar Heels inside the 20-yard line on four occasions, the Hurricanes are beginning to exude confidence.
It wasn't present during those three losses. Will it show up in two weeks when Miami hosts No. 2 Florida State? The Seminoles have won four in a row in the series and seem destined for a spot in the new playoff system. Now would be the time to take that next step.
"Guys just stepping up," said Bush, who also collected five tackles, another for a loss and a sack. "We had adversity, we had a couple losses that humbled us a lot. Guys stepping up, taking a leadership role. It's helping the team a lot."
Added head coach Al Golden: "No. 1, practice. We've been practicing. We've been getting practices in, we're getting better. Right now, we're competing at a higher level in practice. We're blocking everything out, we're focused and we're improving. We're not letting anything on the outside get inside. That's hard to do. Right now we're getting great leadership, and we're coming to work every day. I thought we got better this week. I think head coaches are paranoid to begin with, but I was worried sick about this game coming off of last week and obviously looking at a time that was playing really well coming into our game. Really well. And putting a lot of points on the board. Good win."
You can follow Christina De Nicola on Twitter @CDeNicola13 or email her at cdenicola13@gmail.com.
---