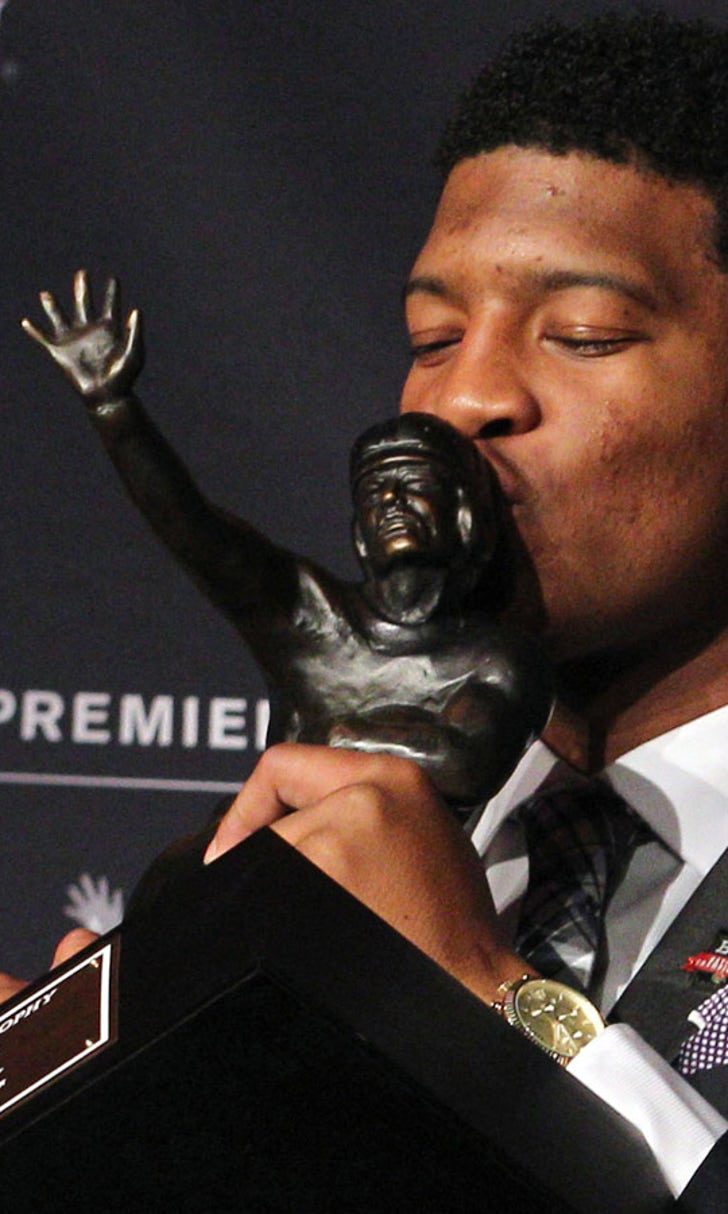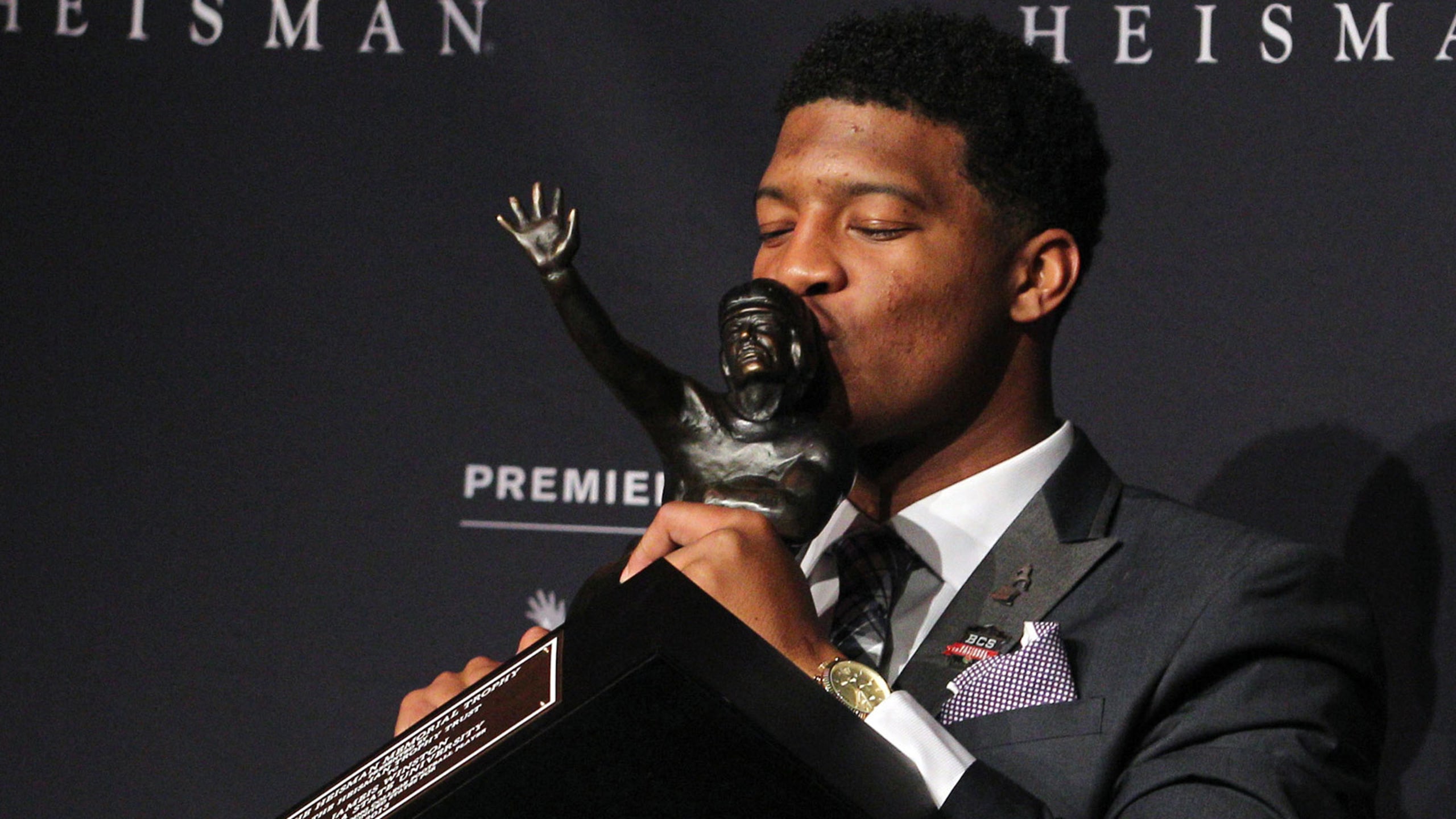 Winston wins Heisman, now he'll have to live up to it
BY Cory McCartney • December 14, 2013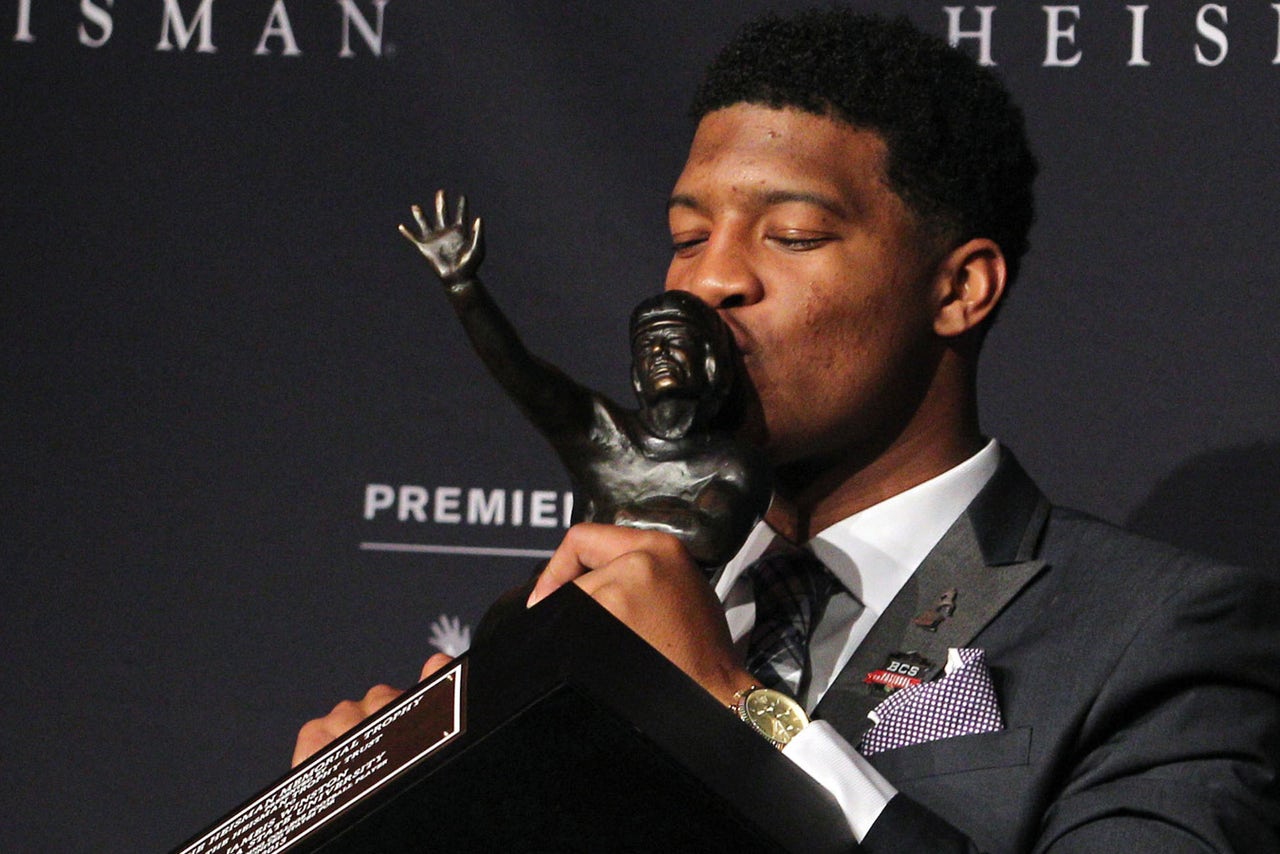 Jameis Winston bound onto the stage at the Best Buy Theater in the heart of Times Square, a group of 24 past Heisman Trophy winners behind him. The newest member of the fraternity shook hands with the likes of Johnny Lattner, Paul Hornung and Archie Griffin, flashing a broad smile as he took the podium.
The span of a career, at Florida State and beyond, will decide how the Florida State quarterback shoulders the weight of being a Heisman winner. But we've already seen him deal with a far more difficult situation on the path to winning it.
"I trusted in the process that evaluated facts and truth would deliver positive outcomes," Winston said in a speech in which trust was the central subject.
That the redshirt freshman won was of no surprise, amid a trophy chase that saw candidates fall in droves and another, Auburn's Tre Mason, who would join the race too late to make a serious challenge. Winston was, for all intents and purposes, the only logical option.
He led the Seminoles to a spot in the BCS title game opposite Auburn, boasts an FBS-best 190.1 pass efficiency rating while throwing for 3,820 yards and 38 touchdowns, both NCAA freshman records.
All that was in doubt was the margin of victory for the player who is now the youngest winner in history at 19 years, 342 days, and its there that any hang-ups played out in tangible numbers.
Winston won by 1,501 points over Alabama QB AJ McCarron (704), while Northern Illinois QB Jordan Lynch was third (558), Boston College running back Andre Williams fourth (470), last year's winner, Texas A&M QB Johnny Manziel fifth (421) and Mason sixth (404).
It was a sizable win, with Winston receiving 79.2 percent of the maximum possible points Winston received ranking seventh all time, just below O.J. Simpson's 80.6 percent in 1968.
Considering Winston was such an overwhelming favorite it's surprising he didn't win by a wider margin, though that may have had its root in voters not willing to get behind him amid legal troubles.
The investigation Winston found himself in, accused of sexually assaulting a former Florida State student last December, ended with him not being charged. The timing of the State Attorney's press conference to say as much came five days before Heisman ballots were due, paving the way for Winston to win without controversy swirling.
Still, there may have been voters who didn't feel they could vote for him with a clear conscience as he failed to appear on 115 of the 928 ballots.
*In full disclosure, Winston earned this writer's vote, with Mason second and McCarron third.*
Even after he had been cleared, the probe became part of Winston's narrative, following him to New York City while he was taking part in Friday's activities with the other six finalists.
Over 1,100 miles from Manhattan, attorney Patricia Carroll, the lawyer for Winston's accuser held a 90-minute press conference. She blasted the investigation and the Tallahassee Police Department's handling of the case and the treatment of her client.
"The bulk of the investigation was into the rape victim," Carroll said. "I'm looking at an investigation of a rape victim, not a rape suspect."
Winston, during his pre-Heisman availability Friday, told reporters "I knew I could respect the process and eventually be vindicated."
The case is closed, and now a BCS title game date with Auburn awaits, as do a whole new set of expectations on and off the field.
Of that, Manziel can attest.
The Aggies QB, in a testament to just how difficult it is to one-up yourself, threw for more yards and TDs this season (3,732 and 33, respectively) than he did through his bowl game last year (3,706 and 26) -- and he finished fifth. That ties Tim Tebow in 2009 for the lowest finish of any former winner who was invited to the ceremony.
It was fitting that Manziel, college football's fist star of the social media age, was on hand for the crowning of the next one, coming up on stage after Winston's speech and giving him a hug before Manziel joined the rest of the past winners.
The Seminoles QB will be the ninth Heisman winner to return to the following season, but only one of them ever dealt with their every move being news, their every tweet the foundation for a news cycle and that was Manziel. He's the only one who fully grasps what awaits Winston. But if anything positive came out of the investigation, it's that there's no question that Winston can remain poised on the field with chaos swirling off it.
It was almost prophetic this summer when Winston, who had yet to attempt a pass in college, was asked whether he could handle the spotlight. "If I ever get Manziel disease, I want all of you to smack me in the head with your microphones," he told reporters.
Reminded of that comment after the Seminoles' 51-14 rout of then-No. 3 Clemson on Oct. 19, a performance that thrust him to the top of the Heisman conversation, Winston only laughed.
Famous Jameis isn't Johnny Football. Like Manziel he dealt with a scandal and Winston followed him as the award's only redshirt freshmen winners. But while Manziel claimed the Heisman and afterward became TMZ fodder, saying at July's SEC Media Days "I'm still going to life live to the fullest," Winston's case is very different.
Crowned despite controversy, Winston won't be afforded the same leash Manziel had. He earned the Heisman on the field; now, he'll need to show he's ready to live up to the trophy off it.
---