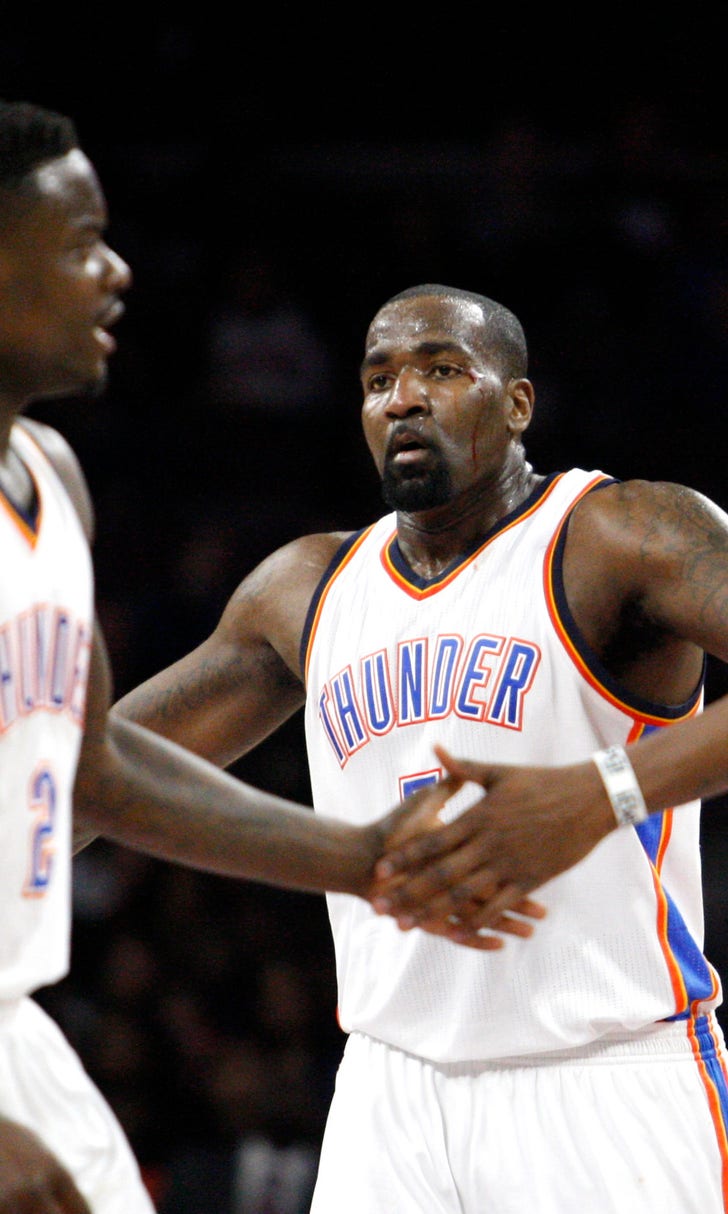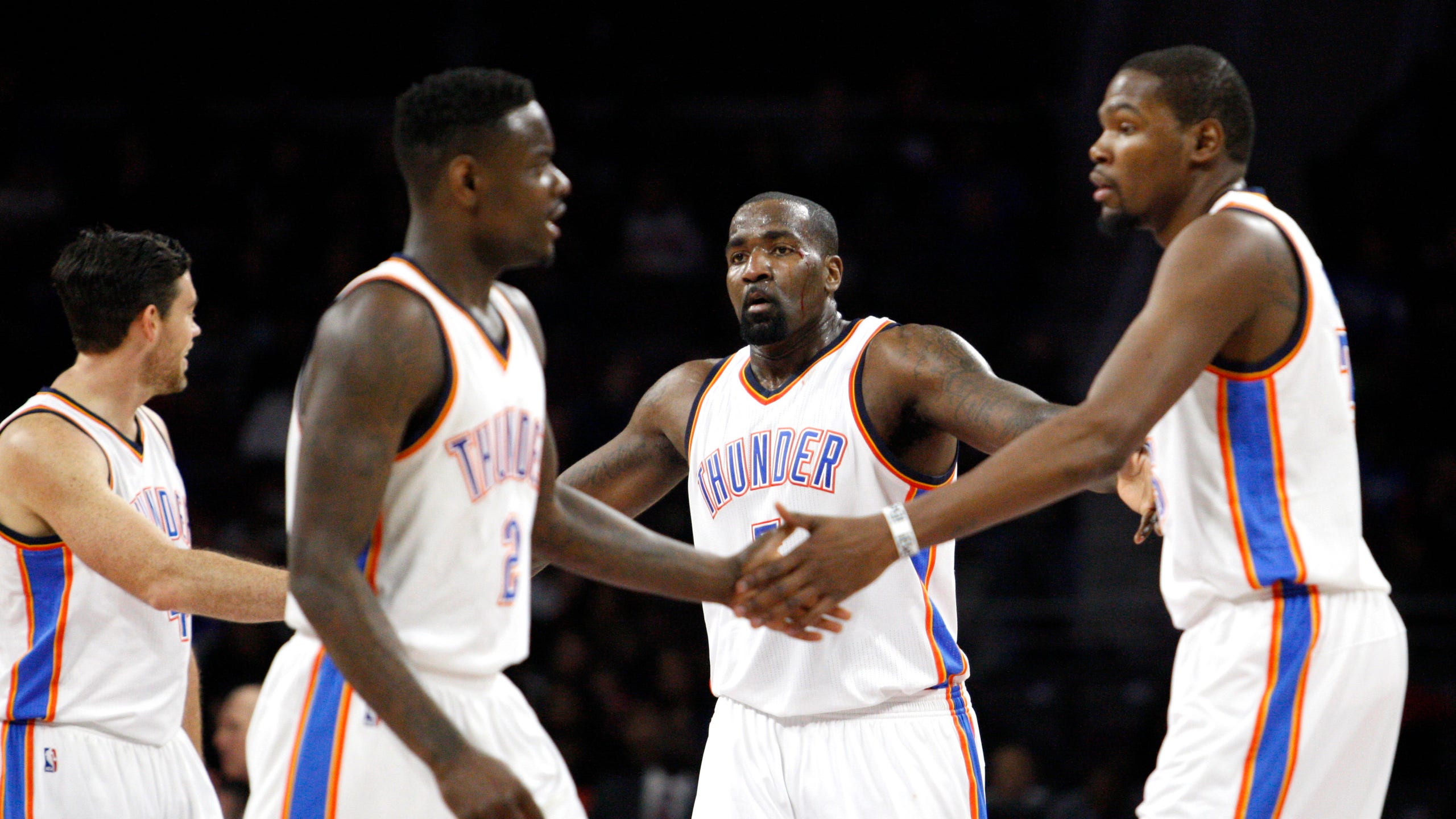 Wins like gold for Thunder moving forward
BY Jeff Caplan • December 8, 2014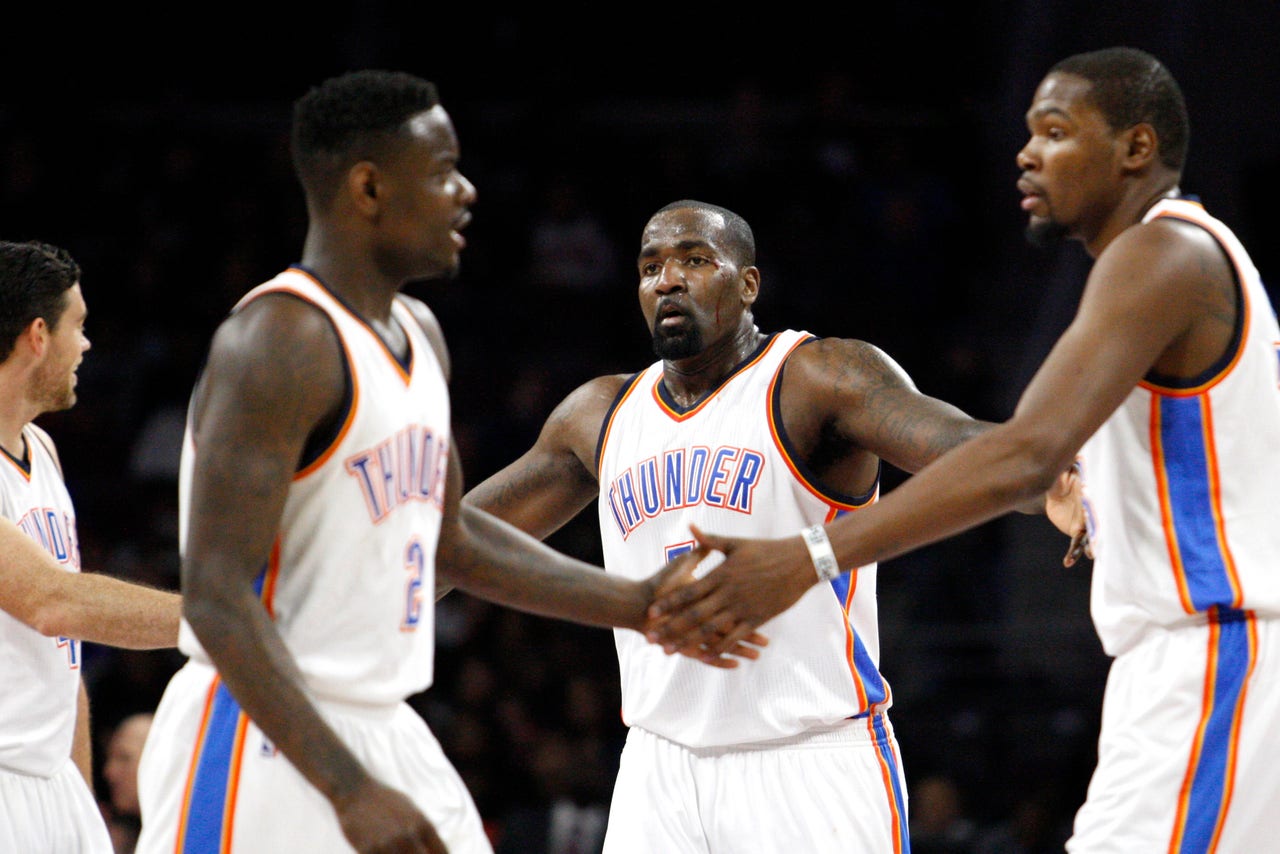 The Oklahoma City Thunder nearly committed the cardinal sin of standings climbing Sunday: Losing to Detroit.
They didn't as Kevin Durant, playing in Game 3 of his comeback from surgery to repair a fracture in his right foot, tossed in a clutch 3-pointer that ultimately provided the winning margin. 
The Thunder held on, 96-94, to run their record to —€" and this still sounds strange to say —€" 7-13 as they begin a 13-game stretch to close out one hell of a tumultuous 2014 portion of the schedule.
Just to review, through 20 games, Durant has played in three, Westbrook six, starting shooting guard Andre Roberson 11, newcomer Anthony Morrow 13, Jeremy Lamb 15, Reggie Jackson 17 and rookie forward Mitch McGary is finally making his own comeback from a broken foot with OKC's D-League team.
The only players to play in all 20 games are Serge Ibaka, Steven Adams, Kendrick Perkins and Nick Collison. Maybe going 4-12 —€" with eight losses by seven or fewer points —€" without their two superstars wasn't so bad after all considering everything else that went wrong.  
Now finally whole, if not yet totally together, the upcoming stretch starting Tuesday night at home against Milwaukee and followed Thursday by a visit from LeBron James and the Cavaliers is certainly not make-or-break, but it is a key time for OKC to pull itself together.
The competitiveness of the West makes every win like gold, with no margin for dropping Ws to the Detroits of the world. And there aren't many of those among the upcoming 13. 
Ten games are against West teams, seven are on the road and all-in-all, the competition boasts a combined .546 winning percentage. Two games are must-haves against the team OKC is targeting, eighth-place Phoenix. The Suns come to town on Dec. 14 and again on New Year's Eve.
In 12th place, OKC sits four and a half games behind Phoenix, a dangerous team that won 48 games last season but has yet to harness much consistency to start this season. 
Other games include roadies at rollicking Golden State, San Antonio and Dallas, plus home dates against the Pelicans and Portland, the Northwest Division leaders with a comfortable nine-game cushion over OKC.
The overall difficulty level of the West is preposterous. Entering Monday's games, Dallas occupied the No. 7 spot, a full eight games ahead of the Thunder. Even if a team or two dips into a slump, catching any of them will take a blowtorch-type run over the final 62.
So even though Westbrook scoffed recently when asked if he's concerned the hole is already too deep, there is certainly mounting urgency for the Thunder to play better than it did on their wobbly 2-1 road trip through New Orleans, where they were routed, Philadelphia and Detroit.
Durant has some shown initial rust, shooting 45.8 percent from the floor and 35.7 percent from beyond the arc. He's also adjusting to playing only about 30 minutes a game, eight fewer than he averaged last season, as he rounds back into shape.
Brooks has already had to adjust his rotation to alter Durant's playing stretches. The league's reigning MVP and top minute man over the last several seasons, played the first seven minutes and last eight minutes of each half in his first two games. But he found his body stiffening during the long breaks on the bench, so Brooks opted Sunday to play him in stretches of about five minutes on, four minutes off. Durant responded with 28 points against Detroit.
The rest of this month will also be a time many of Brooks' critics judge his handling of the rotation. A magnet for criticism whenever anything tilts the slightest bit sideways Brooks will deal with Durant's minutes, moving the head-strong Reggie Jackson back to the bench, developing combinations with Jeremy Lamb and Anthony Morrow off the bench, and at some point likely McGary.
It's been one bad break after another for the Thunder since Ibaka's calf injury last May kept him out of the first two games of the West finals against the Spurs. This certainly isn't how OKC drew up the start to this expectation-laden season.
But let's see where this club is come New Year's Day. The All-Star break will be the next benchmark and then finally the stretch run. 
Ultimately, this early season test of patience and resolve could prove to be the unforeseen forces that once and for all get the Thunder over the hump.
MORE FROM FOX SPORTS SOUTHWEST: 
- Ranking NFL quarterback salaries
- Wake up! Athletes caught sleeping
- College football teams that wish there was a playoff
- Oldest player on every NBA team
---