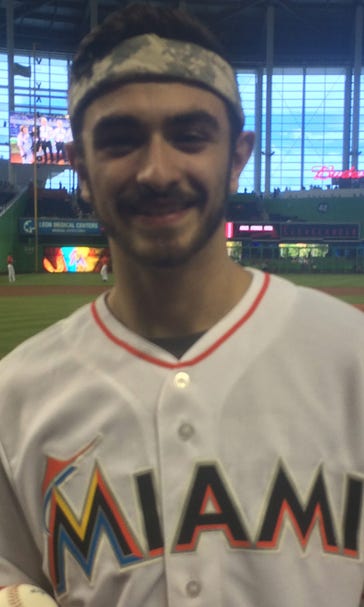 Winner of dance show comes full circle to throw out first pitch with Marlins
September 7, 2014

MIAMI -- Ricky Ubeda's eyes trained on the jumbotron prior to Sunday afternoon's game at Marlins Park.
While holding onto the baseball he would throw as the first pitch, he seemed to go back in time as a group of kids danced on Marlins Vision.
From 2008-09, Ubeda was a member of the Marlins Minnows -- the troupe of 8- to 13-year-olds who performed hip-hop and jazz routines at all Sunday games at Sun Life Stadium. To fans nationwide, he is the Season 11 winner of FOX's So You Think You Can Dance.
After he won the reality show on Wednesday night, the Marlins contacted his manager about throwing out the first pitch. It was a no-brainer. Ubeda, in a sense, would be coming full circle.
"It's totally super cool," Ubeda said. "It was many moons ago that I was a Minnow. It feels like just yesterday I was dancing on the field. I never thought I'd be throwing out the first pitch. It's crazy being back here like that."
Ubeda auditioned for SYTYCD in January. Born and raised in Miami, he graduated from Coral Reef High School on May 29. By June 21, he had flown out to Los Angeles for the show.
The 18-year-old began dancing when he was 8 and honed his craft at Stars Dance Studio. Before joining the Minnows, he danced at Miami Heat games. His instructor was also in charge of the Minnows, so once basketball season ended he moved on to baseball.
"It was an awesome experience," Ubeda said. "It's weird to be back."
Already a surreal whirlwind experience, Ubeda flew cross-country to appear on Live with Kelly and Michael following his win. While in New York City, he visited On the Town on Broadway. Once the So You Think You Can Dance tour ends in the spring, he will join the Broadway cast.
"I got to meet the entire cast and they did a full show run-through for me," Ubeda said. "They gave me a sailor hat. It was really special. I can't wait to join them."
As for his first-pitch performance? Ubeda, a contemporary dancer, implemented his trademark high kicks on the mound.
"I'm probably going to be really bad," Ubeda predicted. "(Throw) with some legs, but it'll be funny. So if I don't get it it'll be funny."
You can follow Christina De Nicola on Twitter @CDeNicola13 or email her at cdenicola13@gmail.com.
---