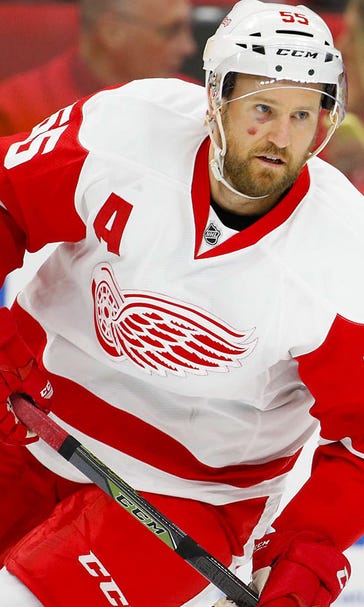 Wings try to get groove back tonight in Ottawa
October 30, 2015

A return to Joe Louis Arena was supposed to solve some issues for the Detroit Red Wings. Instead, they carry on with more questions.
The Red Wings take on the visiting Ottawa Senators on Friday night (7 p.m. pregame, 7:30 faceoff on FOX Sports Detroit PLUS) in the first of a home-and-home set between a pair of Atlantic Division teams seeking answers.
Detroit (4-4-1) opened with three wins but is stuck in a sloppy 1-4-1 slide. The Red Wings picked up their first win in nearly two weeks with a 3-2 victory at Vancouver on Saturday to close a 1-2-1 road trip, but they followed with a middling 3-1 loss to Carolina on Tuesday on home ice.
They fell to 2-2-0 in Detroit, where they play 18 of their next 25 games.
Detroit was happy with its defense against the Hurricanes, allowing just 21 shots, but the offense couldn't manage much despite its 26 chances on net. It was the Red Wings' third one-goal game in their last five, a span in which they have eight total goals.
Overall, it was a performance somewhere in the middle that led to another bad result.
"It's not bad. It's not great, either," Niklas Kronwall told the team's official website. "We know we have more in here, and we need more. We need more out of everybody. I've got to be better, and we've all got to be better as a team. There were too many turnovers."
The giveaway numbers might not be too telling with Detroit falling in the middle of the league with 7.78 per game - but when they've happened, they've hurt.
In Tuesday's loss, Carolina's first two goals came off turnovers: a misplay by backup goaltender Petr Mrazek and a pass from Kronwall that escaped Tomas Jurco.
"Sometimes it's mental, sometimes it's confidence," coach Jeff Blashill told the team's website. "We'll continue to work on it in practice."
Ottawa (4-3-2) hasn't had as much of a problem scoring, especially in a 5-4 shootout win over Calgary on Wednesday. The issues have been on defense with the Senators surrendering 15 goals in their last four games. They're also used to falling behind, allowing the first goal in seven straight games.
Though his team picked up its first home win against the Flames, coach Dave Cameron wasn't exactly enthusiastic.
"My biggest concern ... was our lack of energy," he said. "I know some of it was from bad execution, but we didn't have near the jump that we should have had based on how few of games we've played and the amount of practices we've had and that's my biggest surprise. I can't figure that out."
After starting the season with three wins in four games, Ottawa has stumbled to a 1-2-2 record over the last two weeks.
The Senators, who beat Detroit 2-1 in a shootout March 31 but have lost four of six meetings, face a struggling goaltender they have seen success against in the past. Jimmy Howard has let eight of the 76 shots he's faced reach the back of the net in his last two starts - both losses in regulation and overtime.
Howard is 5-3-0 against Ottawa in his career, but he holds a 3.15 goals-against average and .897 save percentage versus the Senators - one of only five teams against whom he has a sub-.900 mark.
---
---