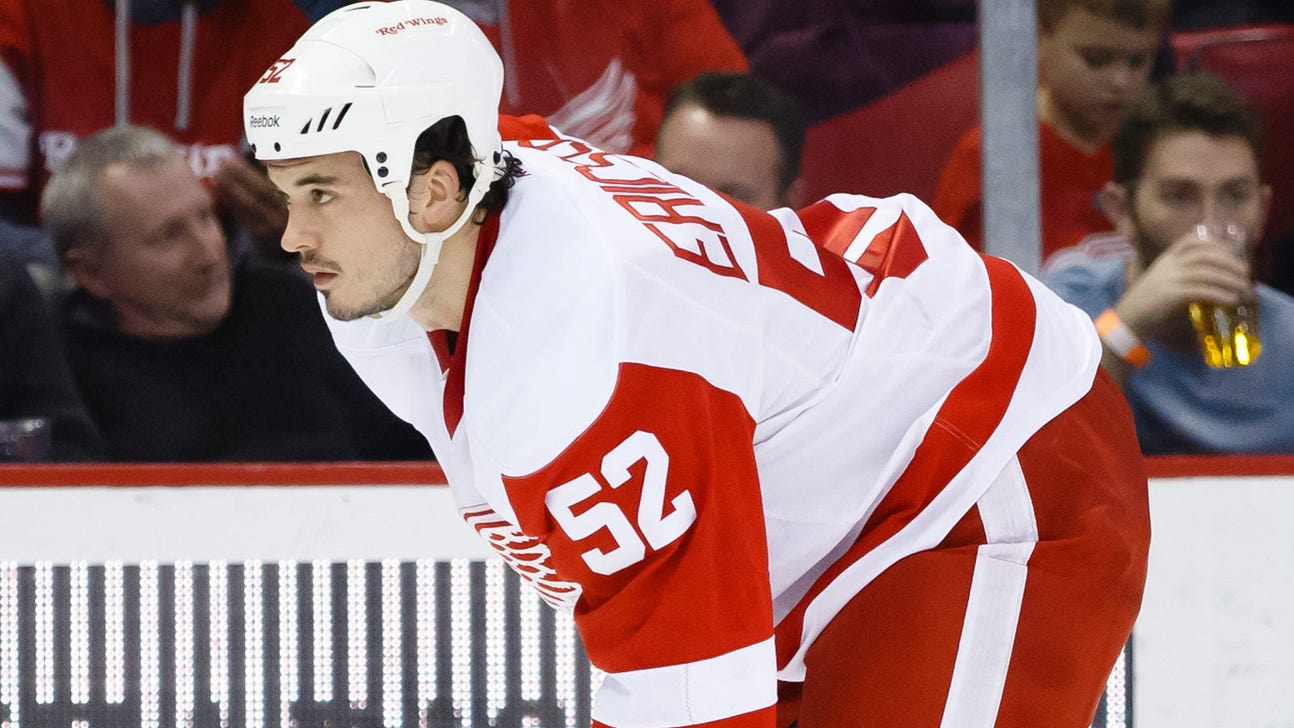 Wings notes: Players just as baffled by injury situation
Published
Mar. 19, 2014 2:27 p.m. ET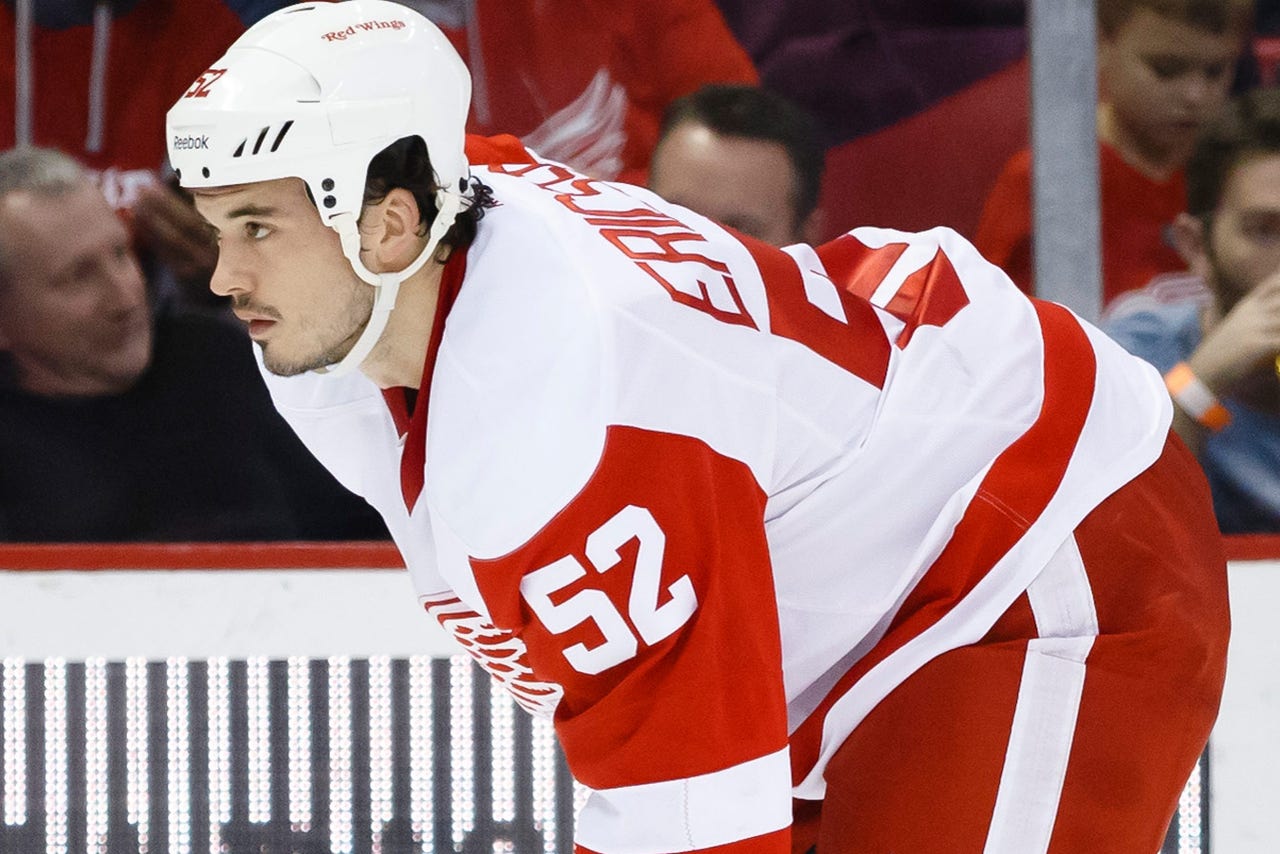 DETROIT -- When you saw nine players skating during the optional practice Wednesday, you could easily make the joke that those were all the healthy guys the Red Wings had.
Except it's no joke and coach Mike Babcock is clearly tired of talking about it.
Defenseman Jonathan Ericsson was the latest victim, suffering a broken middle finger on his left hand late in the second period Tuesday against the Toronto Maple Leafs.
The Wings confirmed he had surgery to have pins placed in the finger to help stabilize it and will miss 4-6 weeks
Babcock said he planned to play Niklas Kronwall with Brendan Smith and keep Danny DeKeyser with Kyle Quincey.
"He's just got to compete hard and make good decisions with the puck," Babcock said. "Smitty's got the competitive nature you need, he's got the skating you need, the skill you need. His decision-making with the puck gets him in trouble at times, so those are things you grow with, you become a better player. Do more by doing less, make the simple play, don't force things, lots of shifts are 50-50, nothing happens."
Ericsson now joins Pavel Datsyuk (knee), Henrik Zetterberg (back), Stephen Weiss (hernia), Darren Helm (concussion), Jonas Gustavsson (groin), Mikael Samuelsson (shoulder), Joakim Andersson (broken foot), Tomas Jurco (broken rib), Justin Abdelkader (lacerated leg) and Daniel Cleary (knee).
Asked if he'd ever experienced so many injuries, Babcock said, "Nope. No, I haven't."
Neither have his players, who have had their share of injuries the last few years.
"It's not good," Gustavsson said. "It's too many injuries and I'm for sure one of them. We're just a point out of the playoffs right now and considering all the injuries, it's good that we're still in the race now and we have a lot to play for. But it's been crazy this year. I don't know how many games we lost but I'm sure we're one of the top teams in that category."
Helm, who has dealt with a myriad of maladies the last few seasons, can't quite believe it.
"There's been times when we've had guys out, but not like this," Helm said. "To have almost every one of our centers from the start of the year be out right now. And seeing Johnny go out (Tuesday) night, I don't want to say it's comical, but it's unbelievable. You can't really explain what's happening with this team, but the guys that are in the lineup have been doing a good job so once everyone is back healthy we'll make a good push."
Datsyuk was shut down for three weeks March 5 but is still doing some off-ice work.
"I need to wait one more week," Datsyuk said Wednesday.
Zetterberg underwent back surgery Feb. 21 and will be reevaluated after eight weeks, which would be after the regular season.
Helm is feeling a little more encouraged after having a setback over the weekend.
"Monday, Tuesday and today were all good days, positive and something to build off of," Helm said. "We still haven't had a practice. I was hoping today would be that test for me to see if I would be able to hold up through a full team practice. Didn't do that. I got to do some stuff with the goalies and Tom Renney which is always fun."
Helm said there's still no timetable for his return.
Andersson broke his foot blocking a shot March 9 in New York and was told it would be at least two weeks.
Samuelsson participated in the optional practice.
Jurco broke his rib in Columbus March 11 and remains off the ice. That's a two-to-four-week injury.
Gustavsson worked hard in the optional practice and may be the closest to returning.
"I felt good today," Gustavsson said. "We'll see if it's (Thursday) or this weekend or when it is. But I felt good on the ice today and I'm happy with that."
Gustavsson said having groin issues flare up so often this season has been frustrating for him.
"It's one thing if you break your leg or something like that," Gustavsson said. "You know for sure that you can't move. But with groin injuries, it can feel good for maybe the last week before you go on the ice. It's frustrating to feel like you should be able to be out there because everything you do in your normal life feels good, but then when you're on the ice you feel it. It's not something you can play through the pain because it's just going to make it worse."
Although the injuries may cost the Wings the playoffs this season, the young guys coming up from Grand Rapids are getting invaluable experience that will benefit them in the long run.
"(Luke) Glendening played basically second-line center minutes (Tuesday) night," Babcock said. "(Riley) Sheahan plays a ton. Those opportunities aren't available to you otherwise. Cory Emmerton is in the league, (Teemu) Pulkkinen's in the league. (Landon) Ferraro's in the league. Those are all opportunities for the guys. Make good on your opportunity. You never know what can happen."
"I was diving on the ice to get the puck to Millsie (Drew Miller) and I think it was Ben Smith who was coming to turn up ice and he lost his edge, lost his footing and slid right into me and cut my leg right above the (left) knee pad," Abdelkader said. "It was really close. Doctor said I was really lucky that it didn't cut one of my tendons. I got fortunate that way, but it's a bad break. But I'm lucky."
Abdelkader said he needed about 12 stitches to close up the cut.
He's not sure when he'll be able to start skating again.
"I think it's kind of see how it feels as we move along here," Abdelkader said. "It's slowly been getting better each day. I have to get my strength back and then the (range of) motion back and then kind of go from there."
On a lighter note, the Michigan State product is optimistic about his team's chances in the NCAA Tournament.
"Seems like a lot of the experts are picking them, which I don't know if that's good or bad," Abdelkader said. "I think (Tom) Izzo is a proven coach in tournament time and they're getting healthy at the right time. I think they have the experience of playing in the tournament and a lot of veterans who have been there and done it, so I think they're playing good at the right time and that's what you want in the NCAA tournament."
Abdelkader said he hadn't filled out his bracket yet but expected to have MSU in his Final Four.
The Penguins are currently second in the Eastern Conference with 94 points behind the Boston Bruins, who have 99.
Sidney Crosby and Chris Kunitz are fifth and sixth in the league in goals with 33 and 32, respectively, and Crosby leads in assists with 58. Evgeni Malkin is fifth in assists with 47.
Babcock has coached Crosby on Team Canada in the last two Olympics.
"Just like all the best players I've coached, elite, elite, elite competitors," Babcock said. "Drive train is second to none. He's not the biggest guy, but he's so thick and so powerful and a great, great skater. He gets a step on you. No different than a guy like (Jonathan) Toews, Datsyuk or Zetterberg. He's just on another level."
The Penguins are excellent on the road, too, with 20 wins and 42 points in 36 games.
"They have really good special teams, they've got some star players," defenseman Brian Lashoff said. "We have to limit our mistakes and turnovers because they're a good transition team that plays with a lot of speed. They're one of the best in the conference. It's a huge game with everything that's been going on. We have to take advantage and get some points."
---