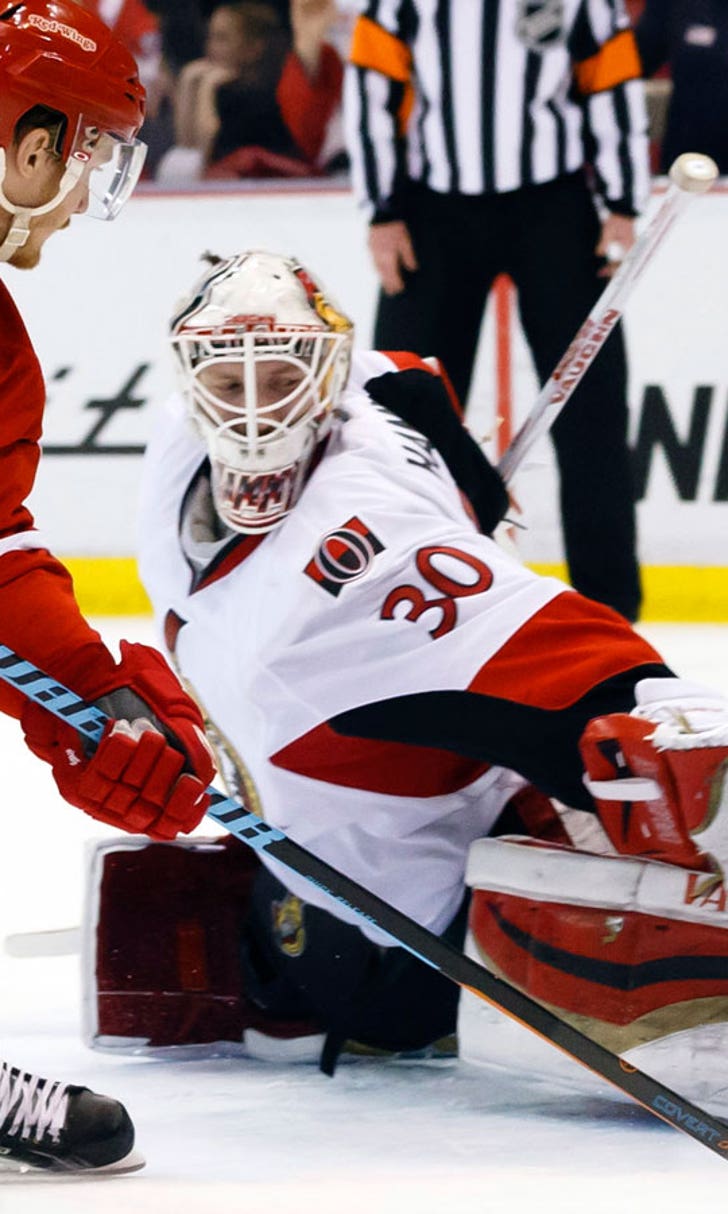 Wings look to avoid fourth straight loss
BY foxsports • April 4, 2015
Though the Detroit Red Wings are likely to extend the NHL's longest active playoff appearance streak, they still have work to do. Considering their recent struggles and difficult remaining schedule, they can't feel too comfortable yet.
Detroit tries to avoid a fourth straight loss Saturday night when it visits the Minnesota Wild (6:30 p.m. pregame, 7 p.m. face-off on FOX Sports Detroit PLUS).
The Red Wings (40-24-13) have failed to make a strong postseason push, going 4-9-2 in their last 15 games. They squandered a 2-0 third-period lead in a 3-2 home loss to Boston on Thursday, their fifth defeat in six games.
Though the Bruins also have 93 points, Detroit holds third place in the Atlantic Division with one game in hand. However, Boston owns the advantage should the teams finish tied after winning the season series.
"A lot of us have been in this situation before ... If you can get feeling good about yourself playing well than you can get on a run and have a special year," Justin Abdelkader, who has a career-high 44 points, told the team's official website. "We're right there with every team in the Eastern Conference."
Detroit is seeking its 24th consecutive postseason appearance, but is in danger of dropping four in a row for the first time since a season-worst six-game slide from Dec. 10-21. Petr Mrazek made 22 saves, marking the fourth time in six games the Red Wings' starting goalie failed to post a save percentage better than .880.
Jimmy Howard, who is 4-5-2 in his last 14 games with a 3.38 goals-against average, will start. He has given up three or more goals in three of his last four matchups with Minnesota.
The Red Wings could be boosted by the return of second-leading point scorer Pavel Datsyuk. Datsyuk has missed seven of the last nine games with a lower-body injury, though coach Mike Babcock said he would be a game-time decision. He has seven goals and 10 assists in his last 14 contests.
Detroit still has other challenging matchups remaining against Washington and Atlantic Division-leading Montreal.
Minnesota (44-26-7) still hasn't secured a postseason spot despite its NHL-best 24-6-1 record since Jan. 27, though it holds a five-point advantage over Los Angeles for the top wild-card position in the Western Conference.
After losing 3-2 to the East-leading New York Rangers on Thursday, the Wild are trying to avoid back-to-back losses for the first time since Jan. 19-20, the second of which was a 5-4 shootout defeat at Detroit.
"We don't want to put ourselves in a situation where we're easing up on things now, and then all of a sudden you've missed two games as an opportunity," coach Mike Yeo said. "That urgency coming into a game, it's something you have to make sure you use the right way. It's a powerful thing."
Jason Zucker, who hasn't played since suffering a broken collarbone on Feb. 9 versus Vancouver but still ranks fourth on the team with 18 goals, has resumed practicing with the team. Yeo said he could return before the playoffs.
Minnesota's loss in the first meeting came despite a 38-24 advantage in shots and two goals by Zach Parise.
Henrik Zetterberg recorded three assists and has two goals and nine assists in his last six meetings, though he's without a point in eight of his last nine games overall.
---