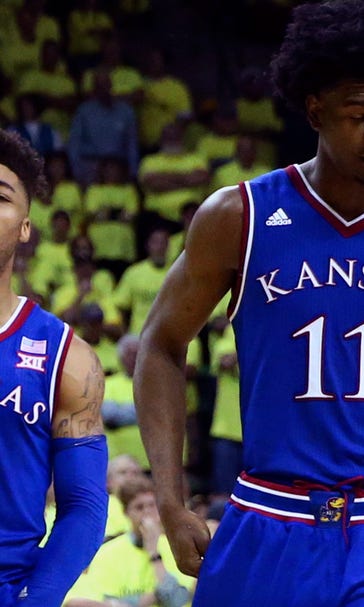 Win over Frogs would give KU a share of 13th straight Big 12 title
February 21, 2017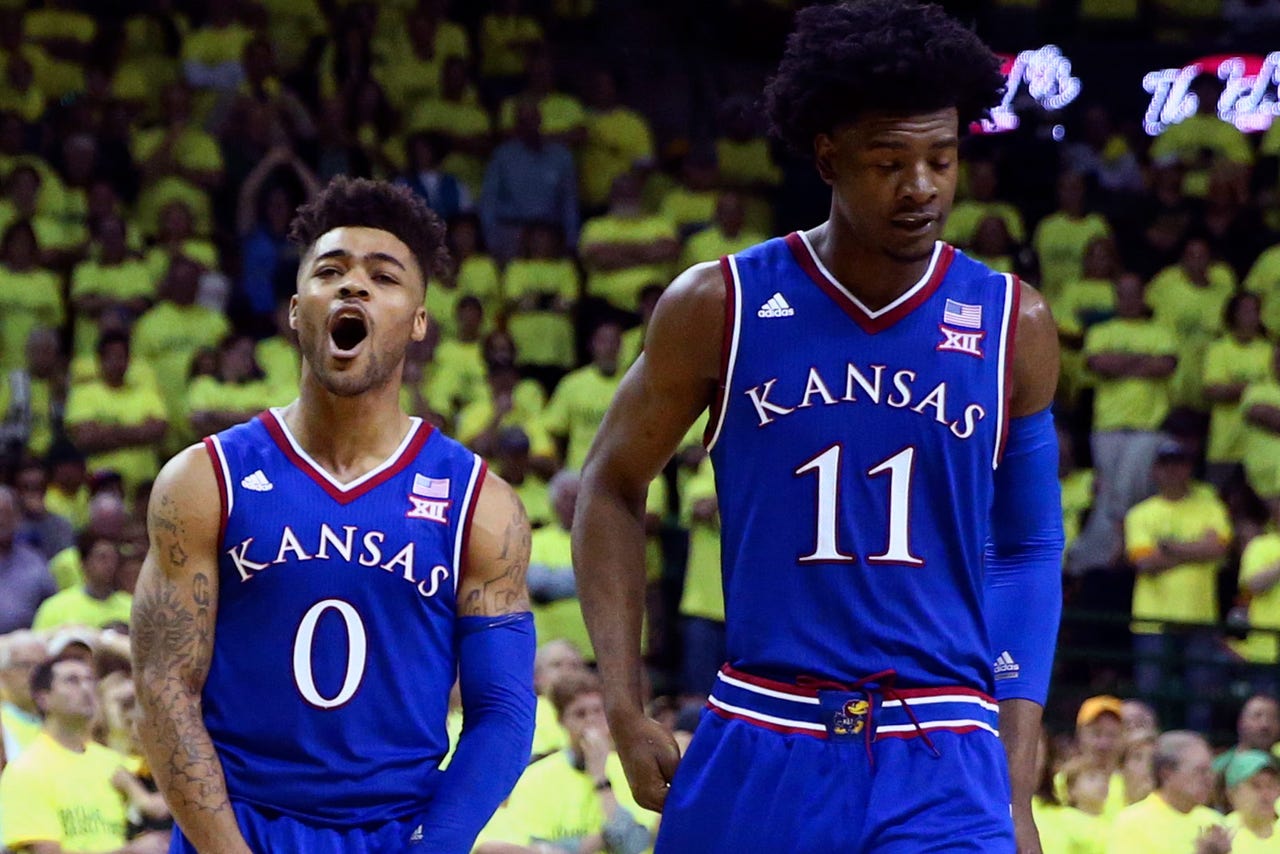 Frank Mason III (0) and Josh Jackson have the Jayhawks on the verge of basketball history.
LAWRENCE, Kan. -- One to go. With another victory, Kansas can clinch a share of the Big 12 basketball title and run its string of consecutive conference championships to 13.

The mark would tie a Division I record set by UCLA from 1967-79. Unlike the Bruins, who employed three coaches during their run, the Jayhawks' Big 12 dominance has been orchestrated solely by Bill Self.

And as their coach, Self is not obsessed with records as much as he is the future.

Tight outcomes have been prevalent for the No. 3 Jayhawks (24-3), who at 12-2 in Big 12 play can hold a three-game lead in the conference chase by beating TCU (17-10, 6-8) on Wednesday in Allen Fieldhouse.

"You feel like a cat with nine lives," said Self, "and you know those lives will eventually run out."

Each of the Jayhawks' last seven games was decided by single digits, and they won six of them. Kansas is 10-2 in such games, 8-1 against league rivals. It has won eight games it trailed by at least nine points and stands 8-1 when trailing at halftime.

"We've had some miraculous wins, but I do think it speaks volumes on our guys' mental toughness," Self said. "I'm not sure it does physical toughness as much, but mental toughness, I know it does."

One concern for Self is how much fortitude the Jayhawks can summon.

His bench is thin, causing starters to play extended stretches. Senior guard Frank Mason III, the Big 12's leading scorer with a 20.3-point average, also averages the most minutes (35.8) of any league regular. Junior guard Devonte' Graham ranks third (34.9).



Defensive heroics lifted Kansas in its last two wins, both against Big 12 contenders.

In an overtime victory over West Virginia, the Jayhawks used a press to instigate a frantic rally from 14 points down in the final three minutes of regulation. At Baylor, the Jayhawks slowed Bears forward Johnathan Motley with solid defense that led to second-half run-outs and authoritative dunks by Kansas freshman guard Josh Jackson.

"We haven't shot the ball well for a while, and that's one of the strengths of our team," Self said. "If we can keep guarding like we've been guarding and start shooting the ball, I think we can get a lot better fast."

TCU has been streaky of late. The Horned Frogs lost four straight to close out January, then won three in a row, but are now riding a three-game skid.

The Horned Frogs opened Big 12 play by playing Kansas tough before falling 86-80 at home behind a career-high 28 points from Vladimir Brodziansky.

The 6-11 junior forward leads TCU with a 13.8-point average and ranks second in the Big 12 with a 58.8 shooting percentage. Junior forward Kenrich Williams ranks second in the league in rebounds (9.0) and junior guard Alex Robinson third in assists (5.8).

TCU has never finished higher than ninth since joining the Big 12 in 2012-13. In Jamie Dixon's first year as coach, however, the Frogs are in consideration for an NCAA Tournament berth while attempting to hold their own in a deep league.

"When you go top to bottom, you look at the 10 teams, it's pretty remarkable," said Dixon, who came to TCU from Pittsburgh, where he guided the Panthers to NCAA berths in 11 of his 13 seasons.

"We're playing against the best teams in the country. I don't know that a conference has had a bottom team (Oklahoma) that was in the Final Four the year before. It's a good thing to be a part of, but you've got to step up and get better. We're not satisfied."

History will not be on their side at Kansas. TCU has never won in Allen Fieldhouse and has dropped 20 straight against ranked opponents and 39 straight on the road against ranked opponents. Two of the Horned Frogs' three all-time Big 12 road wins have come this season.
---
---