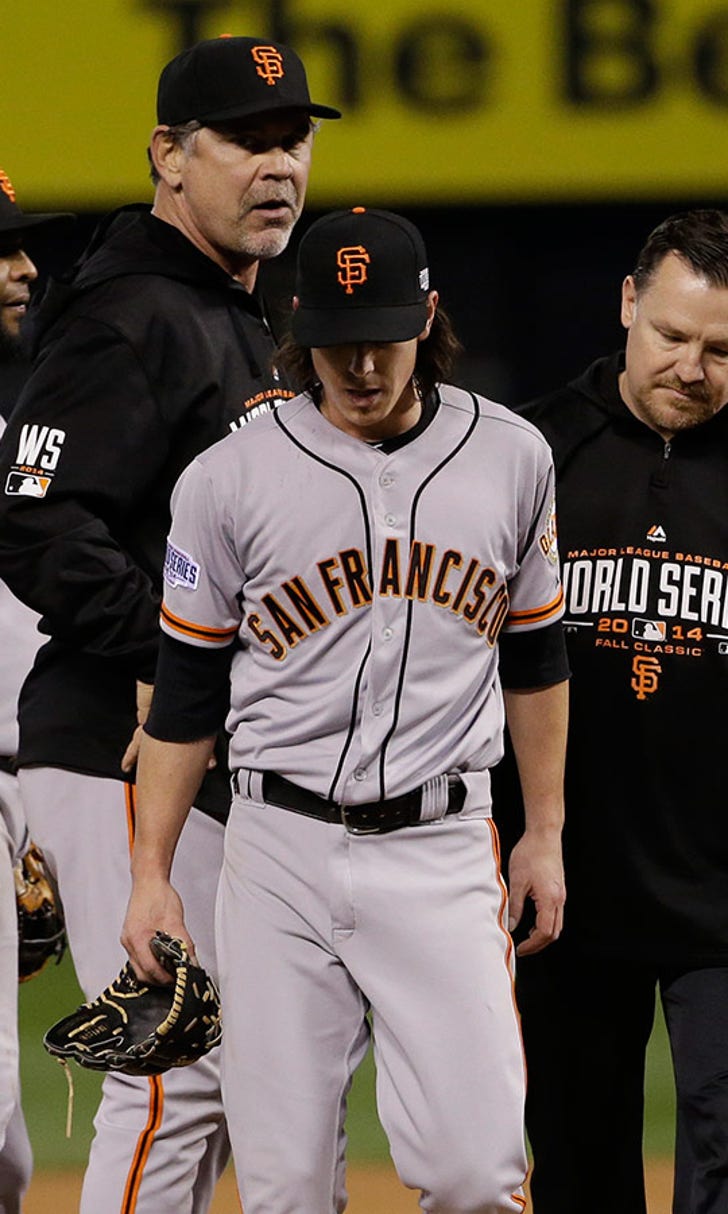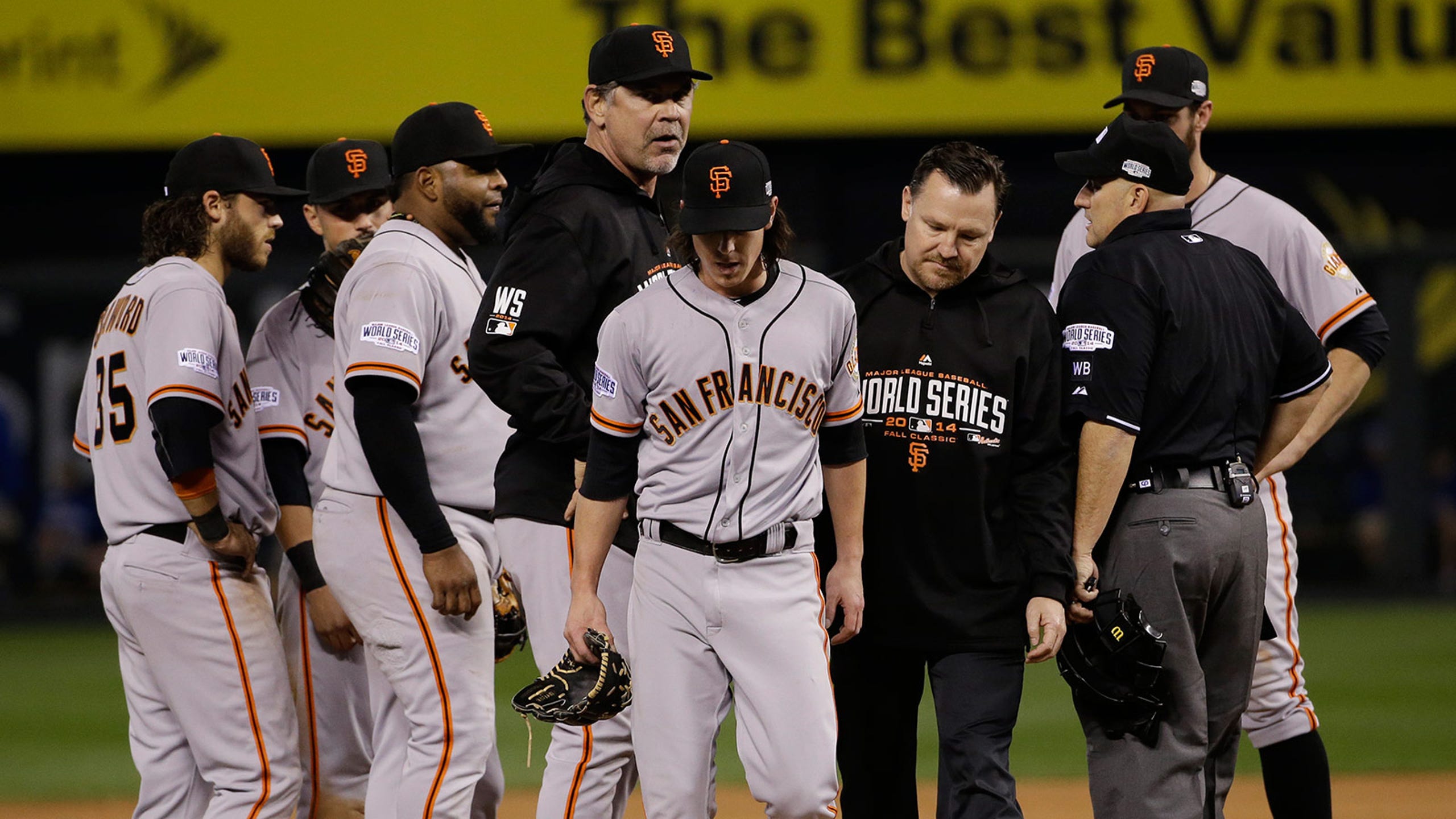 Will Bruce Bochy's short roster hurt?
BY foxsports • October 23, 2014
Here's something nobody ever tells you about the World Series: The rosters are bigger than even the managers need ... and this World Series goes a long way toward proving my point.
Consider: During the regular season, every team carries five and sometimes even six starting pitchers, but you need only four in October. Which effectively gives the manager an extra roster spot. But wait, there's more! Every team carries at least one utility infielder, maybe two. Some teams, though – for example, the San Francisco Giants and the Kansas City Royals – rarely pinch-hit for an infielder, which means the utility infielders don't often get off the bench. The Giants' and Royals' utility infielders have combined for eight at-bats in 22 team games. And we might assume that a few of those at-bats were desultory. And there are those backup catchers: The Royals' backup catcher hasn't played and probably won't, while the Giants' backup catcher – who's actually a pretty good hitter – has pinch-hit three times, and might do it again (but might not).
And while the Royals are carrying seven relief pitchers and the Giants eight, they hardly need all of them. Kansas City's Tim Collins has pitched 2⅔ innings in 10 games, and Danny Duffy has pitched four innings, three of them in a game the Royals had almost no chance of winning (granted, the other inning came in a big spot).
How big are the rosters, effectively? The Royals are carrying Terrance Gore, who's batted twice in his entire major-league career, and whose contributions in the postseason consist almost solely of two runs, both of which could have been scored almost as easily by Billy Butler. They're also carrying Jayson Nix, who's never collected a hit while wearing a Royals uniform.
Look, I'm not saying the 22nd and 23rd and 24th and even the 25th men on the rosters aren't or can't be useful. They can be, and occasionally are. I'm just saying that few postseason games are won or lost because of them.
Which is really good for the Giants, because right now Bruce Bochy has two players he probably doesn't want to use unless the contest is already decided.
Before Game 2, he had one: Tim Lincecum. One might reasonably questioned why Lincecum was even on the roster. Lincecum, who earned $17 million this season, hasn't been allowed to start a game since late August, when his ERA jumped to 4.64 after another bad outing. He did pitch effectively in four of his five September relief outings, but only one of those came in a close game, and that was a one-batter, two-pitch appearance.
So why has Lincecum been on all four of the Giants' postseason rosters? There are 35,000,001 reasons. You already know about the first 17 million. The next 18 million are the dollars Lincecum will earn next season. But it's not just those 35 million reasons. The Giants still owed Barry Zito an immense amount of money when they left him off their postseason rosters in 2010. I suspect there's one more reason Lincecum's not also been left off: The Giants really, really like him. For which I can't really blame them. But they certainly haven't been counting on him to pitch any big innings. You can say every team needs a long man in October and you might be right, but Yusmeiro Petit is perfectly capable of filling that role.
After Game 2, Bochy had two players he probably doesn't want to use, with Hunter Strickland joining Lincecum. After all, Strickland's faced only 23 batters in the Giants' 12 postseason games, and five of them – including Bryce Harper twice – have hit home runs. The latest and the unlikeliest came in Game 2, when Omar Infante went deep for only the seventh time all season. It's funny ... every time Strickland comes into a game, everyone raves about how fast he throws, until a moment later when the baseball leaves even faster than it came in. I've mentioned this before and I don't want to carp, but if Strickland were really so good, he probably would have reached the majors well before his 26th birthday (rather than just three weeks before).
Now, the Giants presumably have Strickland around because they believe in him. If Bochy believed in him three weeks ago and Bochy believes he's relatively unaffected by all the home runs, then Bochy should keep using him.
I doubt if he will, though. Not when it matters.
Will that matter? Probably not. Because of that eight-man bullpen, the Giants still have six relievers Bochy probably trusts, if we include Jean Machi. And six should be enough.
But what if they're not? At the end of the season, the Giants had two perfectly decent right-handed relief pitchers, J.C. Gutierrez and George Kontos, who weren't deemed good enough for the postseason. My guess is that Bochy would happily swap those two righties for Lincecum and Strickland and this point.
Actually, he might get one of those replacements, anyway. Lincecum pitched mop-up in Game 2 and suffered a minor back injury, which seems like the perfect excuse to get him off the roster, and Kontos (or Gutierrez) on. Especially considering Machi's recent struggles.
But, again, you really don't need all those guys. Actually, if there's one thing the Giants could use, it's another left-handed bat on the bench. Because those Kansas City relievers are extra-tough on right-handed hitters. But the Giants don't even have anyone like that on the 40-man roster. Which leads me to ask, once more: Where have you gone, Matt Stairs? A lonely, hitting-starved nation turns its eyes to you.
---