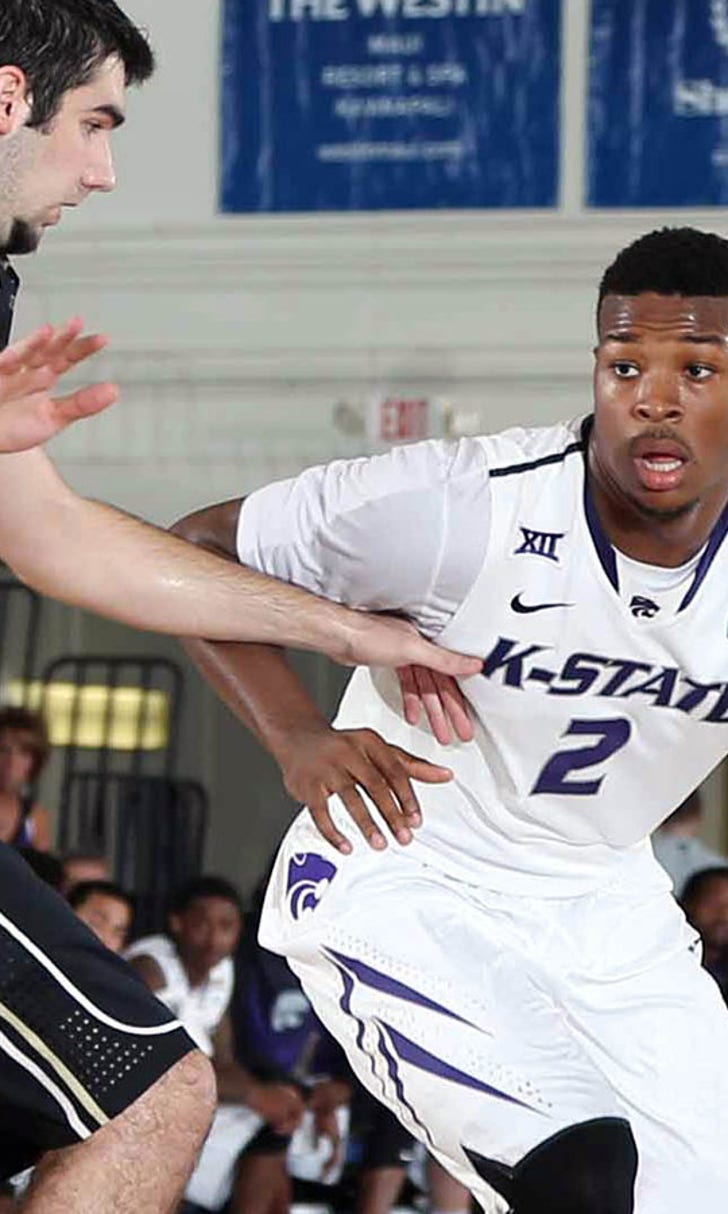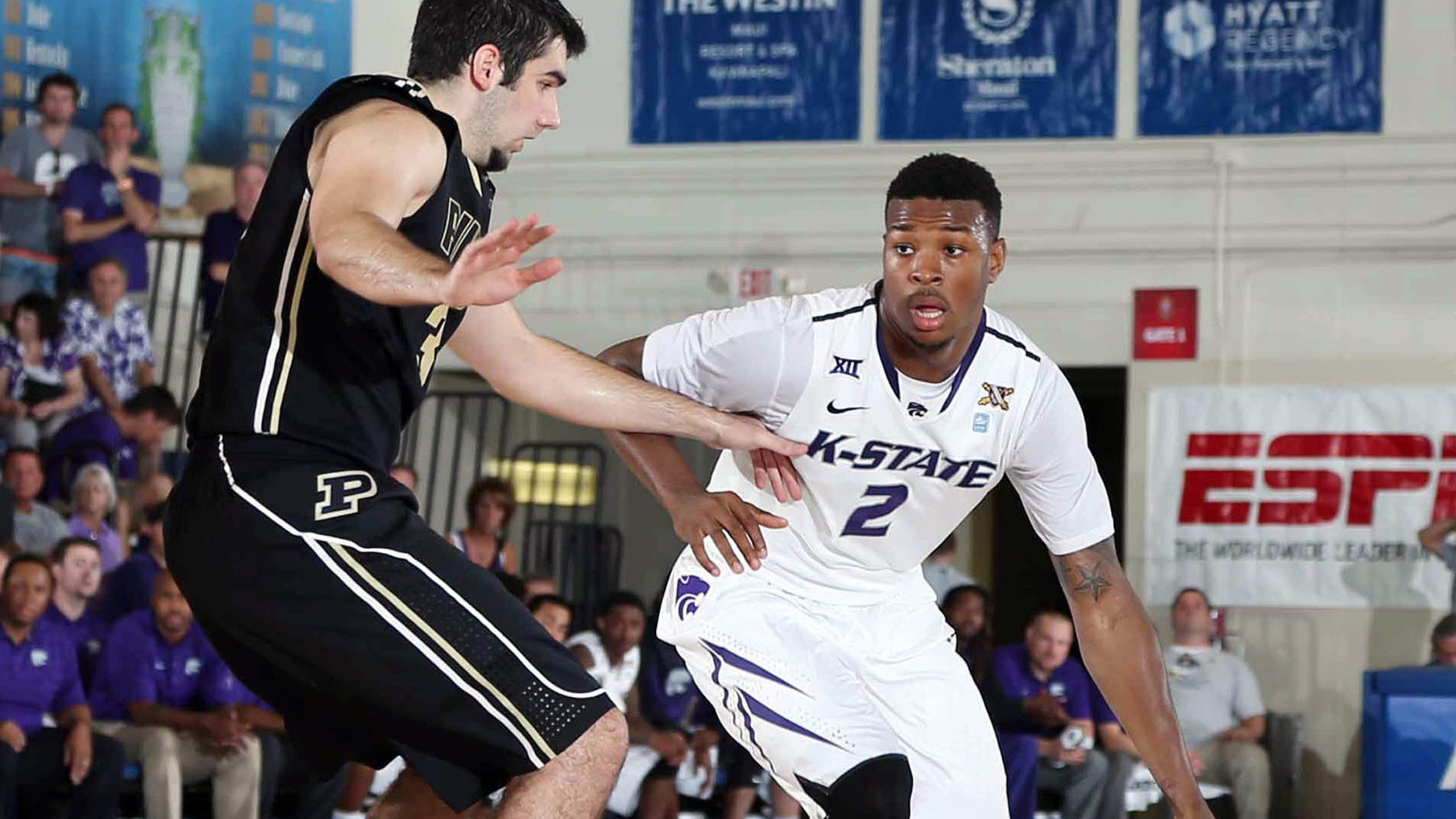 Wildcats show glimpses of an offensive identity in win over Purdue
BY foxsports • November 24, 2014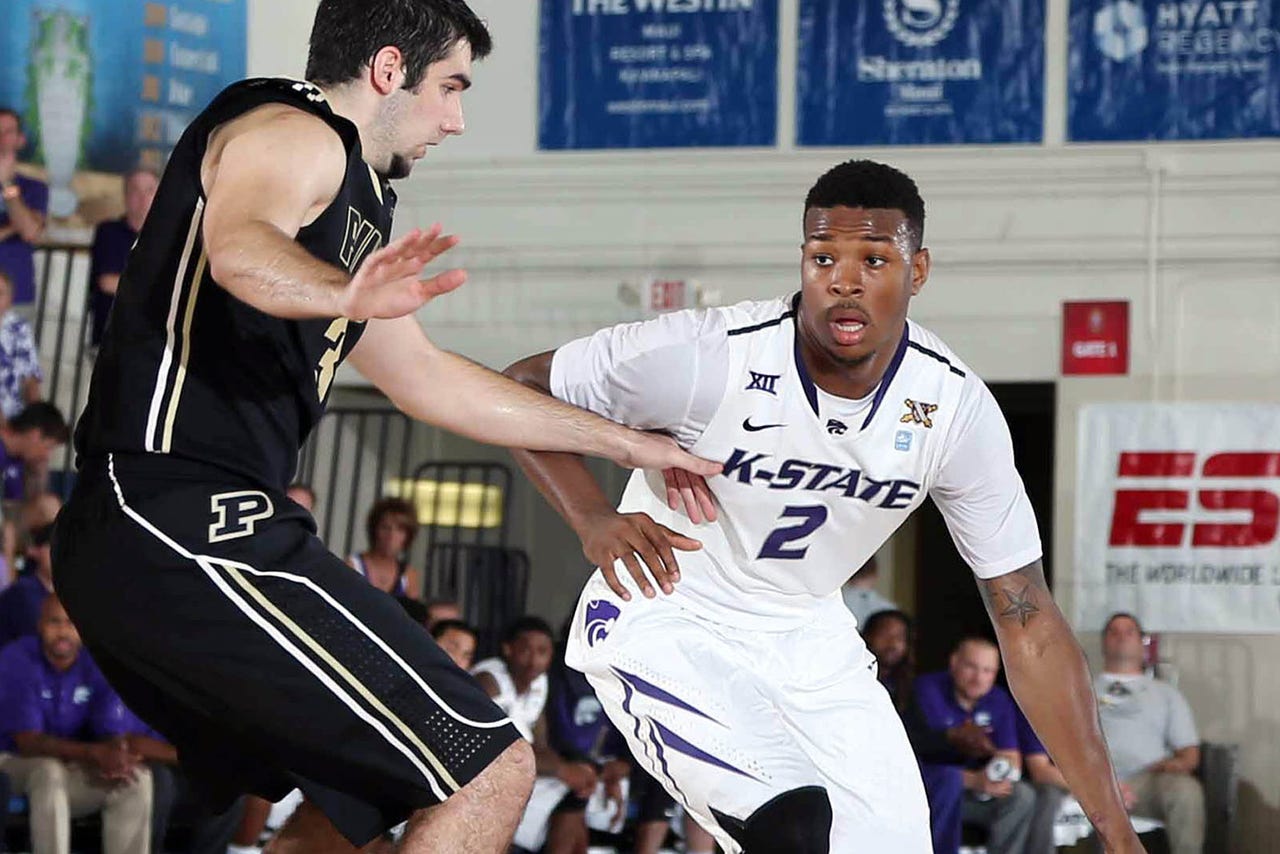 Kansas State took a huge step toward finding an offensive identity far away from the friendly backdrop of Bramlage Coliseum.
A small gym and early-morning start didn't seem to bother the Wildcats in an 88-79 win over Purdue to open play at the Maui Invitational. Kansas State's added depth and firepower from last season were on display once again, showing no ill effects from a disastrous night in California.
The Wildcats hit what might end up being rock bottom last Friday night, when they fell 69-60 in a lackluster performance at Long Beach State that really wasn't that close. Awful outside shooting against the 49ers' zone buried Kansas State early, and the Wildcats couldn't score enough without the nearly 50 percent 3-point shooting that propelled them to wins over Southern Utah and Missouri-Kansas City.
Shooting guards Marcus Foster and Justin Edwards combined to miss all 10 3-point attempts at Long Beach as K-State totaled only seven assists, but the Wildcats took a totally different offensive approach against Purdue's 2-3 zone. Sharp passes like the one from Stephen Hurt to Foster on a perfect backdoor cut gave K-State seven assists less than 12 minutes into the game, and they converted plenty more layups as the offense asserted itself all over the floor.
"I felt in Long Beach we didn't play as hard as we did tonight," Foster told reporters afterward. "That's what our games are based off of. We played hard, and everybody knocked down shots."
Kansas State's defense discovered its energy as well, forcing four of Purdue's 11 first-half turnovers in just three and a half minutes to ensure the 'Cats didn't start slow for the fourth straight game. When the Boilermakers' two 7-footers had to go to the bench with foul troubles and the guards stopped hitting tough jump shots, K-State took control with a 12-0 run capped off by Foster's second 3-pointer.
The sophomore can certainly be a first-team All-Big 12 caliber player, but he's still at his best when not forcing the action and letting his teammates create for him, as he did before knocking down two NBA-range threes when Purdue made its initial comeback midway through the second half. Foster finished with a season-high 24 points while showing off his versatility on the offensive end.
Point guards Nigel Johnson and Jevon Thomas served as the facilitators for the offensive transformation, combining for seven assists and just two turnovers, a complete reversal from their two assists and five turnovers at Long Beach. They also added five steals in the first half, including two straight by Johnson in the backcourt that led to four of his nine points in less than 10 seconds.
Foster and senior forward Thomas Gipson lived up to their role as leaders and carried the Wildcats when needed most to hold off a 53-point outburst from Purdue in the second half. K-State's two top scorers this season made seven of the team's nine field goals in the final 12:05 as the Boilermakers cut what was once a 20-point lead to five.
"It's very satisfying," Gipson told reporters after the game. "We felt really good about ourselves. We know what we can do now. We know what we're capable of. We've just got to watch it, and take it to the next game."
Other than some stagnant play and poor ball movement in the second half, the win laid out an effective offensive blueprint for a team with few true playmakers but plenty of weapons. Bruce Weber's complex offense can create opportunities without the need for one-on-one heroics, and it should only improve as promising newcomers such as Edwards, Hurt and sharpshooter Tre Harris get more comfortable.
ROAD WOES BEGONE
Purdue may not match the caliber of top Big 12 competition, but Monday's performance helped K-State begin to erase some lingering doubts about its play away from Manhattan.
The 'Cats had lost 12 of their last 15 games outside of Bramlage dating to last season, not including so-called neutral wins over Gonzaga in Wichita and Tulane in Kansas City. In its November tournament appearance a year ago, Kansas State lost to Charlotte in the opening round in Puerto Rico before getting blown out in embarrassing fashion by Georgetown the next day.
Low energy often kept Weber's teams from winning on the road, while their intensity in Manhattan gave them a chance to beat just about anyone. If Kansas State can find a way to consistently bottle that energy and take it on the road, a top two or three finish in the Big 12 is possible.
You can follow Luke Thompson on Twitter at @FS_LukeT or email him at lukegthompson87@gmail.com.
---