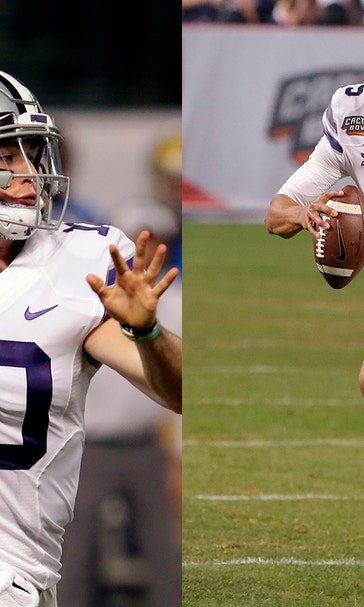 Wildcats have plenty of spring competition, starting at QB
April 17, 2018
MANHATTAN, Kan. -- Kansas State returns 14 starters from a team that won eight games and beat UCLA in the Cactus Bowl, including its top quarterback and the entire offensive line, so it stands to reason that few jobs would be available in spring camp.

That's hardly the case. Especially at quarterback.

Skylar Thompson and Alex Delton shared duties last season when Jesse Ertz was lost to a season-ending injury, each shining in his own way. Thompson was dynamic in a road upset of Oklahoma State and Delton was the star against the Bruins in their bowl game.

Now, their competition figures to continue all offseason -- particularly in the annual purple-white spring game Saturday -- and right into the meat of fall practices.

"It's very competitive, and that's the way we like spring practice to be," said Kansas State coach Bill Snyder, who is returning for his 27th season. "You don't have an opponent to compete against or prepare for, so the depth chart is fluid. It's open.

"The obvious two front-runners are certainly presenting themselves that way. Our biggest concern at the position is going to be the depth beyond that. I would say right now with the two-deep, two guys we came out of last year's season with, really have picked up where they left off and are very competitive. There isn't a Number One right now."

Both are dual-threat quarterbacks, though Thompson is the better passer and Delton the better runner. Thompson completed 61 percent of his passes for 689 yards and five touchdowns last season, while Delton completed 58 percent of his throws for 637 yards and three scores.



Thompson is only a sophomore, while Delton is a junior -- though that hardly matters. Whoever gives Kansas State the best chance to win will be under center.

"Any time you can go out and have success, especially cap the year off with a win, and have success as an offensive unit, it brings a lot of confidence to you," Delton said. "I feel like building off of that has been surely positive for me."

There will be plenty of talent surrounding whoever wins the starting job.

Start with the offensive line, where Scott Frantz and Dalton Risner provide veteran bookends and guards Abdul Beecham and Tyler Mitchell are joined by Adam Holtorf on the interior. Then drop to the backfield, where Alex Barnes will be pushed by running backs Dalvin Warmack and Mike McCoy.

On the outside, the Wildcats will have to replace Byron Pringle, who left school early for the NFL draft. But veterans Dalton Schoen, Isaiah Zuber and Zach Reuter provide a nice base to start.

"We are going to be one of the most efficient offenses that we've had here, as long as I've been here," Barnes said. "Skylar and Delton are both dynamic quarterbacks, we have a running game, and we have a loaded backfield. ... We have pretty much all of the weapons coming back."

The voices running the show will be a little different, though.

Offensive coordinator Dana Dimel left to become head coach at UTEP, so wide receivers coach Andre Coleman was promoted to offensive coordinator. He'll be helped by Collin Klein, who will direct most of the passing game, and Charlie Dickey, who will do the same with the running game.



There are more holes to fill on defense, where most of the depth at linebacker graduated and star cornerback and return man D.J. Reed elected to declare for the draft.

Still, there is plenty of talent across the board. Trey Dishon provides an anchor along a beefy defensive line, and rising linebackers Elijah Sullivan and Da'Quan Patton arguably provide much more athleticism and playmaking ability than the starters of a year ago.

In the secondary, Kevion McGee and Darreyl Patterson are poised to continue Kansas State's tradition of junior college transfers making an immediate impact. There will also be fresh voices on that side after Tom Hayes announced his retirement.

Linebackers coach Blake Seiler, who played for Snyder before joining the staff, will coordinate the defense alongside longtime Penn State and Baylor assistant Brian Norwood.

"I think the continuity has been has been excellent. There were no ruffles in the continuity," Snyder said. "The continuity and the capacity for each of them to play their role and interact with each other has been impressive to me. They're getting along quite well, and I think the players appreciate each of the new coaches as well."
---
---