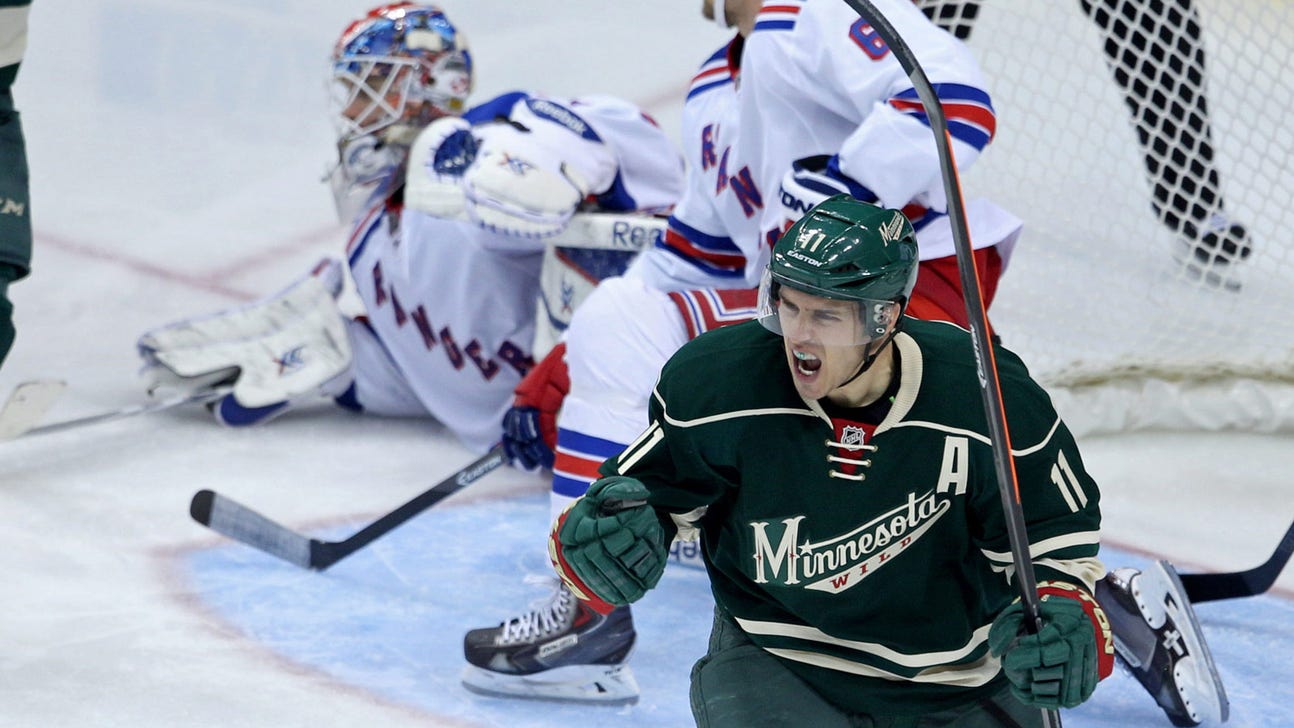 Wild put past losses behind them, pick up important win
Published
Mar. 14, 2014 12:04 a.m. ET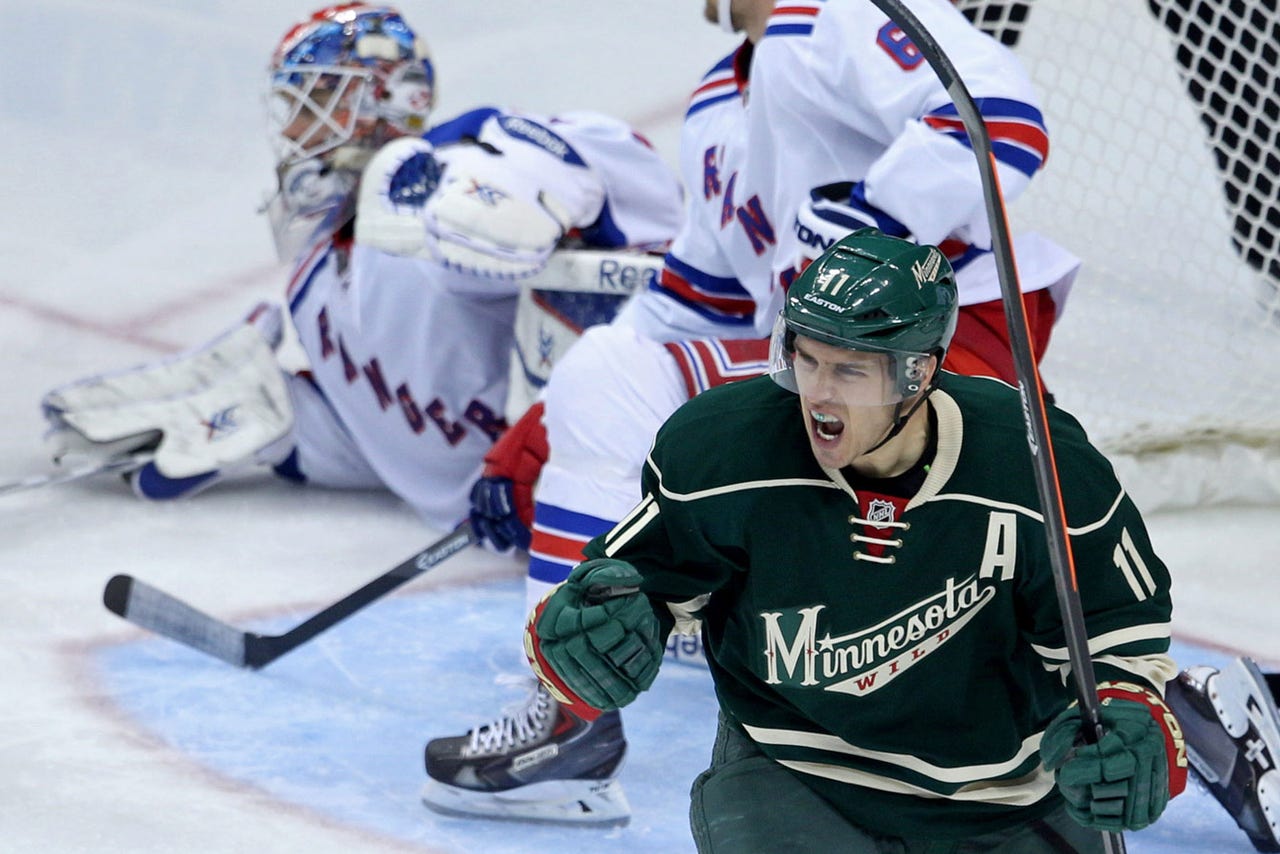 ST. PAUL, Minn. -- Zach Parise said the Minnesota Wild weren't worried after a pair of shootout losses.
Parise and other Minnesota players, along with coach Mike Yeo, contended the feeling would be much different had they found a way to pull out the two games and shootout losses weren't indicative of how the team was playing.
The Wild truly put the past two games, including Tuesday's shootout loss after giving up a three-goal lead, behind them with a 2-1 win against the New York Rangers on Thursday.
"I think it's more (reporters) creating that, to be honest," captain Mikko Koivu said. "There's no excuses. They came back and tied the game, and we lost in a shootout. If we'd won in a shootout, I don't think we're talking about that right now . . . It's a good sign that we learned from that, and tonight's win was against a very good hockey team, good game, obviously, from the goaltending, defense to offense."
Parise scored the game-winning goal just 1 minute, 3 seconds into the third period. Darcy Kuemper made 29 saves against New York, and Minnesota extended its wild-card lead to five points over idle Dallas and six points over ninth-place Phoenix, which lost at Boston.
"They've always said winning cures everything, and it was a pretty ugly loss against Edmonton the other night," Parise said. "But we talked about it, and we're able to move on, forget about it. Now that's in the rear-view mirror; we can be happy with a win and get ready, hopefully, with our last game before the road trip, we have another one to feel good about ourselves."
The Wild host Columbus on Saturday before a three-game road trip. Even with the shootout losses, Minnesota has earned points in nine of its past 10 games and 14 of the last 17 (10-3-4).
Since acquiring forwards Matt Moulson and Cody McCormick, and backup goaltender Ilya Bryzgalov at the trade deadline last week, the Wild had dropped three straight games and talked about trying to rediscover the chemistry the team had when it was one of the league's best teams in January and February.
A long mid-week break coincided with the acquisitions of Moulson, McCormick and Byrzgalov and Minnesota came back with a 4-3 loss at Dallas. Then the Wild believed they proved they could play with St. Louis, the top team in the Western Conference, in a shootout loss  Sunday. It followed with the disappointing loss in the shootout to Edmonton on Tuesday after holding a 3-0 first-period lead.
"It's important; getting wins this time of the year and finding ways to win games like this," Yeo said. "We're going to have a lot of games that don't feel perfect at the end of the game. We're going to be playing against a lot of desperate teams, teams that we have to expect to be good every night. I expect a lot of close games down the stretch. Being able to be comfortable in your own zone when you're up a goal late in the third period, and being able to have the right focus to do the right thing, that's very important for our team."
While trying to find chemistry with Moulson playing on a line with Koivu and Yeo switching Niederreiter and Charlie Coyle on Thursday night, the Wild have been able to rely on the production from Parise, Mikael Granlund and Jason Pominville.
Parise scored his 23rd goal of the season and 46th game-winning goal of his career quickly in the third period, taking advantage of a rebound and scramble in front of the New York goal.
"He made a couple good saves," Parise said. "Pommer had about six whacks at it, too, but it was a really smart play by Granlund to attack the net, for him to recognize that he had room. That's what started the play, and I think at that point of the game, we needed to start getting some pucks into the crease there and get an ugly one. Luckily, it went in."
Yeo has his first line producing, but made the switch with Niederreiter and Coyle on Thursday night looking for a spark.
"(Parise's line), they continue doing what they've been doing; scoring goals, and continuing to play well on the other side of the puck, too," Yeo said. "At the same time we can't just sit here and hope that they maintain that, but we can't just rely on that. We have other lines that are capable of scoring and we'll keep working at that."
Yeo said the change was two-fold, rewarding Niederreiter for strong play and trying to jumpstart Coyle. The switch put Niederreiter on the wing with Moulson and Koivu on the second line and matched Coyle with Matt Cooke and Kyle Brodziak on the third line.
One thing, Yeo said, is he wants to see Niederreiter and Coyle play with physicality.
"It seemed like the switch in the lines kind of sparked Charlie a little bit," Yeo said. "Whether it was he wanted to make a point, I'm not sure what it was. But from that point on, it seemed like he was really moving his feet. He was attacking. I like his game. Obviously, Nino was a presence right from the start."
Follow Brian Hall on Twitter
---