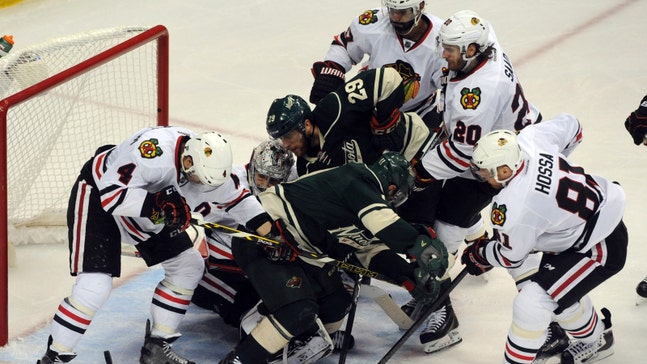 Wild face longest of odds after losing Game 3 to Blackhawks
Published
May. 6, 2015 1:25 a.m. ET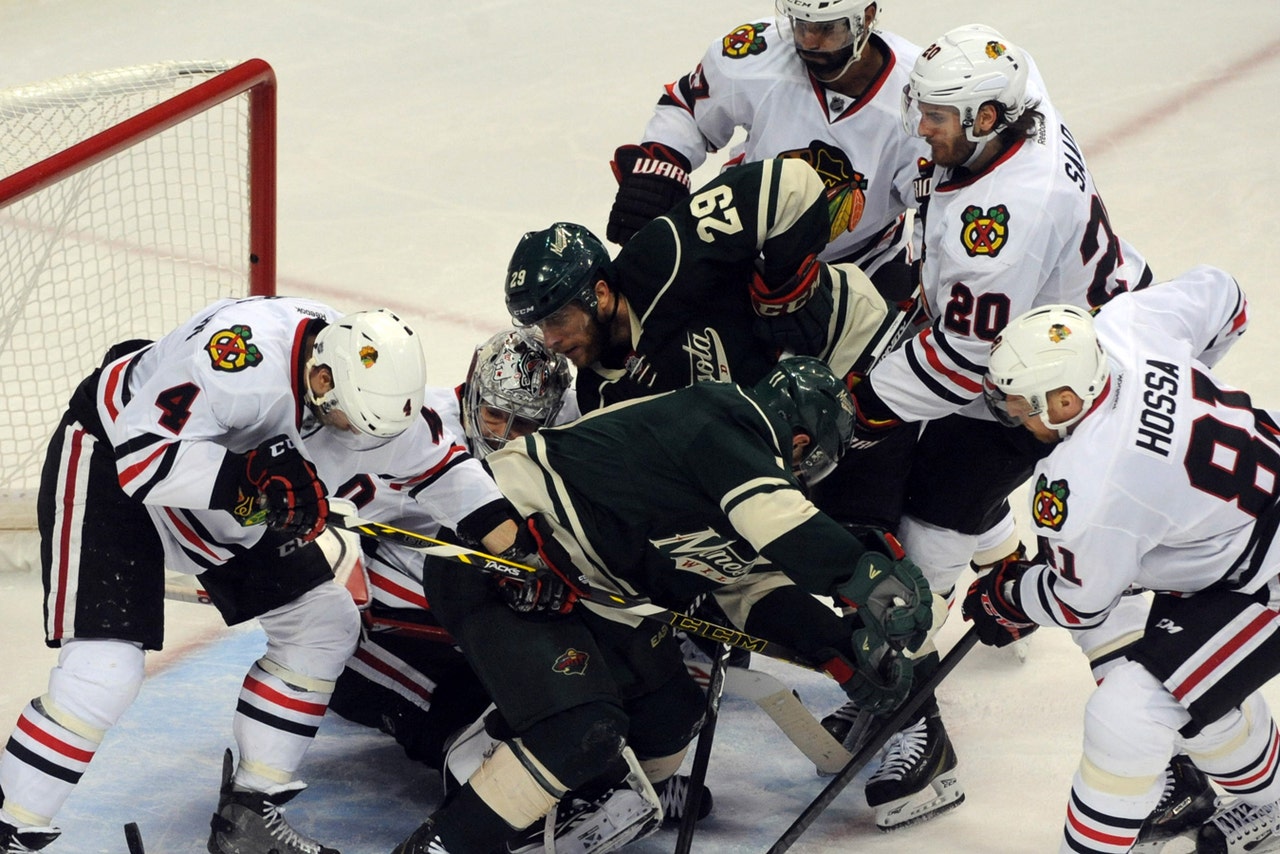 ST. PAUL, Minn. -- Two consecutive playoff losses to the Chicago Blackhawks. The Minnesota Wild's coach saying that facing Chicago goaltender Corey Crawford is like facing legendary netminders Martin Brodeur and Patrick Roy. And, a 3-0 deficit.
The climb facing Minnesota in the second round of the playoffs is daunting after Tuesday's 1-0 loss to the Blackhawks. The mental hurdle for the Wild against their playoff nemesis magnifies the mountain ahead.
"That's what we'll ponder tonight and get ready for tomorrow," head coach Mike Yeo said of trying to wipe the slate clean and reset for Thursday's Game 4.
"I know there's a lot of character in this room. We're up against something very tough . . . two things, character and belief. There will be no feeling sorry for ourselves. Obviously we're disappointed to be in this spot but we've got to find a way."
Two years ago, Chicago ousted Minnesota in five games in the first round. Last year it was a six-game series going the Blackhawks' way in the second round. This was supposed to be the year the Wild took another step forward. Instead, following Tuesday's loss, Minnesota is looking at a 3-0 deficit against Chicago for the first time.
"Do or die now," Wild defensemen Ryan Suter said.
Frustration filled the Minnesota dressing room following Tuesday's loss. The enormity of the situation wasn't lost on a team which has fought from the brink previously this season.
Only four times in NHL history has a team rallied from a 3-0 deficit to win a playoff series, four out of 180 times (2.2 percent).
So how do the Wild, against the team which has sent them into the offseason two straight years, overcome the obstacle?
"It's just a mindset, that's all," forward Charlie Coyle said. "It's game-by-game now. It's up to us. We're still breathing. We're still alive here. It's just up to us to get that next one."
The breathing is getting harder and Chicago might be close to causing Minnesota to hyperventilate.
After all, the Wild outchanced the Blackhawks and controlled play the final two periods. Minnesota outshot Chicago, 30-22. But Crawford sent the Wild to their first playoff shutout since a 3-0 loss to the Blackhawks in Game 4 in 2013.
Minnesota has been a part of the ugly odds for 3-0 teams before. The Wild are facing a 3-0 deficit for the third time in franchise history. They were swept in the conference finals by Anaheim in 2003 and won Game 4 against the Ducks in 2007 before losing the series, 4-1.
"It's tough, we're in a hole," Minnesota forward Zach Parise said. "Just try and get that fourth one and go from there."
The Wild have been in a hole almost since mid-January. With goaltender Devan Dubnyk entering the fray, they rallied to post the NHL's best second-half record and qualify for the playoffs with two games left in the regular season.
"We've won more than three games in a row before," Dubnyk said. "Obviously, this is a very tough opponent, an experienced group, but you just try to chip away. That's all you can do in this situation -- take Thursday, start there, and then just shift to the next game. We did that all year, and we'll really have to try to dig in and use that experience down the stretch here. It's not a good situation, but it's where we are right now, and all we can do is win Thursday."
Minnesota felt it played the game to win Tuesday. Yeo said he was disappointed for his team because he felt they deserved a better result in Game 3. Instead, the coach and team are left with one game to save their season.
"We know what we're up against, so I'm not going to get up here right now and give a big rah-rah speech," Yeo said. "We've got to win a game. It's as simple as that. In all honestly, I've never been here before. It's kind of unfamiliar territory.
"I guess what you do is try to draw upon previous experiences even though it's not the same," he added. "The only thing I can say is we came back from the dead once before this season, and the only way we did that was with character and belief. That's what we need right now. The other part of that equation, the reason why we were able to make the playoffs when we weren't supposed make the playoffs is we were able to look at it one game at a time and that's obviously what we have to do here, too."
Follow Brian Hall on Twitter
---