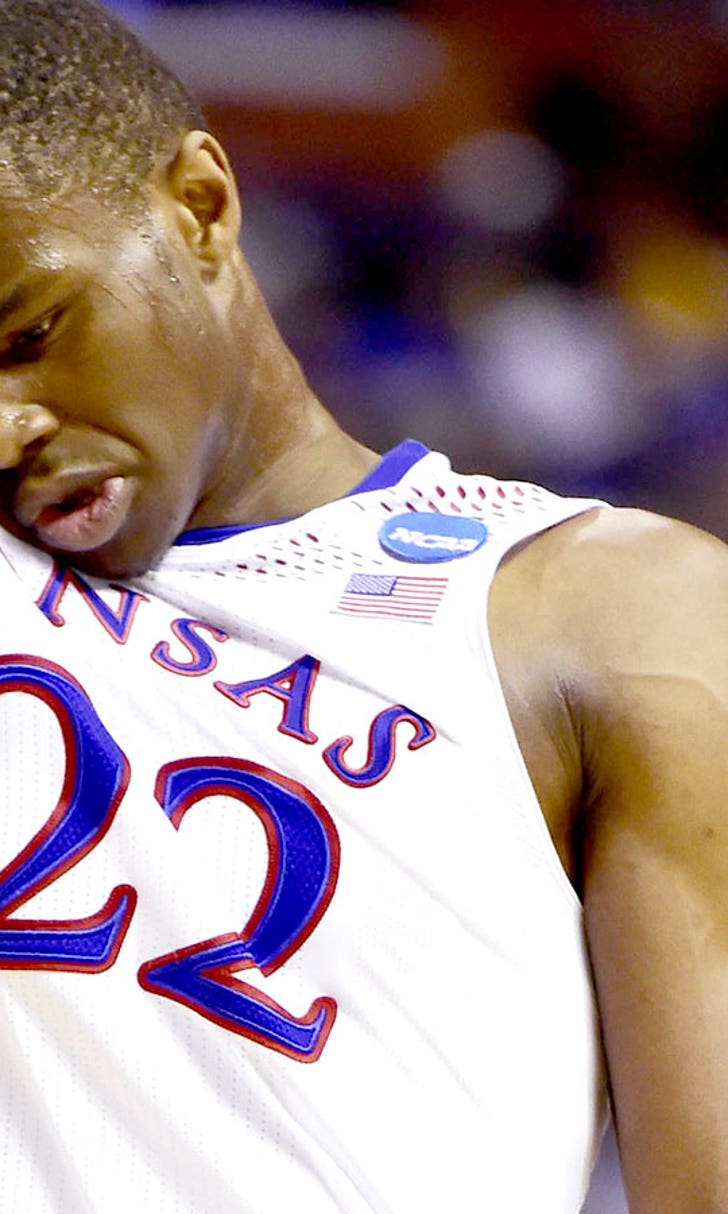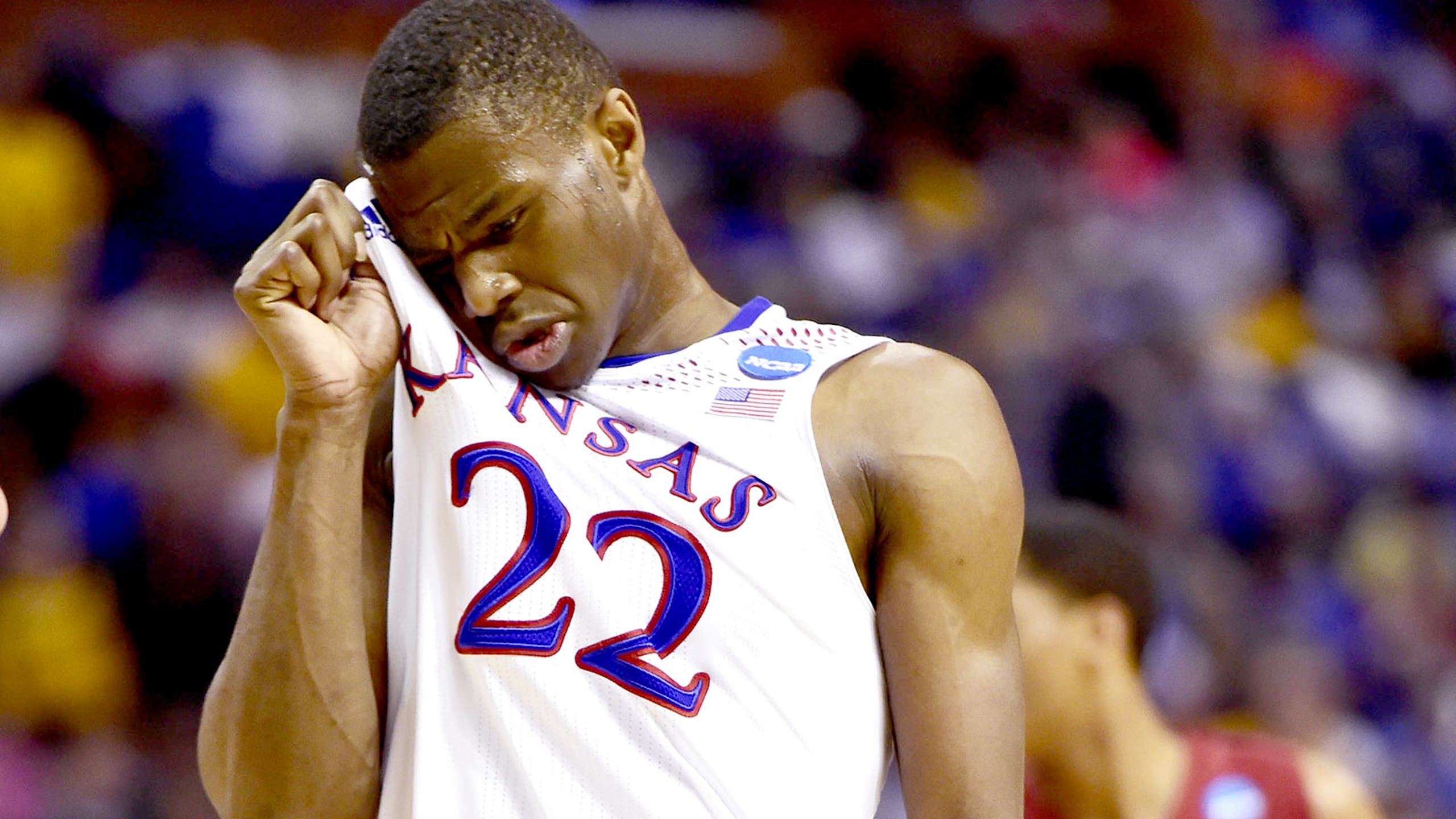 Wiggins taking blame, but Jayhawks' loss was team effort
BY foxsports • March 23, 2014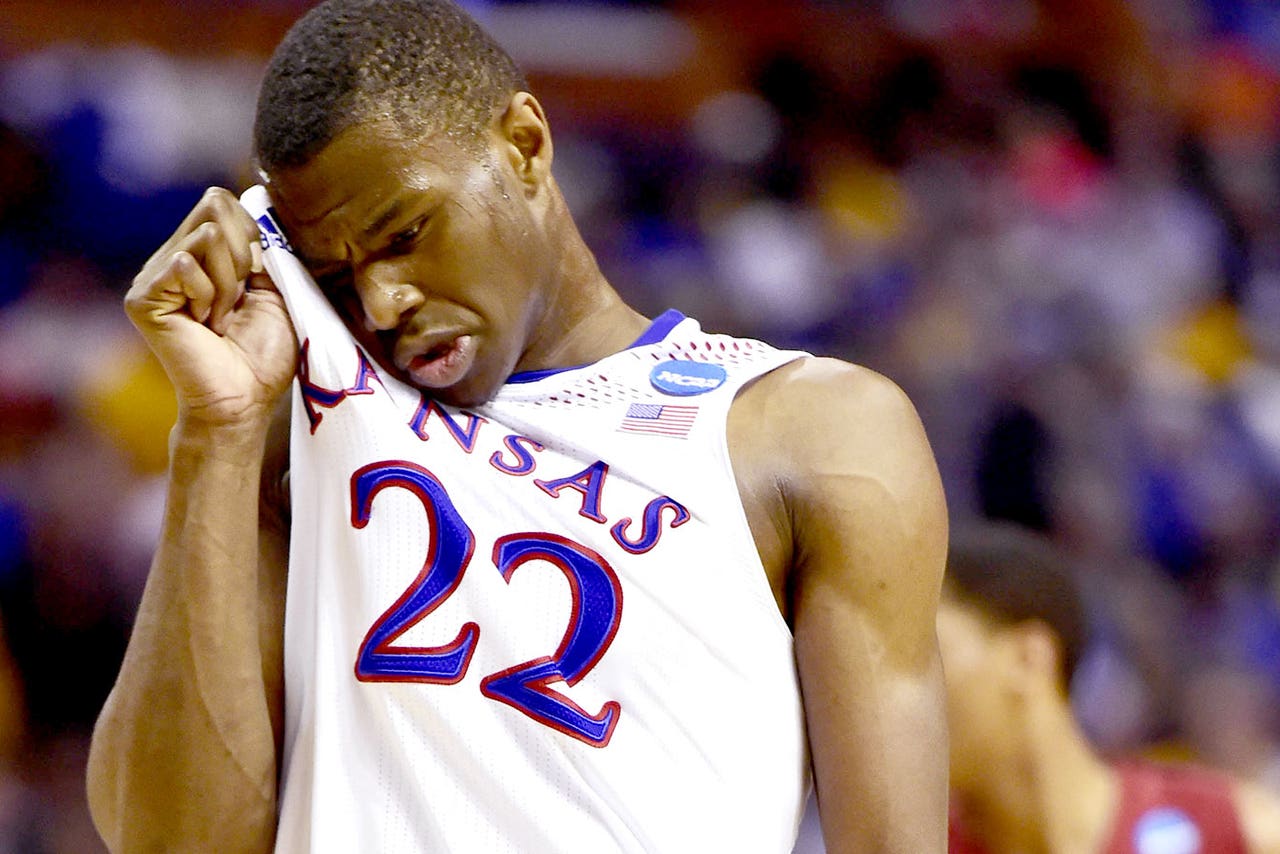 ST. LOUIS -- When Andrew Wiggins becomes one of the first players taken in this summer's NBA Draft, his performance Sunday will not be why.
In what even his coach figures was Wiggins' final game with the Kansas Jayhawks, the 6-foot-8 freshman from Canada went out with a whisper. He made one field goal, took just six shots, committed as many turnovers as he scored points (4) and, by the end, was passed over in favor of another Kansas freshman for the chance to tie the game.
With the Jayhawks down three in the closing seconds, Wiggins went around a ball screen but was denied the ball as it went to Conner Frankamp, who had hit two late 3-pointers to put Kansas in a position to tie. Frankamp's shot was not close and the Stanford Cardinal held on for a 60-57 victory that put them in the Sweet 16.
And left Wiggins facing wave after wave of media in a cramped locker room at Scottrade Center trying to explain what went wrong. Although he had no real answers, Wiggins accepted responsibility for his most unimpressive game of the season coming at the worst time. (He scored only three points in the first game against Oklahoma State, but at least Kansas won.)
"I just played bad," Wiggins said, barely louder than a whisper. "My team played really well, fought to the end. I wasn't there for them when they needed me."
As admirable as was his effort to blame himself, it wasn't necessary. He had plenty of company in the department of lackluster play. The Jayhawks shot just 32.8 percent, their second-worst effort of the season, and equaled their lowest output of the season.
But Wiggins knows what comes with the territory. His teammates haven't been compared to LeBron James or put on the cover of Sports Illustrated with Kansas greats Wilt Chamberlain and Danny Manning. And when you fail at a time of year when you're expected to lead, deflecting responsibility does not help.
"Wherever I went, there were times they really keyed on me," Wiggins said. "I could have done a lot more. I'm one of the key pieces to this team. If I played differently and help my team ... I let my team down."
Give Stanford some credit, though. When the Cardinal played zone, which was often in the second half, they turned Wiggins into just another wingman passing the ball around. When the Cardinal went man, they were able to match Wiggins with John Huestis, a 6-7 senior facing his biggest challenge.
"I'm a defense-first kind of player. I really took it to heart and, yeah, I'm really happy with the results," Huestis said. "I got that assignment a couple days ago when we found out we were going to play Kansas. I know he's a really good player. He's really versatile, too. So it was just a matter of me staying in my stance and being aggressive, being physical with him."
Wiggins started poorly against Huestis and never got much better. He was called for charging the first time he had the ball and for traveling a few minutes later. A minute later, Wiggins swished a mid-range jumper and you thought he might be on his way to shaking off another slow start. You had no idea he would not make another field goal the rest of the way.
"They bothered him with length," Kansas coach Bill Self said. "And I think he had an off-game, too. Give them credit for that, but certainly he put himself in position to make some plays and didn't make them like he normally made them the majority of the year."
Wiggins said missing a few early shots did not shake his confidence, but rarely did he try to assert himself on offense as the game wore on, especially not after he lost the ball in the second half when trying a spin move inside the paint. As Wiggins went longer and longer without getting off a good shot, Huestis noticed that his younger opponent was losing his aggressiveness.
"That can happen to a younger player when things aren't really going their way," said Huestis, singled out by his coach after the game.
"This was an opportunity for Josh to really show what he's capable of," Stanford coach Johnny Dawkins said. "And he did that by guarding one of the best players in college basketball."
Wiggins said (repeatedly) he wasn't thinking about the draft or his future, but if this was his last game, he will take the Kansas freshman scoring record with him. Yet in a game that started three players from Ontario, the two from Stanford finished with more points. Dwight Powell led the Cardinal with 15 points and Stefan Nastic finished with 10 on 4-for-5 shooting.
"I learned a lot (this season) and I got a lot better," Wiggins said. "But today, I just laid an egg. I let a lot of people down."
For sure, it was not how he wanted to leave for the NBA.
You can follow Stan McNeal on Twitter @stanmcneal or email him at stanmcneal@gmail.com.
---