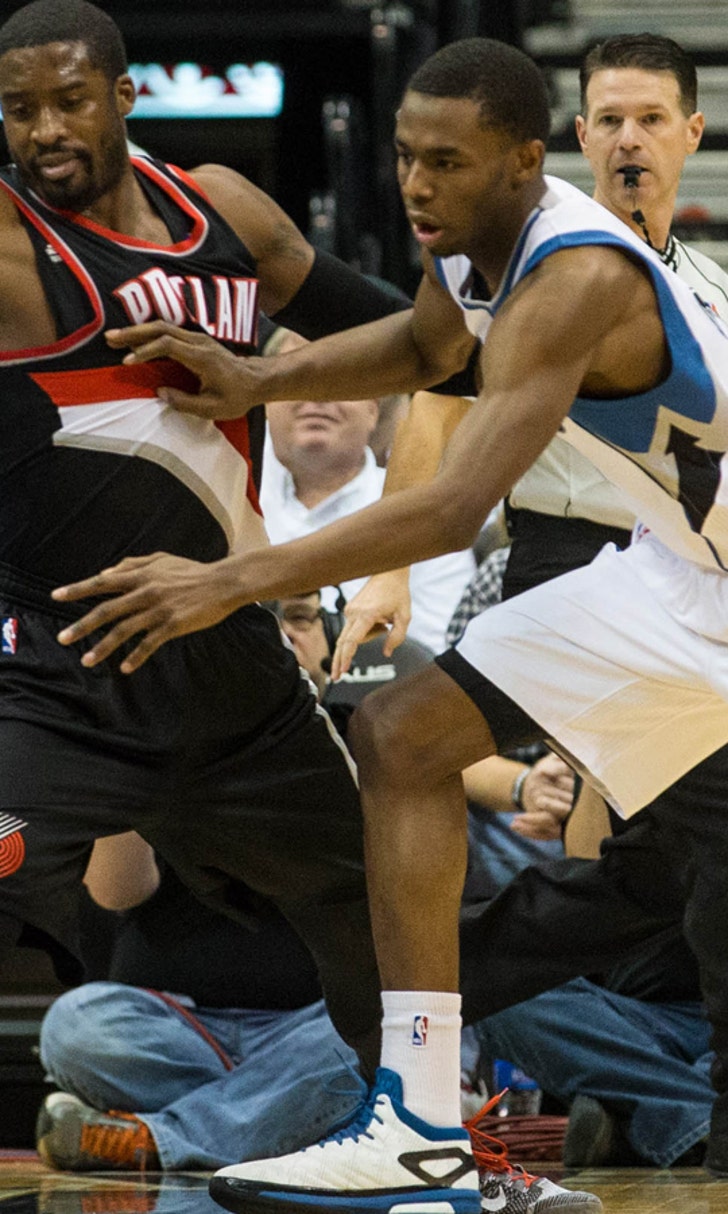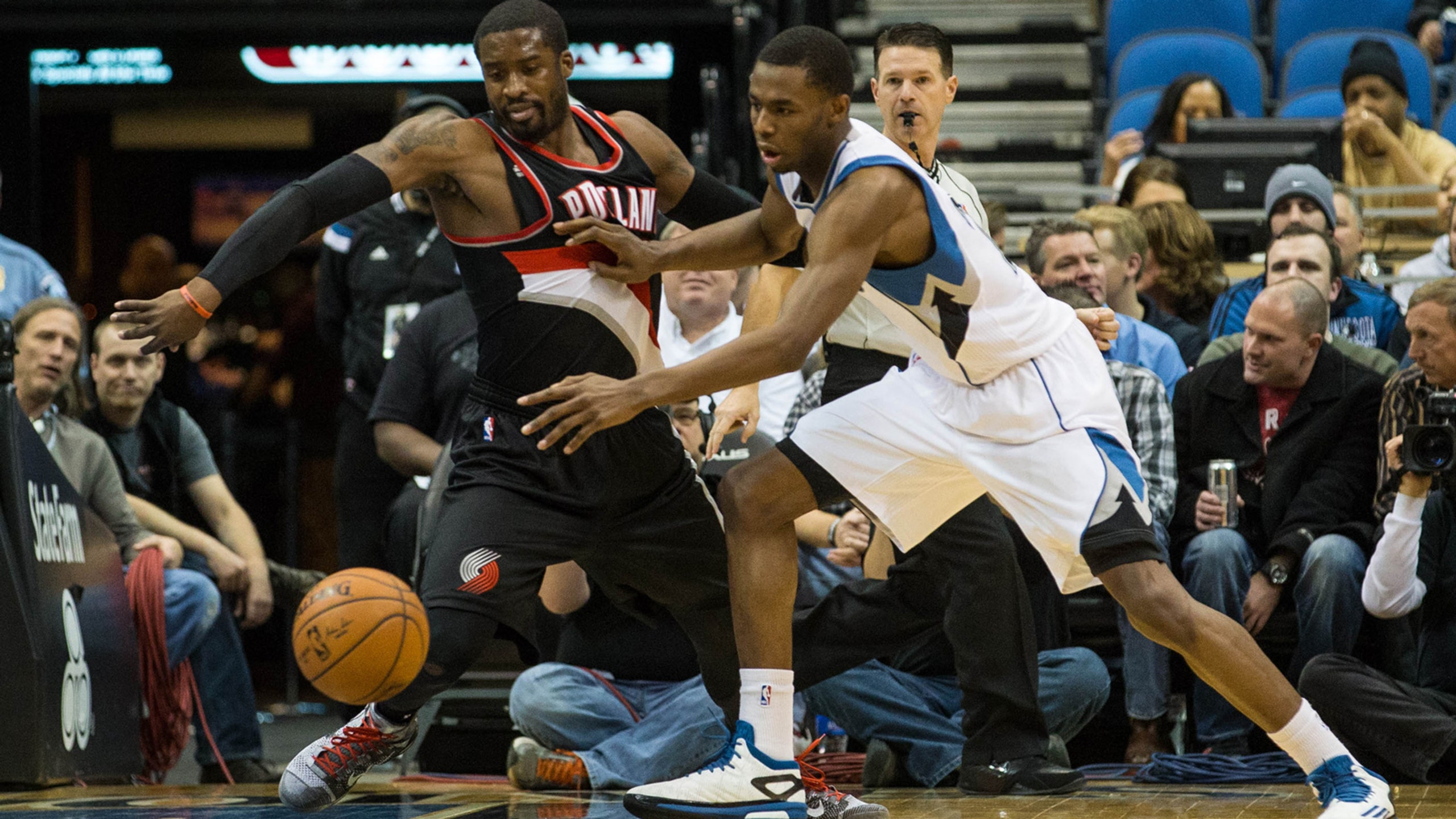 Wiggins sets a tone in Timberwolves' upset win
BY foxsports • December 11, 2014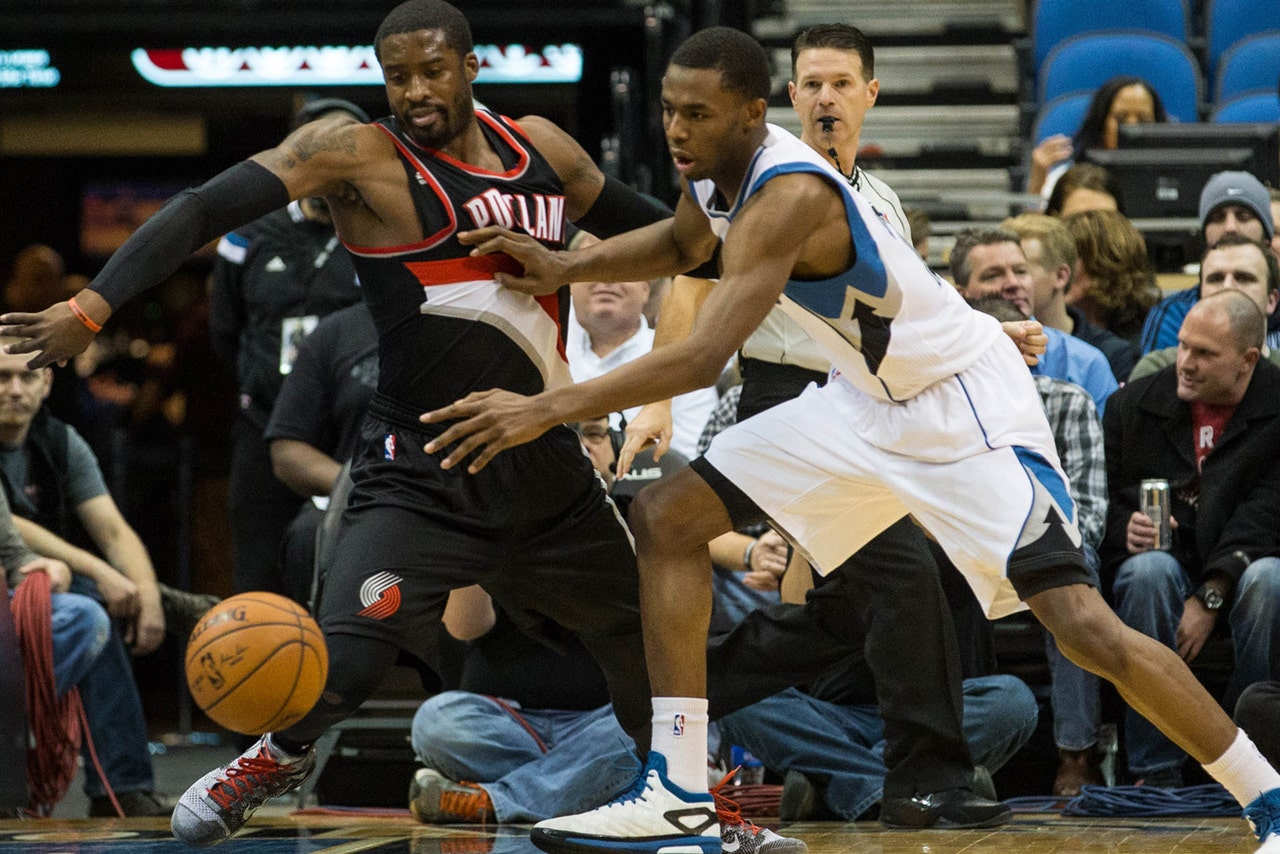 MINNEAPOLIS -- It was the kind of play the vast majority of NBA players in 2014 are willing to concede.
Blazers point guard Damian Lillard snatched the ball away from Timberwolves counterpart Zach LaVine, gathered a head of steam and took off toward the other end. Andrew Wiggins was waiting for him. With all the savvy of a third-year veteran who played in the All-Star Game and ended the Rockets' season in the playoffs with a stuff-of-legends 3-pointer last year, Lillard threw a no-look pass to a trailing Wesley Matthews at the last possible second.
A 3-on-1 like the one Wiggins thwarted is a moment of truth, one when the modern NBA defender usually lets slide in fear of being posterized, committing a silly foul or, in the worst-case scenario, both.
But Andrew Wiggins is different. Andrew Wiggins is a Wiggins.
"Ability is just mental," his mother, Marita Payne-Wiggins, constantly reminds him.
He has a dad that used to pester Magic Johnson, a mom who sprinted for Canada at two Olympic Games, and a coach who spent Wednesday harping on him to get on the floor for loose basketballs. So Wiggins sold out, poking the ball away from Matthews, diving on it before a trailing Blazer could and, with his abdomen planted against the Target Center hardwood, alertly found Anthony Bennett in transition.
Bennett passed off to a wide-open Corey Brewer. His 3-pointer with .9 seconds left in the third quarter gave the Wolves a 15-point lead entering the fourth. They'd go on to win, 90-82, a day after coach and president Flip Saunders let it be known the team is in full-on rebuild mode.
"I think that was the biggest play of the night," Wiggins said.
Extraordinarily calm in pressure-cooker situations, trained to exert maximum effort defensively by his father, former Rockets stopper Mitchell Wiggins, and blessed with the physical gifts that rendered him worthy of the 2014 draft's No. 1 pick and lynchpin status in the Kevin Love trade, Andrew Wiggins doesn't know the definition of panic.
"I feel comfortable," Wiggins said. "That's my parents, the way I was brought up. I don't get too high; I don't get too low."
Whatever he was Wednesday night in front of 10,337 people, Minnesota needs more of it.
Taking over in the fourth quarter against the Western Conference's No. 3 team (at least for the moment), Wiggins scored 23 points on 9-of-16 shooting, pulled down 10 rebounds for his first career double-double, handed out four assists and came up with a pair of steals -- none more integral than his hustle play at the end of the third. Nine of his points came in the fourth quarter, as Portland (17-5) cut a once-bulging lead to four before the Wolves finished the job.
Minnesota (5-16) snapped a six-game losing streak.
"I wanted it," Wiggins said. "I didn't want to lose. . . . I really just focused in. I was determined to win."
During one stoppage, injured rookie Ricky Rubio pulled Wiggins aside. Told him it was up to him to close the deal.
It was a necessary message for a 19-year-old who, despite all the physical tools in the world and designation as hoops' top prospect for years, has been knocked for a lack of assertiveness. It was nowhere to be found in crunch time against the Blazers.
"I feel like this was my best overall game," said Wiggins, who recorded back-to-back 20-point games for the first time in his career.
Said Saunders: "Wiggins looked like the No. 1 pick tonight."
"But," the cerebral rookie of the year candidate added, "It wasn't just me."
As Saunders put it, "the baby Wolves grew up a little bit at times tonight."
LaVine made his fourth straight start at point guard with Rubio (ankle) and Mo Williams (back) out, finishing with 10 points, four rebounds and five assists. Second-year forward Shabazz Muhammad battled through ankle pain to register 11 points and six boards. Center Gorgui Deing helped neutralize a stout Blazers frontcourt of LaMarcus Aldridge, Nicolas Batum and Robin Lopez; the trio combined to shoot 8 for 28 and score 23 points.
The Wolves gambled -- and won -- when they double-teamed Aldridge, who was held scoreless in the first half for the first time since February 4, 2008. He scored 10 points on 3 of 14 shooting but was a mere non-factor -- against the league's worst defense, no less.
"I really couldn't get a rhythm," said Aldridge, the league's No. 9 scorer coming in. "Every time I tried to find one, they'd come double again, so their whole thing was to take me out tonight and they did."
Minnesota outrebounded Portland 56-38. Held it to a season-low 38.8 percent shooting clip. Led by as many as 20 before Lillard (23 points, five assists) sparked a 19-9 fourth-quarter run. A pair of Aldridge free throws made it 78-74 with 3:55 left, but Wiggins answered with a pair of jumpers sandwiched around a free throw.
Veteran Corey Brewer then cleaned up from the foul stripe, capping a perfect 10-for-10 evening with six freebies down the stretch.
The Wolves' first win since Nov. 28 came a day after Saunders said his injury-ravaged club would be shifting from a "blended" focus to one of "rebuilding," hinting that more roster changes could be on the horizon. Wednesday night, he said he prefers the term "building" -- looking to the future and developing Wiggins and the rest of the youngsters while waiting for Rubio, Williams, Nikola Pekovic, Kevin Martin and Ronny Turiaf to regain their health. But that doesn't mean they can't sneak up on someone every now and again.
"We're growing up a little bit," Brewer said. "Andrew was big for us. We were running plays for him, and he was making shots. But we were just together. We knew what we were doing, and we actually executed."
Follow Phil Ervin on Twitter
---