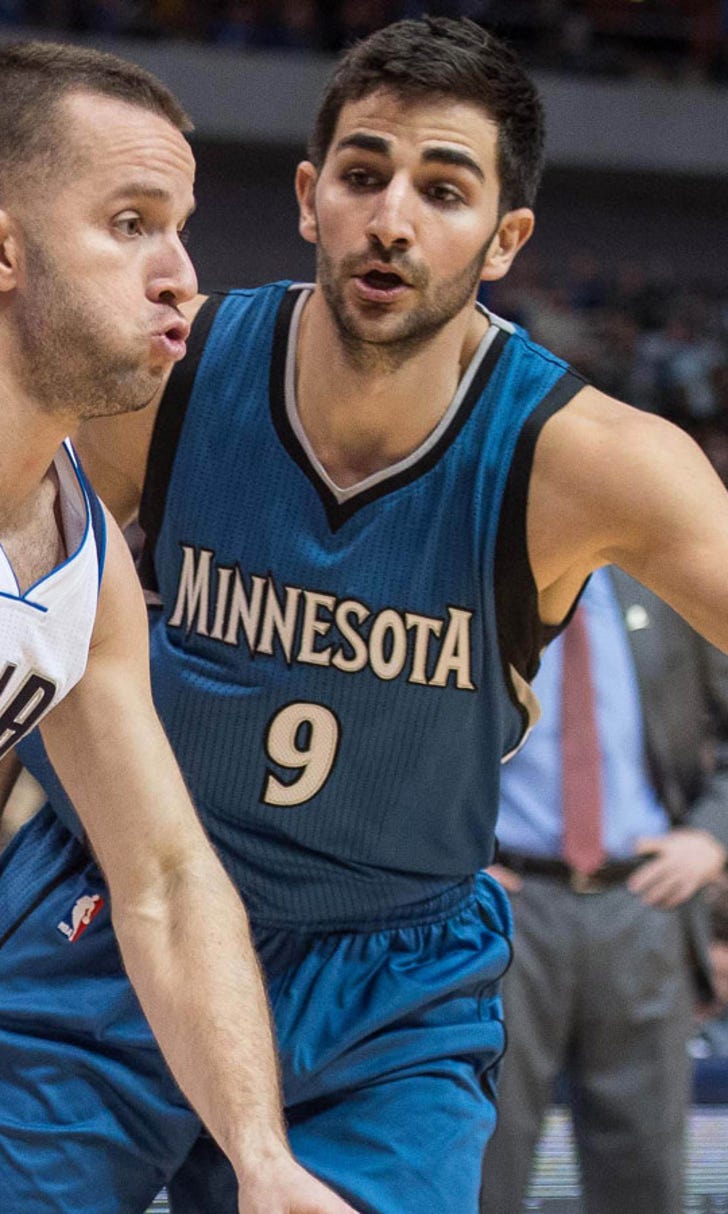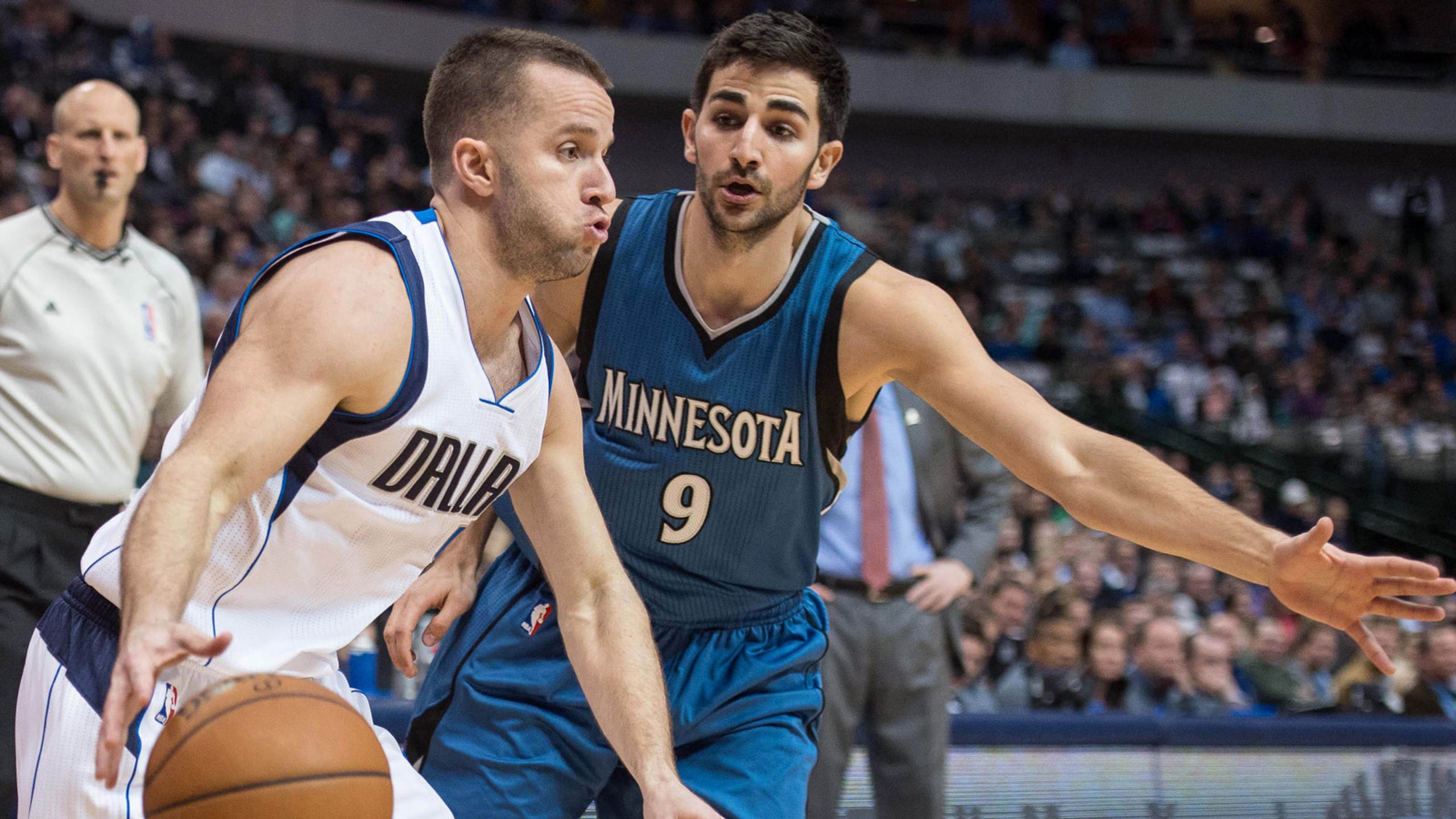 While Rubio's passing boosts offense, 'tenacity' helps Wolves defense
BY foxsports • February 3, 2015
Thaddeus Young didn't see the basketball until it plopped into his oversized hands.
He'd forgotten what it's like to receive a how-did-he-do-that pass from point guard Ricky Rubio. This one came in the second half of the Timberwolves' loss Monday at Dallas -- the Spanish point guard's first game back from a nasty ankle sprain that included a bone bruise and tissue damage.
With Young shuffling toward the basket on a pick-and-roll that tied up the Mavericks' Chandler Parsons and Devin Harris, Rubio wrapped a pass around both of them to Young. It took him a couple recovery steps, but Minnesota's starting power forward was able to finish on the other side of the rim.
"I didn't even know the ball was coming, actually, until I (saw) it out of the corner of my eye," said Young, who came to the Twin Cities from Philadelphia as part of the Kevin Love trade. "I was like, 'Oh. Yes. I can catch this.' It came and I didn't really know what to do with it and just kind of went into some moves."
It's the kind of play that's made Rubio famous since his 2011 NBA debut -- before that, actually, as a youth and pro sensation in his native land.
"He's doing math that no one else can figure out," FOX Sports North color man Jim Petersen said after the play.
Rubio, no doubt, has his shortcomings. But if his 42-game absence showed anything, it's that he completely changes games with his presence.
Tricksy helpers and alley-oops are at the top of the Rubio resume. Where he may be of the most assistance, though, is at the other end of the floor.
While missing Rubio and fellow starters Kevin Martin and Nikola Pekovic for most of the season, the Wolves' defense has been putrid. They're allowing NBA highs in points per game (106.7) and opponent field-goal percentage (49.2 percent).
That shooting clip is on pace to be Minnesota's worst ever. And only three other times have the Wolves allowed foes to score more than 106 points per game.
One player isn't going to change that. But Rubio can help.
He's a deft pick-and-roll defender on the perimeter who can make life heck for opposing point guards. In his three-plus seasons, Rubio ranks second in the NBA with 2.3 steals per game.
It's "his tenacity to guard the basketball," Young said.
Moreover, Rubio knows when to try and generate a turnover. And his aforementioned transition and distribution skills are integral to the up-tempo style with which the Wolves' personnel would seem to match up. But since Rubio went down on Nov. 7, Minnesota has scored 13.3 fast-break points per game -- 13th in the NBA. It's struggling even worse in defensive transition, allowing 14.9 fast-break points per game, which ranks 26th.
And perhaps most importantly, the 24-year-old can communicate. That's often been lacking with a young, inexperienced roster this season, coach and president of basketball operations Flip Saunders said.
Of course, communication helps on offense, too. Few NBA point guards in 2015 are better than Rubio at setting up and instigating play sets. Even fewer are as creative on the fly as "Tricky Ricky."
Not long after he rejoined the Wolves in 2013, Saunders saw potential in Rubio. But it wasn't until he began coaching him this past fall that he gained a true appreciation, he said.
It played a big part in Rubio landing a four-year, $56 million extension, and if Minnesota (8-40 heading into Wednesday's home game against Miami) is to right any wrongs during the second half of its latest lost season, Rubio will likely have had a hand in it.
"He's going to be about 75 percent when he comes back, so you're not going to see the real Rubio," Saunders said Saturday. "You're going to see flashes of him passing and getting us into an offense and understanding and helping some of our young players understand what they have to do on the floor. Those are the things that he really brings."
Follow Phil Ervin on Twitter
---