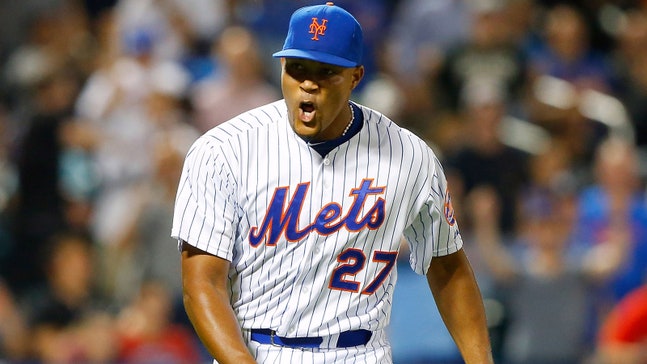 Where was Mets closer Familia at start of 8th in Game 4?
Updated
Mar. 4, 2020 11:38 p.m. EST

You might reasonably argue that the difference between the New York Mets and the Kansas City Royals, in Game 4 of their World Series, was that the Royals' best relief pitcher recorded six outs and the Mets' best relief pitcher did not.
Without getting into the details (which you can find here), let's go into the factors that reportedly (and avowedly) led Terry Collins to opening the eighth inning with Tyler Clippard instead of Jeurys Familia:
1. In Game 1, Familia gave up a huge home run in the ninth inning; it was the first homer he'd allowed since July, and it essentially cost the Mets the game.
2. In Game 2, Familia's services were not required.
3. In Game 3, Familia pitched the ninth inning even though the Mets were ahead 9-3. By way of explanation, Terry Collins said Familia "wanted to pitch an inning; the more he pitches, the sharper he is. You know, we don't have that many more games to play and he's a big strong guy who has to pitch and I thought one inning wouldn't hurt him and he didn't use that many pitches, so certainly he'll be ready for tonight."
4. After Game 4, Collins said that his decision to open the eighth inning with Clippard instead of Familia was "a little bit" related to Familia's Game 3 work.
You might notice a conflict between Factors No. 3 and 4!
And if you were worried about all this before Game 4 -- if you thought using Familia in Game 3, in a game that had been won already -- would materially impact the Mets' chances to win the World Series, then congratulations: You're way ahead of almost everybody else who was watching.
---
---