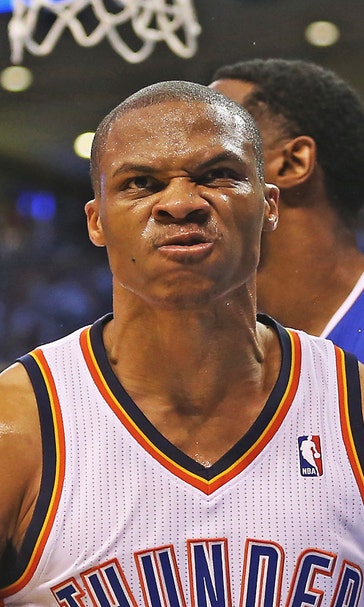 Westbrook, Durant help Thunder beat Clippers
May 8, 2014

OKLAHOMA CITY (AP) -- Kevin Durant stood before his adoring home crowd, proudly holding his MVP trophy above his head during a pregame ceremony.
He spent the next few hours showing how he earned it.
Durant had 32 points, 12 rebounds and nine assists, and the Oklahoma City Thunder beat the Los Angeles Clippers 112-101 on Wednesday night to tie their Western Conference semifinal series at one game apiece.
"We wanted to come back and respond," Durant said. "So, I think that's what fueled the team tonight. We just went out there and played extremely well and left it all out there, and came out with a good `W.'"
During his emotional MVP acceptance speech on Tuesday, Durant called teammate Russell Westbrook an MVP-caliber player. Westbrook backed up Durant's words with 31 points, 10 rebounds and 10 assists for his third triple-double in his past five playoff games.
"I think Russ played harder than all of us combined," Clippers guard Chris Paul said. "He was all over the place."
Thunder coach Scott Brooks took Durant out of the game with 1:21 remaining, costing him a shot at the triple-double. According to information provided to the Thunder by the Elias Sports Bureau, no pair of teammates has had triple-doubles in the same playoff game.
Serge Ibaka and Thabo Sefolosha each scored 14 points for the Thunder, who shot 51 percent from the field and outrebounded the Clippers 52-36.
"It was the perfect storm," Clippers guard Jamal Crawford said. "They did everything they could to win, and they got everything they wanted tonight. That wasn't the Clippers team we've been and I'm sure we'll get back on track."
J.J. Redick scored 18 points, Paul had 17 points and 11 assists, and Blake Griffin added 15 points for the Clippers. Los Angeles made 15 of 29 3-pointers in Game 1, but just 9 of 27 in Game 2.
The Clippers will host Game 3 Friday in Los Angeles.
Durant scored 17 points on 7-for-11 shooting in the first quarter to help the Thunder take a 37-28 lead. Paul, who scored 17 points in the opening quarter of Game 1, went scoreless in the first quarter of Game 2 and watched most of the period from the bench with two fouls as the Thunder took control early.
Oklahoma City got an offensive boost from an unlikely source in the third quarter -- Sefolosha, a defensive stopper. He hit a mid-range jumper, then dunked after a steal by Westbrook to give the Thunder a 78-66 lead. Sefolosha dunked again, then got a steal that led to a 3-pointer by Westbrook and gave Oklahoma City a 90-73 advantage.
Sefolosha, who had averaged just 3.7 points in the playoffs, scored 12 points in the quarter to help the Thunder take a 94-77 lead into the fourth. Clippers coach Doc Rivers said he expected Durant and Westbrook to score, but not Sefolosha.
"We can win if they (Durant and Westbrook) both have good offensive games," Rivers said. "What we can't do is then give them that plus everything else. And I thought that's what happened tonight."
Westbrook clinched his triple-double with 1:21 remaining when he was credited with an assist after a pass to Sefolosha, who took two dribbles on his drive to the basket.
Rivers said the Thunder were the aggressors.
"Every single possession, you have to have great focus and you have to be locked in, and today we were not," he said. "I thought it was because of all the clutter today. We're upset at the officials, we're upset at everything instead of turning our anger on the opponent and focus. Tonight we just didn't have it."
Notes: A power surge took out much of the arena's lighting with 27.2 seconds left in the first half. The coaches agreed to finish out the half with the limited lighting. The power returned, but halftime was extended briefly to give the lights the necessary 15 minutes to return to full brightness. ... Rapper Jay-Z attended the game. ... 2K Sports has announced that Durant will be the lone player on the cover of NBA 2K15. He shared the cover of 2K13 with Griffin and Chicago's Derrick Rose. Miami's LeBron James was on the cover of 2K14. ... Commissioner Adam Silver presented Durant with the MVP trophy before the game. ... Thunder C Steven Adams was called for a technical foul with 9:17 remaining for falling on Paul after biting on a pump fake and knocking him into the Thunder bench. Crawford was issued a technical with 7:28 to play, and Paul was given one with 2:24 remaining. ... Severe weather affected the area, and fans were told to stay in the arena after the game to allow the weather to pass.
---