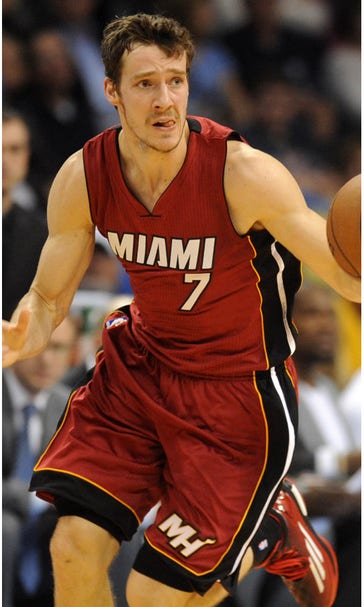 Weekend Watch List: Playoff push continues for Lightning, Panthers, Heat
BY Hana Ostapchuk • March 27, 2015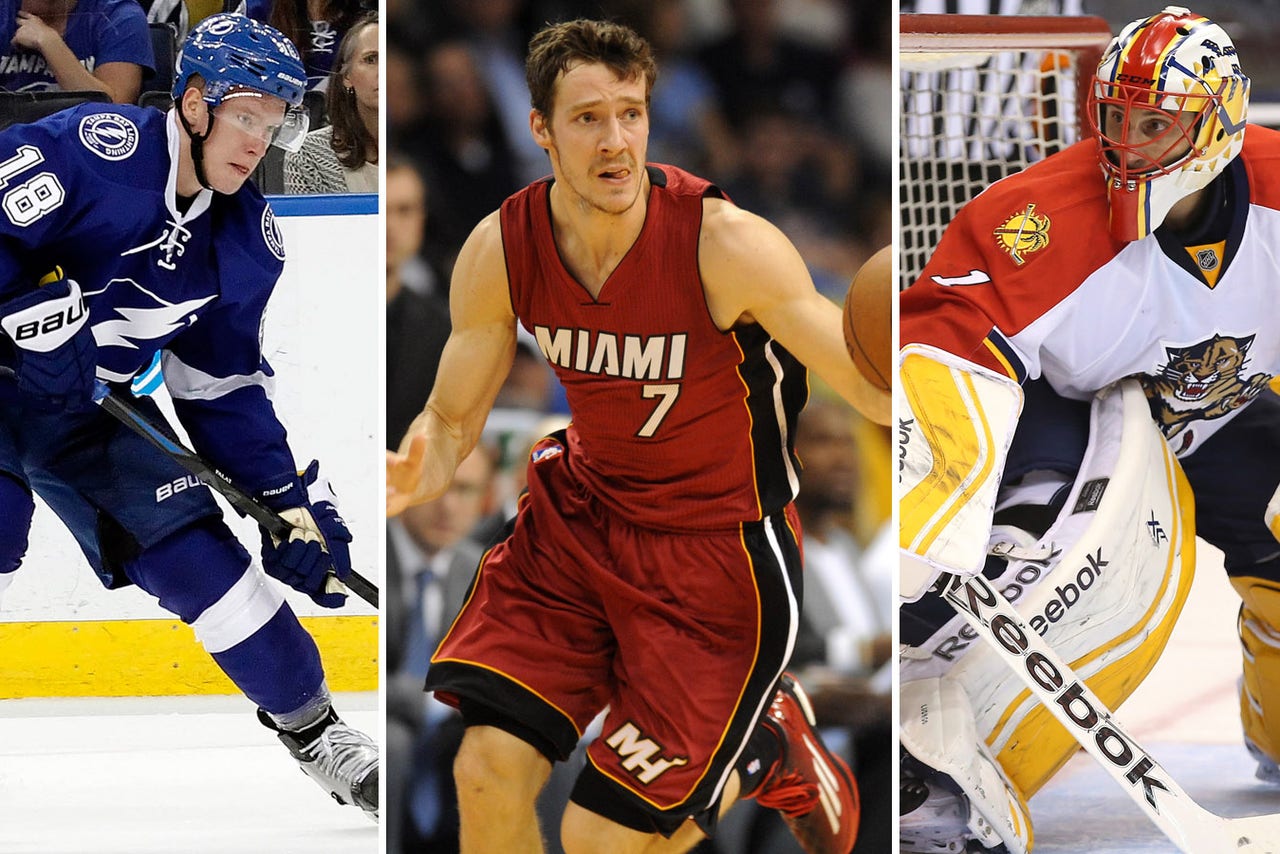 The Tampa Bay Lightning have quickly become the comeback kids of the NHL. Tuesday's 4-3 win over the Florida Panthers was the third time this month they rallied from a third-period deficit -- though one of those was lost in an overtime shootout. Tampa Bay's four-game winning streak came to a halt Thursday night with a rare home loss to the Nashville Predators.
Meanwhile, the Panthers playoff push continues with only eight games left in the season as they sit three points behind Ottawa and Boston for the final Eastern Conference wild-card spot.
On the court, the Miami Heat -- seventh in the East, 2 1/2 games ahead of the Indiana Pacers, Brooklyn Nets and Charlotte Hornets -- are again fighting the injury bug with status of Dwyane Wade (knee), Chris Anderson (calf) and Hassan Whiteside (hand) unclear for this weekend's games.
Here's a closer look at what to watch for in the Sunshine State this weekend...
FRIDAY, MARCH 27
MLB -- Spring training: Rays at Orioles, 1 p.m.
MLB -- Spring training: Marlins at Astros, 6 p.m.
NBA -- Pistons at Magic, 7 p.m. (FOX Sports Florida)
NBA -- Heat at Hawks, 7:30 p.m. (Sun Sports)
Spotlight: The Heat take on the Atlanta Hawks for the fifth and final time this season on Friday. Atlanta has defeated Miami in all four matchups, including the last three meetings at Philips Arena. Most recently, the Heat lost 93-91 at home on Feb. 28 without Chris Bosh and Anderson -- Whiteside led Miami with 14 points and 24 rebounds, while Paul Millsap led Atlanta with 22 points and five rebounds. The Hawks are coming off Wednesday's 95-83 victory over the Orlando Magic, which snapped a three-game losing streak. The Heat head into Friday's matchup after defeating the Boston Celtics 93-86 Wednesday night without Wade, Whiteside and Anderson.
SATURDAY, MARCH 28
MLB -- Spring training: Astros at Marlins, 1 p.m.
MLB -- Spring training: Red Sox at Rays, 1 p.m.
NHL -- Lightning at Red Wings, 2 p.m. ET (Sun Sports)
NHL -- Panthers at Canadiens, 7 p.m. ET (FOX Sports Florida)
MLS -- Orlando City at Montreal, 4 p.m. (FOX Sports Florida)
Spotlight: The Lightning are 3-0 vs. the Red Wings this season. The first was a 4-3 victory in Detroit on Nov. 9 as Steven Stamkos lead the Bolts with two goals and Ryan Callahan had two assists. Most recently, Tampa Bay won 3-1 on March 20 when Alex Killorn scored a tie-breaking goal in the third period and Ben Bishop made 30 saves. Thomas Tatar scored for the Red Wings. Detroit heads into the weekend coming off a 6-4 loss to the San Jose Sharks on Thursday. In the wake of the loss, coach Mike Babcock announced that he would start goalie Petr Mrazek against Tampa Bay. The Lightning enter the weekend second in the Atlantic Division, one point behind the Montreal Canadiens.
SUNDAY, MARCH 29
MLB -- Spring training: Marlins at Nationals, 1 p.m.
MLB -- Spring training: Rays at Red Sox, 1 p.m.
NHL -- Panthers at Senators, 5 p.m. ET (FOX Sports Florida)
NBA -- Pistons at Heat, 6 p.m. ET (Sun Sports)
Spotlight: The Panthers are in a fight with the Ottawa Senators and Boston Bruins for the final wild-card spot in the Eastern Conference, trailing both by three points entering the weekend. The Senators had won seven in a row before a 5-1 loss to the Rangers on Thursday. They visit the Toronto Maple Leafs on Saturday before hosting the Panthers on Sunday. Ottawa has won two of the teams' three matchups this season. On Oct. 13, the Panthers lost 1-0 as Clarke MacArthur made the lone goal for Ottawa. On Nov. 28, the Panthers came back with a 3-2 win when Jimmy Hayes scored the winning goal. The Senators won again on Feb. 21 when Kyle Turris had a goal and two assists to carry Ottawa to a 4-1 victory.
NEWS OF NOTE
-- Lightning center Cedric Paquette, who missed six games with an upper-body injury, returned to Thursday night's lineup against the Nashville Predators.
-- Tampa Bay Rays named right-hander Chris Archer their Opening Day starting pitcher on Wednesday. Kevin Cash made the announcement in wake of Alex Cobb's tendinitis diagnosis earlier this month. Cobb was originally named the Ray's Opening Day starter.
-- Miami Hurricane legend Jim Kelly was honored by his former 'Canes coach Howard Schnellenberger on Tuesday before speaking at the YMCA of South Palm Beach County Inspiration Breakfast fundraiser. Schnellenberger spoke of Kelly's inspirational strength and humble character.
-- The Tampa Bay Rays announced on Tuesday that they will honor Don Zimmer by retiring his No. 66 uniform on Opening Day. Zimmer served as a senior baseball advisor for the Rays from 2004 until his death in June 2014.
-- Florida State is reportedly attempting to add non-conferences games with Auburn and Alabama to future schedules, according to Tomahawk Nation.
-- Dwyane Wade was named the Eastern Conference Player of the Week on Monday for games played from March 16 through March 22. It's the first time Wade has won the award this season, but the 17th time he has received the honor in his career.
-- Tobias Harris returned to the Magic's lineup on Wednesday night against the Atlanta Hawks after missing three games due to a sprained ankle. Harris scored 14 points, grabbed two rebounds and dished out two assists in the Magic's 95-83 loss.
TWEET(S) OF THE WEEK
Heat's Chris Bosh celebrated his 31st birthday on Tuesday, and teammates and fans took to social media to wish him the best on his road to recovery.
You can follow Hana Ostapchuk on Twitter @HanaOstapchuk or email her at HANAMARIE13@AOL.COM.
---