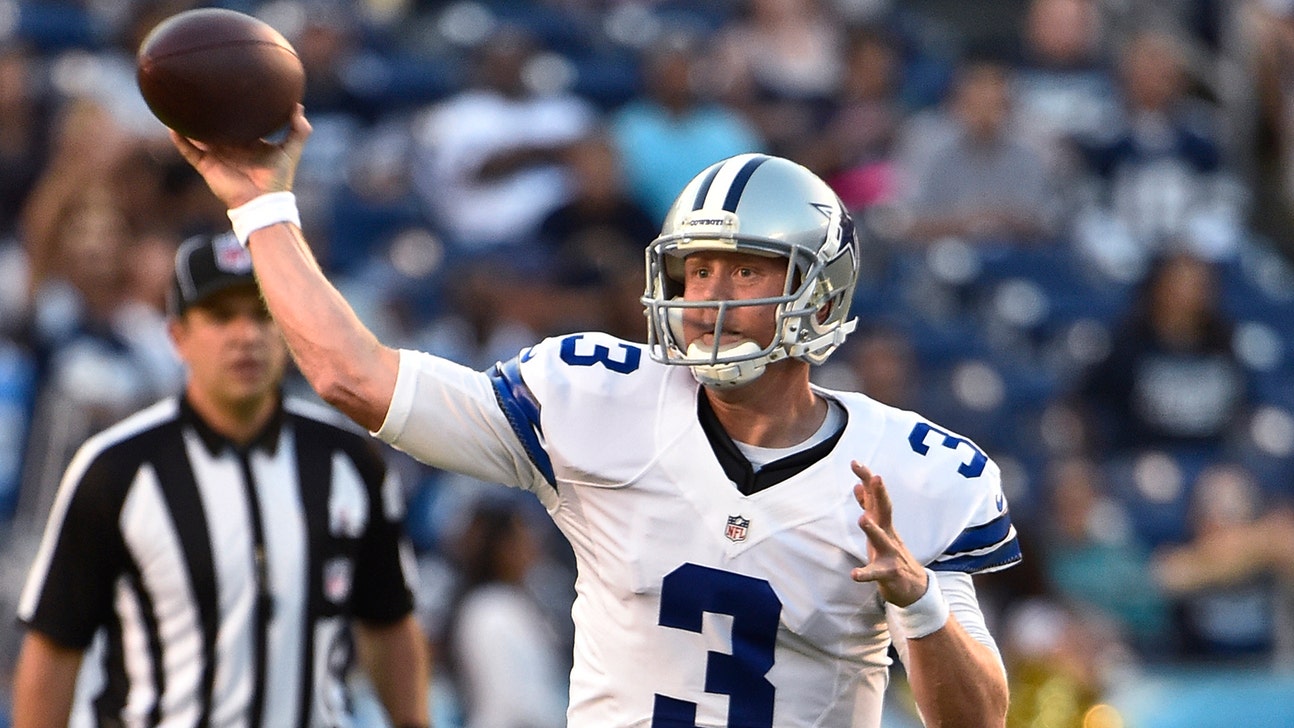 Weeden proves to be solid backup for Romo
Published
Aug. 8, 2014 2:32 a.m. ET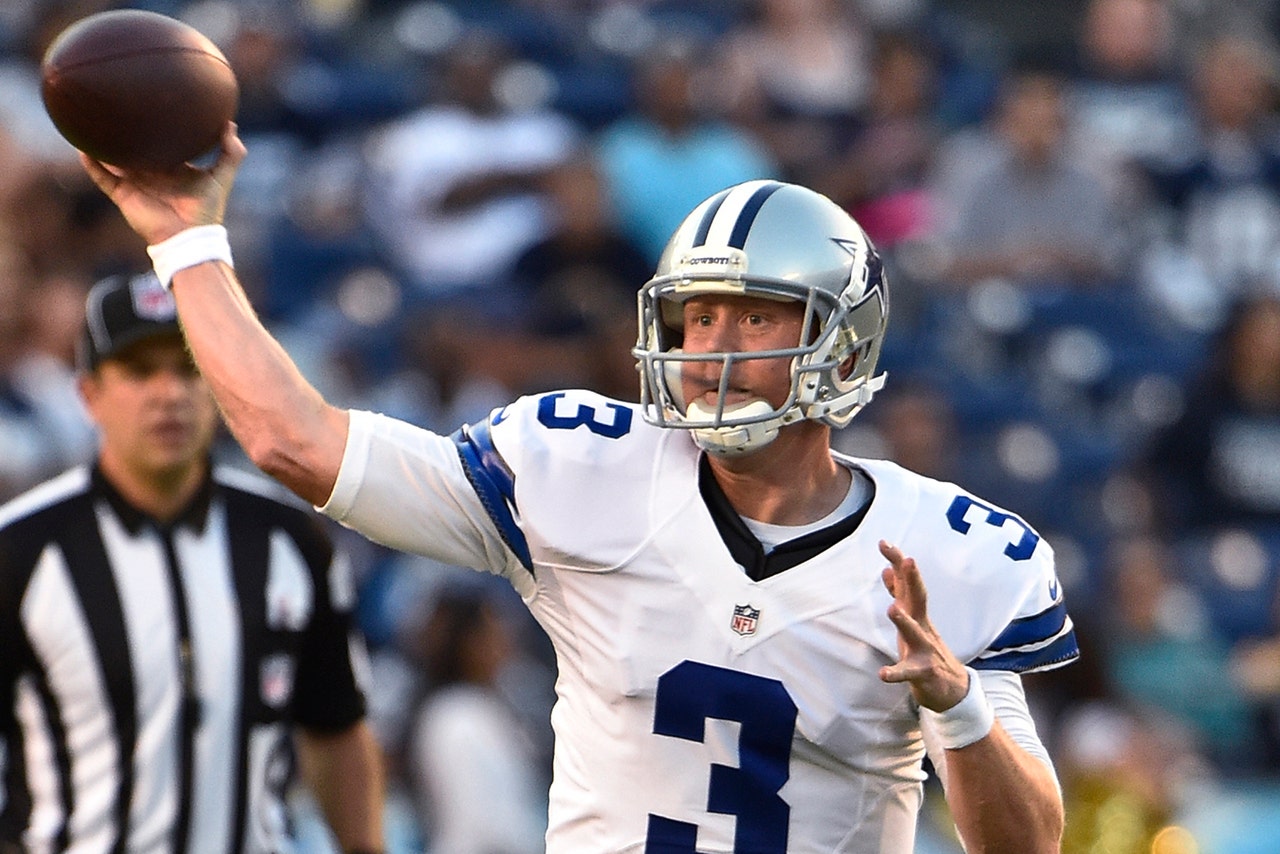 The Dallas Cowboys didn't exactly put on a show in a 27-7 preseason loss to the San Diego Chargers, but quarterback Brandon Weeden showed that he's capable of being a solid backup to Tony Romo. He completed 13-of-17 passes for 107 yards and a touchdown. The Cowboys showed a commitment to the running game early in the game with Joseph Randle getting the start at tailback.
But it was Weeden who fueled the offense with some strong throws, including an impressive touchdown pass to tight end James Hanna in the back of the end zone. He rolled to his right and then took a big shot from Chargers defensive end Lawrence Guy after he delivered the ball across his body. It was one of the positive developments on a night when the Cowboys' defense looked overwhelmed at times. Here are some more observations from Thursday's preseason opener:
• Officials have made it clear there will be a special emphasis on hands-to-the-face calls this season. And starting left guard Mackenzy Bernadeau was called for one during the Cowboys' promising first drive.
• There should never be a scenario where defensive end Jeremy Mincey ends up one-on-one with Chargers running back Danny Woodhead, but that's exactly what happened in the first quarter. Middle linebacker Justin Durant and rookie cornerback Terrance Mitchell blitzed from the left side on the play. Durant didn't time his blitz very well and ended up getting stoned at the line of scrimmage. Mitchell is a competitive guy, but right now he's putting his hands all over receivers. He was called for holding in the end zone on the Chargers' first drive.
• Durant put his helmet on the ball and caused a fumble as Chargers running back Ryan Mathews tried to cross the goal line in the first quarter. Mitchell recovered the fumble in the back of the end zone. Defensive coordinator Rod Marinelli places a huge emphasis on stripping and tackling the football. Both Durant and Jeff Heath converged on Mathews.
• Former Baylor safety Ahmad Dixon, a seventh-round pick for Cowboys, finished with 12 tackles in the game. He made a couple of jarring hits. He had to leave the game early after sustaining what appeared to be a head injury. Dixon is not a disciplined player at this early stage, but he seems to always be around the ball. Much like fellow safety J.J. Wilcox, Dixon does not shy away from contact. He also played fairly well on special teams. You could tell on the sideline that Jason Garrett was excited about Dixon's performance.
• Rookie linebacker Anthony Hitchens had his moments while playing with the second-team defense. Hitchens and DeVonte Holloman both had trouble getting off blocks. On Brandon Oliver's touchdown run, both players were shoved at least 10 yards down the field by blockers. Hitchens did appear to settle down later in the game and make some nice plays.
• At 6-7, Cowboys defensive end Caesar Rayford has a pretty imposing look. He made a key stop in the red zone to force the Chargers to settle for a field goal. Rayford struggled to get off blocks for much of the game, though. He has a tendency to stand straight up and doesn't appear to get a lot of leverage. Rayford may knock down some passes, but he doesn't seem like someone who can get to the quarterback on a routine basis.
FOX SPORTS DAILY
COWBOYS EDITION
Cowboys News To Your Inbox!
*By clicking "SUBSCRIBE", you have read and agreed to the Fox Sports Privacy Policy and Terms of Use.
• Defensive end Martez Wilson has a great opportunity to make the team now that DeMarcus Lawrence is injured. Wilson showed up in the backfield to make a big play when the Chargers had third-and-1. It was the type of play the Cowboys desperately need from their front four.
• Chargers backup quarterback Kellen Clemens found Dontrelle Inman for a 70-yard touchdown to make it 17-7. Inman was one-on-one with cornerback Korey Lindsey, who hasn't had a single practice with the Cowboys.
• It's obvious that rookie wide receiver Devin Street needs to get stronger, but he's already a smooth route-runner. At one point he caught a ball across the middle and did a really nice job of turning up the field for some extra yards. He could really push someone like Dwayne Harris, who dropped a pass from Weeden early in Thursday's game.
• I was impressed with how second-team left tackle Jermey Parnell played. He did an excellent job getting to the second level on running plays and also did a nice job with his pass-blocking. You can tell that his technique has improved quite a bit since last season. He'll be a nice option as the swing tackle.
• I'm intrigued with rookie quarterback Dustin Vaughan out of West Texas A&M. He showed some nifty footwork late in the fourth quarter on a third-down completion. I think we'll see him play earlier in one of the next two preseason games. He's certainly a good practice squad candidate.
• The best news for the Cowboys was that Weeden looked sharp. In the next couple preseason games, he needs to do a better job of getting through his progressions. He had a tendency Thursday to not look at some of the downfield routes. Maybe it will take him a couple games to realize this is a much better offensive line than the one he played behind in Cleveland.
---