 We Went To A NASCAR Race And A UFC Fight Broke Out
Updated
Mar. 4, 2020 12:25 p.m. ET Sunday's inaugural NASCAR Camping World Truck Series race at Canadian Tire Motorsports Park was rather tame throughout the day, but it certainly didn't end that way. In fact, late race antics and disagreements led to one of the most bizarre post-race scenes in NASCAR history.
Here at Shake and Bake, we thought UFC 165 had just broken out and the fight card looked a little like this:
Ty Dillon vs. Chase Elliott
Dillon led the most laps (25) Sunday and held a two truck length lead over Elliott coming to the white flag, but concern over fuel mileage would impede his progress. The slight fuel hiccup allowed Elliott to pull side-by-side with Dillon coming down Mario Andretti Straight and through turns eight and nine, setting up a dramatic final turn.
Elliott plowed into Dillon's truck and went on to score his first career NASCAR Trucks victory. The contact sent Dillon hard into the outside tire barriers, relegating him to a 17th place finish.
After the race, Dillon confronted Elliott to express his displeasure. No punches were thrown, but it's safe to say that no love was lost.
James Buescher vs. German Quiroga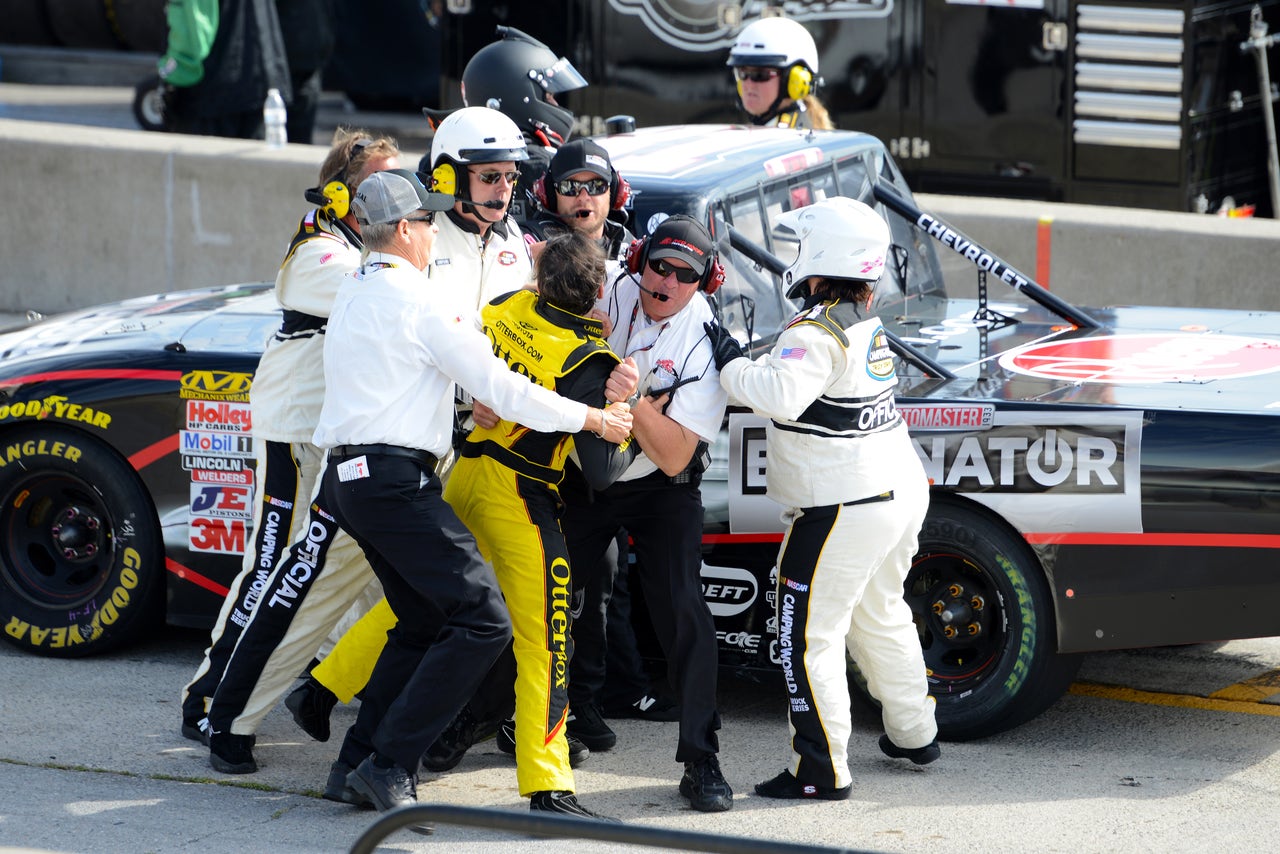 Once a driver straps on his/her helmet and buckles in, they can often become very narrow-minded. That about sums up Quiroga's day at Canadian Tire Motorsports Park.
Quiroga was battling mid-pack on the final lap when he was blatantly wrecked by Ron Hornaday Jr., resulting in a 15th place finish. Quiroga had every right to be pissed off at Hornaday, but he decided to target Buescher instead.
Why Buescher? Quiroga thought - back to the whole narrow-minded idea - that Buescher was the one who wrecked him.
Before Buescher could plead his case, Quiroga was in his face on pit road and had to be restrained.
Cooler heads would ultimately prevail and the two drivers would be okay with one another. 
Mike Skeen & Crew vs. Max Papis & Crew
Much like Dillon, Skeen and Papis also saw strong finishes go down the drain when they made contact while battling for third. The two tangled coming out of the final turn, went off course and slammed the tire barrier.
Papis dropped to sixth while Skeen fell to 13th.
During the "cooldown" lap, Papis and Skeen traded paint and hand gestures, but the real fireworks exploded when both trucks returned to their garage stalls.
A member of Skeen's pit crew attempted to take a shot at Papis, but was quickly body slammed by members of Papis' pit crew. NASCAR officials and other crew members were quick to break up the fight. No KO's or submission attempts were recorded.
Max Papis vs. Unknown Girl
As Bruce Buffer would say, "this is the main event of the evening!"
Papis didn't only upset Skeen with his performance on track, but he also ticked off an unknown woman, and she was ready to rumble.
Immediately after an interview with FOX Sports, Papis was approached by the woman and was violently slapped square in the face. Yes, you read that right. She reared back and unleashed on Papis.
Was Papis phased? Not at all. Perhaps we should call him Max "The Iron Jaw" Papis and throw him in an actual UFC octagon.
---