Wambach says the USWNT feel the pressure to perform
BY Laura Vecsey • June 14, 2015
The pressure of a scrutinizing world is getting to them, and the frustration of not scoring goals is too. But the veteran leader of the U.S. women's national team refuses to shy away from the challenges that the U.S. faces trying to win their first World Cup since 1999.
"Championship teams are the teams that can deal with all things in all moments in all sorts of ways," Abby Wambach said.
This inspirational mantra will be used by Wambach. They need it -- she needs it -- since Wambach admits that internally, the U.S. women are grappling with the challenging realities of this World Cup.
The U.S. leads Group D with four points, but still face Nigeria on Tuesday in a match where the result will make a big difference in how tough their knockout round path will be. In a perfect world, the U.S., by now, wanted to be in more control of their own destiny.
Standing on a practice field at the University of British Columbia under a brilliant Pacific Northwest sun, Wambach said she's trying to rally her team toward a level of confidence that seems to be missing. The U.S. is desperately eager to make up for losing the 2011 World Cup in Germany and the team is significantly aware of how much more attention they are getting for this 2015 run.
"I do feel it. I can understand the angst. We're more popular than we were four years ago. So people only got on board in the latter part of the (2011 World Cup in Germany)," said Wambach.
"But now that more people are involved in the beginning part of the tournament they want to analyze and hyper analyze and break things down which for me, I'm all about. I love the game, I love reading what everyone has to say. I don't think that everybody's right in everything they say but the reality is, we're talking about the game. We're growing the game and those are really good conversations to be had," she added.
Two things are rattling the them: Expectations -- their own and those of everyone else -- and the lack of scoring. The U.S. did manage a 3-1 win over Australia in their opening game, based predominantly on stellar goalkeeping by Hope Solo and two Messi-esque, self-created goals by Megan Rapinoe.
But a scoreless draw against rival Sweden on Friday seems to have set them back on their heels. Rapinoe was double- and triple-teamed and Christen Press paired with Sydney Leroux up top never developed any chemistry.
Star striker Alex Morgan has made it into both games as a late substitute, only affirming how much Morgan has been missing in the U.S. attack all year. The bone bruise on her knee is said to be better but match fitness will take more time.
"I think Alex is doing very well. She's on the mend and hitting her stride. She just needs to continue to get some playing time and some minutes and she's doing that. I know that in practice she is looking so strong and great. Alex has a key role. She's a strong point for us," said Amy Rodriguez, who came on midway through the second half against Sweden to try and spark some offense.
However, in Morgan's absence, there's a lack of chemistry and timing on the U.S. attack, as coach Jill Ellis switches Christen Press from midfield to forward and alternates the 35-year-old Wambach from starter to substitute.
Sweden, in a move that seemed to throw the U.S., packed their back line with as many as eight or nine players behind the ball. The defensive unwillingness by Sweden to concede any goals made it essential for the U.S. to go wide, and to have their midfield and own back line fuel the attack, but the tactic proved too stout for the U.S. to penetrate.
Wambach said she is trying to make sure the team adjusts and manages each twist and turn of this World Cup run.
"It never goes the way you envision it going. Nothing ever does in life. That's what makes a difference between great teams and not-so-great teams. It's the teams that can adapt in all situations, to plans completely falling apart, to scouting a team and then doing something completely different," Wambach said.
"I think that's what makes our team very special and has made our team special in the past. But what will be the difference whether or not this team can or not, is if we can can endure those things, if we can sort out some of the problems that we have that aren't just happening between each game but actually in the flux of each game,'' she added.
Then there's the artificial turf. Wambach said that if anyone needs real-life proof that FIFA's unwillingness to force Canada to install grass in its six World Cup venues is having an impact on the quality of action and play, look no further than the poor goal-scoring chances of the U.S. and other teams. Wambach said she thinks she'd have scored three goals so far if this World Cup was on grass, including one against Sweden after Wambach subbed in.
"The goalkeeper made a great save but if it was on grass, I think it goes in," Wambach said.
If Wambach is concerned that her teammates are struggling with the pressure of expectations, the turf conditions are weighing on her.
"On grass, I am way more carefree. I throw my body. I'm not worried about anything. There's no second-guessing. The ball as it comes off my head against Sweden hits a dry turf and bounces higher. If it hits grass, it's harder for a goalkeeper to react," Wambach said.
However, the truth is, the U.S. has been shut out three times in their last eight games. The turf is certainly causing Wambach to be more cautious in her attack, but that doesn't tell the entire story of the U.S. team's offensive struggles. Unlike the rock-solid back line, centered by Becky Sauerbrunn and Julie Johnston and flanked by Meghan Klingenberg and Ali Krieger, the midfield combo of Carli Lloyd and Lauren Holiday has failed to make use of their talents while the attack just has failed to gel.
Everyone is anxiously waiting to see whether the U.S. can actually find their own next level. The media is scrutinizing the team mercilessly. Their opponents dog them as has-beens. The pressure of trying to win for themselves, for each other and for the country are palpable.
"We want to continue to grow. We're still a work in progress. I don't want to be peaking until we're standing on that top podium at the end of the tournament," Wambach said.
---
---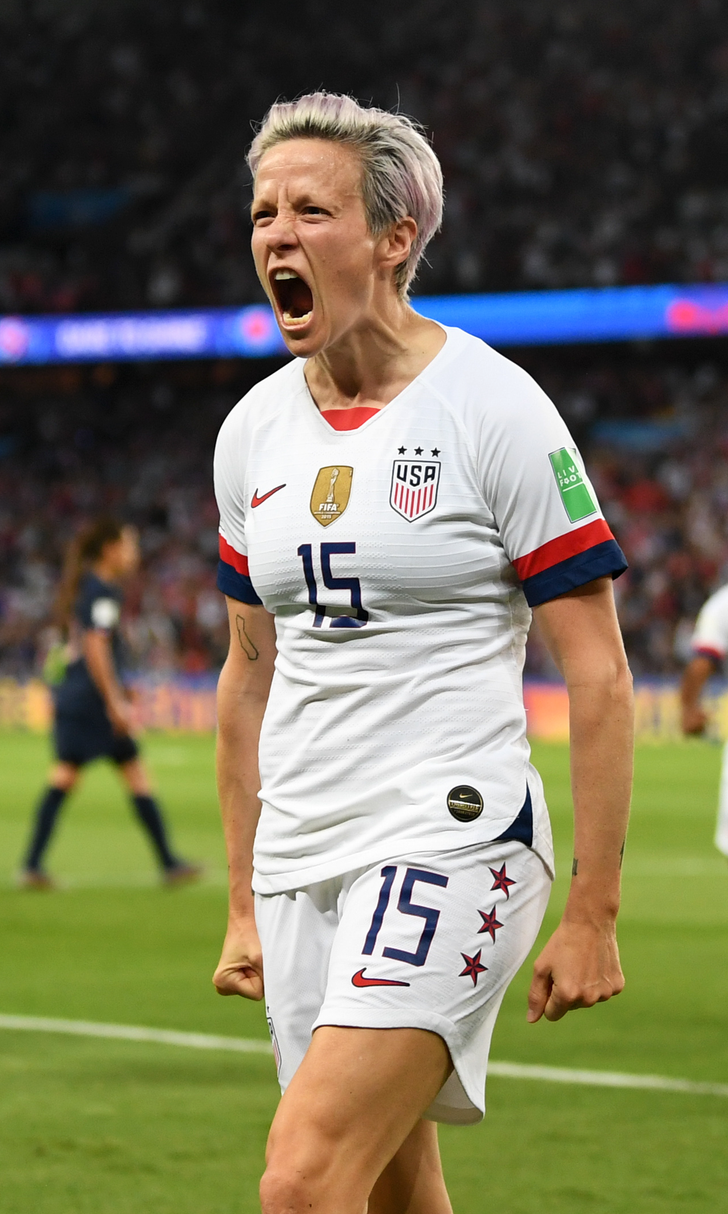 French Fracas
French Fracas
Behind two goals from Megan Rapinoe, the USA defeated host France in the quarterfinals of the 2019 Women's World Cup.