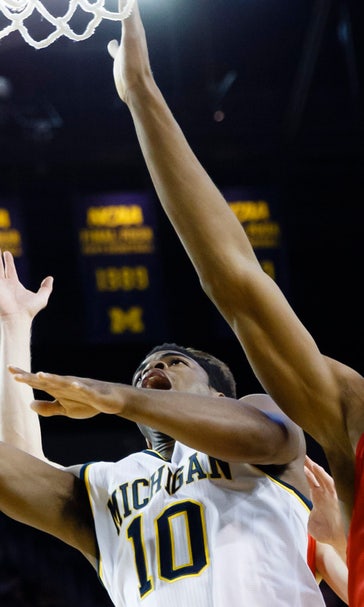 Walton posts triple-double, Michigan routs Youngstown State 105-46
December 19, 2015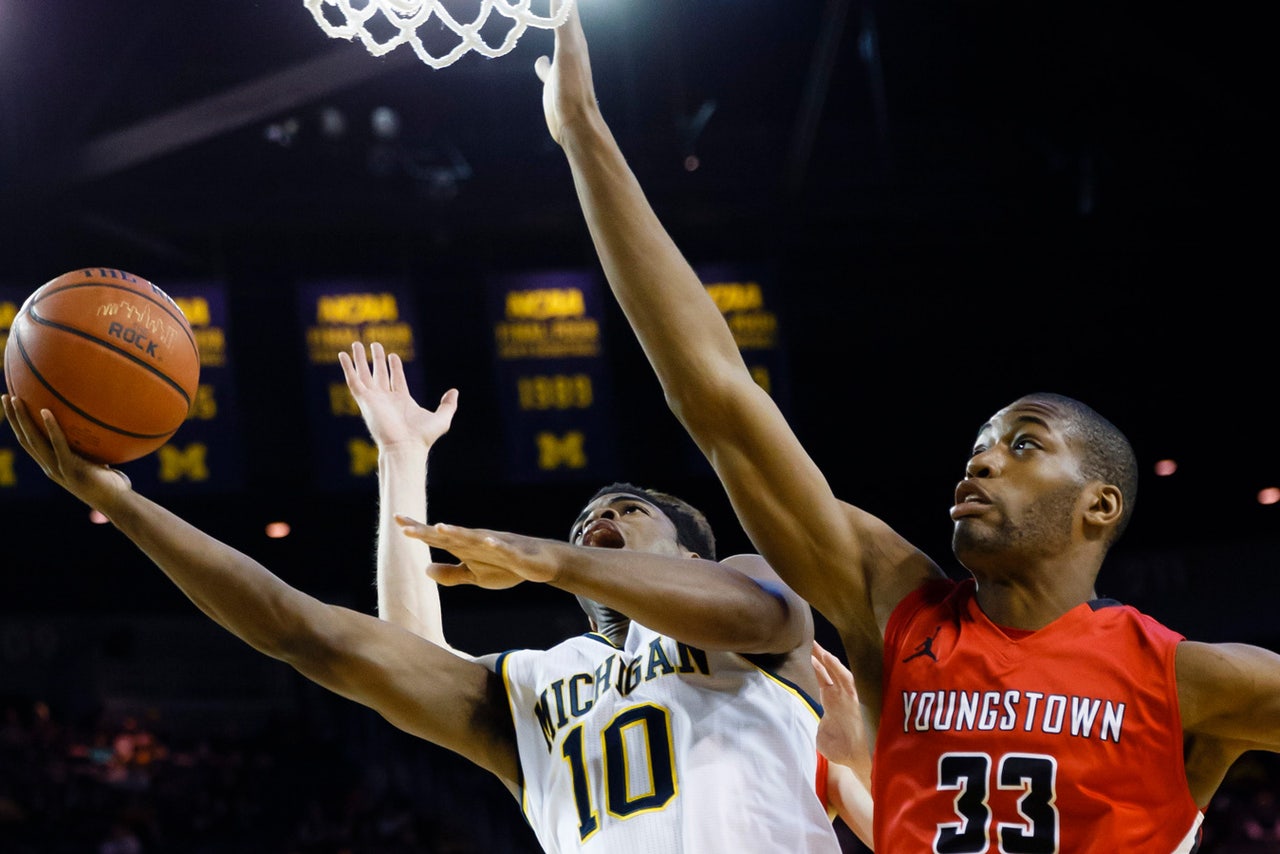 ANN ARBOR, Mich. (AP) -- Zak Irvin has been put on notice by his Michigan teammates.
He's on deck for the next triple-double.
After only putting up three triple-doubles in the first 99 seasons of Michigan basketball, the Wolverines have posted them in the last two games.
Derrick Walton finished with 10 points, and career-highs in rebounds (11) and assists (13) in Saturday's 105-46 rout of Youngstown State. Caris LeVert had 13 points, 10 assists and 10 rebounds on Tuesday against Northern Kentucky.
"We told Zak that he's next," LeVert said. "Once Derrick got close tonight, I wanted to make sure that he got it."
By the midway point of the second half, the only suspense was whether Walton could finish off his triple-double. He picked up his 10th and 11th assists within 20 seconds, but still needed two rebounds.
Moments later, he grabbed rebounds on a pair of missed 3-pointers. The crowd burst into a standing ovation when he grabbed the 10th rebound, and he was mobbed by his teammates coming off the floor.
"I wasn't really paying attention, but Caris and Zak were telling me that I was getting close," he said. "They were taking 3-pointers, and our guys were boxing everyone out and telling me to grab the rebounds."
Michigan is the first team since at least 1996-97 to have different players post triple-doubles in back-to-back games. Robert Morris had two straight in Feb. 2008, but they were both by Tony Lee.
"I didn't know what was going on Tuesday, but I figured out something was happening this time," Michigan coach John Beilein said. "I asked the guys on the bench what was going on, and they told me Derrick only needed one more rebound for another triple-double.
"I was worried, because rebounds have to come to you, but he got it very quickly."
Aubrey Dawkins also had 19 points for Michigan, which emptied its bench late in the game. The 59-point victory margin was the biggest of Beilein's nine seasons in Ann Arbor.
"I've seen the scores that Youngstown State has put up against other schools, and they weren't like this," he said. "That's been the case with a couple other teams that we've played as well, and I figure that has to be a good sign."
Sophomore guard Cameron Morse led the Penguins (5-7) with 10 points.
It didn't take Michigan long to take over the game. The Wolverines led 9-0 after two minutes and needed fewer than 14 minutes to take a 20-point advantage.
The half got away from the Penguins at that point, with Dawkins punctuating the rout with two spectacular dunks - one an alley-oop in traffic, and the second a double-pump reverse slam off a turnover.
"I don't watch much of SportsCenter, but if I make it, I'm sure someone will send me the clip," Dawkins said.
It was 55-22 at intermission. Dawkins had 13 in the half, while Walton had 10 points, seven rebounds and five assists. Morse led Youngstown State with seven points off the bench.
The Penguins were more competitive early in the second half, cutting Michigan's lead to 28, but weren't able to maintain the momentum. LeVert hit a 3-pointer and Robinson followed with a short jumper to make it 68-35, and the blowout was back on.
The Wolverines took a 50-point lead with 5:50 to play.
---
TIP INS
Youngstown State: Two freshmen, Devin Haygood and Latin Davis, were playing four miles down the street from their hometown of Ypsilanti. . The Penguins are now 0-5 against Michigan, with all five games coming in Ann Arbor. The most recent meeting was in 2006.
Michigan: Walton and LeVert join Gary Grant, Manny Harris and Darius Morris with triple-doubles for the Wolverines. . Michigan scored 100-plus points for the second time this season, having beaten Charlotte 102-47 on Nov. 26.
UP NEXT
Youngstown State visits Notre Dame on Monday.
Michigan hosts Bryant on Wednesday.
---
---