Wacha handles Cubs, earns win and picks up a batting average
BY foxsports • May 15, 2014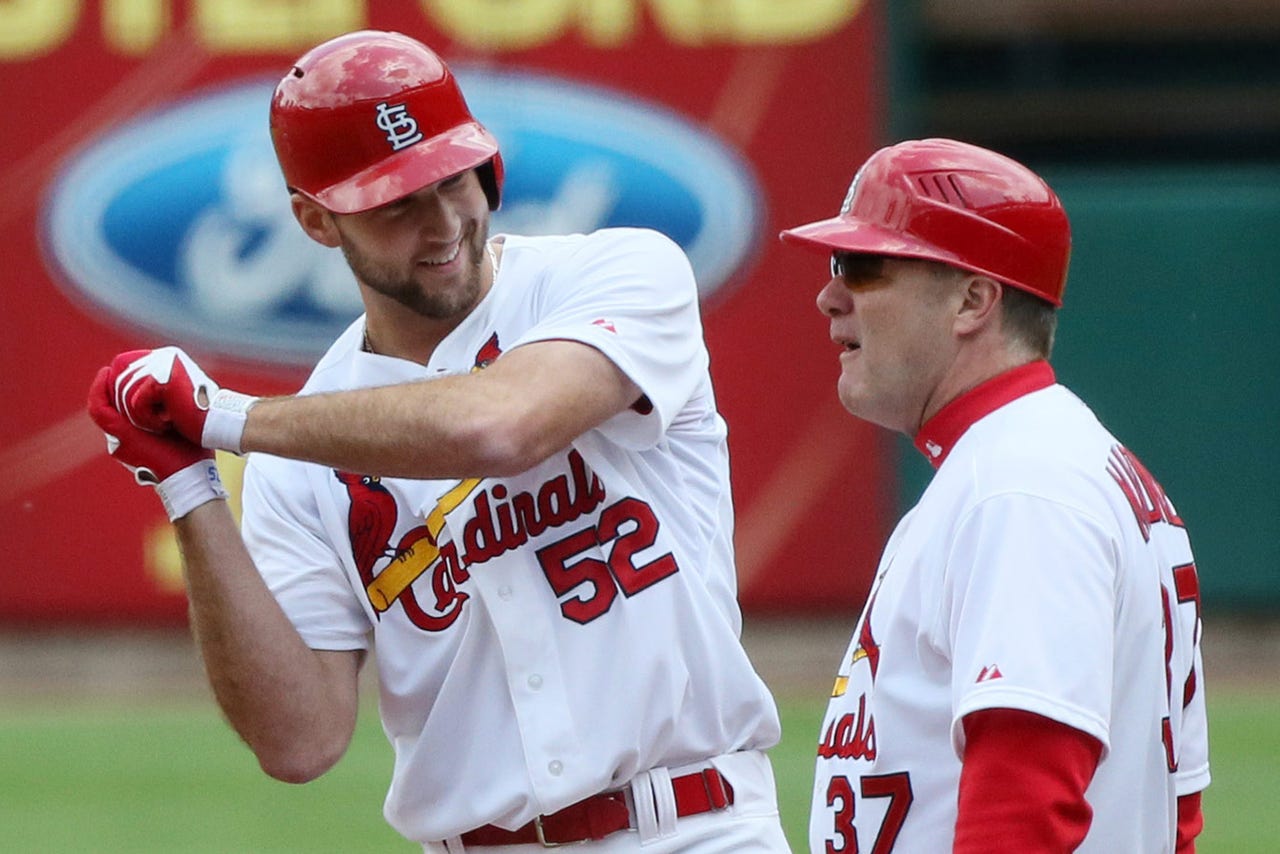 ST. LOUIS -- Cardinals right-hander Michael Wacha said he was sure he's had another five-start winless streak, even though he couldn't remember when.
He made sure Thursday afternoon he won't have to think about another such skid for a while after he pitched and hit the Cardinals to a 5-3 victory over the Cubs at Busch Stadium.
On the mound, Wacha worked seven innings for only the second time this season, allowing a two-run homer to Starlin Castro and not much else. He gave up seven hits but did not walk a batter and struck out five, setting the Cubs down in order four times.
At the dish, Wacha delivered a two-run single with two outs and two strikes in the second that gave the Cardinals a 3-0 lead. He then sped around the bases on Matt Carpenter's double to make it 4-0. The hit, run and RBIs all were season firsts for Wacha, who struck out in his first eight at-bats this season.
"It's nice to finally have a batting average," he said. "It's nice getting those four runs. Once you get those runs, a lot of pitchers tend to get complacent and give up a hit here, a hit there. It's important to stay on top of your game and keep pounding the strike zone. I was able to do that."
Wacha says he's never been much with the bat, saying he hit only one homer in high school ("I perfected the bloop single over first base") and not getting any practice at Texas A&M because of the DH. The hit gave him a batting average of .109 in the big leagues (4 for 37).
The win was Wacha's first since beating the Cubs at Busch Stadium on April 13, and it also helped the Cardinals take the series. They had lost two of three at Wrigley Field the first weekend of the month.
3 UP
-- Trevor Rosenthal. A game after blowing his first save chance of the season, he was called on with a three-run lead and the bases loaded with one out in the eighth. No problem. Rosenthal gave up a sacrifice fly to Junior Lake but no further damage in the eighth and retired the Cubs in order in the ninth for a five-out save. He struck out Ryan Kalish looking with a 98-mph fastball on his last pitch.
Watch the Cardinals Live pregame and postgame shows before and after every St. Louis Cardinals game on FOX Sports Midwest.
"You could tell he couldn't wait to get back out there," Matheny said.
Matheny said he went to Rosenthal after Siegrist instead of Carlos Martinez in the eighth so he would not have to use all three of his big, young arms in the same game.
"If you look at the overall workload, Carlos and Kevin have a little more than Trevor at this time," Matheny said. "We have a great opportunity to bring our closer in and get some big outs and he did it for us."
Matheny added that Wacha's ability to work the seventh allowed "us to get Carlos a day."
Martinez leads Cardinals relievers with 21 1/3 innings, which was tied for seventh-most in the NL going into Thursday. Rosenthal and Siegrist have worked 19 and 18 innings, respectively.
-- Yadier Molina. He scored the Cardinals' first run after a second-inning double and he drove in the fifth with a single in the sixth. But what was really up was his temper, and understandably so. Three times Molina had to get out the way of fastballs that were inside and up. You could see he was not happy about it, either, though he refused postgame interview requests.
"You get one mistake that sails and flies up by your head and you're not happy about it," Matheny said. "But when you see a number of them happen that way, you start to take it pretty personal. I don't blame him. We're not trying to pitch anybody up and in like that, and nobody else should, either. Guys need to stand up for themselves and we need to stand up for them."
The Cubs might have been upset because Eric Fornataro hit their starter, Travis Wood, on Monday night. That came after Wood had plunked two Cardinals. Warnings were issued after Neil Ramirez almost hit Jhonny Peralta in the eighth.
-- Matt Holliday. With a sixth-inning double, he extended his streak of reaching base in every home game this season. In 15 games at Busch Stadium, Holliday is hitting .321 with 11 runs and 11 RBIs. In 24 games on the road, he's hitting .235 with eight runs and 12 RBIs.  
3 DOWN
FOX SPORTS MIDWEST GIRLS: Read their bios, check out their upcoming appearances and view their photo galleries and videos.
-- Matt Adams. Inserting him back in the cleanup spot did not result in a power surge. Adams hit four fly balls, but none with authority. Three went to left field as he continues to go to the opposite field. In the series against the Cubs, he flew out to left six times and had only one hit that left the infield in 12 at-bats.
-- Kevin Siegrist. The lanky lefty's control is lacking all of a sudden. After coming in with the score 5-2 in the eighth, Siegrist was able to get only one out before Matheny turned to Rosenthal. Siegrist overmatched Ryan Kalish for a strikeout to lead off the inning but then allowed the next three Cubs to reach base, two via walks. Those were the fourth and fifth walks he has issued in his past three outings, after walking only two in his first 18 appearances.
-- Matheny's challenges. It looked like he had a good chance of having an out call overturned when Holliday grounded out to lead off the St. Louis third. But after a delay of two minutes, 54 seconds, the out stood and, for the fourth time in his five challenges, Matheny's challenge failed to have a call changed.
You can follow Stan McNeal on Twitter at @stanmcneal or email him at stanmcneal@gmail.com.
---