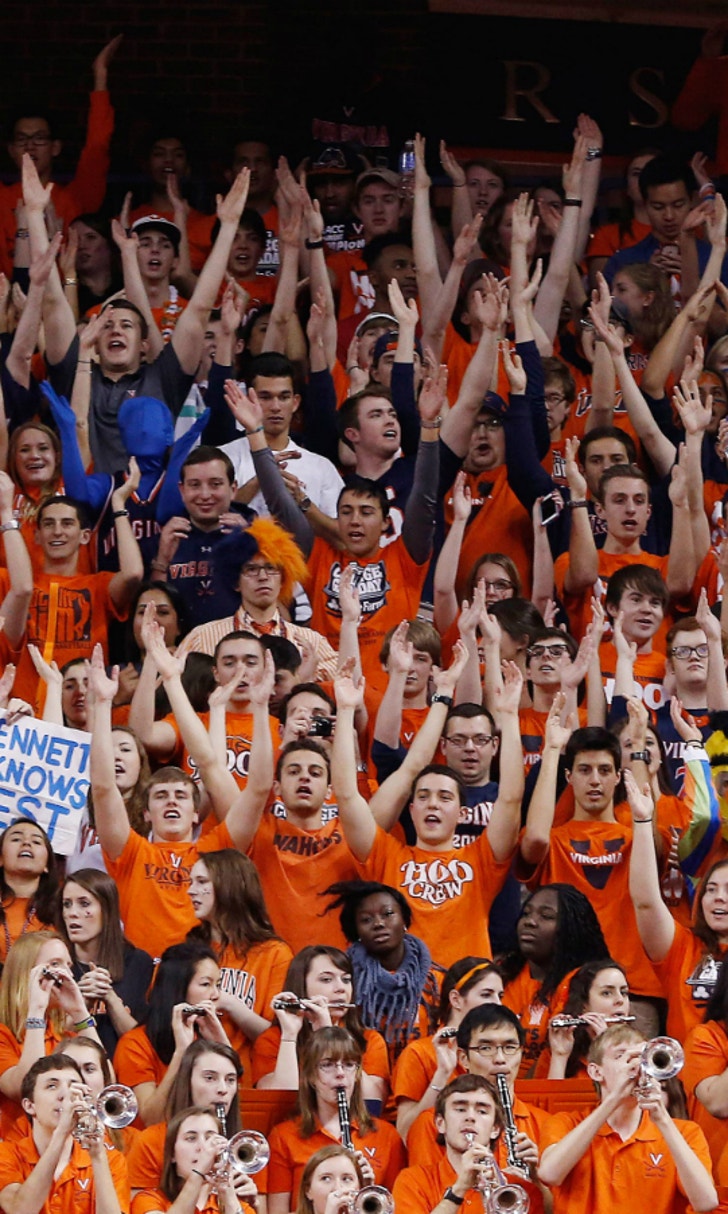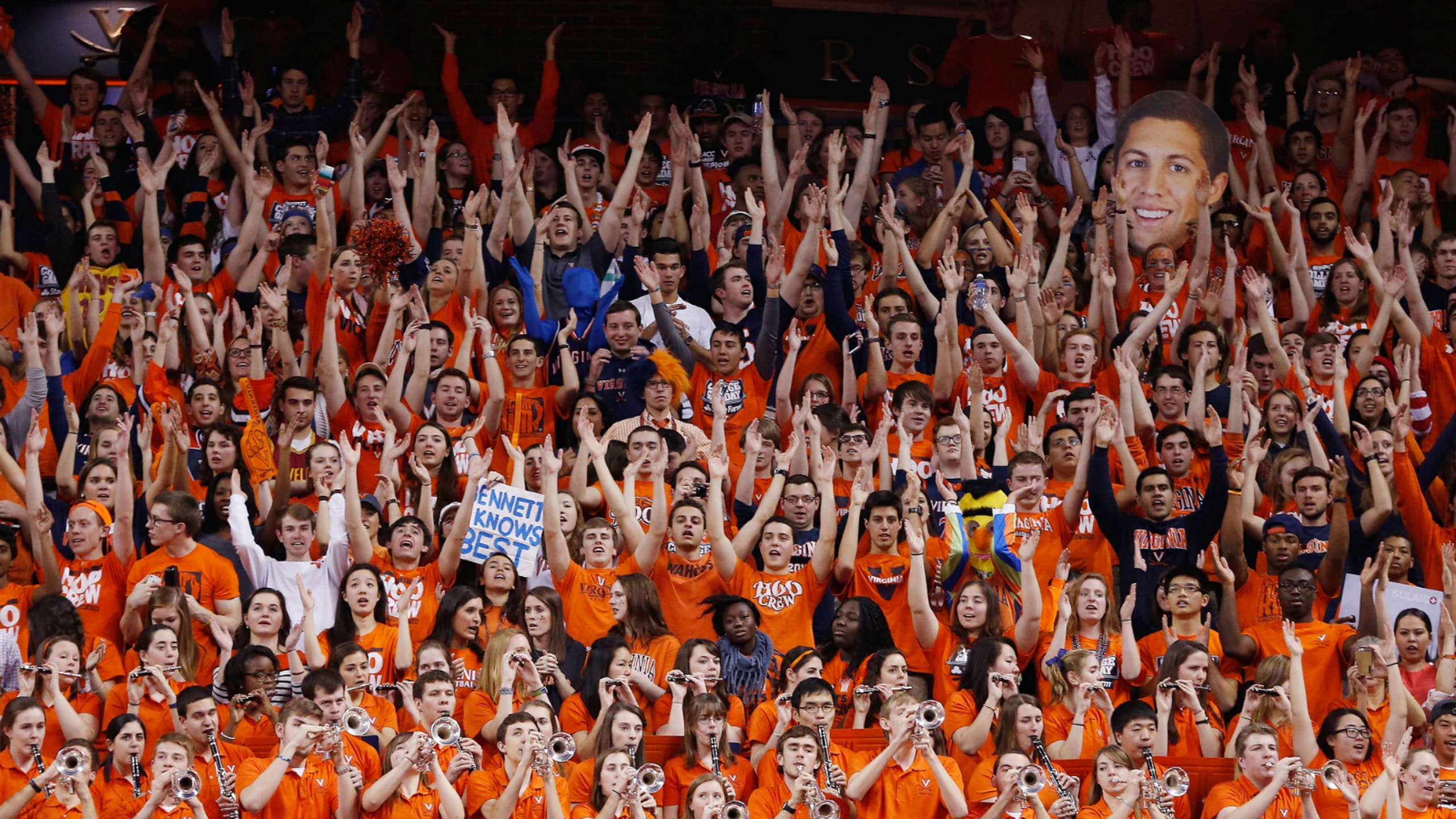 Virginia looks to bounce back after heartbreaking first loss
BY foxsports • February 1, 2015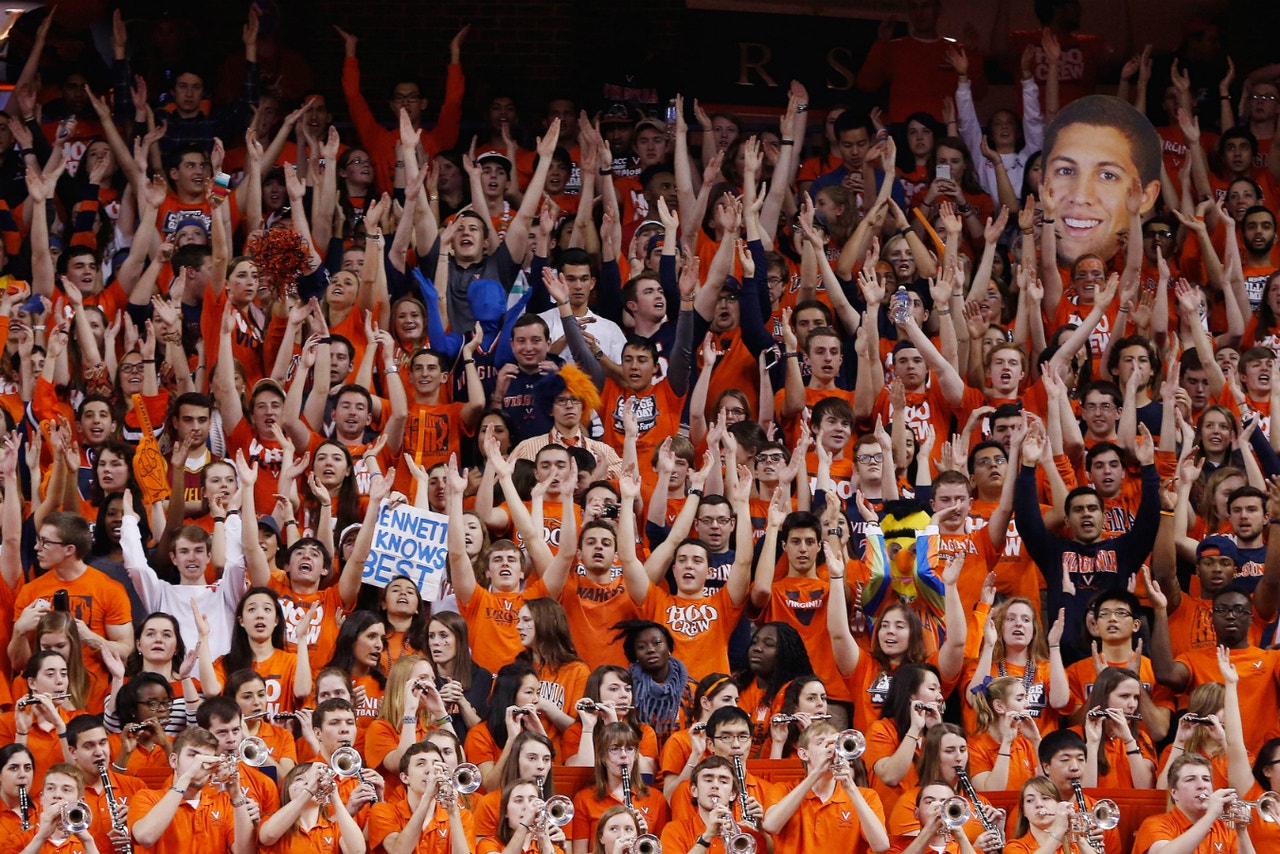 CHARLOTTESVILLE, V.A. -- It happened so fast that the capacity crowd at John Paul Jones Arena sat in stunned silence for a few moments after it was over, almost as if they expected more basketball to be played. Not like this, they had to be thinking.
No way. HOW?
Some stared up at the final score -- 69-63 Duke -- in disbelief as they walked out of the arena, finally.
With 5:39 to go, Duke freshman Justise Winslow missed a layup that would have cut the Virginia lead, which had once been 11, to three points.
In frustration, he reached out and grabbed the leg of Virginia's junior guard Justin Anderson and was whistled for a Flagrant 1.
Anderson made both free throws, and then Anthony Gill made a layup to give the Cavaliers a nine-point lead with 5:19 to go as the crowd went insane, thinking they'd held off the last significant charge from No. 4 Duke.
No. 2 Virginia, after all, is used to wearing teams down in the second half. The Cavaliers have been down before in the second half of games, and come back to hit big shots and win, even after being outplayed most of the game. Virginia's pack-line defense and deliberate offense makes opponents work and they usually don't have enough at the end. 
"Virginia is usually a team that in the second half, we tighten the screws a little bit more. They score less points," Virginia junior guard Malcolm Brogdon said. "Duke started hitting shots, I've got to give credit to them, but I thought we had letdowns and breakdowns that really cost us."
That's how it's always played out in the past. This was almost like the opposite -- Virginia was clearly the better team for most of the game, or at least the second half. And as Virginia kept answering, it felt like THAT bucket would be the kill shot.
Duke just refused to die.
"We could've just laid down when they made their run in a hostile environment, but guys stayed together," Duke senior Quinn Cook said. "We answered and we got some shots to go down."
Duke's 3-pointers weren't falling most of the game. Until the final 3:22, when Duke made 4 of 4 attempts from deep (Cook had two of them, including one to give Duke the lead with 1:19 to go). The Blue Devils had gone 2 of 13 before that.
"We went up by 11 and next thing you know, they hit a few shots, then a 3, we hit a 2, they hit another 3, we double down on (Jahlil Okafor), he kicks it out, they hit another 3. Next thing you know the game is tied and I'm like 'where the hell did the lead go?'" Virginia senior Darion Atkins said.
Since Jan. 14, 2014, this Virginia team -- much of which is the same core from last year's group that won the ACC regular season and Tournament titles -- entered Saturday night's game having won 37 of its last 39 games, not to mention the first 19 to start the season.
"It's a little shocking. Especially in JPJ (John Paul Jones Arena)," Brogdon said. "It's sort of a slap in the face to lose in JPJ."
Their last loss at home came on Dec. 4, 2013. So yes, it had been in awhile. It's not like losing anywhere is a feeling they're accustomed to, anyway -- much less the way it happened.
Tickets were a hot commodity and the hype and energy surrounding the game was enormous. And they had that lead. And lost it. So quickly.
"It hurts, because of what happened and because of how it happened and all of the noise and everything before with the whole ("ESPN College Gameday") thing all day," Anderson said. "I think that was huge for our community, huge for our fans, for them to come.
"But at the end of the day, it's a good old-fashioned basketball game. It was a hard-fought game. I'm sure everybody at home was tuning in to see what was going on, how it was happening. And....we lost."
Nothing gets easier for the Cavaliers in terms of bouncing back, either. They have one day off to rest -- and they'll spend some of it traveling -- before facing North Carolina on the road on Monday night in Chapel Hill. Then they host a top-10 Louisville team coming off a big win over North Carolina.
That's three top-10 teams in the span of a week. Even though two of them are at home, none of them will be easy. The players, though, were ready to move on.
"Of course, you're going to be upset. Of course, you're going to have wanted to have done some things differently, looking back," Brogdon said. "But we have to handle the losses the same way as the wins and bounce back and be resilient. I think we have a mature, experienced, resilient team. That will pay off for us."
Anderson echoed that sentiment, saying that so far, he's liked the response he's seen.
"We respond well to a loss. I guess I didn't know how we would do that this year, but we responded really well. When I say respond, the true test is going to be Monday night. But we responded well with each other in the locker room," Anderson said. "We're upset about the right things. Nobody's pointing fingers. Nobody's thinking that they should've did more or less. We understand it's a collective thing, and we're fine."
Make no mistake about it, though -- there's no such thing as a "good loss" for the Cavaliers.
Yes, losing at least once was probably inevitable. But they didn't feel any sense of relief that the so-called burden of being undefeated had been lifted.
"No, it's frustration," Atkins said. "I think that we should still be undefeated, but it is what it is and we're moving on."
"(Pressure) is all relative if you put it on yourself, if the team puts it on themselves," Brogdon said. "But there definitely is pressure that comes with being undefeated, because you want to win, you want to keep it going.
"But at the same time, you don't want to put the attention on being undefeated or that you're 18-0. You want to put the attention on this game individually and going out and executing as well as you can."
---