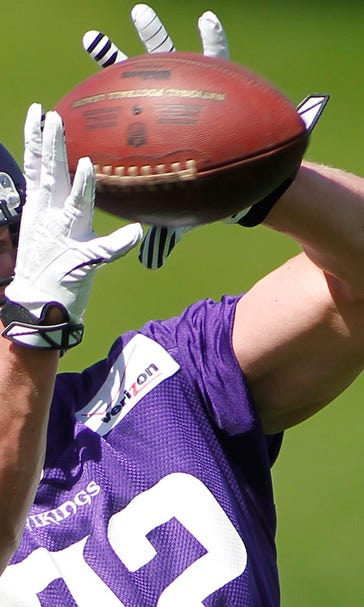 Vikings training camp preview: Tight ends
BY foxsports • July 9, 2014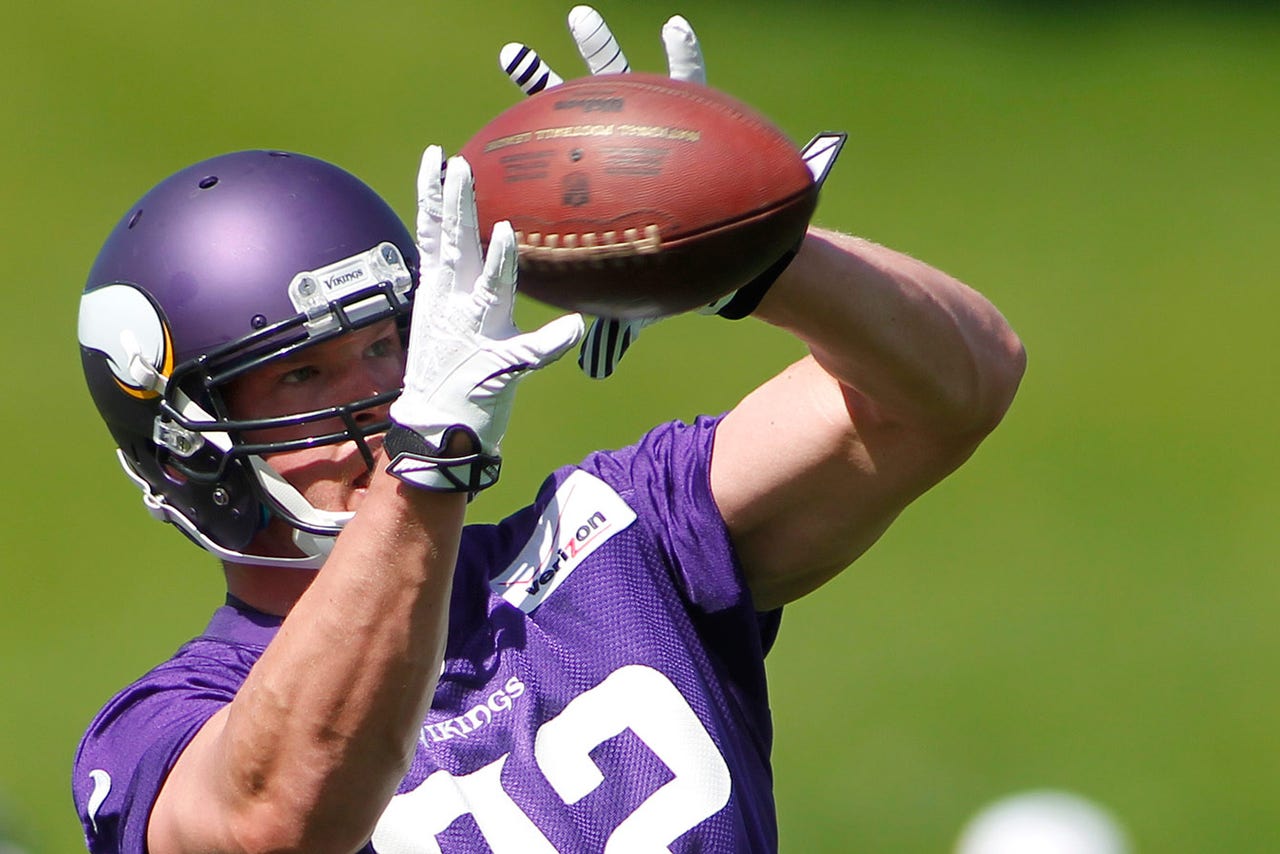 This is the third in a series of 13 previews leading up to the Minnesota Vikings' July 25 start of camp.
TODAY'S POSITION: TIGHT ENDS
Rating (1-to-10 scale): 7
Projected starter: Kyle Rudolph (fourth year)
Backups (asterisks indicate players expected to make the roster): *Rhett Ellison, Chase Ford, *AC Leonard, Allen Reisner
The breakdown: Is this the year we see Rudolph's big breakthrough? Following a Pro Bowl season in 2012 -- and the game's MVP award -- much was expected from Rudolph heading into last season. Rudolph had 53 catches and was tied for second among all tight ends with nine touchdowns in 2012, earning the Pro Bowl honors. Rudolph talked often about the experience of being at the Pro Bowl and talking with fellow tight ends, like Jason Witten. Rudolph also had his noted cohesiveness with quarterback Christian Ponder.
Then Ponder struggled early last season and Rudolph was an afterthought, at times. Rudolph had a season-high nine catches for 97 yards and a touchdown in Week 5 with Matt Cassel at quarterback. But Rudolph's season ended prematurely because of a foot injury and he finished with 30 catches for 313 yards in eight games.
Rudolph's absence finally allowed John Carlson to have an impact in his short tenure with the Vikings. He had 344 yards receiving on 32 catches in 13 games, spending several weeks as the team's top receiving threat at tight end with Rudolph out. But Carlson had an injury of his own, and was released in the offseason. Minnesota believes it can find a second receiving option to complement Rudolph from the group it brings to training camp in Ellison, Ford, Leonard and Reisner.
Ellison is a standout blocker, securing his spot as a backup tight end. Ellison has shown better than expected hands and some receiving ability, but he has just 12 catches in two NFL seasons. Ellison's bread-and-butter is his blocking, whether on the line or coming out of the backfield. Rudolph's blocking is still a work in progress, so Ellison is a good fit for the role.
Ford, after nearly two years being passed between the practice squad and active roster, got his chance at the end of the season with Rudolph and Carlson injured and had seven catches for 98 yards over the final three weeks. Leonard is an intriguing rookie prospect out of Tennessee State, a good runner and receiver. He went undrafted, in part, because of off-field issues which ended his time at Florida.
Rudolph has talked often about the success of tight ends with new offensive coordinator Norv Turner. Turner has produced big seasons from the likes of Jay Novacek in Dallas, Antonio Gates in San Diego and Jordan Cameron last year in Cleveland. The tight ends will be used in Minnesota and Rudolph seems to fit well with Turner's scheme.
Best position battle: With Rudolph and Ellison set in their respective roles, Minnesota will try to replace Carlson and find a secondary receiving option at tight end. Replacing Carlson is more about the perceived use than the name or production. After signing a five-year, $25 million contract as a free agent in 2012, the Minnesota native had 40 total catches, dealt with injuries like he had with Seattle and was let go just two years into the deal. He signed with the Arizona Cardinals as a free agent.
In his place, Ford, Leonard or Reisner will have a chance to make the roster and try to be another option if the Vikings want to have two receiving tight ends on the field at one time.
Ford showed he might be up to the task last season, stepping in as the only receiving option at tight end without Rudolph and Carlson. He finished the season with five catches for 43 yards in Week 17, tying for the team lead in receptions in the game.
Leonard has the ability to be a threat in the passing game. He ran 4.50 seconds in the 40-yard dash at the Scouting Combine, the fastest mark by any tight end this year. He also led all tight ends with a 1.51-second, 10-yard split. Leonard was among the tops at his position in vertical jump and broad jump, as well. He has good hands and run-after-the-catch ability.
Leonard doesn't have great size (6-foot-2, 252 pounds) and probably would need to improve as a blocker. But, if he can show he's past his off-field issues and stay motivated, Leonard could prove worthy of sticking and make an undrafted signing pay off.
Ranking against the rest of the NFC North: 1. Lions; 2. Vikings; 3. Bears; 4. Packers. This ranking is more about projection than production. Last year, the division's most productive tight end was in Chicago, where Martellus Bennett was the only No. 1 tight end in the division to play all 16 games. He responded with the best season of his career with 65 catches for 759 yards and five touchdowns.
After being used sparingly as a receiver his first four seasons in the NFL with Dallas, Bennett has become one of the better pass-catching tight ends in the league. He's also a strong blocker. The Bears' backups only accounted for one catch last season from Dante Rosario.
Detroit has depth and potential, which gives them the nod barely over Minnesota and Chicago. Brandon Pettigrew hasn't sustained his production after two big seasons in 2010 and 2011 for the Lions. He had 154 catches over the two years with 1,499 yards and nine touchdowns. He has 5 touchdowns over the last two seasons and felt to 41 catches for 416 yards last year in 14 games.
Detroit used backup Joseph Fauria, a rookie in 2013, as a red-zone threat and he had seven touchdowns in 18 total catches. In order to get more production, the Lions drafted Eric Ebron with the 10th overall pick in the draft, a premier pick for a tight end. Ebron was seen as a special prospect with good hands, speed and size. He fits the new breed of tight ends, and had 973 yards receiving, a new ACC record for tight ends, last season with North Carolina, averaging 15.7 yards per catch.
Green Bay is a team in transition at the position after Jermichael Finley's potentially career-ending injury last year. Andrew Quarless stepped up for Finley and had 32 catches for 312 yards and two touchdowns in 16 games and 10 starts. But Finley was missed and the Packers' offense didn't have the same threat at tight end as a receiver. Quarless is the leading candidate to start this year. Backups Ryan Taylor and Brandon Bostick combined for 13 catches last season. Green Bay drafted Richard Rogers in the third round and signed troubled, but talented Colt Lyerla as an undrafted free agent.
Rudolph said: "I actually watched a lot of Cleveland tape this winter. Obviously what he's able to do with Jordan in Cleveland and then I've always watched a lot of Gates tape, just to see the unique things that he's done. But now it's kind of fun to go back as we're learning the offense, you can see what they're doing and why they're doing it."
Follow Brian Hall on Twitter
---