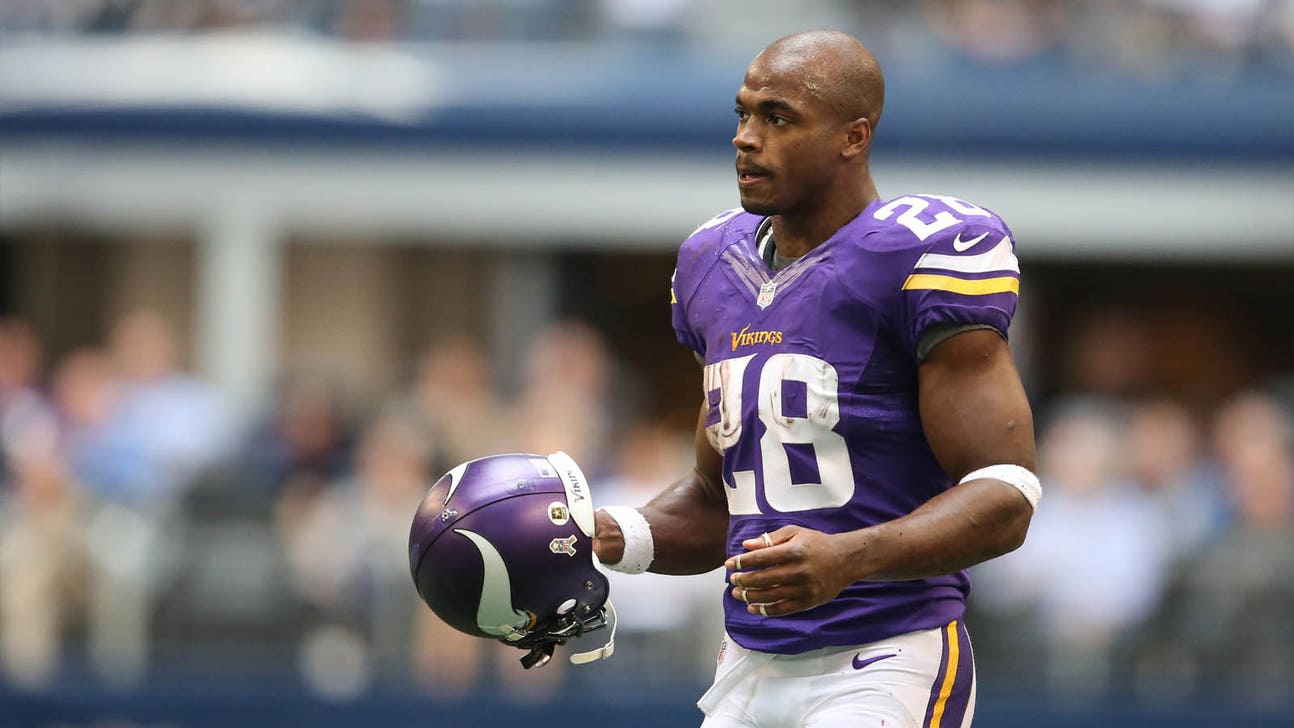 Vikings' running backs situation for 2015 anything but clear
Published
Feb. 4, 2015 2:42 p.m. ET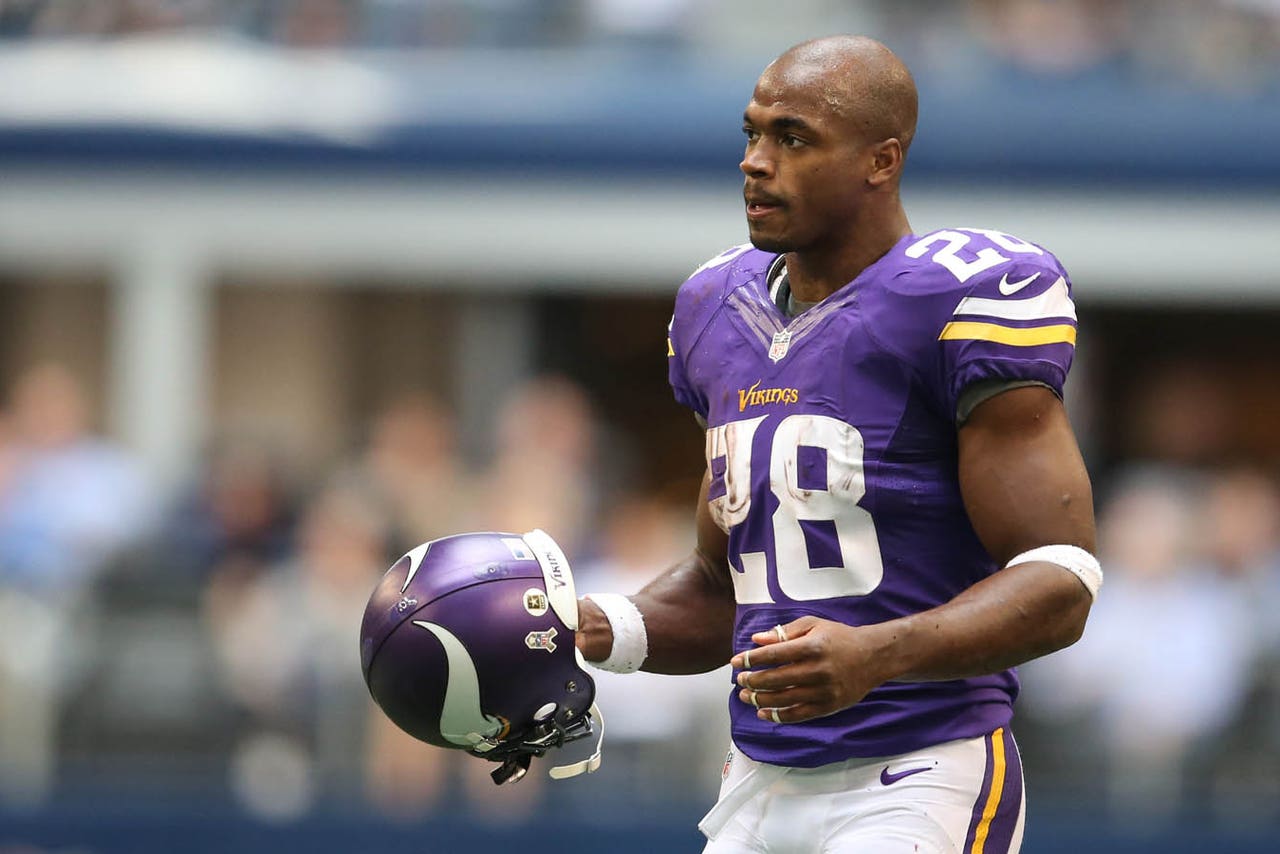 "Here's the ball, Adrian. See what you can do with it."
The Minnesota Vikings offense used to be simple: Hand the ball to game-breaking running back Adrian Peterson and hope for the best.
The idea worked, for the most part, particularly when Peterson carried Minnesota into the playoffs in 2012 behind maybe the best season ever posted by a running back. Peterson won the NFL MVP award in his comeback from major knee surgery and was the face of the Vikings, his exploits lauded league-wide.
Forcibly, Minnesota's identity changed last year. The offense became less about the running back and more about emerging rookie quarterback Teddy Bridgewater.
As the Vikings coaches and front office met to discuss their roster, the elephant in the room was the 6-foot-2, 217-pound, three-time All-Pro running back.
"I think a lot of it will depend on Adrian's situation," Minnesota general manager Rick Spielman said in January. "But I also know just initially as I've started putting a little bit of the draft stuff together, it's a pretty good running back class this year. I think it's one of the better running back classes in depth-wise that has come out in a while."
Peterson was set to be the focal point again in 2014 before he was charged with injuring his 4-year-old son and missed the final 15 games of the season. He had 21 carries for 75 yards in his only game of the season.
The legal ramifications have been cleared with Peterson pleading no contest. His NFL career, and his time with the Vikings, is anything but clear.
Friday, Peterson will have a hearing in a Minneapolis court in his lawsuit against the NFL. He's facing a possible reinstatement on April 15, but the hope is he will be reinstated immediately. For a young team trying to build under coach Mike Zimmer, and with holes still to fill after missing the playoffs for the fourth time in five seasons, Peterson is the biggest uncertainty in the offseason.
Once he's reinstated, Peterson will have to decide if he wants to return to Minnesota. The team seems obliged to respect the preference of the franchise's all-time leading rusher.
"Adrian was always great with me," Zimmer said at his season-ending press conference. "I think he's a good person. I think obviously he's a great running back and if it works out that way and things work out and he gets his life in order -- that's the most important thing, he gets his life in order, he gets the opportunity to come back -- then I will be in his corner whatever the decision is made."
The Vikings will have to decide whether they want him back. After all, Peterson will be a 30-year-old running back at the start of next season who will count $15.4 million against the salary cap. Peterson has smashed conventional wisdom before, but he's a highly paid, aging back in a league that has diminished the value of running backs.
Zimmer seems open to a reunion, but many obstacles will have to be overcome before Peterson is back in purple. Is restructuring a contract, which made Peterson the highest-paid back in the NFL in 2011, a possibility? It's a question only Peterson would be able to answer.
If he was a free agent, he'd be in high demand even after a year off and at his age. Potentially he could be a trade target, but would Minnesota receive the value of perhaps the league's best running back? Doubtful.
Peterson still has three years remaining on his contract. Pairing Bridgewater with Peterson would be an interesting combination to move forward. Peterson has been one of the league's best backs ever since arriving in the NFL as a first-round draft pick by the Vikings in 2007. But even some of Peterson's best seasons, and when Minnesota's offense was at its best, was when the team had Brett Favre quarterback.
The offseason plans will include surrounding Bridgewater with more playmakers. Finding one better than Peterson would be tough.
"When I first got the job, one of the things that I wanted to make sure I did was to develop a relationship with Adrian, to try cultivate him into working with me in this program," Zimmer said. "I felt like over the short period of time that we were together that we had done that. So I really like the kid. I hope what's best for him."
From a statistical standpoint, Minnesota certainly missed Peterson but was able to post respectable rushing numbers. The Vikings were 14th in the NFL with 112.8 rushing yards per game. They were tied for 10th with an average of 4.4 yards per rush.
Matt Asiata led the team in rushing with 570 yards but was more of a plodding, power back in averaging 3.5 yards per carry. Rookie Jerick McKinnon showed explosiveness and better-than-expected power running in finishing with 538 rushing yards in just 11 games and averaging 4.8 yards per carry. In limited exposure, Joe Banyard had 21 carries for 88 yards, a 4.2 yards-per-carry average.
Asiata is also a restricted free agent after making $570,000 last season.
"I don't know," Zimmer said when asked if a tandem of Asiata and McKinnon is enough. "I think both of them did a good job. They both have different qualities and I think those are all things we'll talk about as we get going (into the offseason)."
If the Vikings, or Peterson, choose to part ways, Minnesota could look to add another piece to the backfield. The top option would be addressing the position in the draft. As Spielman said, there's a highly touted group of running backs available.
The Vikings likely wouldn't feel the value would fit their position drafting at No. 11 overall. Several possibilities could be available in the second to middle rounds. The running back class is highly regarded but will likely start falling in the late first-to-second round range, including Wisconsin's Melvin Gordon, Georgia's Todd Gurley and Nebraska senior Ameer Abdullah.
The depth of the position also includes Boise State's Jay Ajayi, Alabama's T.J. Yeldon, Indiana's Tevin Coleman, Miami's Duke Johnson and Minnesota's David Cobb; all projected by some to be picked by the end of the third round.
There are few No. 1 options in free agency. Dallas' DeMarco Murray, who could return to the Cowboys, is considered the top free agent. Justin Forsett had a breakthrough season with Baltimore and is set to be a free agent. Other options include New Orleans' Mark Ingram, San Francisco's Frank Gore, New England's Shane Vereen and Stevan Ridley, Buffalo's C.J. Spiller, Oakland's Darren McFadden and San Diego's Ryan Mathews.
First, the Vikings will need clarification on Peterson, which could arrive soon after Friday's hearing. The rest will make for an interesting offseason for Minnesota and its former identity on offense.
Follow Brian Hall on Twitter
---