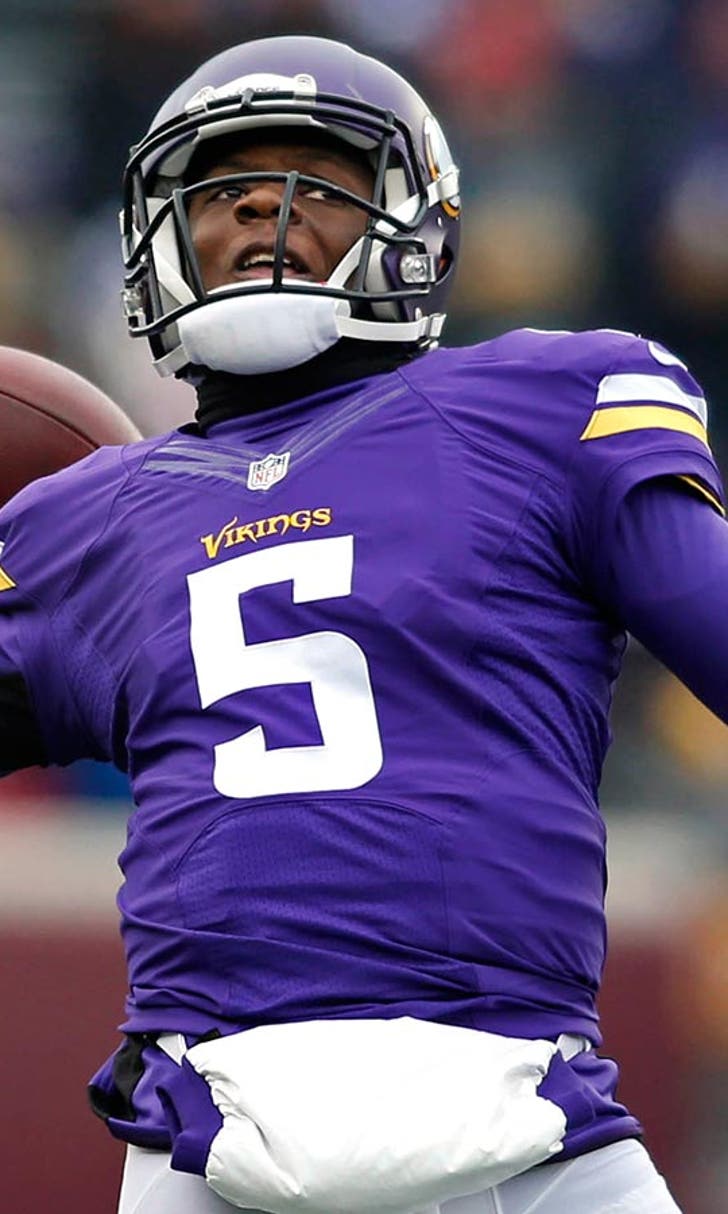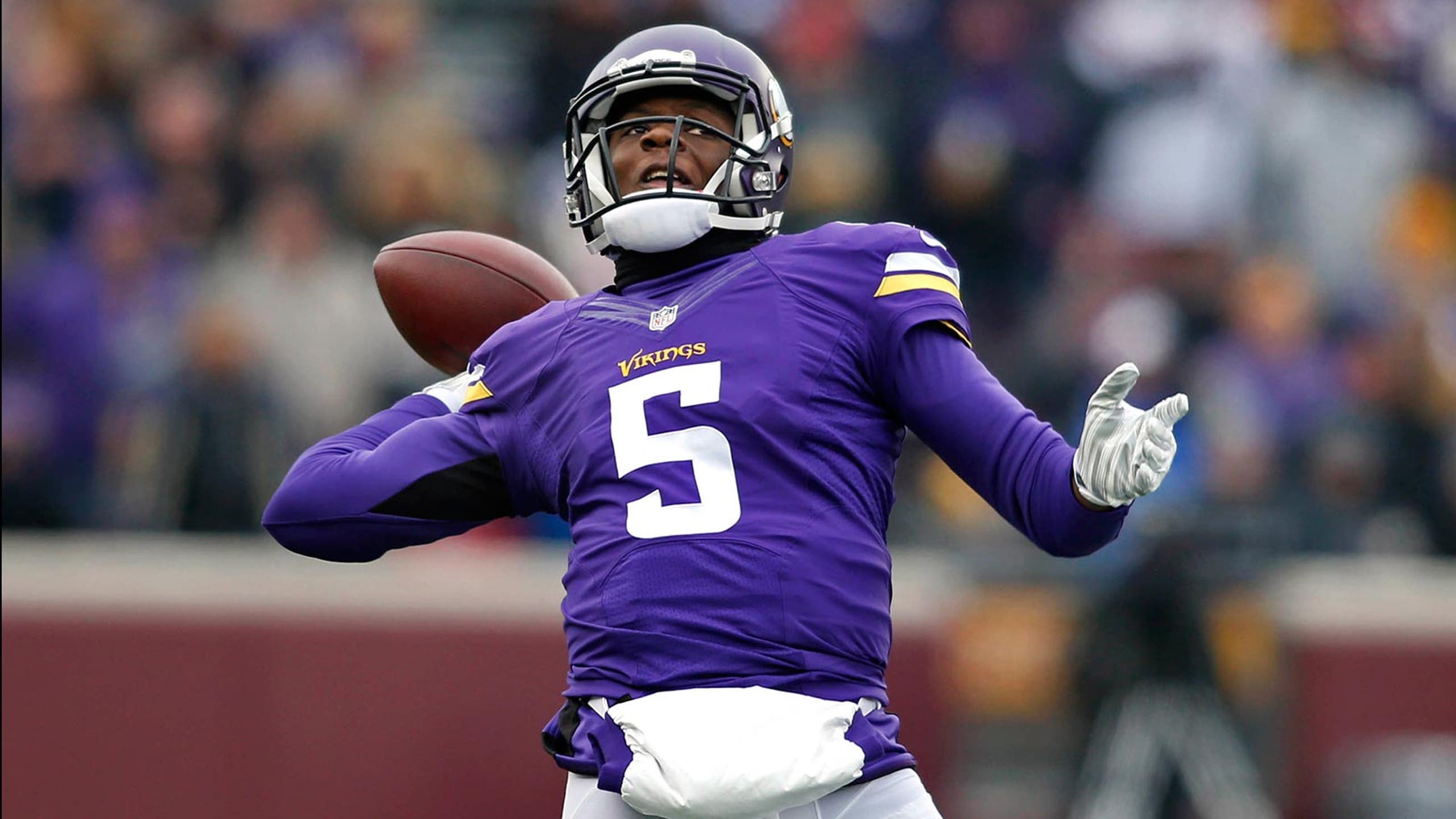 Vikings report card: A sloppy win, but a win
BY foxsports • December 8, 2014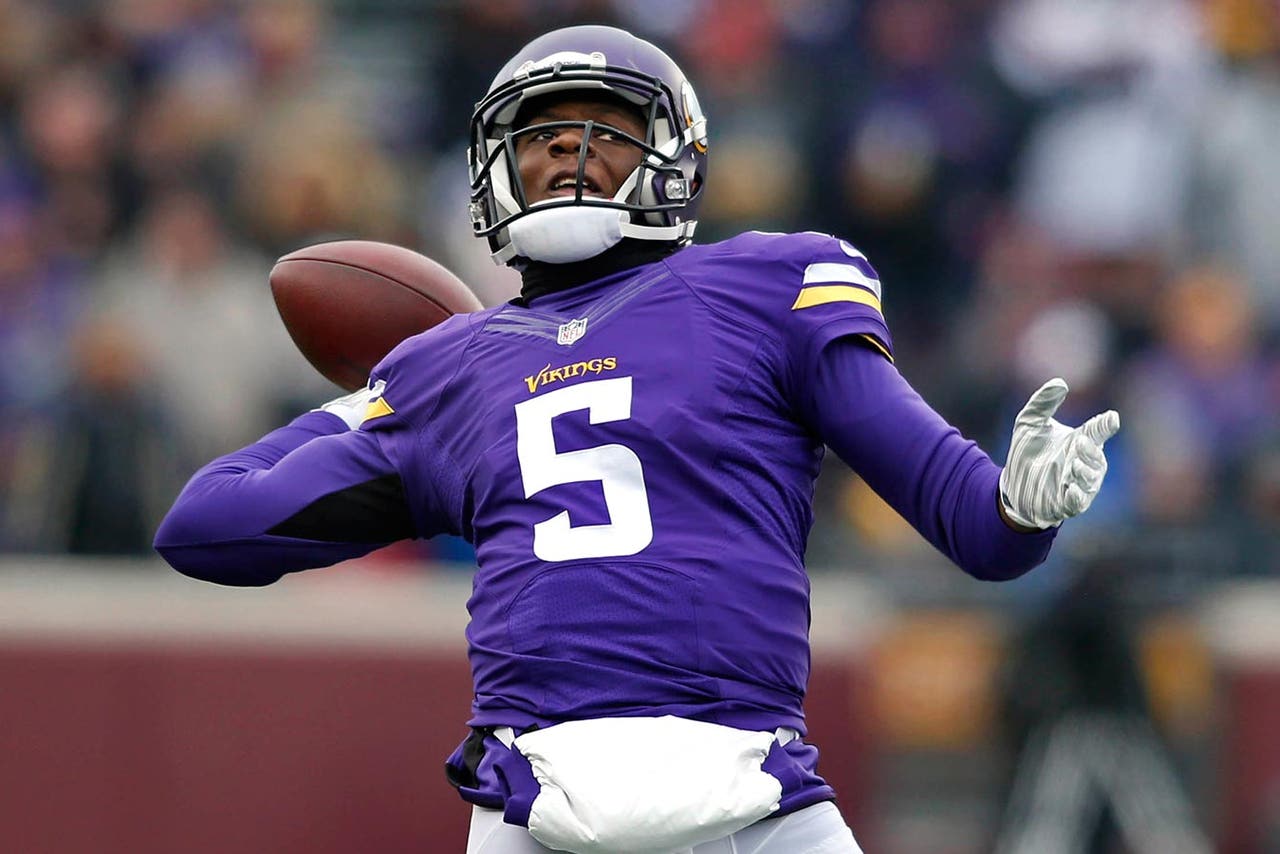 The first and final plays of the game for the Vikings Sunday were big, impactful plays. In between, Minnesota's performance left its coach displeased despite a 30-24 victory.
Mike Zimmer, the Vikings' first-year head coach, called the game "sloppy" and said his team was able to overcome adversity, much of it self-driven.
"Quite honestly, I think we should have won that game handily, and I expected us to," Zimmer said, later adding, "Just because you win doesn't cover up your mistakes, just like sometimes when you lose you play good, too. My expectations are way higher than that performance."
Yet, Minnesota managed to beat the New York Jets in overtime on Jarius Wright's 87-yard touchdown on a receiver screen. The Vikings (6-7) surpassed their win total from last season with three games left to play.
Here's how Minnesota graded out in each phase Sunday:
Pass offense: B
Further steps were taken in quarterback Teddy Bridgewater's development and he appears to have found himself a big-play receiver on the outside in Charles Johnson, as well as complementary pieces in Wright and Greg Jennings.
Bridgewater looked more settled than he has, perhaps, in any game this season. He was in control, moved around in the pocket and found open receivers downfield. He continued to show improved accuracy and threw a perfect deep pass to Johnson for a 56-yard touchdown. Johnson had four catches for 103 yards and the score and nearly had another when he fumbled at the 1-yard line after Bridgewater had maneuvered in the pocket.
Bridgewater was 19-of-27 passing and has had a completion percentage above 70 percent each of the past two games. He threw for 309 yards -- thanks to Wright's short catch and long run in overtime -- the most since throwing for 317 yards in his first NFL start. For the third straight game, Bridgewater had two touchdowns passes. He threw an interception, but the turnover was inconsequential. Bridgewater had lofted a deep Hail Mary in the end zone as time expired in the first half.
Wright ended up with four catches for 123 yards. Jennings led the team with five catches for 52 yards. Cordarrelle Patterson was a non-factor in the passing game again. He played just one offensive snap and took a handoff for six yards.
As Zimmer said in the postgame, more and more the Vikings are Bridgewater's team. Bridgewater's evolution shows he's ready for the responsibility.
Run offense: D
Bridgewater has to take the reins because the running game has been lacking without Jerick McKinnon. Adrian Peterson has been out all but one game, and McKinnon supplied a little bit of a threat on the ground in the middle of the season. But he's officially out the rest of the year now after being placed on injured reserve with a low back injury.
Matt Asiata got the start again and dominated the carries. But Asiata hasn't shown much burst. The big back had 19 carries for 54 yards on Sunday. He has 106 yards on 33 carries (3.2 yards per carry) the past two weeks without McKinnon. The longest run by Asiata on Sunday was eight yards.
Joe Banyard had one carry for nine yards and then was immediately replaced by Asiata, who was stopped for no gain on third-and-1. Ben Tate had three carries for 15 yards. But the coaches trust Asiata in pass protection and feel he's the safest back of the bunch right now.
Wright made Minnesota's numbers in the run game look a bit better. He took an end-around for 23 yards on his only attempt, helping the Vikings rush for 114 yards as a team.
Pass defense: C
We're grading somewhat on a curve here. Minnesota entered the game with the NFL's fourth-ranked pass defense and was facing New York's league-worst passing offense. The Jets limited quarterback Geno Smith to 13 passes in a Monday-night loss, putting all of its offense on the running game.
Then Smith came out and was intercepted on the first offensive play of the game Sunday. He tried to hit receiver Percy Harvin on a slant, but Vikings linebacker Gerald Hodges stepped in front, intercepted the pass and returned it for a touchdown.
With Harvin as his main target, Smith turned things around. He completed 18 of his 29 passes for 254 yards and a touchdown. He hit Harvin in the end zone on a slightly underthrown fade that allowed Harvin to adjust to the ball, while cornerback Josh Robinson couldn't adjust on the 35-yard touchdown pass.
In his return to Minnesota, Harvin was the Jets' offense. He had six catches on nine targets for 124 yards. But he left the game late with an injury and New York's offense couldn't seem to recover. Robinson had trouble keeping up with Harvin, and cornerback Captain Munnerlyn was called twice for pass interference penalties.
The Vikings sacked Smith three times and pressured him often, but did let him out for a big 18-yard scramble on one play.
Run defense: C
Compared to a week ago, Minnesota held New York's running game in check. But that's what happens when the opponent ran 49 times for 277 yards the previous week. The Jets ran for 168 yards against the Vikings, the second-highest total Minnesota has allowed this season after giving up 178 a week earlier.
New York didn't have many big plays on the ground, but it continued to focus on the run. The Jets' 42 runs helped them hold the ball for 35 minutes, 52 seconds of the game. New York was dominating time of possession into the middle of the second half.
The Jets ended up averaging 4.0 yards per carry. Chris Ivory had 16 carries for 73 yards and Chris Johnson added 16 carries for 53 yards. Johnson's longest gain was eight yards. Ivory had runs of 15 yards and 14 yards.
The Vikings' defense epitomized bend-but-don't-break. Minnesota kept New York to four field goals in the red zone. The Jets were 0 for 5 in the red zone in scoring touchdowns.
Special teams: D
A tough overall game for Patterson and kicker Blair Walsh. Relegated to special teams, Patterson had four kickoff returns. He averaged 21.5 yards per return and fumbled once. He nearly fumbled a second time. New York also kicked away from Patterson several times, setting up Minnesota with good field position.
Walsh missed two of his three field goal attempts. He pushed a 39-yard attempt wide right in the third quarter and then mishit a 56-yard attempt at the end of regulation. Walsh's 56-yard attempt was strange. It headed wide right and wasn't close to the uprights, falling very short.
Punter Jeff Locke had a strong day. He had a gross average of 49.3 yards per punt and a 45.0-yard net average. He had a long of 58 yards and landed one punt perfectly inside the 20-yard line, with the punt bouncing sideways and being downed at the 5-yard line.
Overall: C
Minnesota will take the win, as sloppy as it may have come. The offense continues to grow with Bridgewater, yet there are mistakes, including the Vikings being penalized six times for 70 yards. Against a bad Jets team, Minnesota was able to overcome the mistakes.
Zimmer will continue to work with his team to rectify the issues and the Vikings are able to enjoy another win. Minnesota has one home game remaining this season and has two road games the next two weeks.
The Vikings are still in their growing stages, as well. Winning a game when they didn't play their best could be another step.
Follow Brian Hall on Twitter
---