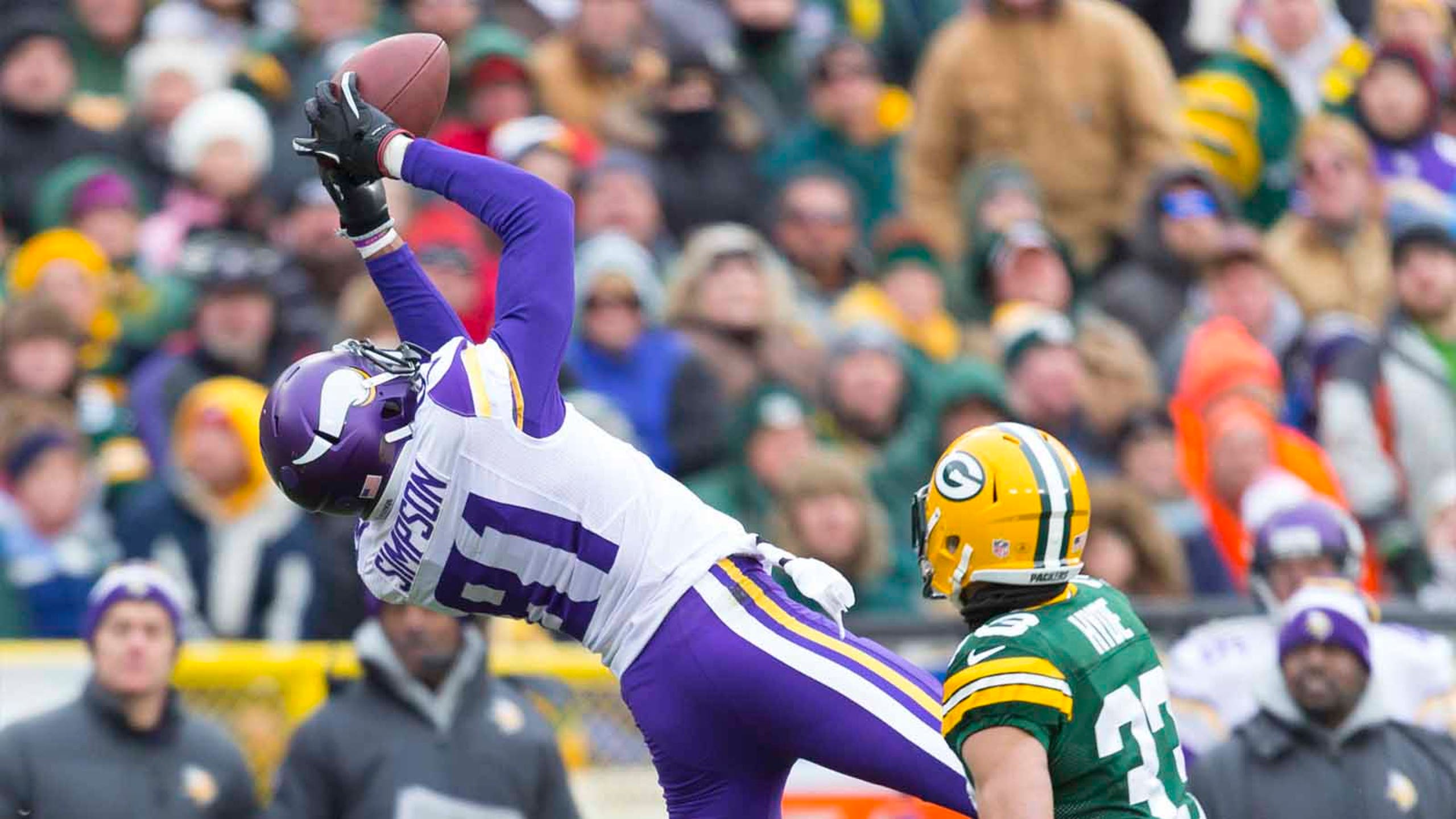 Vikings re-sign free-agent WR Simpson to one-year deal
BY foxsports • March 14, 2014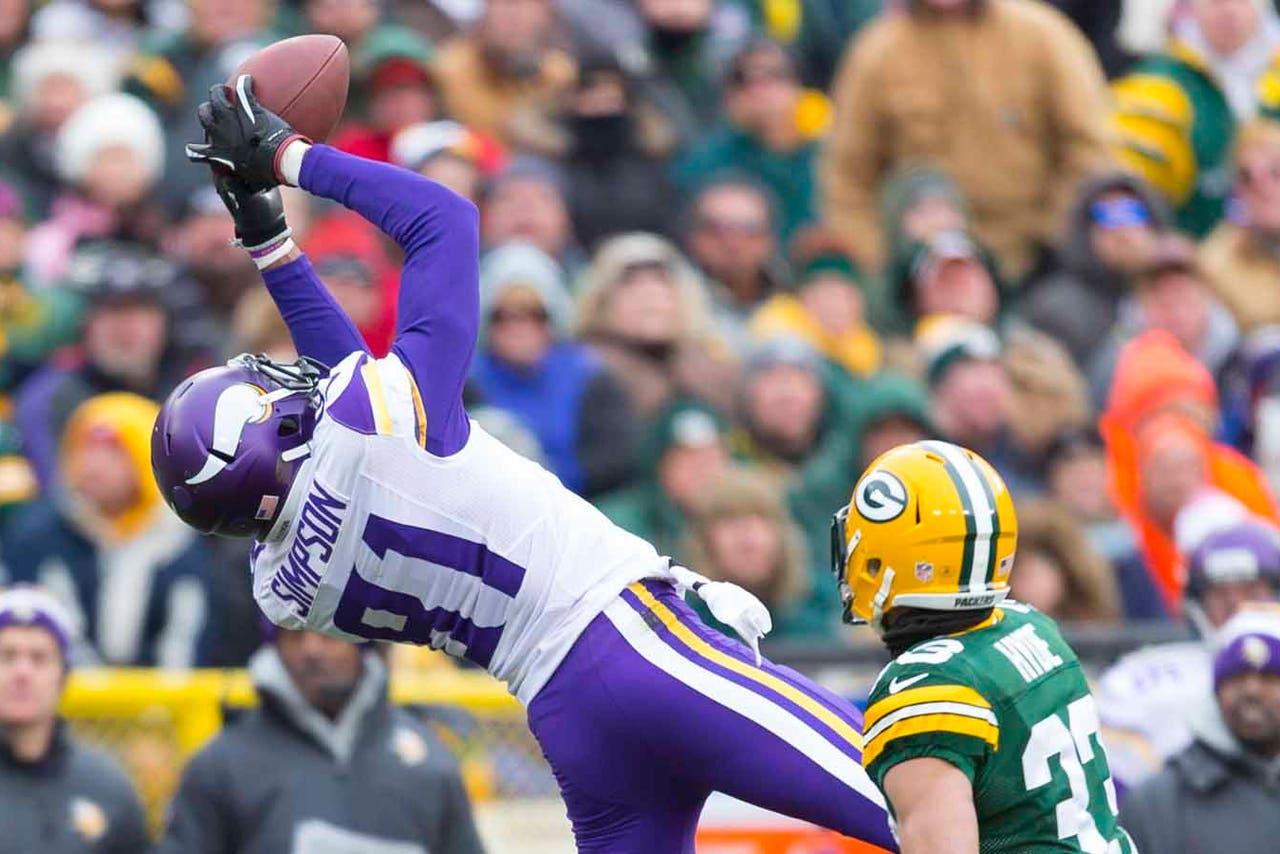 The pre-snap high jump and first down signal-maker is coming back to the Minnesota Vikings.
Minnesota re-signed energetic receiver Jerome Simpson to a one-year contract on Friday, bringing back the team's second-leading receiver from last year to an improved receiving corps.
Simpson, 28, had 48 catches, just two behind his career-high, and a career-best 726 receiving yards last season. Ever since leaving the Cincinnati Bengals following a felony drug charge, Simpson has signed three one-year contracts with the Vikings.
Simpson always had his sights set on returning to Minnesota. Adding coach Mike Zimmer, who was with Simpson in Cincinnati, and offensive coordinator Norv Turner only cemented his desire to be back with the Vikings, who gave the troubled receiver a second chance in the NFL.
Joining Greg Jennings, Cordarrelle Patterson and Jarius Wright, Simpson might be more of a situational player for Minnesota going forward, but he feels Turner's deep passing game suits his style of play.
"It fits what I like to do," Simpson said. "I was happy that we got him. He can use these weapons on our team because we definitely have the weapons on this team to win a Super Bowl or win a lot of games. Hopefully we'll be utilized and we can make an impact and make plays."
The last two offseasons, Simpson was in free-agent limbo because of his troubled past.
In 2012, Simpson was dealing with felony drug charges. The Minnesota Vikings stepped in and took a chance on the enigmatic wide receiver. Simpson's first season in Minnesota was set back by injuries and he again entered free agency. The Vikings again called on Simpson and he returned.
"None of that has been determined," Minnesota general manager Rick Spielman said Friday. "We're aware of the potential of any situation but don't have any conclusion to it."
Even still, the Vikings were willing to take another chance on Simpson.
"There were some circumstances in the arrest," Spielman said. "I know that coach Zimmer has spoken with Jerome, and I know Norv Turner knows Jerome and watched tape on him. I know he signed back on a one-year deal. He does have explosive speed down the field and does give us a vertical threat, but we felt confident enough and comfortable enough after the new coaching staff had met with him and understand the whole circumstance behind that last arrest that we re-signed him back to a one-year deal."
After being limited to 26 catches and 274 yards in his first season with the Vikings, Simpson had 23 catches in the first five weeks last season, including two games with more than 100 yards receiving. He 25 catches the rest of the way but still proved valuable.
He made several important catches, such as a 20-yard catch on fourth-and-11 in a December win against the Chicago Bears and scored the first touchdown of his tenure with Minnesota a week later.
"I feel good in my game," Simpson said. "I still feel good and confident. My body feels great. I just try to let my play talk for itself and hopefully I'll be back here because I love this environment around here and the people and I'll still love to make plays for this team."
He'll get the chance again.
Follow Brian Hall on Twitter
---