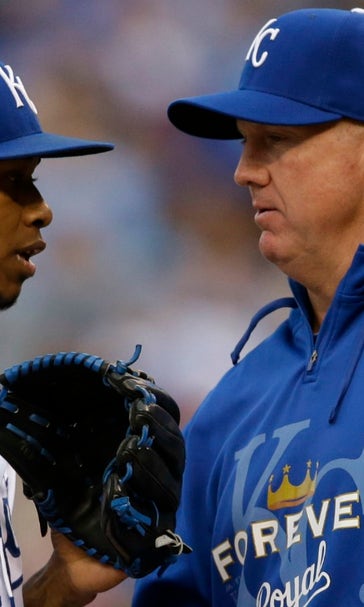 Ventura flails through four innings as Royals fall to A's 5-0
April 18, 2015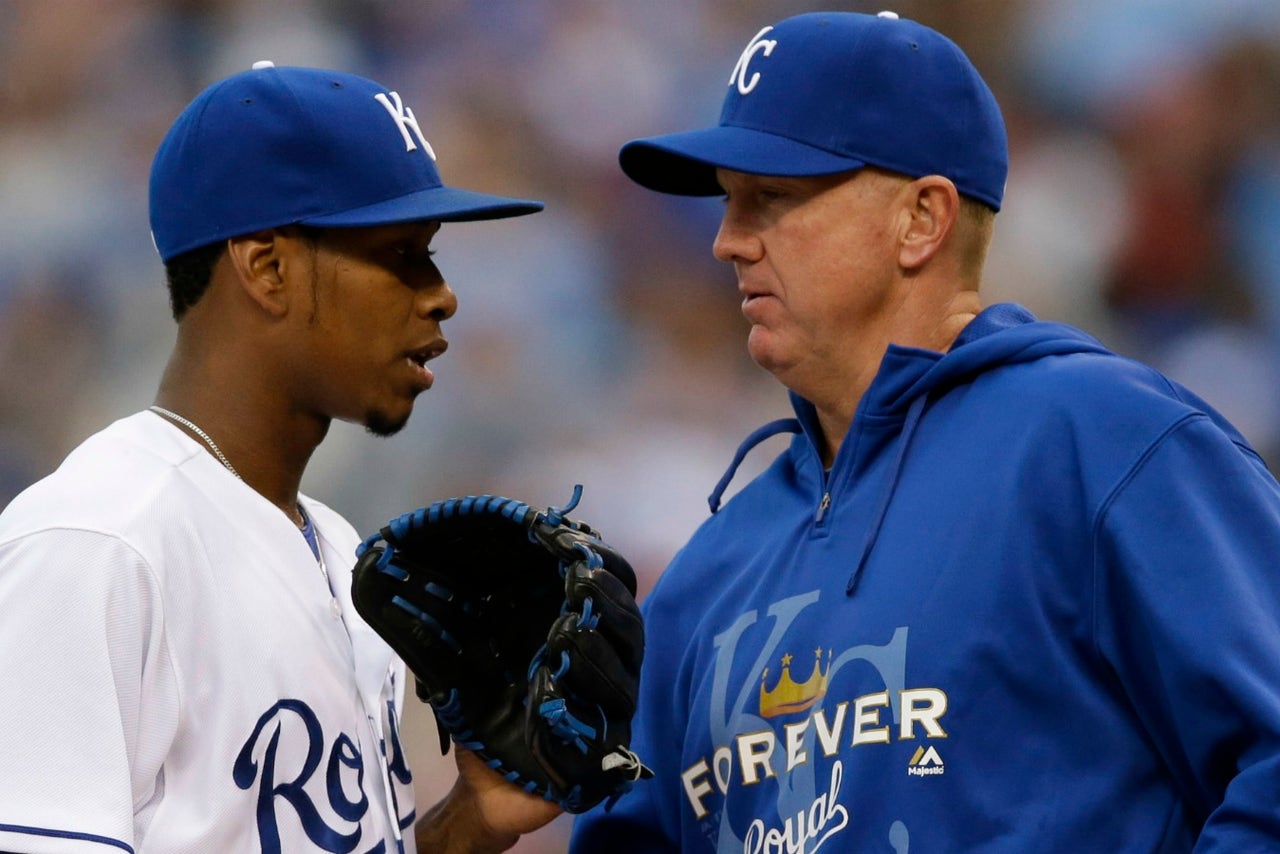 KANSAS CITY, Mo. -- Yordano Ventura had just served up a three-run homer to Oakland's Josh Reddick when Brett Lawrie stepped into the batter's box with the bases empty Saturday night.
Everyone knew what was going to happen next.
Kansas City's ace right-hander delivered a 99 mph fastball that drilled Lawrie just above the left elbow, likely in retaliation for an incident the previous night. Both benches emptied and a melee nearly ensued before cooler heads eventually prevailed.
So did the A's, who went on to beat Kansas City 5-0.
"You know what? We won," Lawrie said in the clubhouse afterward. "It's cool with me."
Ventura refused to take any questions about the incident during the A's five-run fourth inning. When asked whether Ventura thought he might be suspended, fellow pitcher Jeremy Guthrie -- serving as a translator -- replied: "I don't think we need to answer that."
Tempers were still hot from the series opener Friday night, when Lawrie slid hard and late into second base and wiped out Alcides Escobar. The Royals shortstop sprained his left knee in the collision, and said before Saturday night's game that he thought the slide was dirty.
Ventura (2-1) waited until he was pounded in the fourth before exacting some revenge. Plate umpire Jim Joyce immediately tossed Ventura after the beaning, and the rest of the umpires moved quickly to keep the teams from throwing any punches.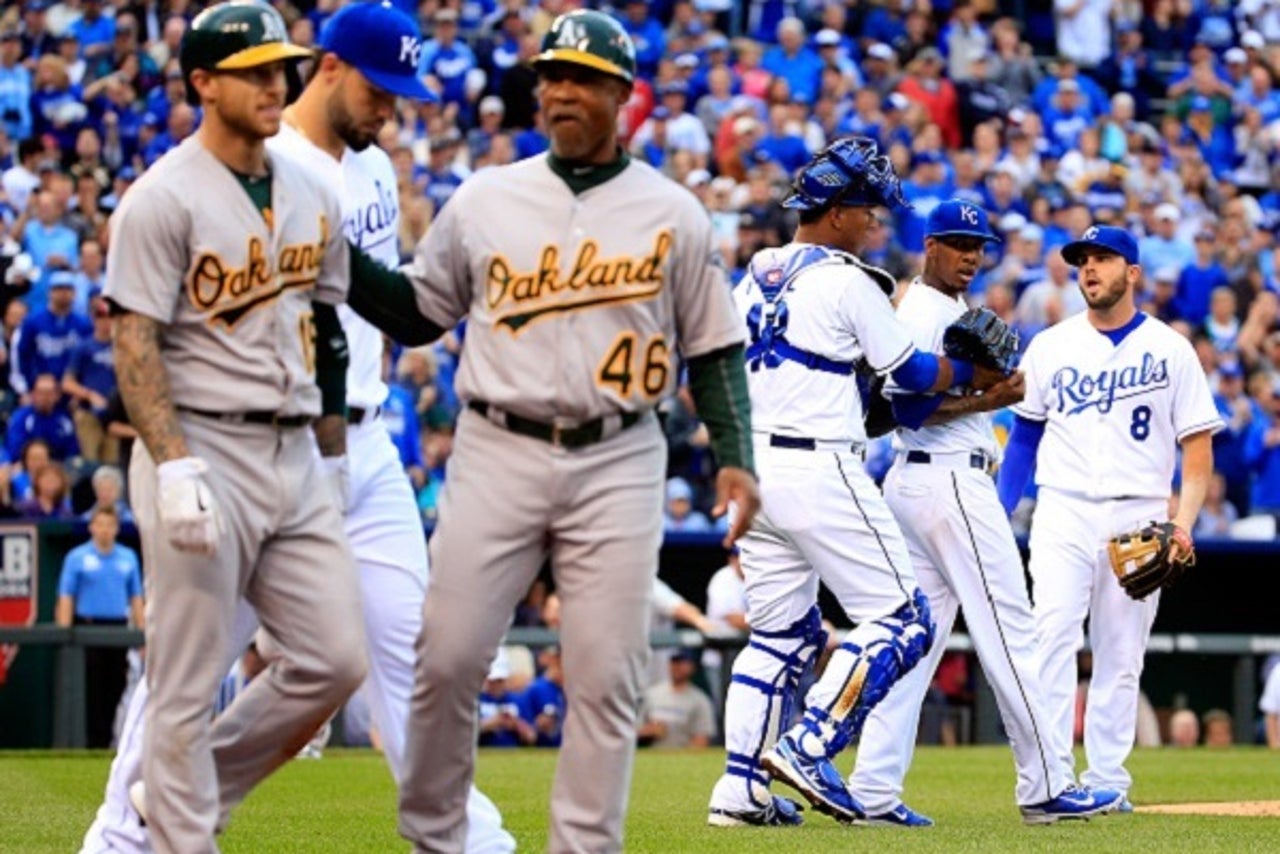 PHOTO GALLERY: Check out these images from the Royals' tense 5-0 loss to Oakland.
Lawrie calmly walked to first base and waited for the furor to die down.
"I didn't want to have any problems," said Lawrie, who apologized to Escobar in a text that apparently was not well received. "You can't control what happens on the other side."
Stephen Vogt and former Royals designated hitter Billy Butler also drove in a run during Oakland's big inning, and Jesse Hahn (1-1) scattered three hits and a walk over 5 1/3 innings before leaving with a blister on the middle finger of his pitching hand.
Jesse Chavez then picked him up with 3 2/3 innings for the save, completing the fifth shutout by Oakland in its first 12 games. The A's have outscored their opponents 47-1 in six victories.
"Never get tired of shutouts," Oakland manager Bob Melvin said.
The five-run fourth by Oakland and Ventura's ejection only made a miserable day worse for Kansas City. All-Star closer Greg Holland was placed on the 15-day disabled list prior to the game with a strained right pectoral muscle that has been bothering him for the last week.
Holland already has four saves, and has not allowed a hit in four scoreless innings.
Yohan Pino was recalled from Triple-A Omaha to take Holland's place on the roster. He threw 4 2/3 innings of three-hit ball after Ventura was tossed from the game.
"I thought Pino threw the ball great," Royals manager Ned Yost said. "He came in the fourth inning and got us through the eighth and gave us a nice chance to preserve the bullpen."
ACE DEPATURES
Ventura still has not left a game in what would be considered standard fare. He was forced out of his first start of the season with a cramp in his right thumb, and left his next start with a cramp in his right calf.
"Up until the ejection was able to stay in the game without having problems with the cramping," he said. "Those were the two things that were important for me."
BUTLER STREAKING
Kansas City might end up regretting its decision to decline a $12.5 million option on Butler for this season. His run-scoring single in the fourth extended his hit streak to 12 games, the first A's player with that long of a streak to begin their career with the organization.
TRAINERS' ROOM
Athletics: RHP Jarrod Parker (Tommy John surgery) threw 33 pitches in an extended spring game Saturday. He plans to go four innings his next time out, possibly in a minor league game.
Royals: Escobar remains day to day. Orlando Calixte was recalled from Omaha and OF Reymond Fuentes optioned to the same club to provide infield depth while Escobar is out.
UP NEXT
Athletics: LHP Scott Kazmir (2-0) has struck out eight or more batters in each of his first two starts. He allowed one run over six innings in a win Monday in Houston.
Royals: LHP Danny Duffy (1-0) is 3-0 with a 2.45 ERA in his career against Oakland.
---