USWNT-Sweden showdown equates to more than just three points
BY Laura Vecsey • June 11, 2015
WINNIPEG, Manitoba --  
The Americans love Sweden. Just ask Christen Press and Meghan Klingenberg. The United States women's national team striker and defender were happy playing professionally in the Damallsvenskan in Tyreso that the Americans actually named their shared quarters "The House of Happy."
"Yeah, we used to make hummus together," said the ever-peppy Klingenberg, fondly remembering her time in Sweden.
If the Americans are supposed to be eager to cast the Swedes as evil rivals that can't be trusted, Klingenberg shot that theory to bits on the eve of the epic Women's World Cup showdown between the U.S. and Sweden (live, FOX, FOX Sports Go, 8 p.m. ET). In an text-message exchange this week with the Swedish midfielder, Caroline Seger, Kling said the former Tyreso teammates have already agreed to exchange jerseys after Friday's match. "Still friends!" Klingenberg said.
Press, meanwhile, jetted off to Sweden after -- get this -- former U.S. coach and current Sweden national team head coach Pia Sundhage did not call Press up for U.S. national team duty in 2013. While Sundhage was leading the Americans, Press was in Goteborg, and later Tyreso, rediscovering the joy of playing soccer. The Swedish stint proved so good for Press that within two years, she was called for U.S. national team duty.
Meanwhile, Hope Solo found a great friend in Swedish striker Lotta Schelin when Solo signed with Goteburg in 2004.  U.S. coach Jill Ellis, who worked with Sundhage, said she learned a lot about patience from her Swedish boss. 
Then there's U.S. assistant coach Tony Gustavsson -- hired back to the U.S. side by Ellis in 2014 -- a Swede who first came to the U.S. women's national team with Sundhage in 2012. As the head coach at Tyreso, Gustavsson took five U.S. women's national team players -- Press, Klingenberg, Whitney Engen, Ali Krieger and Ashlyn Harris -- and went all the way to the 2013-14 UEFA Champions League Final. Are we starting to see a pattern here?
There are so many connections between these two sides that Sundhage had to spend a huge chunk of Thursday's press conference extolling the strength and virtues of the U.S. program and players.
Sundhage was expanding upon comments she made to The New York Times in April, and spared no energy in putting her thoughts about the best U.S. players into greater context. It was the kind of insight that -- even three years removed from coaching the U.S. side -- makes abundantly clear that Sundhage still knows the players as well as anyone.
"If you look at Carli Lloyd ... the reason I'm sitting here is because of the U.S. team. They made me look good. Three finals. And Carli Lloyd scored the winning goal in the Olympics both times actually," Sundhage said. "Carli Lloyd is a player who is sometimes smarter than I am and it's so interesting to see the message I tried to give her about her role. Sometimes she thought about it and had some questions about it and she didn't do what she was supposed to do. That's what's coaching's about."
She added: That's my job to make sure she is a team player. She was a team player and scored a lot of goals and I will say one of the most important players I've ever had. When it comes to Abby. She's special in many ways, but especially in her heading. I think she can go another four years ... I would make sure Abby could last forever because she's good in the air, that's why I say you have players starting the game and players that will end the game. Abby is one who can finish the game and I would like that in my back pocket: Throw her in and win the game."
"When it comes to Hope Solo, she's a piece of work," Sundhage admitted. "That's good as well because things happen around her. When it comes to the 2 times 45 (length of a soccer match) she is the best goalkeeper in the world. So why wouldn't you try and make her happy and at the same time create a team spirit?"
In the half-hour press conference, Sundhage barely paused for a breath. She animated the discussion about the U.S. players in a style Ellis can't match, such is the difference in the style of the two coaches. It's for all these reasons that this epic showdown between the U.S. and Sweden should count for a lot more than three points. Given the history and connections between these two rivals, and given what's at stake, three points do not being to reward or substantiate this contest. The Swedes, especially, are desperate for points. 
After taking a 2-0 lead over Nigeria in their World Cup opener on Monday, coach Pia Sundhage watched in disbelief as the flying Nigerians blew the doors off the leg-cramping, discombobulated Swedes. In the end, the Swedes had to settle for a 3-3 draw which means they bring only one lousy point heading into Friday's showdown against the United States.
The Swedes were undone by the speed of the Nigeria attack, whose effort broke apart the Swede's usually reliably disciplined organization. Sundhage said the team has managed those problem areas, as well as worked on training and hydration issues that may have caused players like Nilla Fischer and Sofia Jakobsson to suffer leg cramps.
The U.S., meanwhile, is eager to build on its lead position in Group D by adding another 3 points. It would all but assure them a first-place finish and an easier path through the knockout rounds. Given the disorganization shown by Sweden against Nigeria, there could be some chance that the Swedes pose less threat than Nigeria, who the U.S. plays June 16 in Vancouver. 
Sundhage has admittedly struggled to get the Swedes to adapt to her style and buy into her system. She has called her tenure with Sweden a bumpy road. This matchup against her old team is rife with storylines, but at the moment, it sounds as if Sundhage was more eager to bury the Americans in accolades than sing the praises of her own Swedish side. 
Maybe it was on purpose? We'll find out on Friday night.
---
---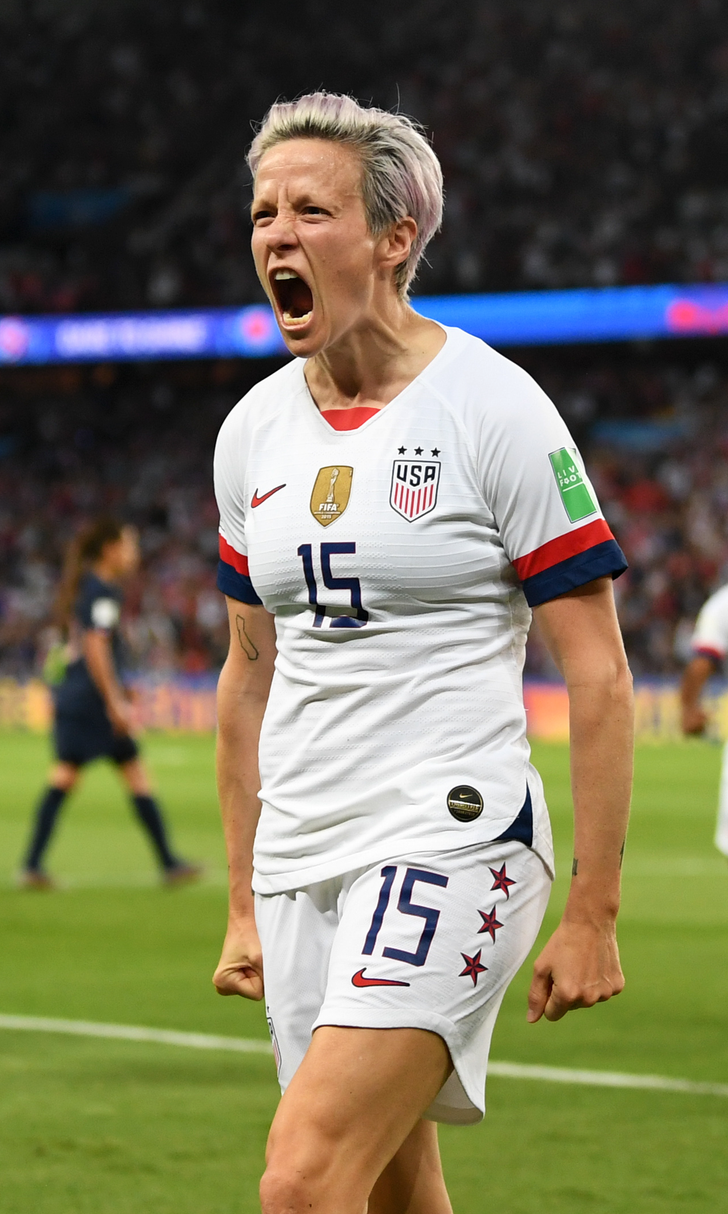 French Fracas
French Fracas
Behind two goals from Megan Rapinoe, the USA defeated host France in the quarterfinals of the 2019 Women's World Cup.