USC coach Steve Sarkisian pleased with younger players at first day of camp
BY foxsports • August 5, 2014
LOS ANGELES -- Steve Sarkisian is the head coach at USC. He didn't need any reminding of that Monday night as the team opened fall camp. 
He wasn't in a state of shock. He didn't need to pinch himself to know that it was real. 
All he needed was a couple of notes that he carried in his pocket. 
Monday the anticipation of opening fall camp had worn off only because it arrived. Monday was day one of five of development for the 2014 USC football squad. 
And they got off to a blistering start in day one of camp. 
"These first five days, so much is developing our team because everybody's going to have a role," Sarkisian said. "Everybody's going to play to our success in the fall whether you're a frontline starter, you're a backup, or you're a scout team guys that's trying to give looks to our offense or defense. This is our chance to really coach everybody on those things and so we really try to give everybody as many reps as we can and that's what happened today." 
The remaining pieces of USC's top five recruiting class that weren't around when Sarkisian held his first spring practice as head coach of the Trojans had arrived and they received quite a few looks as far as reps go. 
On Monday, after just the first of 27 scheduled practices before the Aug. 30 season opener against Fresno State, Sarkisian acknowledged he liked what he saw from the USC youth.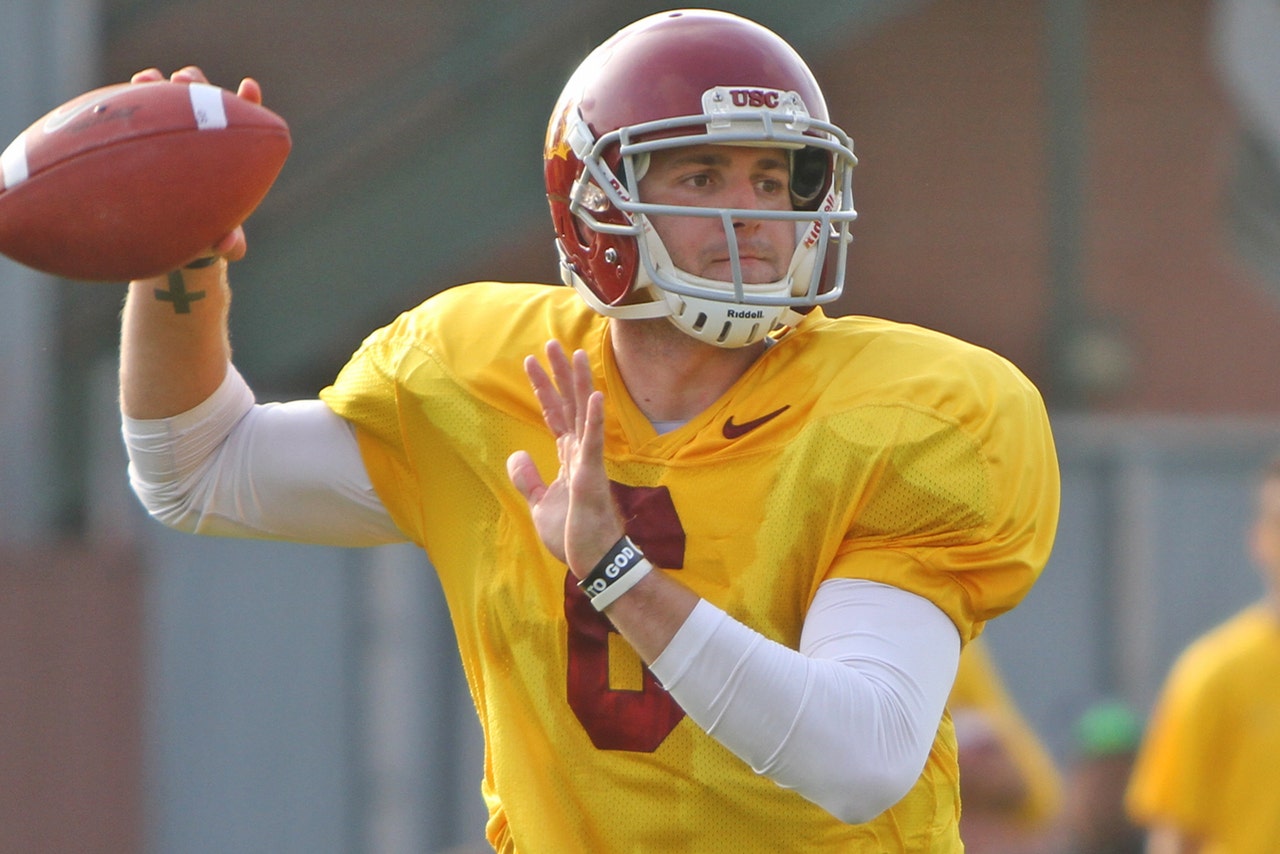 Three questions for USC heading into fall camp 
In his very first organized practice in a USC uniform, ex-Serra star Adoree' Jackson lined up on both sides of the ball. Jackson spent the majority of the time at cornerback but lined up at wide receiver for what Sarkisian estimates were "15 (or) 16" plays and turned some heads. 
"(There is) quite a bit on his plate right now but, kind of, lived up to what we thought," Sarkisian said. "He looked great at corner. He did some, really electric things with the ball in his hands on offense and then, obviously, caught the ball well in the return game." 
Juju Smith (Long Beach Poly) lined up at wide receiver and Sarkisian liked what he saw from him as well.  
"I thought (he) made some really highlight plays, down the field catches, (and) looked very comfortable," Sarkisian said of Smith.  
For the first time in his football playing career, Viane Talamaivao snapped the ball at center. Fellow freshman Toa Lobendahn, who was an early enrollee, took some reps as center as well behind Max Tuerk. 
The biggest coup, however, could have been what Sarkisian saw from tight end Bryce Dixon on Monday night. The freshman's opportunities will be larger than originally expected with the news of tight end Jalen Cope-Fitzpatrick being ruled academically ineligible for the fall -- leaving the Trojans with two scholarship tight ends, Dixon and senior Randall Telfer. 
"Unless something crazy happens, he's shown me in one day that he's going to be plenty good enough to play for us this fall," Sarkisian said of Dixon. "To what degree and what percentage of his role will be is going to be determined over the next few weeks." 
Along with a host of other decisions. That's where those notes may come in handy. 
---