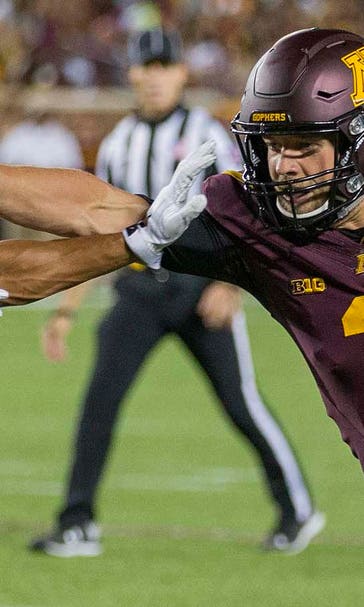 Upon Further Review: Gophers vs. Oregon State
BY foxsports • September 2, 2016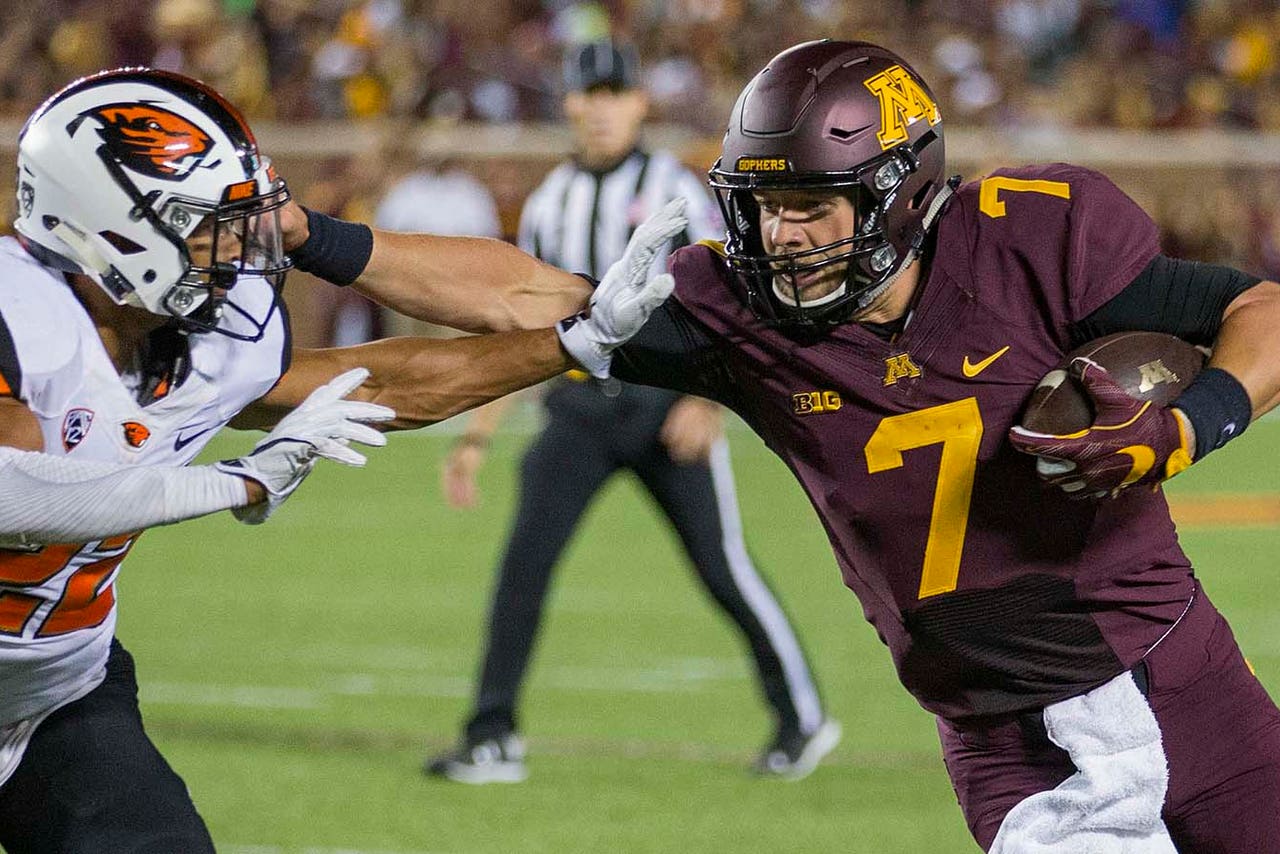 Minnesota and Oregon State hooked up on Thursday night to open their college football seasons and, well, perhaps neither team deserved to win what turned out to be a sloppily played game.
However, the Gophers did enough to overcome their mistakes -- which included three players ejected for targeting -- and did just enough on offense while settling down on defense when it mattered to beat the Beavers 30-23 at TCF Bank Stadium.
Minnesota's offense, with a new coordinator, didn't exactly light the world on fire and the pass defense was shaky at times. However, there was also plenty to be happy about, including the run game, pressure on the quarterback and kicking game.
In the end, it wasn't necessarily pretty, but then again this was the first time teams are on the field, so there are kinks to work out. Better to do it in a win than a loss.
A recap of Thursday's game:
CLASS LESSONS
-- If you were expecting a lot more passing from Minnesota, well ... the Gophers began the game with three straight runs and overall had 47 carries compared to 27 pass attempts.
-- Mitch Leidner got a lot of preseason hype, but his accuracy issues -- at least for this game -- still appear to be a problem. He missed numerous receivers with high passes. Leidner also threw into double coverage a bit too often.
-- Leidner does appear to be running better and with confidence. He rushed 13 times for 76 yards with two TDs.
-- Minnesota might want to work on shotgun snaps. Two snaps went well over the head of Leidner, one for a big loss of 23 yards and the other resulted in a safety.
-- Ryan Santoso, moved from kicker to punter, pinned Oregon State to the 1 on his first boot. Overall he averaged 41.2 yards on six punts, with four landing inside the 20. Meanwhile, new kicker Emmit Carpenter made his first field-goal attempt, a 45-yarder which bounced off the post and through.
-- One lesson which should be learned: What is targeting. Minnesota will likely have a long film session on this after three players were ejected due to being called for this penalty. Linebacker Cody Poock was called for it in the first quarter, linebacker Jonathan Celestin in the third quarter and defensive end Tai'yon Devers in the third quarter.
-- Right or wrong call? -- With 20 seconds left in the first half, Minnesota ran the ball on third-and-long but also committed a penalty. Oregon State chose to decline the penalty instead of giving Minnesota 3rd-and-15 from the Beavers 37. Thus, Minnesota's 4-yard run stood, giving it the ball at the 28. The Gophers then ran down the clock to two seconds and Carpenter came out to make his 45-yard field goal and give Minnesota a 17-14 halftime lead.
-- Minnesota brought a lot of pressure to the quarterback. Sometimes it worked (four sacks) but often times Oregon State ran a screen or swing pass and got a decent gain, including Tim Cook's 12-yard touchdown late in the third quarter which put the Beavers up 23-17, and a 22-yard gain by Ryan Nall on 3rd-and-18 late in the fourth quarter.
-- Oregon State went for it on 4th-and-1 from the Minnesota 43 late in the fourth -- a few plays after the above-mentioned Nall big gain -- and a low snap derailed the play, as Cook then had trouble getting the handoff and couldn't get a good burst going, easily stopped for no gain. On the Beavers' next -- and final series -- they had 4th-and-5 and threw well short to Nall on a scramble, essentially ending the game.
DULY NOTED
-- Leidner completed just 13 of 26 passes for 130 yards with a 92.0 QB rating. Last year, Oregon State allowed quarterbacks to complete 68.5% of their passes with a 156.83 QB rating.
-- Freshman wide receiver Tyler Johnson recorded his first collegiate catch, but he also had a good block on Leidner's 6-yard TD run.
-- Minnesota committed eight penalties -- four of which were false starts. Oregon State only had four penalties, but one was easily the dumbest of the game: With Leidner kneeling to run out the clock, Brandon Arnold pushed him. Instead of being fourth down, Minnesota got an automatic first down, took one more kneeldown and the game was over.
-- Victor Bolden was wide open over the middle on a 3rd-and-5 play late in the fourth quarter and dropped the pass. A key play as Oregon State failed to convert on fourth down (see above) and never got the ball  back.
-- Oregon State called a timeout with 13:13 left in the third quarter. Think they might have liked to have that one left late in the fourth?
WHAT IT MEANT
Let's face it, this wasn't a pretty win. Minnesota was at home and a double-digit favorite. There were too many mistakes, the offense was anything but dynamic and, oh yeah, three players got ejected. The bottom line, though, is this was a win and perhaps Minnesota won't be as rusty now that there's a game under its belt. The Gophers have three winnable games upcoming -- at home against Indiana State and Colorado State and on the road at Penn State. The schedule sets up nicely for Minnesota this year and a 4-0 start is not out of the question.
PLAYER OF THE GAME
With Shannon Brooks out, Rodney Smith knew he was going to be the workhorse running back Thursday. He carried the ball 25 times -- only one other running back had a rush, and that was just twice by Kobe McCrary -- for a career-high 125 yards (a decent 5.0 average) with two touchdowns. Smith also showed some nice moves, a couple of times bouncing off hits in the backfield and spinning away, including on his first score.
DON'T FORGET ABOUT ME
Devers couldn't stick around for the entire game (he one of the three Gophers players ejected for targeting) but he made a big impact in the time he was on the field. OK, he only had two tackles, but they were both big ones. Devers had two sacks of Oregon State quarterback Darrell Garretson, who fumbled both times with Minnesota recovering. The Gophers got a short field on each turnover -- starting at Oregon State's 28 and their own 41 -- and scored a touchdown on both ensuing possessions.
THAT MOMENT
When Minnesota scored with 1:27 left in the game to take a two-point lead, the Gophers -- inexplicably to most, especially on social media -- went for the two-point conversion instead of the one-pont try to put them up by eight (which would, at worst, mean overtime if Oregon State scored). Leidner's swing pass was incomplete. Tracy Claeys' explanation was that most teams would go for one when they are down by 7 and he was trying to put the game away. Of course, on the road, might a team instead try for two and win the game? In the end it didn't matter, but it sure did spark some conversation.
THIS NUMBER
25 -- Number of rushing touchdowns for Mitch Leidner, which is now the most in Minnesota history for a Gophers quarterback, moving him past Rickey Foggie, who had 24.
THEY SAID IT
"It was kind of crazy and kind of nerve-racking seeing all of our starters go out like that." -- Gophers defensive back Damarius Travis
"I think it's a mixture of both being a little too amped and a little nervous. Unfortunately you don't get preseason games like the NFL does to get adjusted to things like that. But to be able to win a game and have some of that sloppiness, that will definitely help us moving forward." -- Leidner
"My opinion is 95 percent of the time those teams go down and score late, they're going to kick the extra point and go to overtime. So I would rather take the chance on getting three yards and ending the game." -- Claeys
WHAT'S NEXT
Minnesota stays at home next Saturday for an 11 a.m. game against Indiana State, an FCS team which opens up against Butler on Saturday.
---