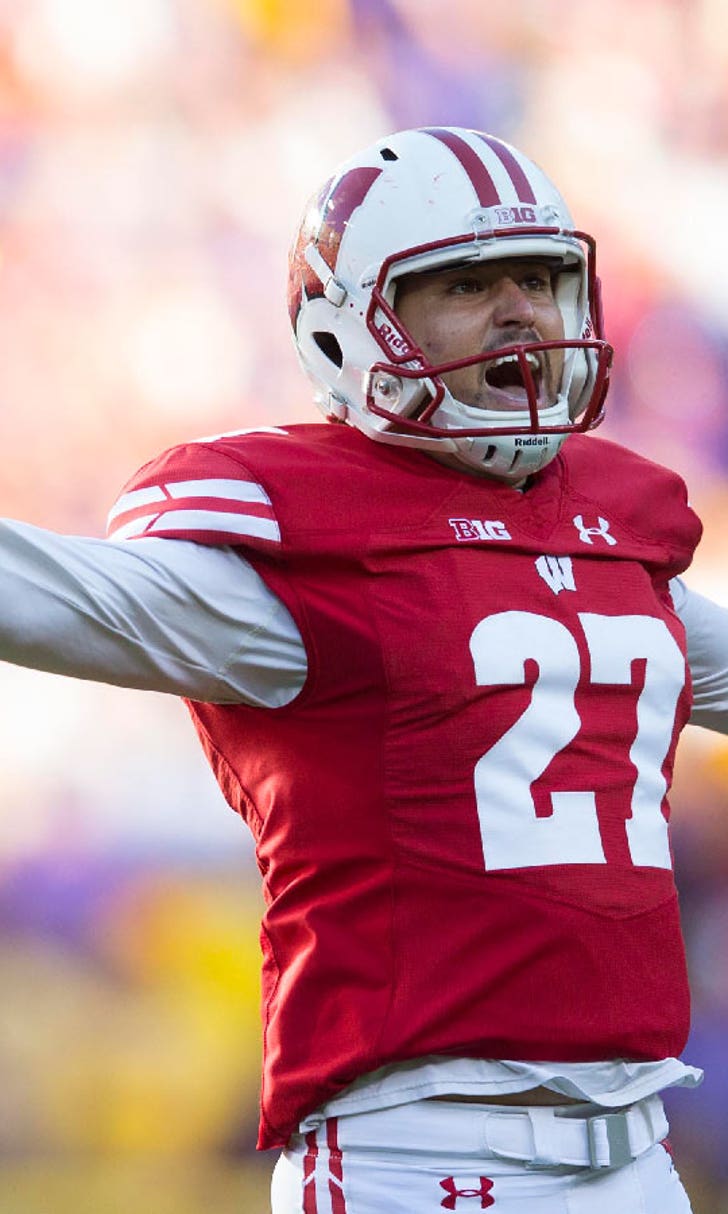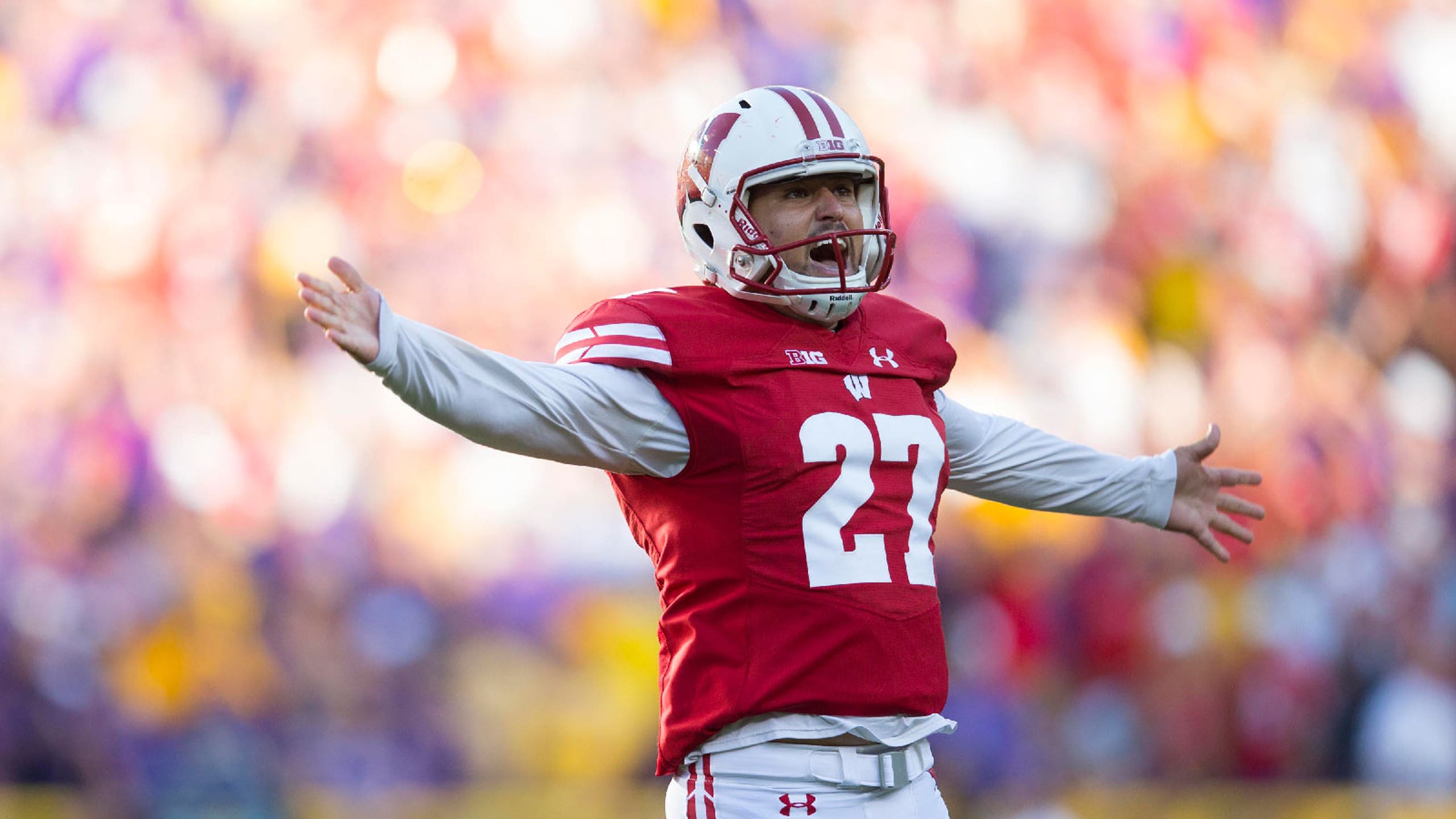 Upon Further Review: Badgers vs. LSU
BY foxsports • September 4, 2016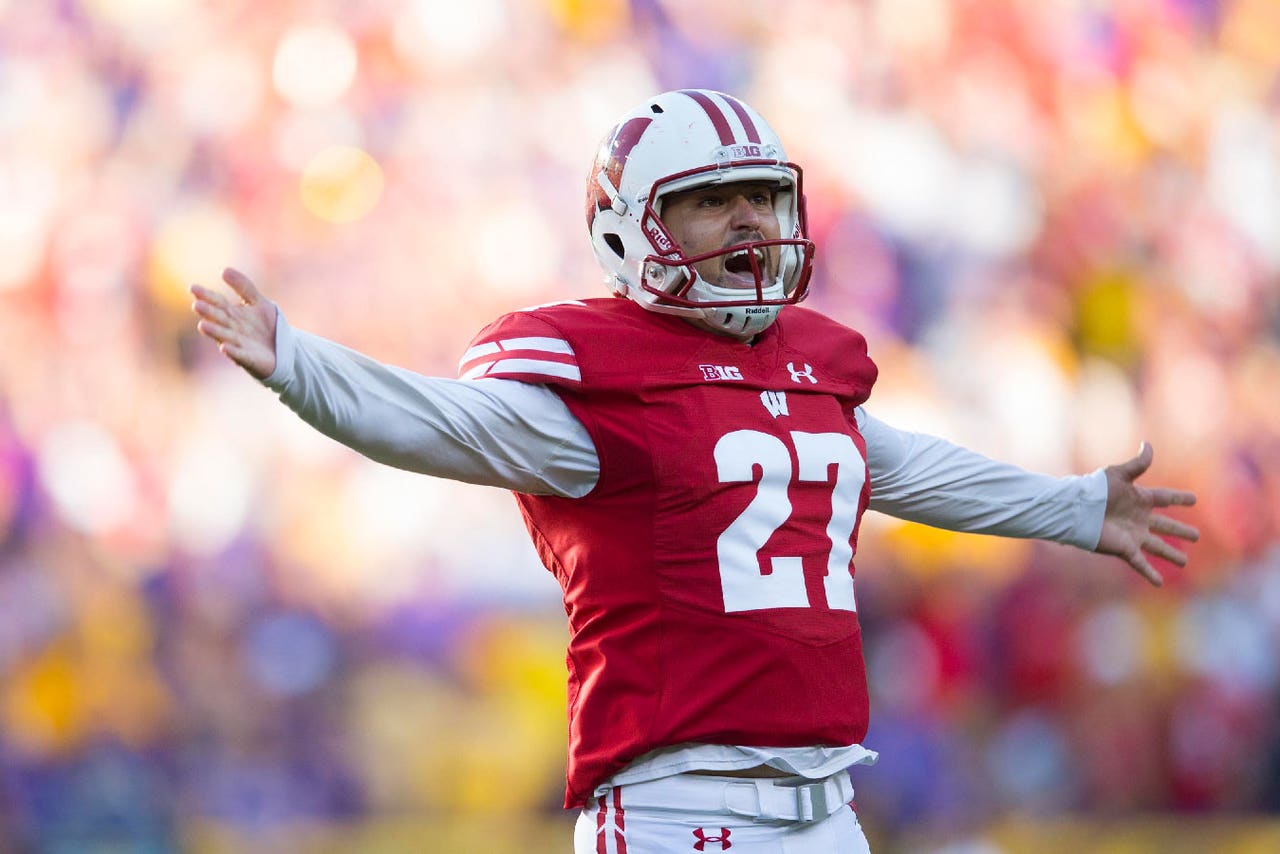 Wisconsin came in as a heavy underdog in its season opener. LSU had national title aspirations while the Badgers had a new quarterback, a new defensive coordinator, a young offensive line and nearly an all-new secondary.
Yet it was Wisconsin which controlled the game from nearly start to finish in beating fifth-ranked LSU 16-14 at Lambeau Field.
Other than a short stretch when LSU scored on an interception then got another TD a few short plays after Wisconsin fumbled on the ensuing possession, the Badgers had their way with the Tigers.
However, because of a few mistakes -- an interception, a stop on fourth down, failure to get in the end zone -- the Badgers couldn't pull away and had to come back late.
That is exactly what Wisconsin did, thanks to Rafael Gaglianone's third field goal and a stout defense, which made a thought-to-be-powerful Tigers offensive attack seem toothless.
A recap of Saturday's game:
-- Bart Houston started out well, completing six of his first eight passes. He then completed just 13 of his next 23, which included two interceptions. Houston proved more than willing to throw into tight coverage on occasion (not a good thing) and his interception returned for a touchdown was an incredibly poor decision on many levels. Still, he didn't let it get him down and had several strong throws down the stretch as Wisconsin rallied to win. Houston also showed some toughness on runs, in the particular in the first quarter when he ducked his head and got 11 yards for a first down. Yeah, he could have had a better day, but it could have been a lot worse. In the scheme of things, he did just fine.
-- Young quarterbacks -- or ones new to playing -- often look to tight ends on passes. They are an easy safety valve. Houston was no exception, targeting Troy Fumagalli eight times, with Fumagalli posting game highs with seven receptions for 100 yards. Fumagalli broke a long drought for Badgers tight ends, which hadn't had a 100-yad receiving effort in 77 games. The last to do it was Lance Kendricks on Sept. 27, 2010 against Austin Peay. Kendricks also did earlier that season against Arizona State.
-- Houston will hopefully learn from his two interceptions. On his first, he didn't get enough air on the ball on a pass to Kyle Penniston in the end zone. On the second, he tried to fit it into a tight spot on a well-covered Rob Wheelwright who was near the sideline with UW backed up in LSU territory. It was just a very bad decision.
-- Houston was making his first start. LSU's Brandon Harris wasn't. Harris struggled last year and things haven't changed for him. Several of his throws were high. His final interception was head-scratching. He got away from a Vince Biegel sack and then threw the ball right to D'Cota Dixon, who was close -- but not that close -- to the intended receiver.
-- Corey Clement showed his injuries are behind him, running hard and showing vision all game. He finished with 87 yards on 21 carries, although after scoring with nearly 11 minutes left in the third quarter, he had only six more rushes.
-- Wisconsin had a plan to stop Leonard Fournette and it worked, especially early, as the Heisman candidate had only 35 yards on 11 carries. Fournette got untracked in the second half, but still finished with "just" 138 yards on 23 carries. (He had only three rushing totals lower than that in 2015.) Take away his one big run for 30 yards and Fournette averaged just 4.9 yards on his other 22 carries.
-- P.J. Rosowski was a surprise starter at punter. The early depth chart had listed freshman Anthony Lotti. It was easy to see why head coach Paul Chryst went with Rosowski, although maybe not at the start. Rosowski's first punt was a shank for 22 yards. However, he averaged 47 yards on his final three punts. Rosowski was also used on kickoffs and had touchbacks on three of his four kicks.
-- There was some hype over T.J. Watt this offseason and he showed it wasn't just hype. Watt had a high-energy game and finished with seven tackles and a QB hurry.
-- Is there life after Dave Aranda? A resounding yes.
-- Biegel forced Harris to scramble and throw that interception, but he wasn't credited with a QB hurry in the official stats. Biegel did record a sack earlier in the game, giving him 34.5 at Wisconsin, moving him past Erasmus James for seventh place on UW's all-time list.
-- Fumagalli is just the second Wisconsin player to have a 100-yard receiving game against an SEC team, joining Brandon Williams, who did it in 2006 in the Capital One Bowl against Auburn.
-- LSU had won 52 consecutive regular-season games against nonconference opponents, which was an FBS record.
-- LSU's longest drive was seven plays, which they did twice. Both drive resulted in punts. Wisconsin had drives of 13 (interception), nine (field goal) and eight (field goal) plays.
-- Wisconsin is the first Big Ten team to beat nonconference opponent ranked in the top five since 2006. UW is also just the eighth non-ranked Big Ten team to win a regular-season game against a team ranked in the top five by the Associated Press.
-- Bart Houston targets: Rob Wheelwright 9, Fumagalli 8, Jazz Peavy 7, George Rushing 2, Alec Ingold, Dare Ogunbowale, Kyle Penniston, Austin Ramesh and Eric Steffes 1.
In the short term, this will get Wisconsin into the top 25. With two winnable games upcoming, the Badgers could be on a nice roll -- and confident -- heading into their tough schedule stretch, which starts at Michigan State in Week 4. In the longer term, perhaps Wisconsin will now get a larger dose of respect nationally, although I fear a lot of angles coming out of this will be how LSU blew it and not how Wisconsin stymied the Tigers.
Wisconsin scored 16 points, 10 of which were supplied by Gaglianone. Last season, Gaglianone had an up-and-down year, making just two-thirds of his field-goal attempts. Against LSU, there was no doubt on any of his three field goals, which were from 30, 47 and 48 yards. He was cool under pressure, making the go-ahead kick with 3:47 remaining. He misses it, and LSU could just run out the clock. Wisconsin considers this a game-winning kick since it was under four minutes when he made it. This gives Gaglianone four game-winners, the most in Badgers history.
Fumagalli not only led Wisconsin in receiving, which in and of itself would be reason to have him here, but he also had some clutch catches down the stretch. In Wisconsin's game-winning drive, he had two catches, one of which went for 20 yards and got the Badgers into LSU territory, and the other was an 11-yarder which got UW into field-goal territory.
In a close game there are of course going to be a few key plays, but one stands out. Midway through the fourth quarter, LSU had 3rd-and-8 and ran a screen to Fournette, who got some space to run but linebacker Ryan Connelly, a former walk-on who was only in because Chris Orr got hurt and T.J. Edwards was already sitting out, made a nice open-field tackle to force the Tigers to punt. Wisconsin got the ball back, ran over four minutes off the clock and got what would turn out to be the game-winning field goal.
257 -- total yards for LSU. Last season, the Tigers had only one game in which they had fewer than 300 yards of total offense, and that came against Alabama. Just a standout job by Wisconsin's defense.
"We play better when we play great opponents. There's nothing that's too big for us. . . . We live for these moments." -- Clement
"Yeah, Justin (Wilcox) radioed in my favorite blitz call. It's called a 'Psycho Track' and I came inside the tackle and I was surprised I was unblocked. I actually thought it was a screen at first because I was unblocked so much, but give credit to No. 6, he's a very shifty quarterback. He ended up escaping my grasp and made a pass that fell right into D'Cota (Dixon)'s lap. Give D'Cota the credit, he was exactly where he was supposed to be at the right time. We're not going to discuss what happened after the play. We're happy to get a win today and move forward." - Biegel on LSU's final offensive play
"It was electric. It was everything I thought it would be and more. I grew up in Wisconsin. I went to Green Bay Packer games, I said that before. I'm used to the stadium being green and gold and for it to be red and white was a special moment. And give credit to our fans, we really needed them today to be electric and they are as advertised. They were a great crowd today and we really rallied behind them and it's fun to play in front of them." -- Biegel
Wisconsin plays its first game at Camp Randall Stadium this season, hosing Akron, which beat VMI 47-24 on Saturday, Sept. 10. Zips quarterback Thomas Woodson passed for 407 yards and six touchdowns.
Dave Heller is the author of the upcoming book Ken Williams: A Slugger in Ruth's Shadow as well as Facing Ted Williams Players from the Golden Age of Baseball Recall the Greatest Hitter Who Ever Lived and As Good As It Got: The 1944 St. Louis Browns
---
---