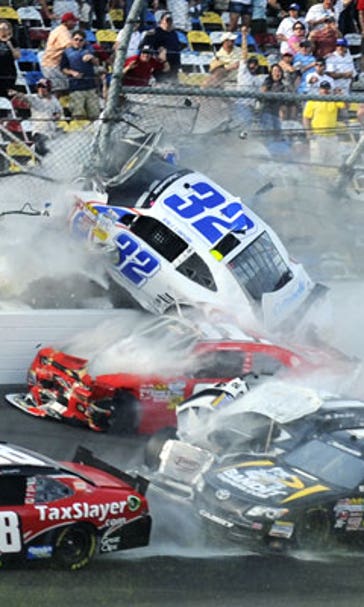 NASCAR Nationwide Series driver Kyle Larson (32) goes up into the fence after being involved in a crash on the final lap during the DRIVE4COPD 300 at Daytona International Speedway. 
A wild wreck on the home stretch of the final lap of Saturday's NASCAR Nationwide Series race at Daytona International Speedway sent one car's engine, a tire and other parts crashing through the fence separating fans from the track and sending several fans to a nearby medical center. Check out FOXSports.com for the latest on the developing story.
Updates, reaction and photos from Twitter and elsewhere:
A good first-hand account here from a fan who was injured in yesterday's crash.
NASCAR legend Bobby Allison thinks NASCAR has done a "great job" on improving driver and fan safety, pointing out that the heavy speeding engine that flew into the stands was successfully held up by the fence.
Daytona International Speedway president gave a Sunday morning press conference to confirm we will be racing as scheduled for the Daytona 500, pending weather. He faced a number of questions on Daytona's plans for reviewing track safety.

Daytona International Speedway president Joie Chitwood and NASCAR Vice President of Racing Operations Steve O'Donnell have addressed the media. Chitwood: "Our thoughts and prayers are with our race fans … We transported 14 people off property and treated 14 people at our on-track care center." O'Donnell said he was confident they would be ready to run tomorrow's Daytona 500. They declined to give updates on the conditions of the injured fans.

NASCAR tickets with a warning about entering at your own risk:


---