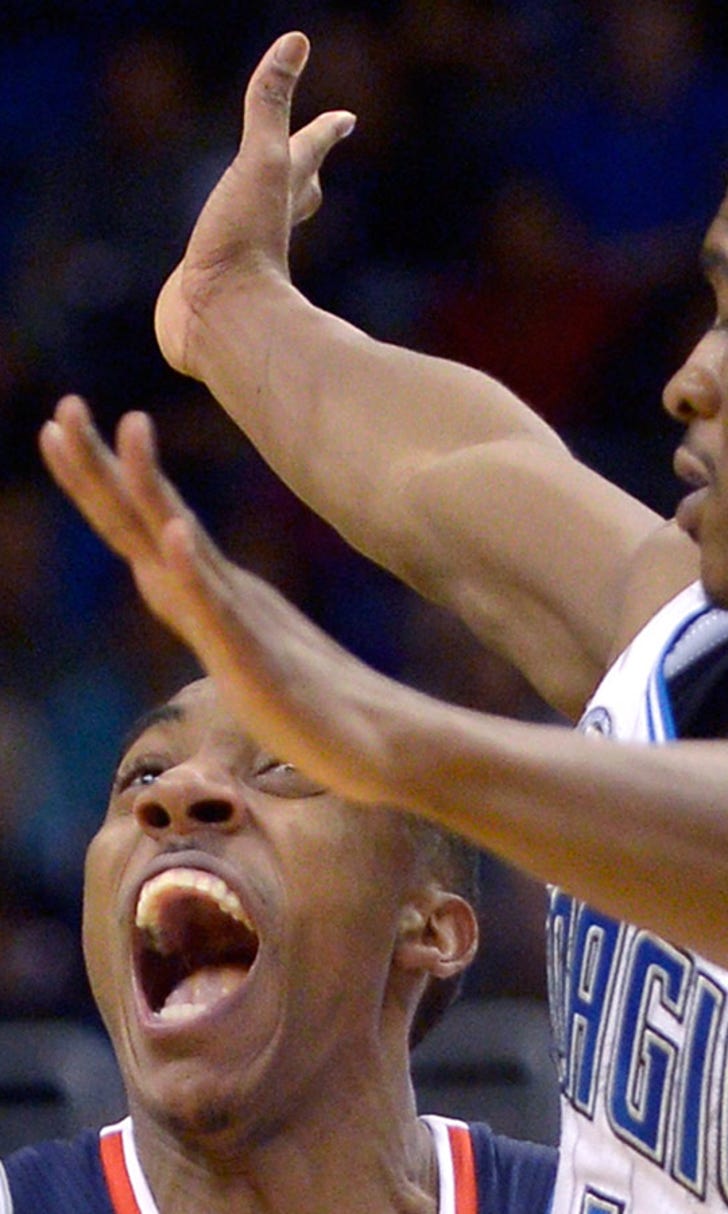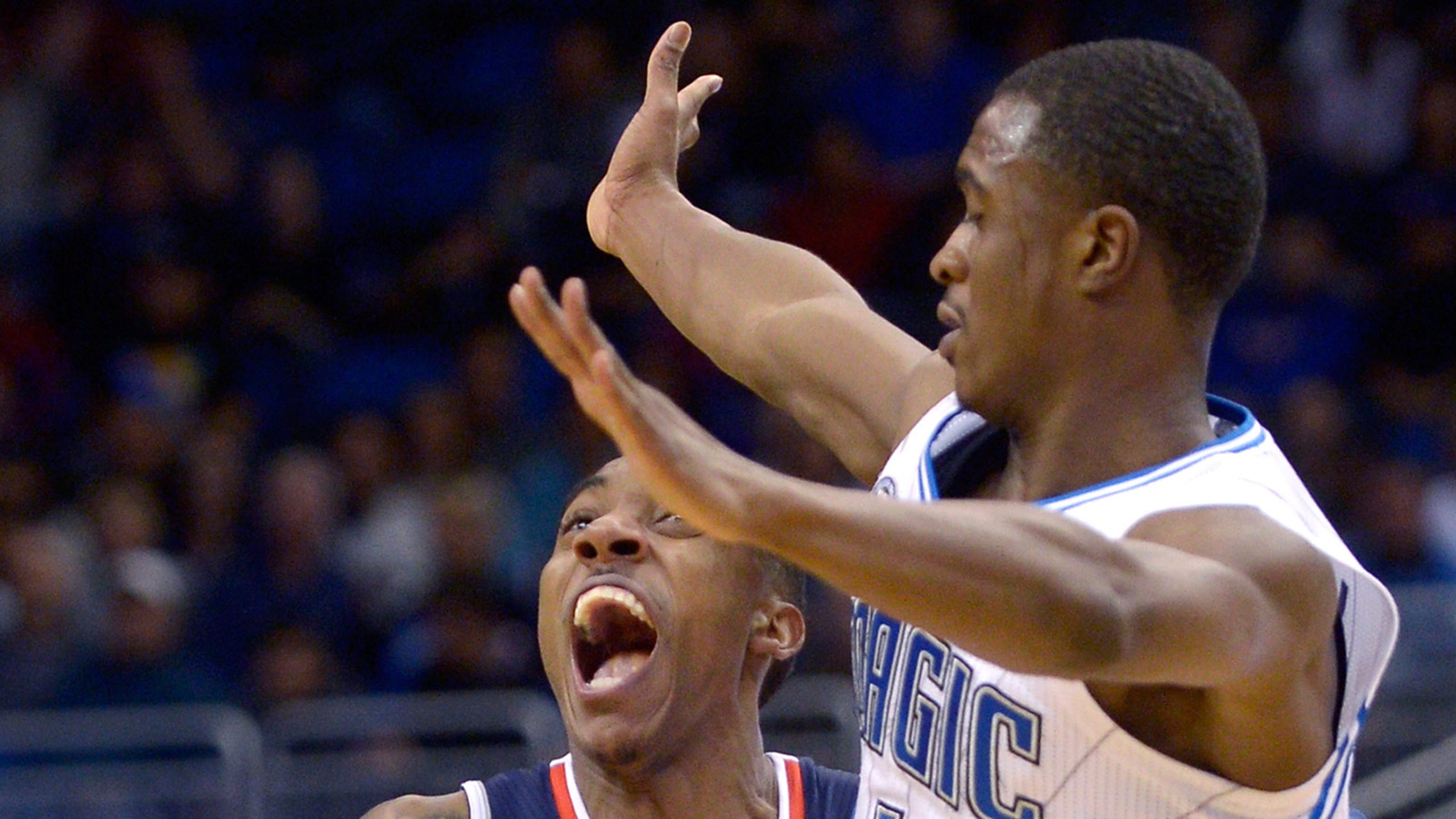 Unlikely source Doron Lamb nearly propels Magic to victory
BY foxsports • January 22, 2014
ORLANDO, Fla. -- With Arron Afflalo being held to a season-low six points, the Orlando Magic needed to get help from unexpected sources against the Atlanta Hawks.
Of all their available players, none fit that bill better than Doron Lamb.
The second-year guard, who was part of the trade last February in which Tobias Harris came over from the Milwaukee Bucks, had averaged only 2.3 points and 9.1 minutes in 20 games going into Wednesday night. But there clearly was a carryover from the limited action Lamb got Tuesday night at Brooklyn in what many people, though not Magic coach Jacque Vaughn, would call garbage time.
A lineup consisting in part of Lamb, Maurice Harkless and Kyle O'Quinn pulled the Magic off the scrap heap of a 19-point third-quarter deficit against the Hawks and into the lead. Although the Hawks recovered in time to pull out a 112-109 victory, the play of Lamb and others was most encouraging.
"I was very, very happy for him," Afflalo said. "He hasn't really had a great opportunity this year. We needed him tonight. That game wouldn't have come down to the wire if it wasn't for him, Tobias, Mo, Kyle. Those guys were amazing."
Seven of Lamb's 13 points -- he had not scored in double figures since late last season -- came within a stretch of just more than a minute during an 18-4 run by the Magic to begin the fourth quarter. That included one of his three 3-point field goals.
"Every game I'm ready and prepared to just get in the game," he said. "If I don't, or if I do, I'm always ready."
Vaughn never inserted Jameer Nelson back into the lineup until after Lamb was whistled for three fouls in a nine-second span. The last of those was his sixth of the game, forcing him to leave with 5:34 to go and the Magic leading 98-95.
"A couple bad calls, a couple good calls," Lamb said. "But it happens like that."
The only member of the Magic to play the entire fourth quarter was Victor Oladipo, who topped them in scoring with 24 points despite getting into early foul trouble. Oladipo's running jump shot with 1:29 to go put the Magic up 107-106, and Nelson followed shortly thereafter with a basket to increase the lead to three.
But Nelson also had a shot blocked by Kyle Korver down the stretch, and his potential game-tying 3-pointer over Korver on a play which appeared designed for either Afflalo or Harris bounced off the front of the rim at the final horn.
"They made mistakes," Vaughn said. "But that's a part of the game. I don't ask any guy to be perfect. I let the guys play through some mistakes, and he (Oladipo) was one of the guys who led the charge."
Harkless, whose minutes have fluctuated wildly since the first of the year, had 12 points and three rebounds in 22 minutes before Afflalo replaced him for the final 5:43.
"We just enjoy playing with each other," Harkless said. "We play for each other. We're out there sharing the ball, covering for each other on defense. And that's pretty much what sparked our energy -- getting stops and getting out in transition."
"They were out there together, playing hard," said Afflalo, who took only nine shots -- the fewest of any Magic starter -- in a little less than 30 minutes. "They made a pretty inspiring run. So I've got to commend them for that."
Lamb could be a factor off the bench Friday night when the Magic face the Los Angeles Lakers. Or he could go back to languishing at the end of the bench while Afflalo, Nelson and Oladipo split the minutes at the guard spots between them.
He's prepared for either scenario.
"You just wait until your number is called and play as hard as you can," he said.
On this night, he played well enough to give the Magic a legitimate chance at a much-needed win over a quality opponent.
You can follow Ken Hornack on Twitter @HornackFSFla or email him at khornack32176@gmail.com.
---