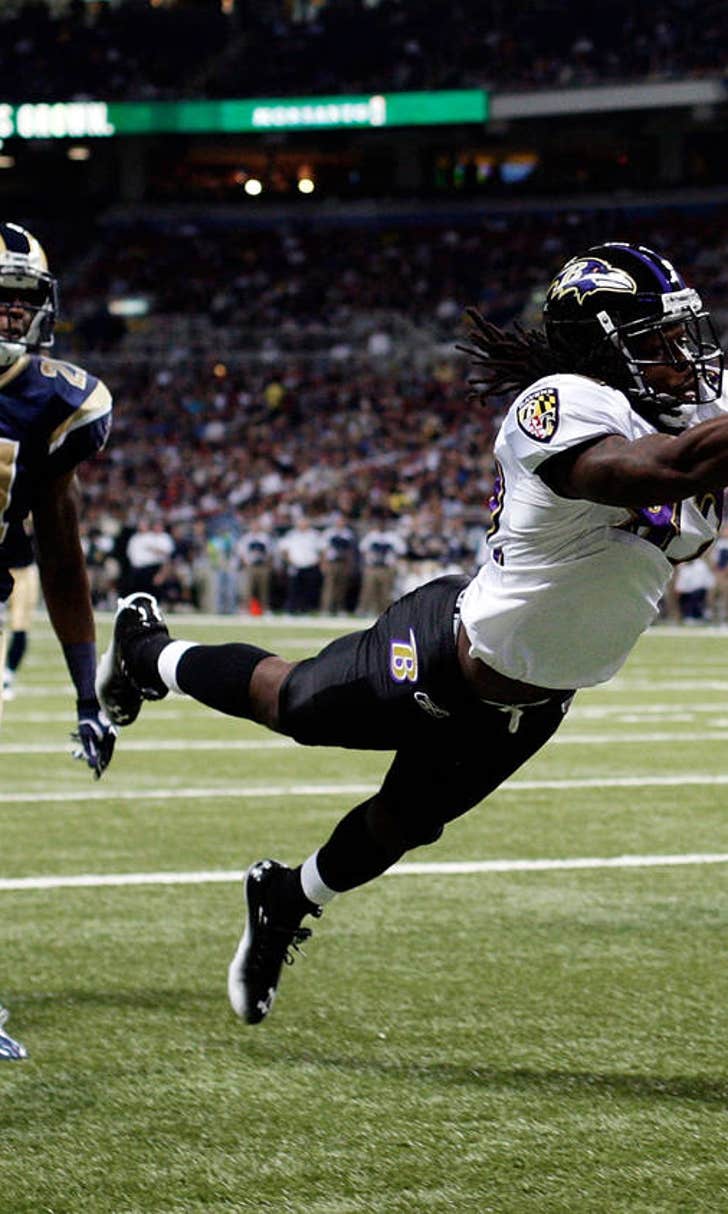 Understanding DraftKings starting lineup requirements
BY foxsports • August 14, 2014
The best weekly fantasy football players tailor their strategies to take advantage of starting and scoring requirements. If you want to excel on DraftKings, you'll need to understand how to gain an edge somewhere within your lineup, which necessitates understanding how your roster is structured and where you can find an advantage.
You'll want to take note of these changes if you want a shot at the $1,000,000 top prize in the King of the Beach contest!
Changes on DraftKings
In 2014, there are a couple changes to DraftKings' starting requirements in NFL games. First, there will be no kicker. Since kickers are so volatile, that should help eliminate some variance within lineups.
Second, there will be an additional starting wide receiver, bringing the total to three. With point-per-reception scoring, that means a fairly high percentage of your points will come via pass-catchers, so it's vital to identify the right ones.
The Starters
DraftKings requires you to start 1 QB, 2 RB, 3 WR, 1 TE, 1 FLEX, and 1 D. Again, this is very heavy on pass-catchers, especially since you can (and often should) put another one into your flex position. With potentially four wide receivers in your lineup each week, there's no more important position on the site; 44.4 percent of your starters will be wide receivers if you use one in the flex. You need to do what you can to ensure that your process for choosing wide receivers is a sound one.
·         Wide Receiver
Since DraftKings has PPR scoring, the pool of usable receivers is pretty large—big, physical touchdown scorers along with high-volume slot receivers. Typically, you should let your league type dictate your strategy. Specifically, receivers who are efficient in the red zone (which tends to be the big boys) are best for use in tournaments because they have a lot of upside. A player like Vincent Jackson has a high ceiling because he can go for three touchdowns at any time.
In cash games, you can stick more to value, siding with the best receivers whose salary is too low for their expected production. Someone like Percy Harvin might be better in a cash game than a tournament because he doesn't have elite scoring ability, but the nature of his game gives him a high floor from week to week. Not only does he receive high-percentage looks, but he can also gash defenses on the ground.
·         Running Back
In most cases, you should build your lineup around your receivers. It's an exploitable position and one where talent leads to production more frequently than at running back. Running backs are so dependent on opportunities for production that the primary question you should be asking yourself is "Will this running back see a lot of touches?" Their production is more binary than receivers; running backs are typically either getting carries or not. Since you generally want to start a wide receiver in the flex, you'll usually be starting half as many backs as receivers.
·         Quarterback
Your quarterback selection is directly tied with your receiver choices. In tournaments, especially, you should be pairing a quarterback with at least one of his receivers to increase the upside of your lineup. In those leagues, that's really where you should start; pick your favorite quarterback/receiver pairing, fill in the rest of your receivers, and then move to the other positions.
Note that there could be more value in using a QB-WR-WR trio from the same team than ever before. That's because, with more receiver slots, you won't be so reliant on one team for production if you select three players from the same squad. When there were just two starting wide receivers, a QB-WR-WR meant basically your entire passing offense was tied up in one team. That's no longer the case, so such a combination is less risky, but still offers just as much upside.
·         Tight End
You're required to start just a single tight end on DraftKings, but note that you can start two if you'd like since you can put one into the flex spot. This is an underrated strategy, the merits of which will be dictated by pricing. Sometimes, tight ends are far cheaper than receivers, so 1) you don't need to get as many points for them to return value and 2) you can save money for other positions. A Jimmy Graham/Rob Gronkowski pairing, for example, can work wonders for your lineup.
·         Defense
In most cases, you should be looking for defenses near the bottom of the barrel in terms of pricing. That's because there isn't nearly as much consistency for defenses as there is for other positions, so many of the mediocre ones can give you big production.
Because your defense is arguably less important than the other spots, you should usually choose it last. The lack of consistency means there's a wide range of potential options for you, so you can just work with whatever salary you have remaining after selecting your position players.
$5 MILLION is up for grabs in the DraftKings Daily Fantasy Football Kickoff Bash! Claim your FREE contest entry here >>
---