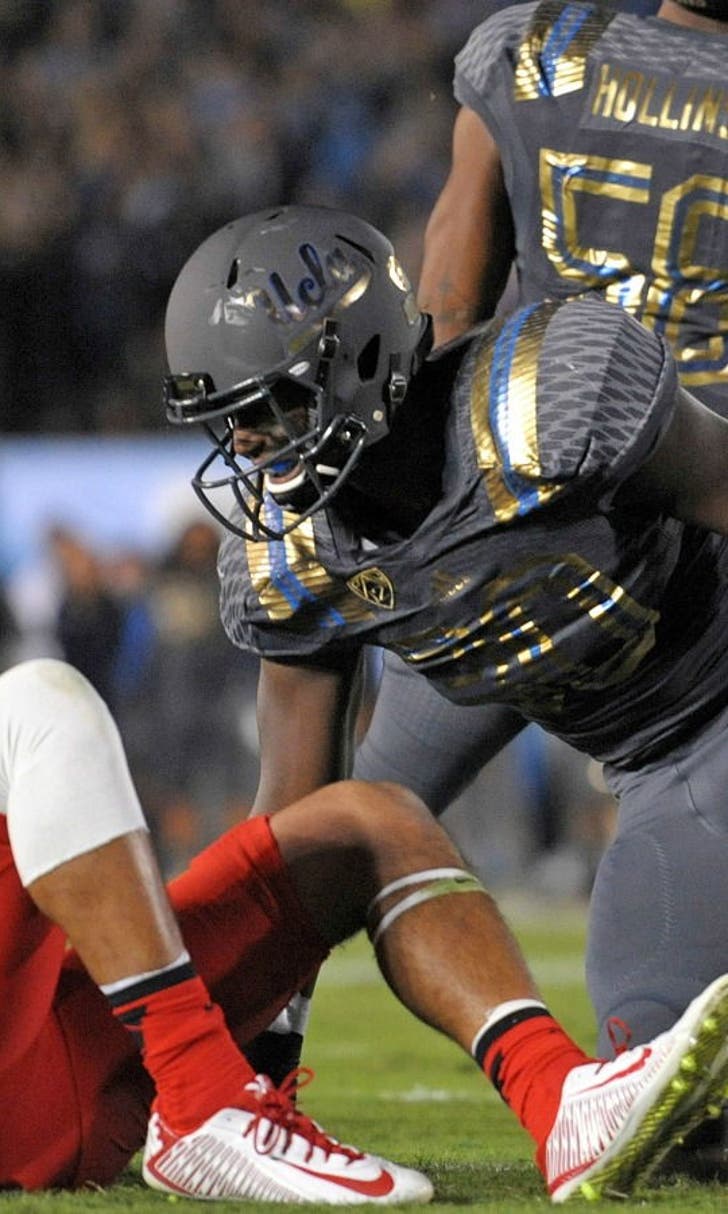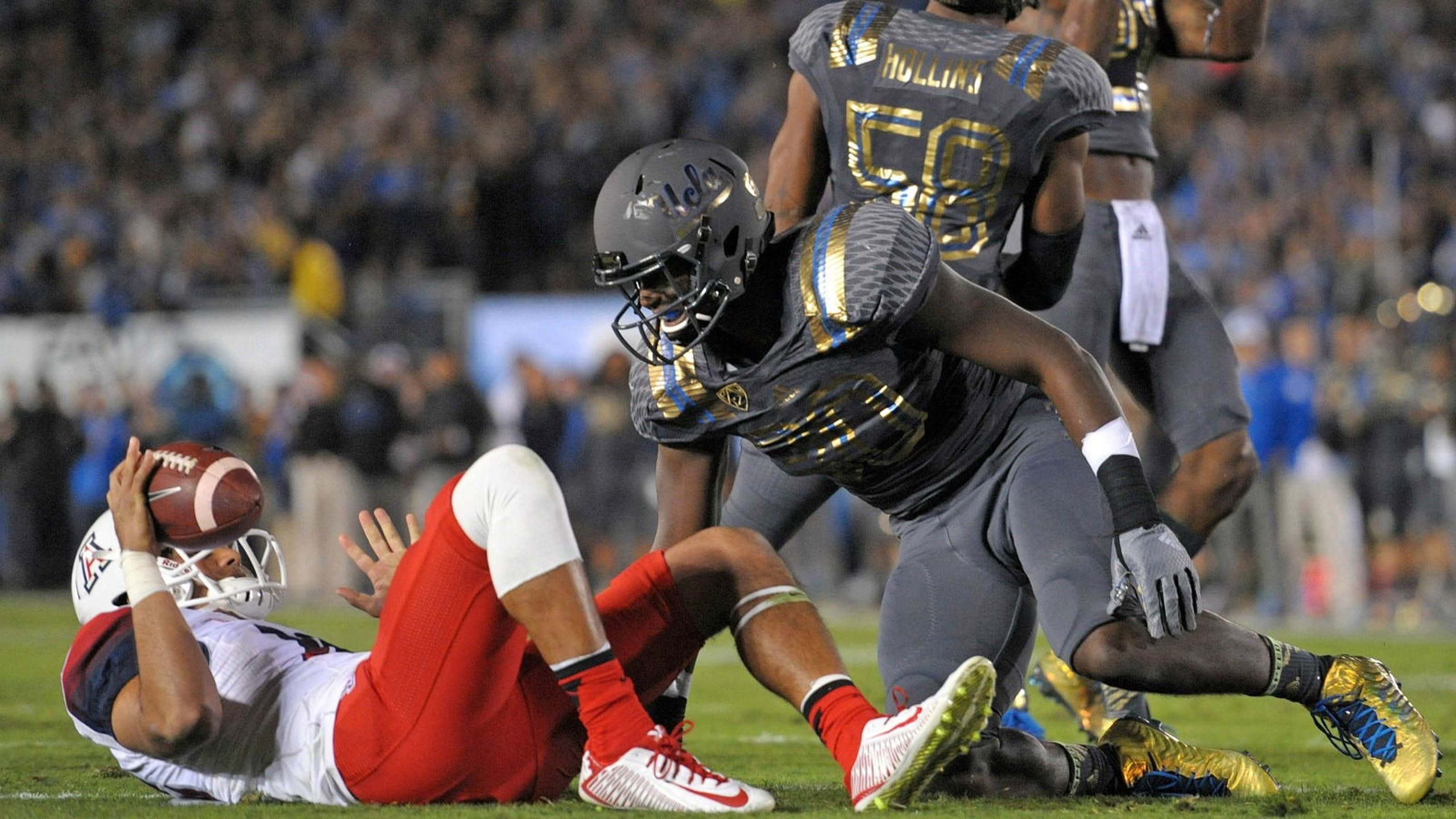 UCLA silences Wildcats' offense in victory
BY foxsports • November 2, 2014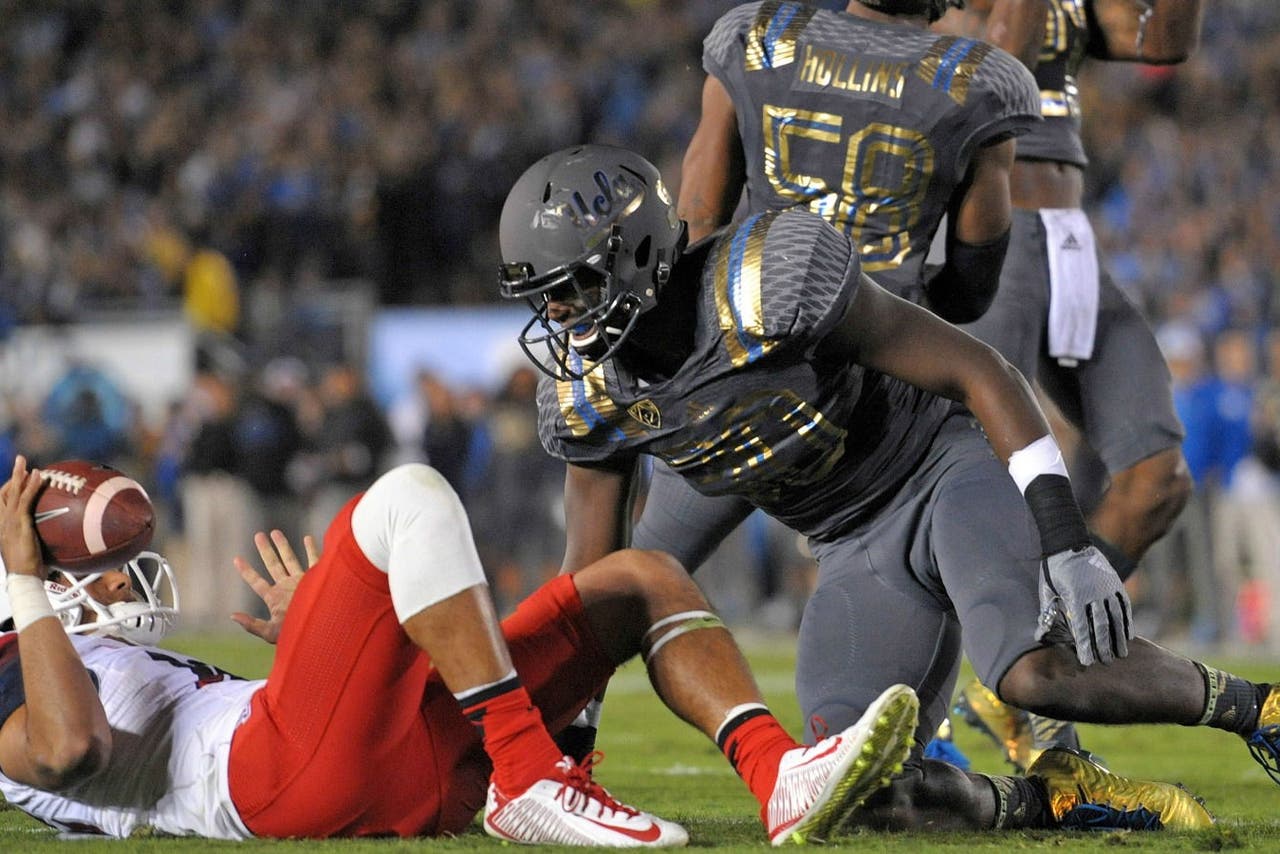 PASADENA, Calif. -- Rich Rodriguez and his potent spread offense were supposed to finally lead Arizona to success at the Rose Bowl.
Three years into his tenure, Rodriguez still hasn't won a game in Pasadena -- and the Wildcats' chances of reaching the Granddaddy of Them All for the first time this January took a big hit Saturday night.
No. 14 Arizona was held to 255 yards of total offense, the lowest total in the Rodriguez era, and No. 25 UCLA pulled its season back from the brink with a dominant defensive performance in a 17-7 victory.
It marked only the second time Arizona (6-2, 3-2 Pac-12, No. 12 CFP) was held under 300 yards with Rodriguez directing the offense, the other coming in a 2012 loss at UCLA, and the third time the Wildcats scored one or no offensive touchdowns under his direction.
Rodriguez pulled no punches afterward.
"The offense was poor," Rodriguez said. "It was poorly called, poorly executed, poorly played. You can start with the coaching staff."
Anu Solomon went 18-for-48 for 175 yards on a nightmarish offensive night for the Wildcats, who couldn't score in the final 57 minutes. Arizona has lost three straight to UCLA since coaches Rodriguez and Jim Mora joined the Pac-12.
Cayleb Jones caught a TD pass on Arizona's opening drive, but its prolific offense was shut out by UCLA after that.
"It could have been a doughnut," said UCLA's Brett Hundley, who passed for 189 yards and ran for 131 more. "To do that against this type of offense in this type of game at this type of moment, that says a lot."
Arizona was on the edge of the national title race, giving them an outside shot to end their Rose Bowl drought, until this nightmare offensive game against the Bruins, who held the Wildcats to 255 total yards -- nearly 287 yards below their season average. Arizona hadn't scored fewer than 26 points in any game this season.
Paul Perkins rushed for a touchdown and Hundley threw a 70-yard TD pass to Jordan Payton during the decisive third quarter. The Bruins (7-2, 4-2, No. 22 CFP) stayed in the Pac-12 South race with their first home victory in nearly two months.
Hundley tied Cade McNown's UCLA career record with his 68th TD pass, while Perkins became the 13th rusher with a 1,000-yard season in school history.
Hundley also gave a chance to Arizona by fumbling with 4:32 to play, but Eric Kendricks blocked Arizona's short field-goal attempt, and Anthony Jefferson returned it to midfield.
"Our defense played well enough to win, for the most part, against a really talented player. Obviously, Hundley hurt us running as much as throwing and we knew that was an issue, but we had plenty of opportunities from our defense and didn't take advantage of them," Rodriguez said.
After falling out of the national title race with consecutive home losses to Utah and Oregon last month, UCLA eked out back-to-back road victories before this impressive defensive effort against Arizona.
The Bruins even overcame 11 penalties for 118 yards in the latest head-scratching display by the FBS' most-penalized team in each of the past two seasons.
With the Bruins trading in their traditional blue jerseys for the debut of grey "L.A. Steel" alternate uniforms, the large Rose Bowl crowd watched an ugly first half in which both teams struggled with most of football's basics.
The Wildcats' struggles were due to their inefficient offense, and the Bruins' woes were pretty much all about penalties: They committed 45 yards in penalties in the first 5 1/2 minutes and finished the first half with nine flags for 98 yards.
Myles Jack committed two 15-yard penalties on the Wildcats' opening drive, twice negating third-down stops by the UCLA defense. Solomon hit Jones with a 14-yard fade for the first half's only touchdown.
"It wasn't his best game," Rodriguez said about Solomon. "My view from the sideline was it wasn't our sharpest performance, but sometimes as a coach I can put them in a better situation. It starts with us."
UCLA had scored on its first 30 drives inside the red zone this season before Ka'imi Fairbairn missed an early field goal. He made a 24-yarder in the second quarter after UCLA failed to take it in from the Arizona 1.
Arizona starting safety Jourdon Grandon was ejected in the first half on a targeting penalty that fellow safety Jared Tevis called "ridiculous."
Perkins put the Bruins ahead with a short TD run in the third quarter to cap their first relatively smooth scoring drive of the night. On the first snap after another UCLA defensive stop, Hundley uncorked a 70-yard dart down the Bruins' sideline to Payton for his record-tying score and a 17-7 lead.
Rodriguez rued those breakdowns, whether they came in the "first quarter, second quarter, third quarter, end of the game at the 5-yard line wherever we were.
"When you play a good football team, you better cash in," he said.
Arizona couldn't, and so its Rose Bowl wait will continue for another year.
---