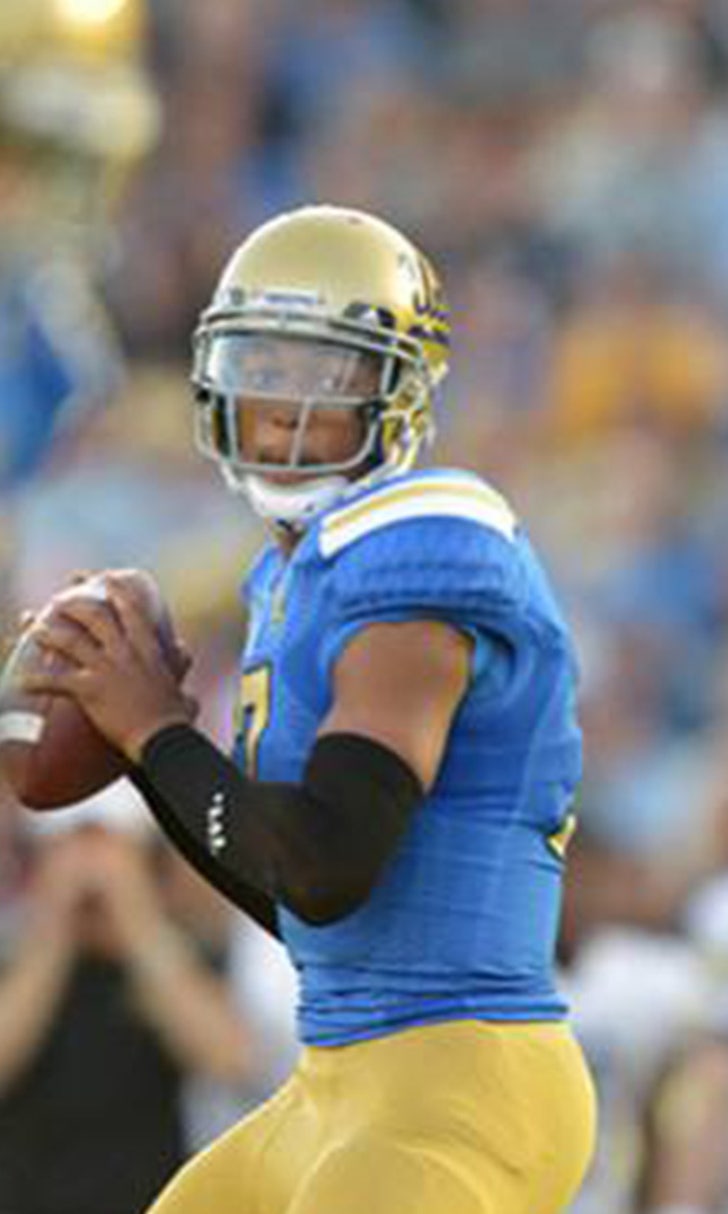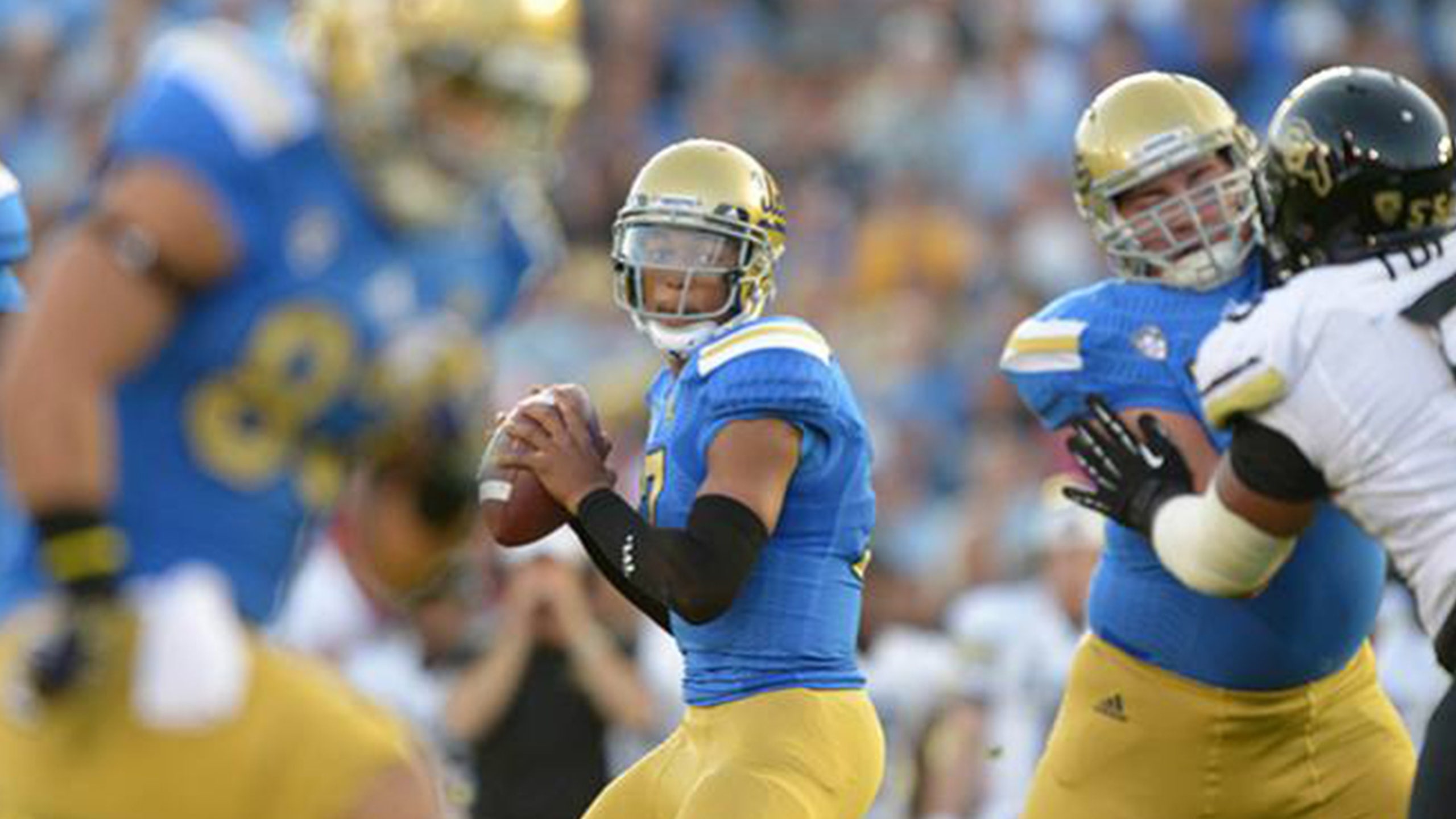 UCLA notebook: Hundley's days with Bruins numbered?
BY foxsports • December 16, 2013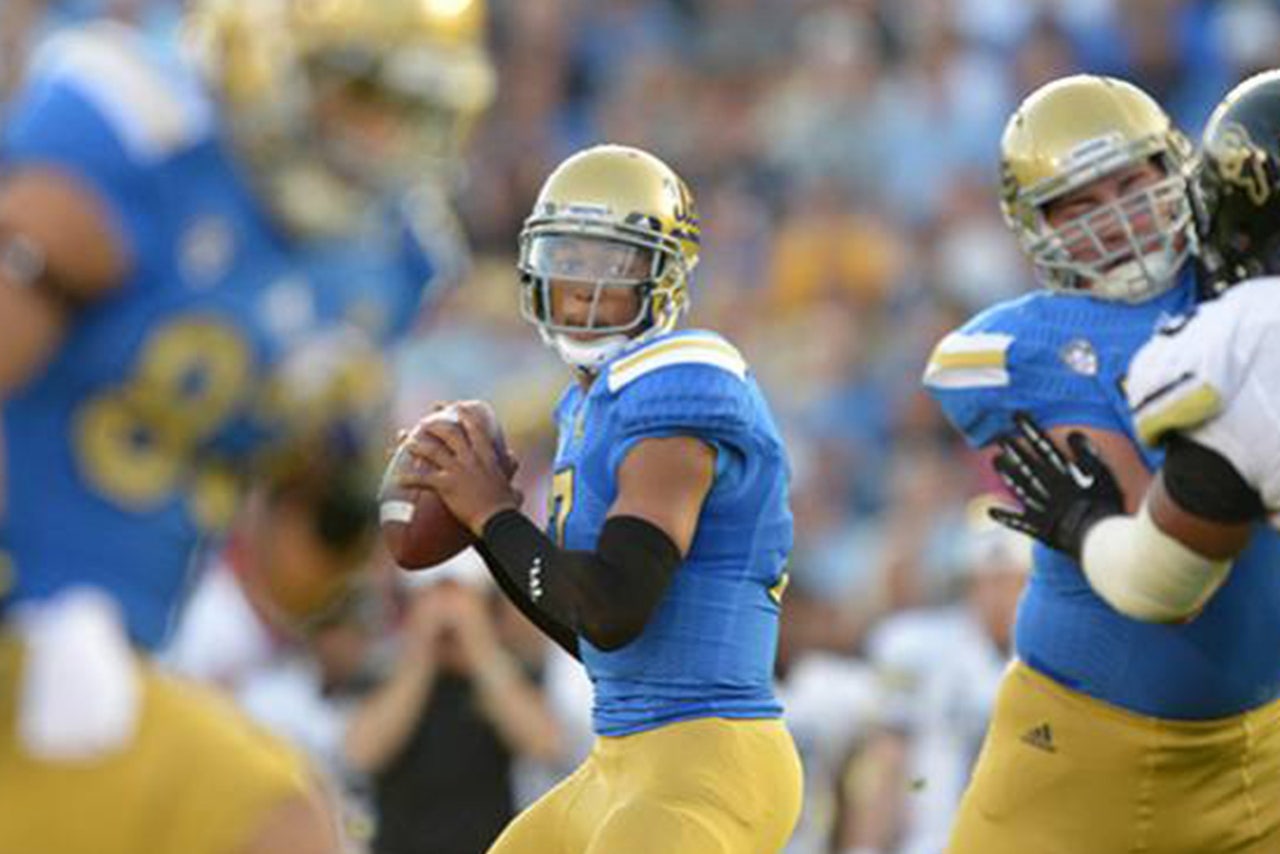 LOS ANGELES -- UCLA football held its second practice in preparation for the Sun Bowl later this month on Saturday morning at Spaulding Field. It was somewhat of a quiet day, as this practice was closed to the public and focused more on scout team reps as early bowl practices typically are. The Bruins have not yet started full preparation for Virginia Tech and head coach Jim Mora said they plan to treat next week as any typical game week.
A few takeaways from Saturday's practice:
NFL bound?
Quarterback Brett Hundley still stayed mum on whether or not he will enter the NFL Draft. Last week, Hundley and offensive lineman Xavier Su'a-Filo, also a redshirt junior, both filed paperwork to assess their draft stock. Su'a-Filo was not made available for comment but Hundley said he has not seen the results of that analysis yet and it continuing to talk to his coaches and teammates and will talk to his family when he goes home to Arizona for the holidays.
"I think it takes about a week or two," Hundley said. "There's a couple people that I know that I'm going to really listen to and that have a lot of experience with this and a lot of knowledge. Sort of who I trust the most in my circle...At the end of the day, with all of the information I get I'll be able to make a decision."
Keep it simple
Hundley has likely watched more film of Virginia Tech than his coach. The admitted film junkie has started work on the Hokies but with the game still weeks away, he is careful to not fall into the trap of watching too much film.
"That's the one thing that I personally have a problem with," Hundley said. "I started writing up game plans and there will be this whole elaborate plan but it's hard to get everybody on the same page when the quarterback is thinking up all of this stuff."
Preparing for Virginia Tech
After last year's dismal loss to Baylor in the Holiday Bowl, the Bruins are trying to learn from that experience to avoid a similar fate this season. Last season, the team staged a handful of open practices in which the team put on a show for fans and recruits. This year, there was only one open practice and the focus has shifted. It's less about the fanfare and more about keeping things as similar to a normal game week as possible.
"I think last year, we spent too much time with the young guys and not enough time on Baylor," Mora said. "We're going to get into Virginia Tech a little bit earlier this year."
But while his quarterback may be filling his downtime with film study, with so many extra practices the challenge for the rest of the team becomes keeping the team engaged. 
"One thing you have to be careful of is that it doesn't become dull," Mora said. "You've got to stay motivated, stay energized."
Barr's recognition
It wasn't all that long ago that linebacker Anthony Barr was frustrated with his role in Rick Neuheisel's offense. A year later, he found himself suddenly thrust into the spotlight when his name was floated around as a potential top-10 draft pick as a defensive player. It was overwhelming at the time but the spotlight has shown brighter than ever before on the San Pedro product as he's been nominated for nearly every major college football award and even won one - the LOTT Impact Award - and he's much more comfortable with his stature and the experience of the awards circuit.
"It's surreal," Barr said. "I've just got to take it in stride and be happy I'm fortunate enough to be in this situation...I'm having a good experience, I'm just trying to live in the moment."
Looking good
As is customary with bowl games, the gift suite, the gift bags and all other forms of swag are what the players have to look forward to. But a few Bruins are most excited about one particular item - a Helen of Troy hair dryer.
One look at Randall Goforth's locks and you won't be surprised. Sam Handler, Poasi Moala are also fans of the look and even short-haired Barr said he would get use out of the item.
When the Bruins take the field in El Paso, they'll be ready and groomed to face the Hokies.
---