UCLA coaches on USC game: Buck Allen is a 'Sunday running back'
BY foxsports • November 19, 2014
The rivalry week celebrations are just beginning outside the confines of Spaulding Field in Westwood, but inside, the No. 9 UCLA Bruins have had three intensely serious practices in preparation for Saturday's Crosstown Showdown. Wednesday, it was the coordinators' turns to weigh in with their thoughts on USC. Here's what offensive coordinator Noel Mazzone and defensive coordinator Jeff Ulbrich saw in the Trojans.
Mazzone: Typically a comedian in his weekly media sessions, the all-business mentality that head coach Jim Mora has imposed on his team this week has extended to his offensive coordinator. Mazzone forewarned the media that this week's session might be a little blander than usual.
"A really good defense, great at guarding against the run and a really good challenge for us," he said. "This is like coach-speak day, I want you to know that."
USC has one of the staunchest defenses in the Pac-12, and the Trojans are exceptionally good at stopping the run, allowing only 135.1 rushing yards per game (second in the conference). But the UCLA running game is an area where Mazzone feels confident at this point in the season. Running backs coach, former Trojan Kennedy Polamalu, has improved more than just the rushing numbers, but there has been better pass blocking and intangible strides as well.
"I think he brings a certain amount of toughness to that group," Mazzone said. "I think if you kind of take a snapshot of where we are right now offensively, I think you're really starting to see improvements in how much better our pass protection has improved every week."
The Trojans' secondary and their Pac-12-leading 11 interceptions is of particular concern to UCLA, but there's one player that Mazzone isn't too concerned about: cornerback Josh Shaw. Reinstated or not, Mazzone isn't focused on one singular defensive back.
"I'm more concerned with what my guys are doing," he said.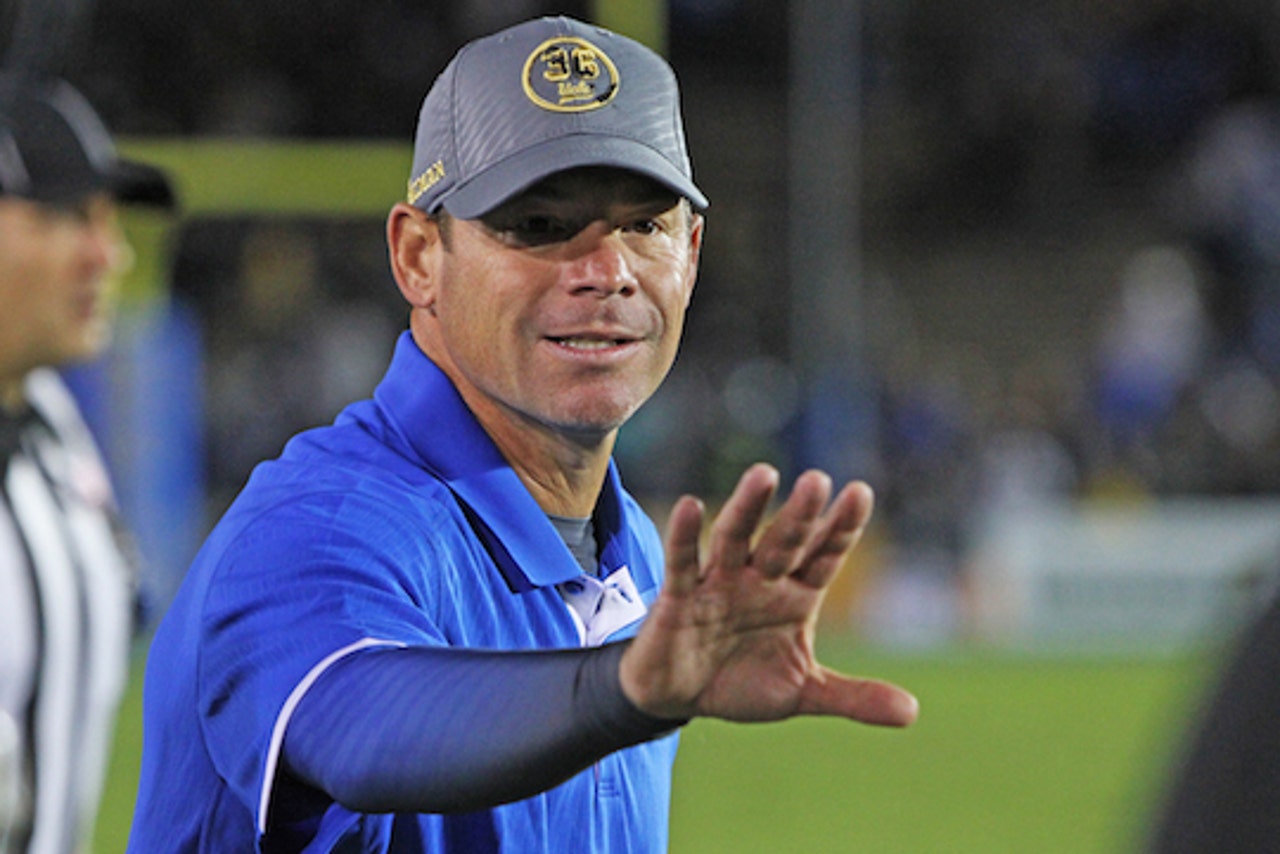 Mora: UCLA not listening 'to the noise' as important stretch begins
Ulbrich: Carrying on the tradition of efficient USC passers, quarterback Cody Kessler is more than capable of lighting up the scoreboard and throwing for big numbers. Ulbrich was impressed with how quickly Kessler gets the ball out of his hand, but it's the running game that the Ulbrich was more focused on stopping.
"He gets the ball out quickly, he reads the defense and gets the ball out," Ulbrich said. "But at the same time, they've been effective at running the ball. And even when they're not effective at running the ball, they're committed to the run game. Whenever you get a team committed to the running game that way, the play action is always valuable and you always have to respect it."
The use of play action can slow down the pass rush, creating an increased emphasis on stopping the run that USC values so much.
"We've got to stop the run if we want to earn the right to rush this passer and get after it," Ulbrich said. 
Stopping the run starts with stopping Buck Allen. Ulbrich is preaching staying disciplined in gap coverage and fundamental tackling.  
"He's a Sunday running back," Ulbrich said. "What's unique about him that we see every week is his patience. He's a guy that's really going to let his offensive line get their blocks and he's going to set their blocks up and he's going to allow his guys up front to work. A lot of times, you see younger backs a little impatient. They're just going to put their head down and try to get what they get, but he's got patience and he's got vision."
Don't expect much emotion out of the Bruins until game time, but it's Ulbrich's first rivalry game as a coordinator, and he's admittedly excited to go up against USC's hybrid offense.
"We haven't seen it anywhere else and I don't know if it even exists," he said. "You can see it's kind of the melding of the minds over there. You've got some guys with some pro-style influence in their background and you've got some guys that have been exposed to the spread stuff and tempo stuff and they're kind of grabbing the best of both. It's a good offense."
---