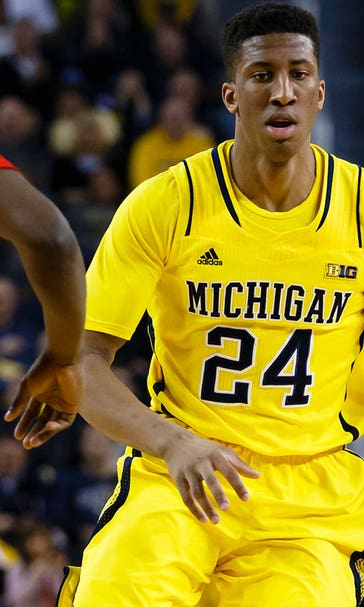 U-M ends 'What might have been?' season with win at Rutgers
March 7, 2015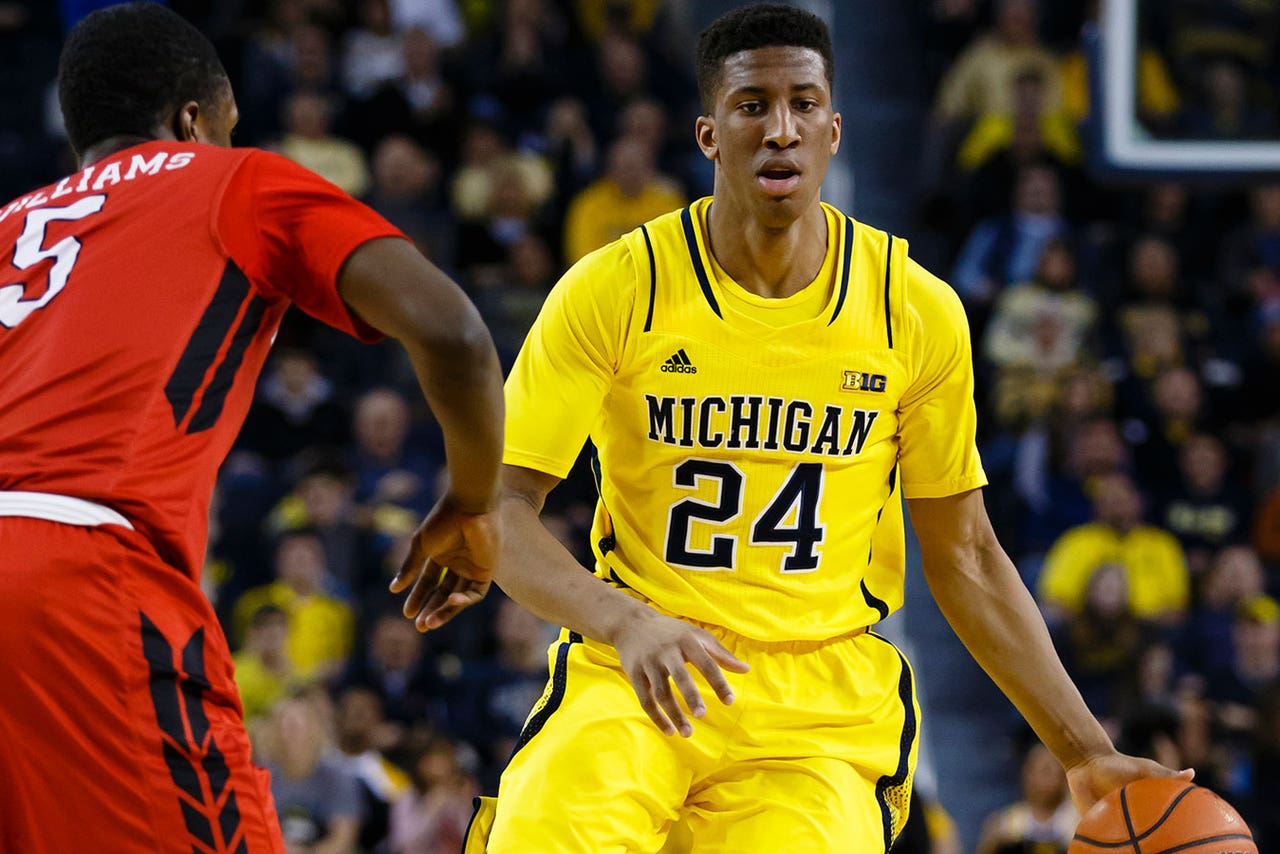 ANN ARBOR, Mich. -- It isn't hard to imagine a very different scenario for this season's Michigan Wolverines.
After Saturday's 79-69 victory over last-place Rutgers, the Wolverines are headed to the Big Ten tournament as the ninth seed, and they have almost no chance to make it into the NCAA tourney.
"That was a unique game at the end of a unique year," coach John Beilein said after his team won by double digits despite giving up a 19-0 run to end the game.
Keep a few guys in school, though, and Saturday could have been the coronation of another Big Ten regular-season championship team, with a third straight deep postseason run on tap. That's the world where Trey Burke was honored on Senior Day and joined in the starting lineup by Mitch McGary, Glenn Robinson III, Nik Stauskas and Caris LeVert.
When Beilein needed to go to the bench, he'd have Derrick Walton Jr. and Jon Horford ready to go. That's a roster that could contend for the national championship that it narrowly missed two years ago.
But not one of those seven players took the floor in Saturday's regular-season finale. Burke, McGary and Stauskas are in the NBA, and Robinson is looking for a job after being released by Minnesota. Horford is starting at Florida, while Walton and LeVert are still in Ann Arbor but sidelined by injuries.
Instead, Michigan started Max Bielfeldt -- the team's only senior -- Spike Albrecht, Muhammad Ali Abdur-Rahkman, Zak Irvin and Aubrey Dawkins. The win means a 15-15 regular season for the Wolverines, including an 8-10 mark in conference play. Barring a shocking run in the Big Ten tournament, Michigan is looking at an NIT bid at best.
"We haven't even talked about the NIT," Beilein insisted. "We know they will take the most deserving teams after the NCAA field is filled out."
The Wolverines probably aren't facing an extended rebuilding process. All of Saturday's starters will be back next season, with even Bielfeldt considering returning as a fifth-year senior, and Walton and LeVert will be healthy.
Start with LeVert, who might have been on his way to the NBA if he had stayed healthy this season and will be a serious contender for Big Ten Player of the Year. Add Dawkins, who tapped into his huge potential for a 31-point game against Rutgers that included eight 3-pointers.
"I've had guys hit seven before, but that's amazing to see a guy knock down eight like that," Beilein said. "He's unlocking his potential, and that's what he needs to make the next step forward."
Beilein will also have an experienced point guard in Walton, a scorer in Irvin and three shooters in Abdur-Rahkman, Kam Chatman and Spike Albrecht. That's a contending roster, even before you consider the expected improvement from freshmen big men Ricky Doyle and Mark Donnal.
Are they ready for a postseason run right now? No, almost certainly not. Without Walton and LeVert, they aren't consistent enough on offense. Even against the hapless Scarlet Knights, Michigan failed to score in the final 7:09 of the game, allowing Rutgers to cut the deficit from 29 to 10.
Granted, much of the stretch saw Michigan playing backups, including freshmen Ryan Kapustka and Jon Rubenstein, who started the season as managers but were drafted as practice players when the injuries started piling up. Saturday, they got a reward, playing the final 55 seconds alongside Austin Hatch.
The Wolverines have had long offensive droughts throughout the second half of the season, and that's not likely to change at the Big Ten tournament in Chicago. Next year, though, could be a different story.
"It is hard for me, but I'm trying not to spend too much time looking in the rear-view mirror," Beilein said. "This is a time where we need to focus on the future."
---