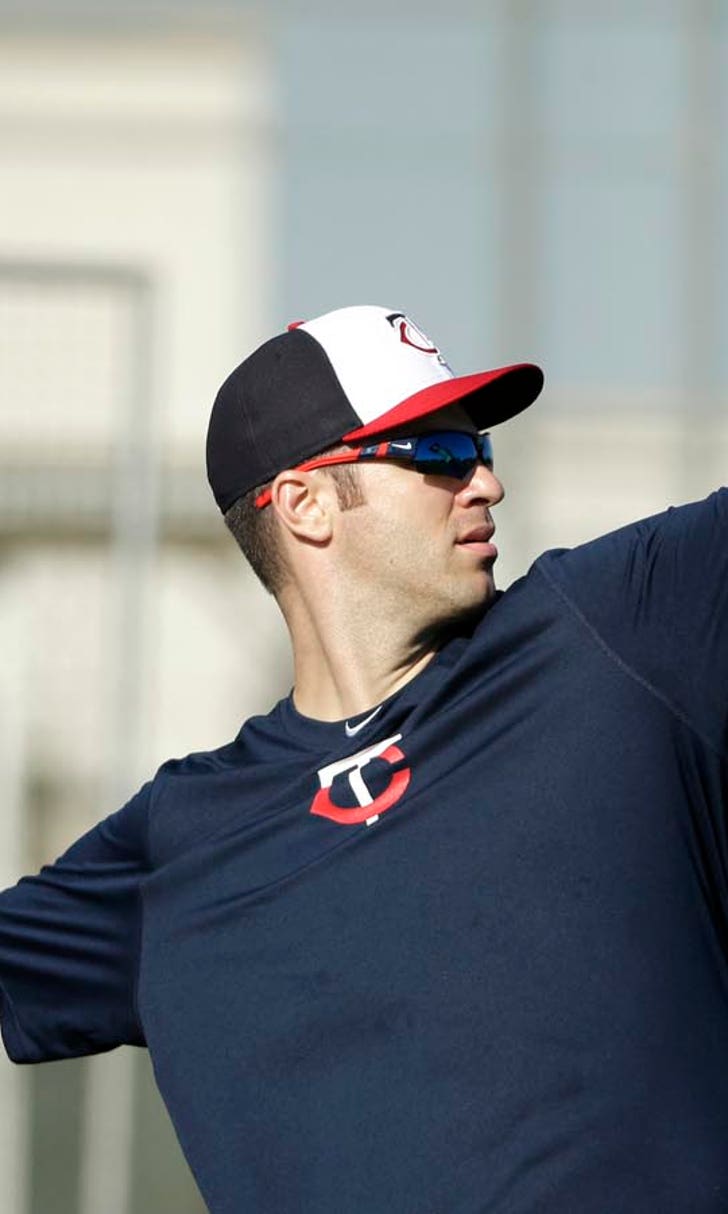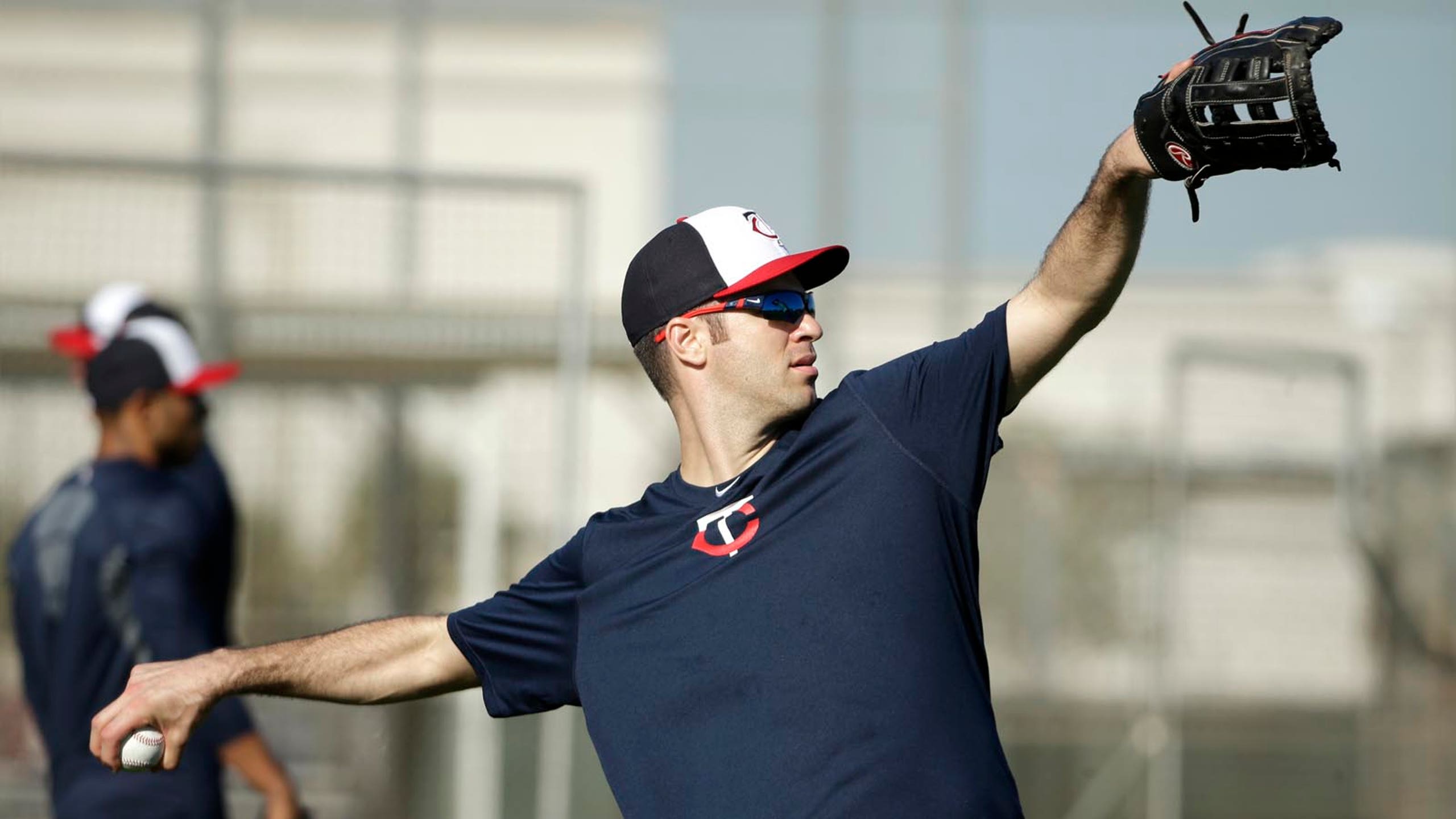 Twins' Mauer eager to try hand as full-time first baseman
BY foxsports • March 13, 2014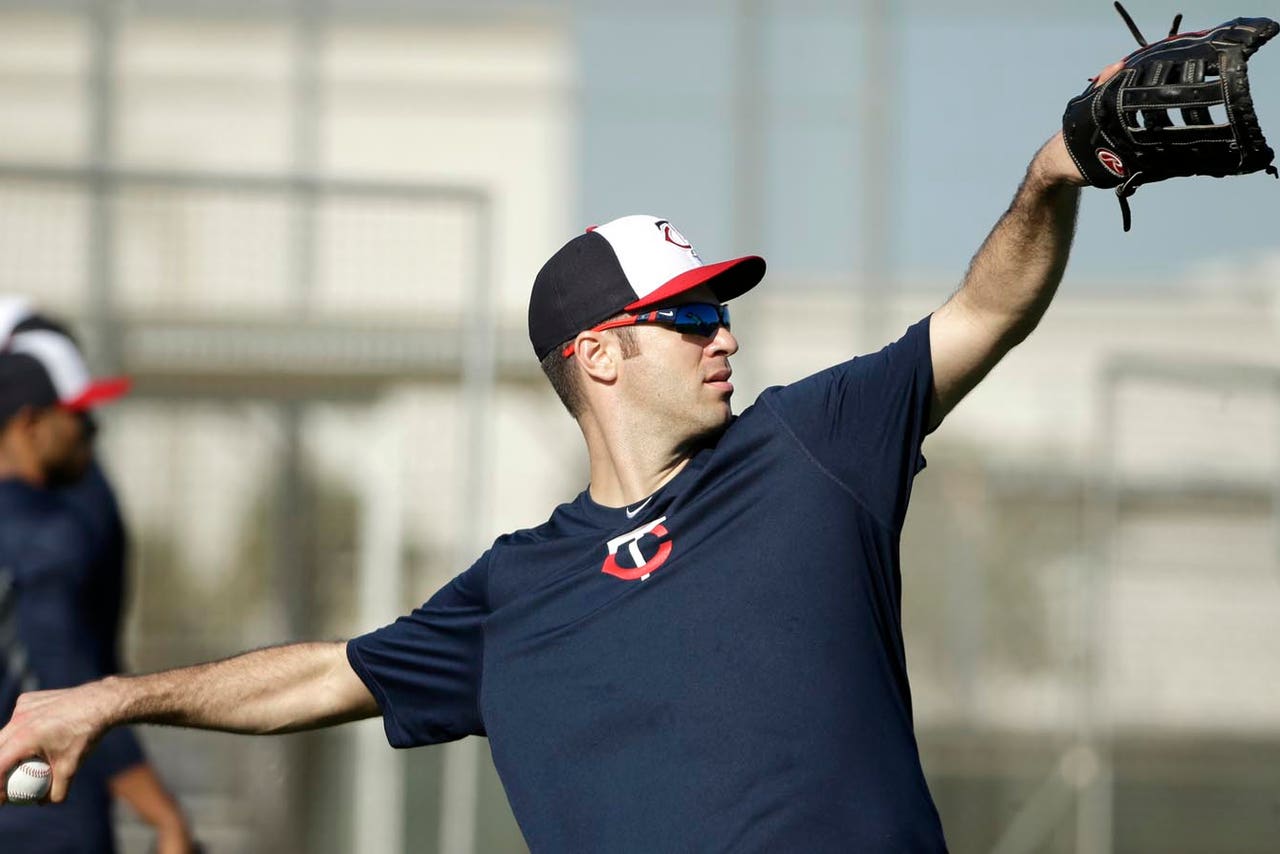 FORT MYERS, Fla. -- Joe Mauer can finally eat lunch.
Consider it just one perk of Mauer's position change from catcher to first base, a decision that was made this offseason to keep the face of the Minnesota Twins franchise healthy and in the lineup. Now that Mauer doesn't have to deal with the daily rigors of catching and the extra work that goes into it before games, the former MVP has time to relax a bit before the Twins take the field for spring training games at 1 p.m. ET.
"It's the first time in a long time at spring training that he's actually got to go in at lunch time and have lunch, because catchers are always out doing something," said Twins manager Ron Gardenhire. "There's actually food in the lunch room, and I think he likes that. Believe me, he's a happy guy. He's been smiling."
Mauer is smiling because his body feels better than it has in previous springs. His knees don't ache quite as much as they did during a decade of catching at the big-league level -- not to mention all the innings he caught as a standout at Cretin-Derham Hall in St. Paul, Minn., and as a minor leaguer in the Twins' system. Now as a first baseman, the 6-foot-5 Mauer isn't crouching down with every pitch. He's no longer at risk for a foul ball off the mask, much like the one that gave him a concussion and ended his 2013 season.
It took some time for him to process the fact that he was no longer Joe Mauer, Twins catcher. Joe Mauer, Twins first baseman still sounds odd, but the benefits of the move have already paid off.
"It's just been a different spring training," Mauer said earlier this month at Hammond Stadium. "My knees feel pretty good. It's still early in camp. It's a different type of soreness. Everybody goes through it. It doesn't really matter what you do in an offseason. You're going to be sore the first couple weeks."
Playing first base is not entirely new to Mauer, who spent some time there in each of the past three seasons as he filled in when his good friend Justin Morneau was out with injuries. Mauer has logged 56 career games at first base, including 54 starts. That pales in comparison to the 920 games he caught for Minnesota since his debut in 2004, but it was enough of a sample size to give the Twins some assurance that Mauer was going to be able to handle the move just fine.
So far this spring, he hasn't given anyone a reason to think otherwise.
"He's such a good athlete that I think he'll be a well above-average defensive first baseman," said Rob Antony, the Twins' assistant general manager. "I still truly believe that the wear and tear that he's not going to have to go through and all the treatment and all the time in the trainers' room just to get himself able to play in games is going to allow him to focus more on preparing to hit and to play the game and to be successful. I honestly believe you'll see a spike in his offense."
Mauer's value over the last 10 years came in large part because he could do things offensively that no other catcher in baseball could do. He became the first American League catcher to win a batting title when he hit .347 in 2006 -- and he went on to win two more in 2008 and 2009. That 2009 season was also the year he was crowned as the AL MVP thanks in part to a career-high 28 home runs despite missing the first month of the season.
While Mauer hasn't produced the same home run totals since 2009, he's continued to be an on-base machine for Minnesota. In 2013 he finished second in the AL batting race, with his .324 average falling short of Miguel Cabrera's robust .348. Mauer's 35 doubles last year were the third-most in his career. And though he drove in just 47 runs -- more so an indictment of those ahead of him in the lineup -- Mauer's OPS (on-base plus slugging) of .880 was the fourth-highest of his career.
The hope, as Antony alluded to, is that Mauer's numbers could be even better when he remains healthy and in the lineup on a more regular basis.
"I'd like to be out there every day. That's the goal," said Mauer, a six-time All-Star. "Whether it's first or maybe at DH, I'd like to be out there every day."
Mauer still has the same locker in the Hammond Stadium clubhouse that he's had for years. Mauer's locker stall now marks the shift from the row of catchers to a row of infielders. On one side is new Twins catcher Kurt Suzuki. Minor league first baseman Kennys Vargas' locker was on the opposite side of Mauer's before Vargas was sent to minor-league camp.
It's clear Mauer still longs for some aspects of catching. He's had plenty of discussions already with Suzuki, who figures to be the Twins' starting catcher on Opening Day. Mauer admits he misses working with the pitching staff, and he backed up that claim by making two mound visits in one Grapefruit League game -- rare for a first baseman, but perhaps not as rare for a converted catcher.
In his first game this spring, Mauer was tested right away when former Twins catcher A.J. Pierzynski, now with Boston, hit a chopper to first base. Mauer made the routine play just like someone who had played that position his entire life. Anyone watching in the stands would have never known that the man in the No. 7 uniform had only manned that position for a handful of games.
"I told him the other day, I said, 'You look like you've got 10 years as a first baseman rather than catching,'" said second baseman Brian Dozier. "It's been good. He's very athletic, to say the least. We had for the past so many years with (Justin Morneau) over there, he's one of the best defensive first basemen in the game. But it's no different with him. He's athletic. He's got a lot of range. . . . He's done an exceptional job so far."
Follow Tyler Mason on Twitter
---