Turnovers too much for Ducks to overcome in loss to Blackhawks
BY foxsports • January 31, 2015
The Anaheim Ducks have suffered two straight losses only one other time this season: A back-to-back series at home against the Chicago Blackhawks and on the road at San Jose in late November.
Oddly enough, the Ducks crumbled in the Bay Area on Thursday night and returned home the next day and lost to Chicago. Funny how that works.
The Ducks lost a sense of their own game in 4-1 loss to Chicago on Friday night at the Honda Center, and the same could be said for the 6-3 loss to the Sharks the previous night. It was uncharacteristic, especially for a team that won six-straight games before the last two nights.
"The last two nights, we have played a style of hockey that is conducive to the other teams' success," Ducks defenseman Ben Lovejoy said. "Both of those teams forced us to play their style of hockey. We can't do that against teams like that."
Cute doesn't cut it against Chicago. Instead of playing technical, physical hockey against one of the speediest and most skilled teams in the league, the Ducks were trying to dazzle.
"When you're going to make long passes against this team, you're looking to be in trouble," Ducks coach Bruce Boudreau said. "They were just picking them off in the neutral zone and going the other way."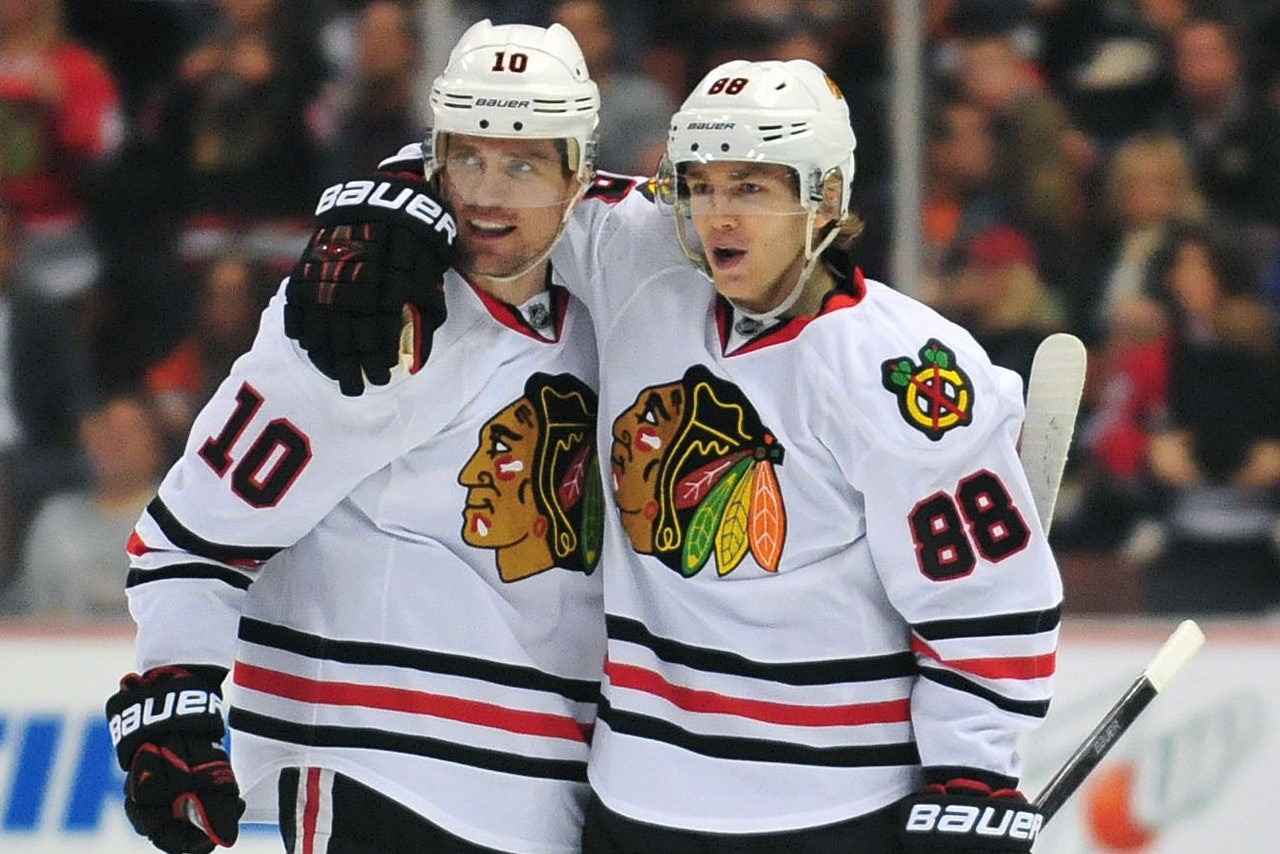 RECAP: Kane, Sharp lead Blackhawks to 4-1 rout of Ducks
Chicago had 13 takeaways, most of which came in the neutral zone, and kept the puck in their own zone, outshooting Anaheim 33-22.
"It all came down to puck management," Lovejoy said. "We tried to force far too many things through the neutral zone. We tried to make far too many plays, rather than play a simple style. Chicago thrives off fancy, quick-strike offenses. That's not how we're successful."
Anaheim won its first matchup Oct. 28 against the Blackhawks this season by effectively taking away the transition game. The game plan was to take what was successful at the United Center and utilize that in Anaheim, but they failed to execute.
It unraveled after the second goal of the game, a rocket by Duncan Keith in the second period, wasn't taken off the board. An untouched Jonathan Toews lost his footing and fell back on to Ducks goaltender Frederik Andersen, leaving a lot of net for Keith to hit. But the officials insisted that he was pushed and the Blackhawks went up 2-0.
This team has a history of being able to respond when knocked down, but when Patrick Kane scored the first of his two goals about six minutes later, the Ducks couldn't get up. 
Anaheim seems to have momentarily lost its identity the last two nights, and it's a theme that has emerged against two Western Conference powers.
"It makes it harder to cope with when you're talking about two great teams that you've got to go through to win a Stanley Cup," Ducks captain Ryan Getzlaf said. "We've played throughout the year and responded a lot better than we have these last two games."
"Right now, they think they can beat us whenever they play us," Lovejoy said. "That's definitely a concern."
The Ducks don't often lose -- especially not in regulation -- but when they have, it's been because of a complete collapse. In their 12 regulation losses, they've lost by an average of 2.8 goals.
But then again, 12 regulation losses is the second-fewest in hockey. There is concern over how the Ducks have played in the last two games but any panic isn't necessary. The Ducks still lead the league with 70 points and the last time Boudreau checked, that's not too bad.
"We've lost the season series against Chicago and San Jose. Those are the only two teams we've lost a season series against and we know we have to be better," Boudreau said. "But let's not talk like we're friggin' Buffalo."
---