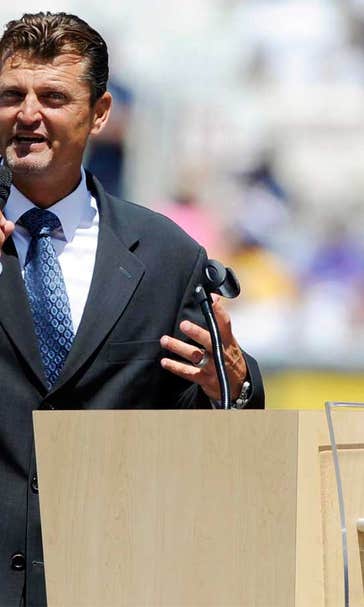 Trevor Hoffman to be inducted into Padres Hall of Fame on Sat., Aug. 30
August 4, 2014

SAN DIEGO - The San Diego Padres today announced Trevor Hoffman will be inducted into the Padres Hall of Fame on Saturday, August 30, prior to the 5:40 p.m. Padres game vs. the Los Angeles Dodgers. The San Diego Padres Hall of Fame committee, comprised of members of the local sports media and San Diego Padres front office, voted unanimously to induct Hoffman, who retired in January 2011, following a playing career that spanned 18 seasons, including parts of 16 years with San Diego. He will be the ninth person to be inducted into the Padres Hall of Fame, joining Buzzie Bavasi, Nate Colbert, Jerry Coleman, Tony Gwynn, Randy Jones, Ray Kroc, Dick Williams and Dave Winfield.
"I'm thrilled to be inducted into the Padres Hall of Fame," said Hoffman. "To be able to join a group of people whose contributions have not only shaped our organization, but also strengthened the game of baseball, is an honor."
Hoffman, who now serves as the Padres' upper-level pitching coordinator, retired as Major League Baseball's all-time saves leader with 601 in 677 opportunities, a 61-75 record, 2.87 ERA (347 ER/1089.1 IP), .211 opponent batting average and 1,133 strikeouts in 1,035 relief appearances.  The seven-time all-star (1998, 99, 2000, 02, 06, 07, 09) also finished in the top 10 in Cy Young voting (1996, 98, 99, 2006) and in the top 25 in Most Valuable Player voting (1996, 98, 2005, 06) on four occasions each.
Over his 16 seasons with San Diego, Hoffman compiled a 54-64 record with 552 saves in 618 opportunities (.893 save percentage), a 2.76 ERA (292 ER/952.1 IP), .211 opponent batting average and 1,029 strikeouts in 902 relief appearances.
"Trevor means so much to this organization. His profound impact for more than two decades - on the field, in the community and now in the front office - has been monumental," said Padres President and CEO Mike Dee. "Trevor's induction into the Padres Hall of Fame has been a long time coming and is the latest recognition of what he has meant to Padres fans and the San Diego community.  It's also part of a renewed organizational focus on the Hall of Fame, which includes plans to relocate and re-vamp the Hall of Fame exhibit at the ballpark in the near future."
Originally signed as a shortstop by the Cincinnati Reds out of the 1989 First-Year Player Draft, Hoffman was then selected by the Marlins in the 1992 Expansion Draft and made his Big League debut with Florida in 1993.  He was acquired by the San Diego Padres along with right-handed pitchers Jose Martinez and Andres Berumen in exchange for infielder Gary Sheffield and left-handed pitcher Rich Rodriguez on June 24, 1993 and made his Padres debut the next day.
A California native and San Diego resident, Hoffman has been heavily involved in the local community since joining the Padres in 1993.  He has worked extensively with the National Kidney Foundation and Rady Children's Hospital, while also donating his time and resources to the Padres Scholars program, the San Diego Family Justice Center and numerous military outreach programs.  Hoffman was named the local recipient of the Roberto Clemente Award on six occasions and was honored with both the Lou Gehrig Award and Teammates for Kids Award in 2006.  In addition, he received the Hutch Award in 2005 and was named the 1999 recipient of the Padres Chairman's Award.
---