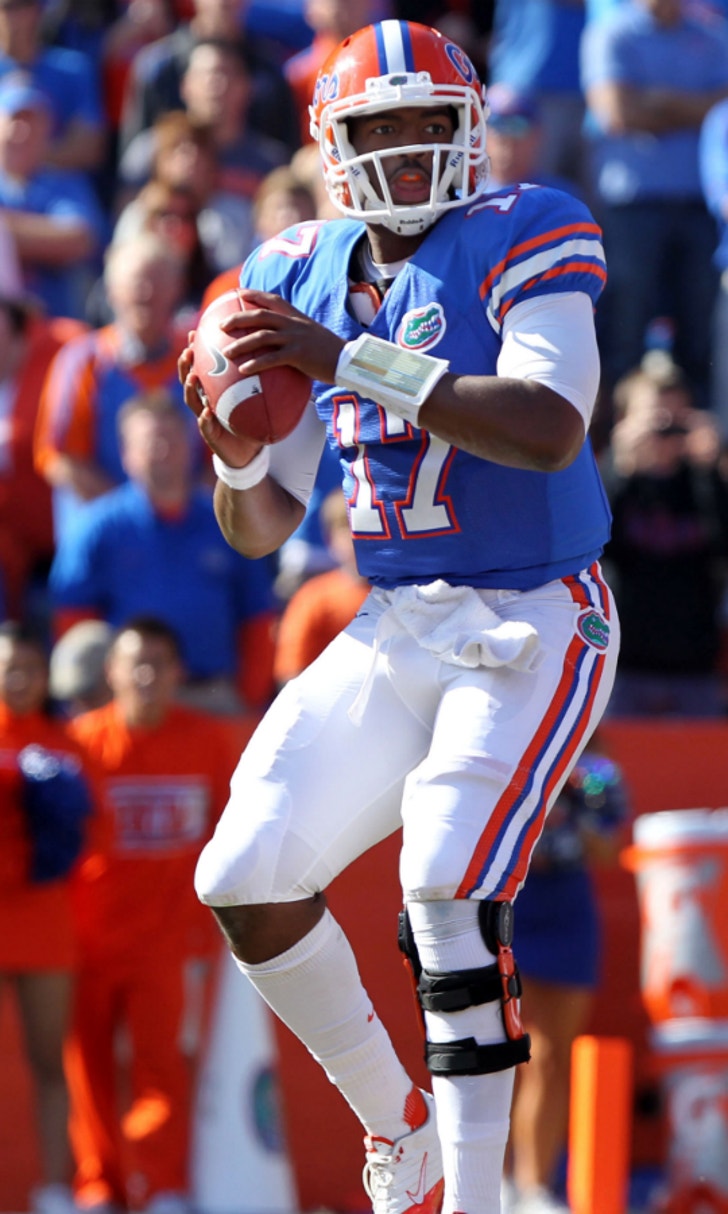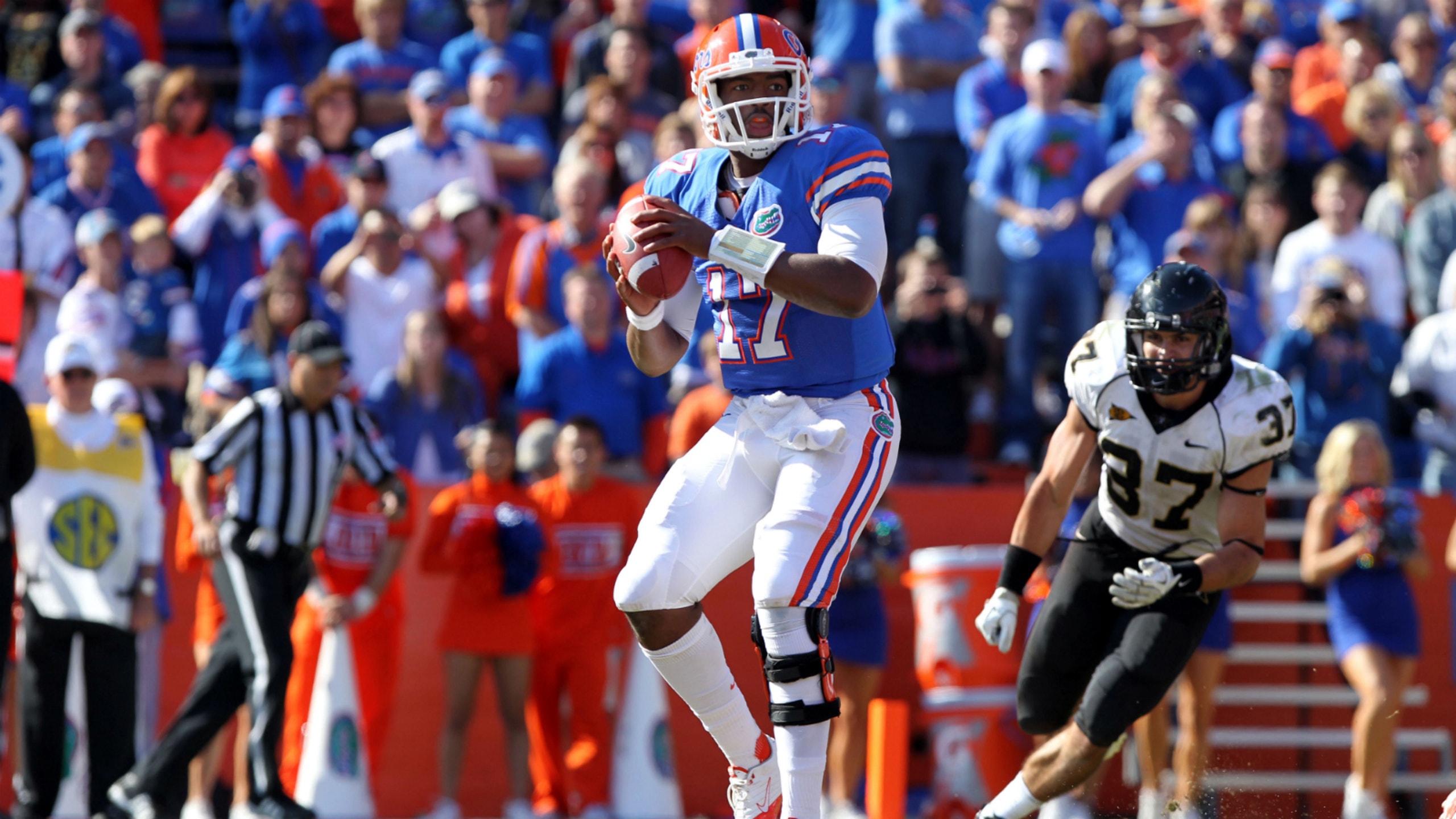 Transfer QB Jacoby Brissett ready to star for N.C. State
BY foxsports • August 11, 2014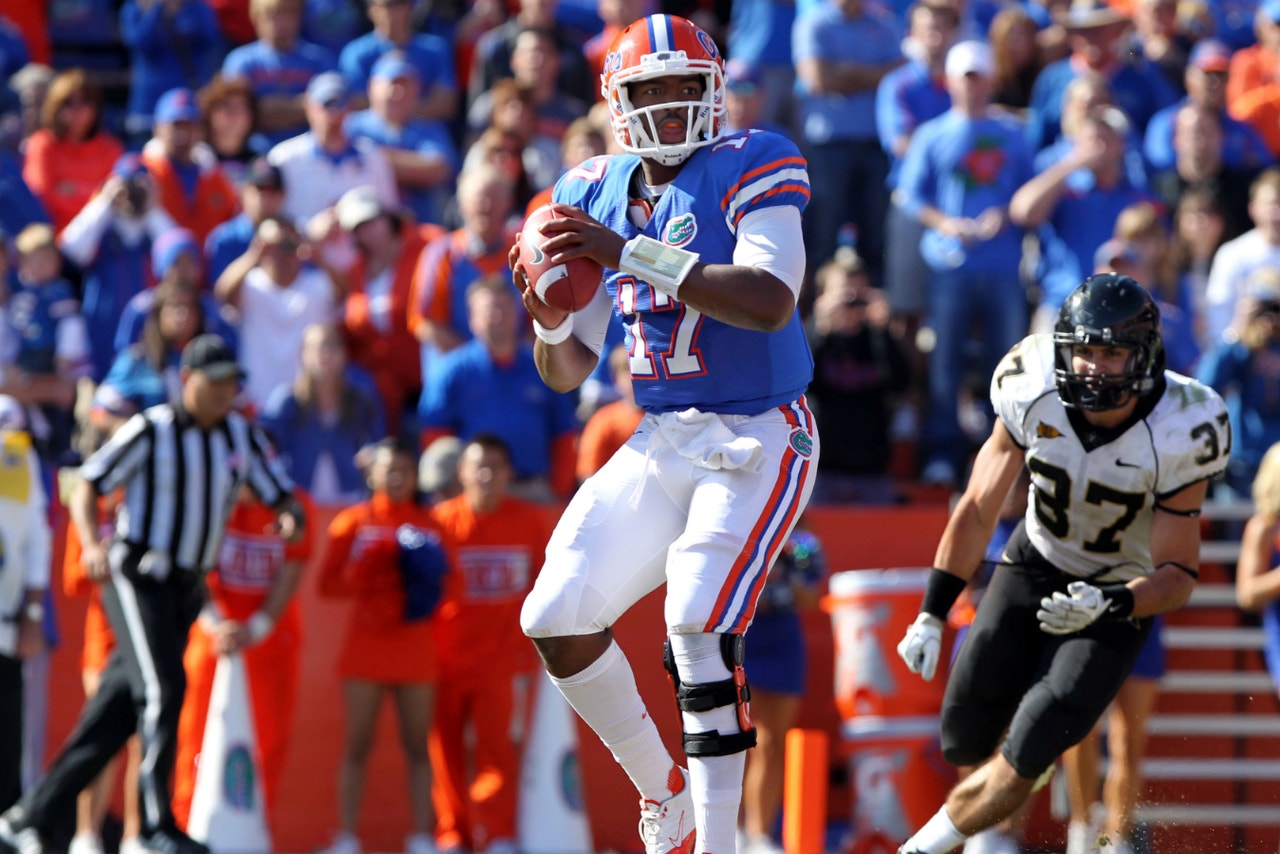 RALEIGH, N.C. -- After playing in nine games over a total of two years at Florida, Jacoby Brissett thought it was his time. The Florida coaching staff apparently had other ideas.
Brissett was forced into starting duty as a true freshman in 2011 when Gators starter John Brantley went out, but he never really received a good chance to show what he could do to unseat teammate Jeff Driskel under center in 2012. He started the season opener that year but played just 11 snaps to Driskel's 52. He never got much more of a shot at beating Driskel out for the job after that, and Florida head coach Will Muschamp announced in November 2012 that Driskel would be the starter in 2013.
Brissett felt like he was capable of being a starting quarterback at this level, so he decided to transfer the following January.
As he sat on his bed in Gainesville after the transfer process was complete and he settled on N.C. State, his mind raced.
"I just said, 'I've got to just make it work. I transferred for a reason,'" Brissett said. "I just had to make sure it was evident why I should have been playing."
He felt like he'd already grown up beyond his years, thrust into action as a freshman before he was truly ready when he wasn't supposed to play. So he vowed that he'd make it work. Even though he knew he'd have to sit out the 2013 season, there was no acclimation process for him or a time for transition.
He wanted it to be his team right away.
From the moment spring ball began in 2013 in Raleigh, his teammates took to him immediately. Head coach Dave Doeren, then in his first spring in Raleigh, too, raved about Brissett from the start.
"I feel like the transfer process made me grow up a lot because at the end of the day, I left somewhere where I knew everybody, knew everything, knew where everything was and I had to just take a bag and go and wherever I landed, just make it work," Brissett said. "The team and the coaches and the people around just made me so welcome that it went through smoothly. I'm happy."
He was frustrated that he had to sit out the 2013 season, but only because of how ready he felt like he was to play and be the guy for the Wolfpack. That frustration, presumably, must have mounted when he saw N.C. State's passing game struggle (quarterbacks Pete Thomas and Brandon Mitchell rotated and neither was very successful).
However, Brissett says it wasn't really frustrating at all.
"I tried to just have a positive outlook for the team. I'm on the sideline, and it was never about what I wanted to do or me being selfish. It was just me, just, I'm having fun," Brissett said. "This is what I love to do. I want to see my teammates succeed, no matter who it is, who we're playing against or any outcome or anything."
Considering how much quarterback problems contributed to last season's 3-9 record -- not to mention the rave reviews of Brissett for the last two years -- anticipation has built in the fan base, and the Wolfpack faithful are ready to see what Brissett can do.
He rolled his eyes at the mere mention of being the 2014 Wolfpack's so-called savior, though.
"It gets old talking about that. The players obviously, they hear about it and joke about it as well. But it's been players stepping up left and right, every day in camp throughout, making plays and it's pretty much making my job a lot easier," Brissett said. "It's just giving me the comfortability knowing that I have outlets that will do everything that I want them to do, what we want them to do, to just make us better."
It didn't help the hype that Brissett sparkled in the spring game in April, completing 24-of-37 passes for 365 yards and two touchdowns. He played a bit in the 2012 spring game as well, but the glimpses weren't enough. This time, he had ample opportunity to show what he could do, and if the spring is any indication, he'll be a huge boost to the N.C. State offense.
But, as both Brissett and Doeren will tell you, it's a team game. And Brissett can only do so much on his own.
"It's nice to have a guy like Jacoby back there, but it's not his job to make all the plays. The linemen have to protect him. The quarterback distributes the football and it's those players' jobs to make plays," Doeren said. "I do think there's better skill and depth. We did not have that last year.
"So we feel a lot better just about the depth that we have at those positions to help Jacoby because he can't do it by himself, and I'm not going to ask him to. I think that's the biggest thing. Our team understands -- it's a game where 11 people have to do their jobs on every single play."
And N.C. State's skill-position players are a year older, and better. Plus, there are some new faces like freshman wide receiver Bo Hines, who caught 10 passes for 132 yards in the spring game from Brissett.
"He's a true leader. He does the work off the field that he needs to be successful and he really has taken over our team. He's led us in the right direction. He's pointing us in the way that we have to go to win," Hines said. "And he's really playing well on the field too, so that's obviously a huge part of it. He's taking control of the offense. He's playing great right now, so I believe he's going to exceed every expectation."
While teammates do tease Brissett a bit about so many expectations being placed at his feet, Hines said that Brissett doesn't seem to feel any sort of pressure.
"I think he's a pretty even-keeled guy," Hines said. "If you know Jacoby well, he doesn't have a big head or anything like that. He just always stays on a level course and plays his game."
It also helps that it's Year 2 under Doeren, and installing the offense has become a much simpler process, particularly -- as Doeren said -- with the new NCAA legislation that allows coaches to meet with their players a few hours a week in the summer.
"We didn't have a single procedural penalty in the scrimmage (last) Saturday, not one. For the guys to know the offense that well to be able to line up and play, compared to last year, there was probably 15 (procedural penalties). Receivers just didn't know where to go, am I on, am I off, it's a lot better from that standpoint," Doeren said.
It's been nearly three years now since Brissett had meaningful snaps in a college football game. He knows he's the guy, though. He has that security. But he's been aching to prove himself for a long time now, and he'll finally have his chance.
N.C. State is a lot more talented, and a year older at some important positions, particularly at receiver. But the offensive line still has depth concerns and the running game is a question mark. Oh, and the Wolfpack are still in the Atlantic Division, which means that they'll have to face Florida State and Clemson this year. Nothing will be easy.
But after last season -- and even during last season, frankly, when the losses started to pile up, and during all the hard times he had at Florida -- Brissett knows that this too shall pass.
"At the end of the day, you know it's better days to come," Brissett said. "Nothing stays awful forever."
---