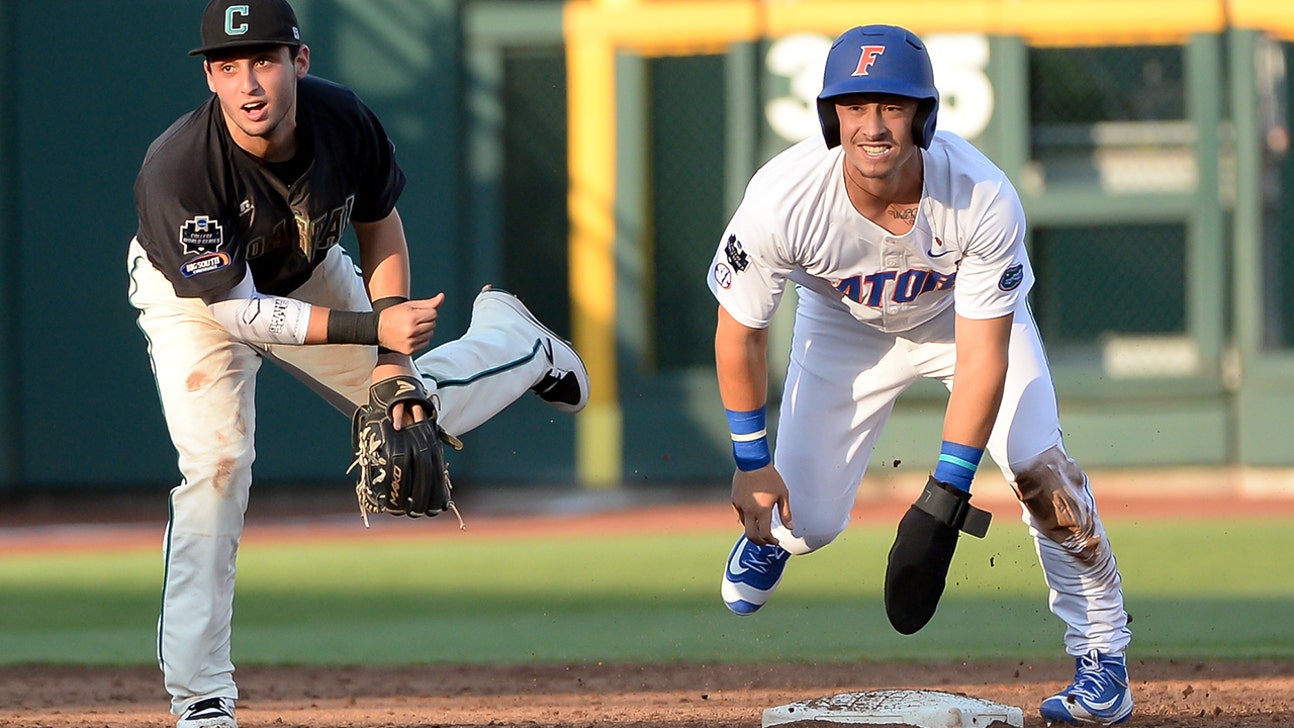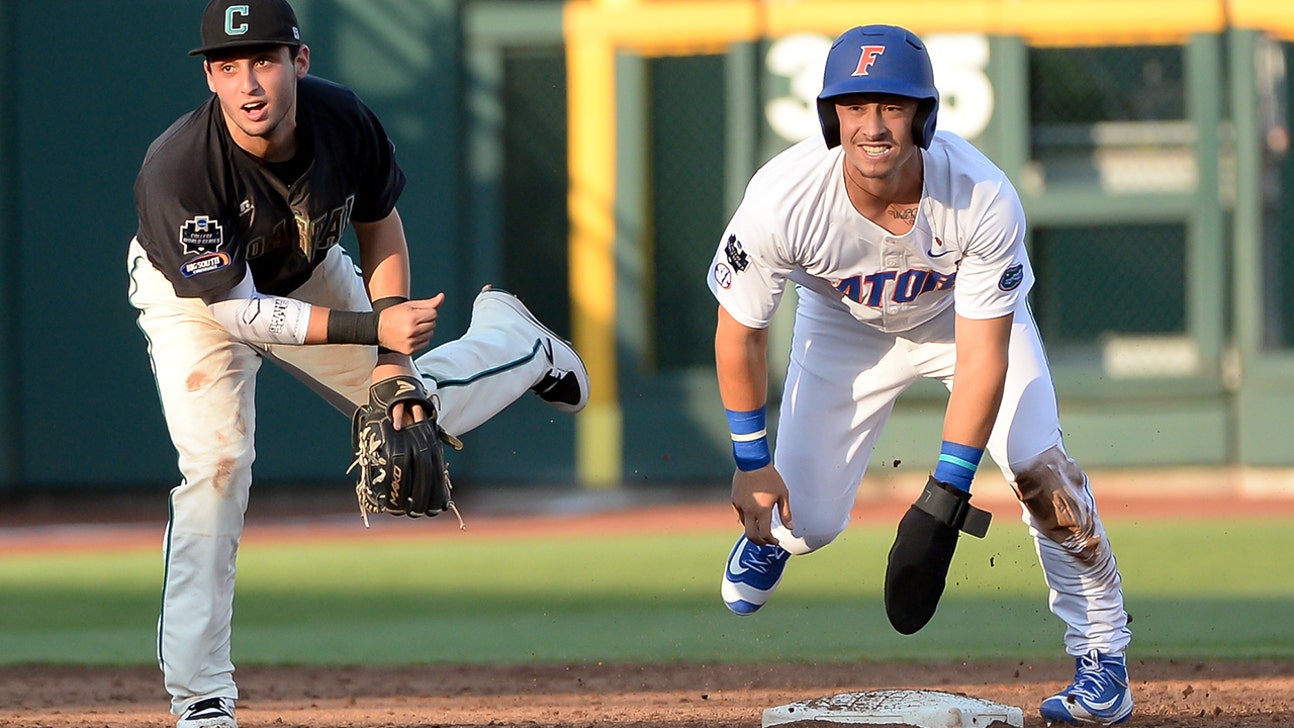 Top-seeded Florida falls to Coastal Carolina in CWS opener
Published
Jun. 19, 2016 11:45 p.m. ET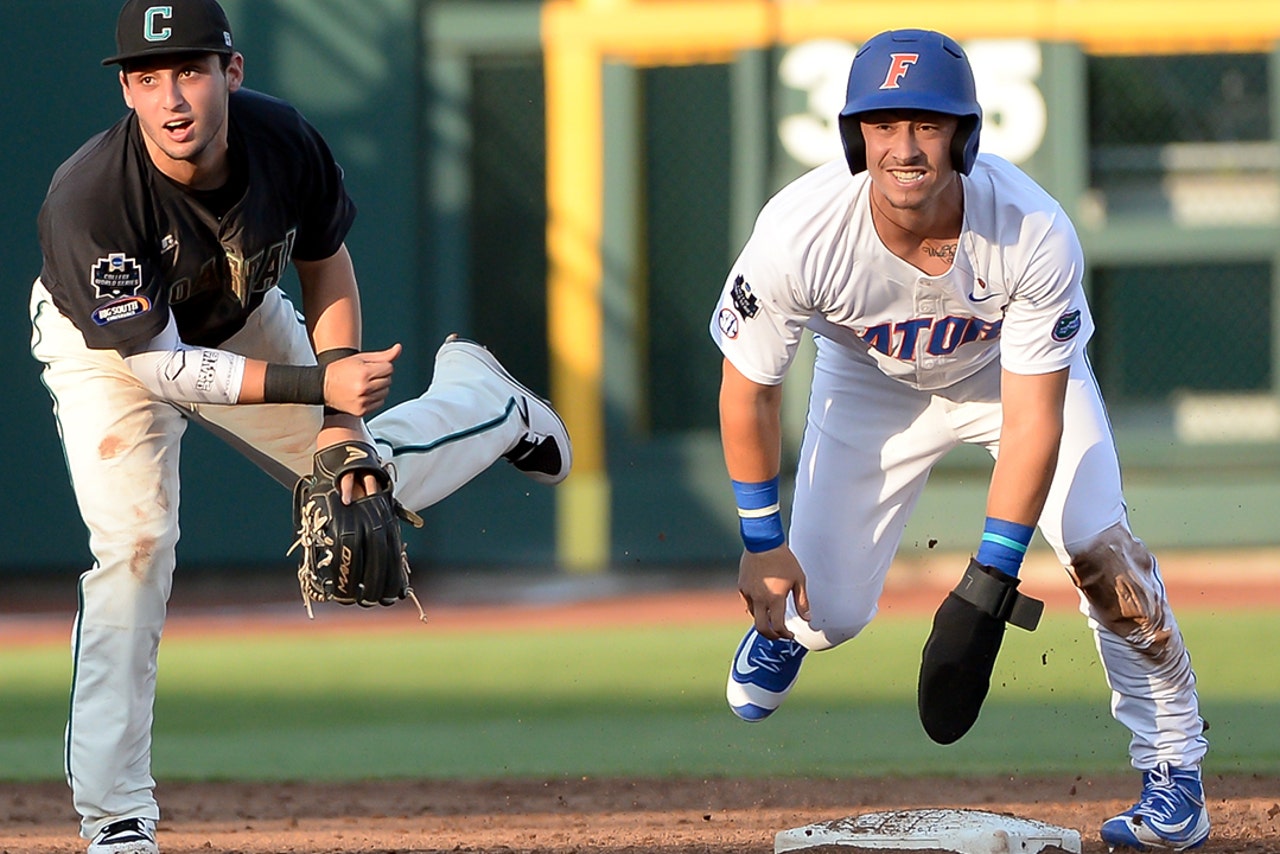 OMAHA, Neb. (AP) -- No. 1 seed Florida sent to the mound two first-round picks, a second-rounder, third-rounder and 10th-rounder against Coastal Carolina on Sunday night.
None was nearly as good as the never-drafted Andrew Beckwith.
Confounding the Gators with his submarine, sidearm and overhand deliveries and even a curveball he said he found in his "back pocket" in pregame warmups, Beckwith was the shiniest of all the stars at TD Ameritrade Park in the Chanticleers' 2-1 victory -- their program's first College World Series game.
"Everything was working tonight," Beckwith said.
Yes, it was.
"Like I've said all yearlong, he's the best bullpen guy in the country, and he keeps proving me wrong," Coastal Carolina coach Gary Gilmore said. "He's a legit starter. To change arm angles and command the ball the way he does... He's a unique guy."
The biggest victory in Coastal Carolina's history came in the third stage of its incredible postseason run. The Chanticleers beat host North Carolina State in the regional final and swept No. 8 national seed LSU on the road in super regionals to advance to Omaha.
"We're basically trying to do this for coach Gilmore," Beckwith said. "We got him to Omaha, but our job's not done."
The Chanticleers (50-16) have won 39 of their last 47 games and show no signs of slowing down.
"We're going to go out there and give it all we have and not worry about who is on the other side, whether they're more talented than us or not," said Zach Remillard, who doubled and tripled in the Chanticleers' runs.
The Gators (52-15) came to Omaha favored to win their program's first national title. Now they're in survival mode. A No. 1 national seed hasn't won the championship since Miami in 1999, the first year of the current tournament format.
"There are a lot of people disappointed. I'm disappointed, to be honest with you," Gators coach Kevin O'Sullivan said. "This is a really good team. We just ran across a guy who was really good tonight."
Beckwith pitched the first complete game of his career, and needed only 98 pitches to do it.
"The Gators' only run off Beckwith (13-1) came on Jeremy Vasquez's pinch single in the fifth. Beckwith allowed two singles the rest of the way and retired the last 10 batters in the first complete game of his career.
He set down the Gators' 3-4-5 batters in the bottom of the ninth. Peter Alonso popped out and JJ Schwarz grounded out. That prompted the Chanticleers' fans to start chanting "C-C-U! C-C-U!" and "Let's go Coastal!" before Mike Rivera grounded out, with shortstop Michael Paez double-pumping on his throw to first.
The Chanticleers got to Florida starter Logan Shore (12-1) for five hits -- two triples and three doubles. The Oakland Athletics' second-round draft pick left with none out in the sixth after Remillard's RBI triple past Buddy Reed in left center put the Chanticleers up 2-1.
"I thought they were pretty good," Shore said. "They put good swings on the ball when the ball was in the zone. My approach was good going into the game. It came down to executing a couple pitches, and I didn't execute them."
CWS' FIRST VIDEO REVIEW
Coastal Carolina opened the scoring in the third inning after a video review overturned a foul-ball call. With runners on first and second, Remillard launched a fly down the right-field line. First-base umpire Jeff Doy ruled the ball foul, but video showed the ball landed on the line. After umpires conferred for just over 4 minutes, they directed Anthony Marks to score from second and Connor Owings to go from first to third and Remillard to go to second.
BECKWITH BONANZA
Beckwith's previous long outing was 8 1/3 innings against Texas Southern on May 30, 2015. His 98 pitches were the fewest by any CWS pitcher to throw nine innings or more since 1981.
UP NEXT
Coastal Carolina will play TCU in a Bracket 2 winners' game Tuesday night. The Gators play an elimination game against Texas Tech that afternoon.
---