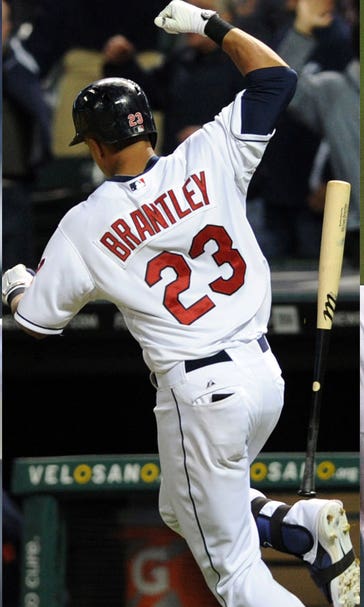 Top 10 highlights of the Tribe's first half
July 15, 2014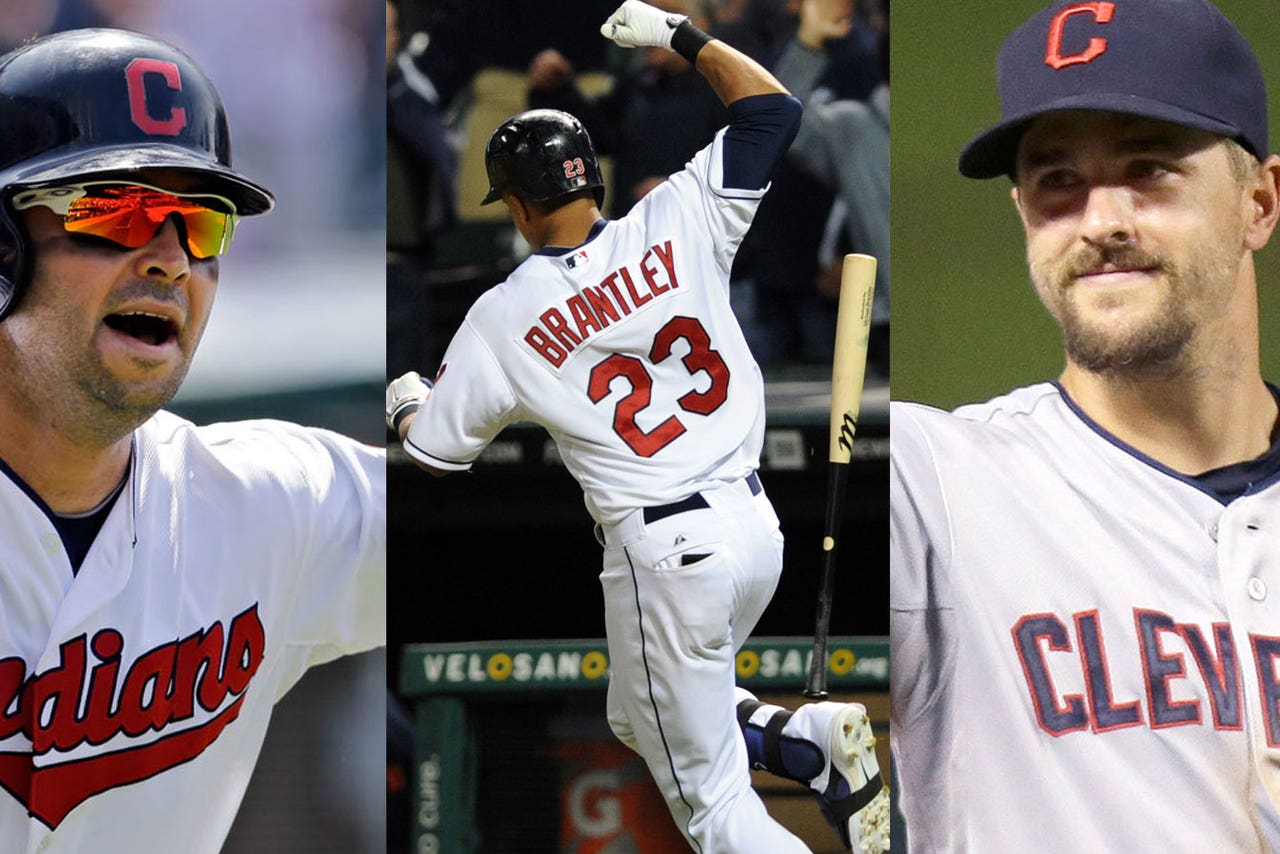 CLEVELAND -- After being swept at Chicago on May 28, the Indians found themselves six games under .500. They then swept the Rockies and Red Sox to get back even. For the past five weeks, they have found themselves from two over to two under the .500 mark.
As the Tribe enjoys the All-Star Break, they are 47-47 and open the second half with an 11-game road trip to Detroit, Minnesota and Kansas City. Before that though, here are some of the highlights from the first half of the season:
10) King George -- George Kottaras became the first player in club history to hit a home run in each of his first two plate appearances with the team in a May 4 loss to the White Sox. Kottaras, who was signed on April 3 and called up a month later, hit a solo shot to the White Sox bullpen in the third and then had another one to right in the fourth. Kottaras became the first major leaguer to homer in each of his first two appearances with his given club since Jeremy Giambi of the Phillies on May 25, 2002, at Montreal.
9) Clutch Debut from T-Plush -- Nyjer Morgan was 0 for 2 on Opening Night at Oakland but his ninth inning sacrifice fly scored Asdrubal Cabrera with the first run in a 2-0 win. In the Oakland 8th, Josh Donaldson hit a towering fly ball that appeared to be gone for a three-run homer, but it caromed off the wall in center and Morgan made a key relay throw to keep Daric Barton from tagging up at third. Morgan became just the fifth player to record a game-winning RBI on Opening Day in his first game wearing an Indians uniform.
8) Tomlin's One-Hitter -- Josh Tomlin's second career complete game in a 5-0 win at Seattle on June 28 was Cleveland's franchise's first complete game one-hitter since Billy Traber did it on July 8, 2003. The right-hander struck out a career-high 11 and walked none. According to the Elias Sports Bureau, it was only the third time where an Indians pitcher has faced one over the minimum in a complete-game shutout with 10 or more strikeouts. Len Barker's perfect game on May 15, 1981, against the Blue Jays and Dennis Eckersley's no-hitter on May 30, 1977, against the Angels were the others.
7) Powerful Debut for Perez -- Roberto Perez was called up on July 8 and two days later made his debut against the Yankees. On the seventh pitch of his fourth at-bat, he hit a 3-2 fastball from Jim Miller that hit the railing atop the left-field bleachers. Originally, umpires said it was a ground-rule double, but replay reversed it to give Perez his first home run. He is the 10th in club history to homer in his major-league debut and the first since Kevin Kouzmanoff on Sept. 2, 2006, at Texas.
6) Balk-Off, Walk-Off -- The Indians trailed the Tigers 10-9 going into the bottom of the 13th on May 21 but tied it with a Michael Brantley one-out single. With the bases loaded and 1-0 count to Ryan Raburn, Al Alburquerque balked in the winning run. According to STATS LLC, it is the first walk-off balk since July 4, 2011, when Kansas City's Aaron Crow did it against the White Sox. It is the first one in extra innings since June 16, 2011, when the Braves beat the Mets in the 11th on a balk by D.J. Carrasco. It also gave the Tribe a three-game sweep of Detroit.
5) Cabrera's Early-Morning Walk-Off -- Fans at the June 4 game against the Red Sox didn't get to see Johnny Manziel throw out the first pitch due to a 2-hour, 28-minute rain delay, but the fans that stuck around did see Asdrubal Cabrera hit a three-run walk-off homer at 2:02 a.m. in the 12th inning. With one out and runners on first and third, Boston had five infielders and no one in right. Cabrera was just looking to lift a ball to right but on a 0-1 splitter from Eddie Mujica, he put it into the Red Sox bullpen as the Indians won 7-4 in a game that took four hours and 29 minutes.
4) Dominating May for Kluber -- In six starts in May, Corey Kluber went 4-0 with a 2.09 ERA. But what are more impressive were the 60 strikeouts against only eight walks. In his final start of the month on May 30 against Colorado, Kluber struck out 12 as he became just the fifth Indians pitcher to strike out at least 60 in a single month and the first since Dennis Eckersley registered 60 Ks in Sept./Oct. of 1976. Kluber joined Yu Darvish as the only pitchers in the majors in the last 10 seasons to record 60 or more strikeouts in a single month. Darvish had 64 last August for the Rangers.
3) Brantley All Star -- Michael Brantley will be making his first All-Star Game appearance. The outfielder finished the first half at .322 (sixth in the AL), with 15 homers, 63 RBI and 38 extra-base hits. He also had a record 19-game hit streak at Progressive Field, which included a home run in the 10th inning against Detroit on May 19. It marked the first walk-off homer in Brantley's career. Brantley has a .361 average in home games, which is second in the AL.
2) Lonnie Baseball's Record Night -- In a 17-7 win over Texas on June 9, Lonnie Chisenhall became the first player in MLB history to have five hits, three home runs and nine RBI in five plate appearances. Chisenhall also tied the Indians' single-game record for RBI. Chris James had nine on May 4, 1991, at Oakland. Chisenhall singled in the first to score Asdrubal Cabrera, had two-run homers in the second and fourth, doubled home Michael Brantley in the sixth and then had a three-run homer in the eighth.
1) Triple Play Against Dodgers -- The Tribe turned a triple play during the fifth inning of the July 1 game at Dodger Stadium but needed replay in order for it to happen. With runners on first and third and none out, Adrian Gonzalez flied out to Michael Brantley. Dee Gordon, who is one of the fastest runners in the National League, tagged up but was thrown out at the plate on a perfect throw from Brantley, who got his 10th outfield assist of the season. Catcher Yan Gomes hesitated for a second after tagging out Gordon, which allowed Yasiel Puig to tag up from first. Puig was originally called safe at second but replay showed that Jason Kipnis tagged Puig, who slid in headfirst as Kipnis tagged him before the hand touched the bag. That review lasted 89 seconds. The triple play, which was the first for the Tribe since April 3, 2011, against the White Sox, helped squelch a Dodgers' rally. The Indians ended up winning 10-3.
---